This Celica Chassis number rings a bell but cant be 100% sure. When I brought the rear end it was headed up "carina/corona/celica rear end". This guy knows his stuff and him quoting that chassis for Celica sounds like something when I was researching.
Unfortunately I wont know how well it all bolts up until a few months. Im planning on locking my E series diff and leaving the W50 in place and going to a track day in September. If/when it breaks I'll have a few months to change the rear end for the f series and stronger axels(will need to use crown or Toyota Previa axels cut down) and add a W55 or 58. As the November track day has a mini drift comp I'll need a stronger gearbox for sure. Will see how it goes.
Heres a small addition to my build a few months back..
As the coilovers are for MX83 the front were to long. On max low setting it still wasnt low enough for what I wanted. Doing some research I found that R32 skyline front inserts were 60mm shorter and had the same thread. Proceeded to get some and fit them. They sat a lot better and I went for a drive.FAIL.
The R32 front shocks only control up and down where the rest of the arms handle the sideways forces. Hence my car was asking the R32 struts to handle everything and they didnt like it. I got to my destination non the wiser which was crazy I didnt feel anything in the steering. Arrived with massive front camber, looked underneath to see this...
This is the R32 insert vz the thickness of the MX83..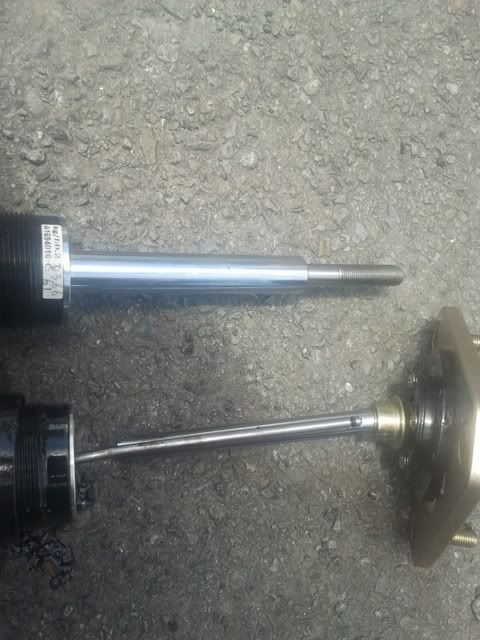 So dont use different inserts from a different suspension set up.
The first coilover weld to the front suspension was as per their instructions. 10mm or so from the cast base, inserted about 50mm into the base of the coilover and plug welded....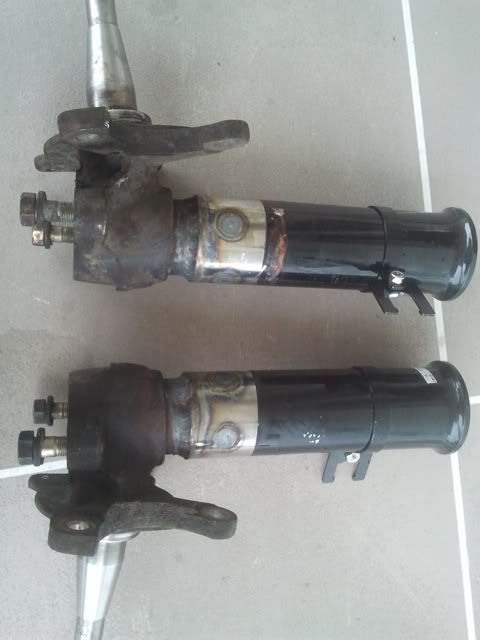 But as this wasnt low enough on max setting we started again and managed to get another 80mm out of the base. This involved routing the base into the cast and cutting of any excess length from the base of the coilover tube...
Apparently S13 top hats are the same as X3 but the holes just need to be drilled larger. I used the MX83 top hats and just re drilled my strut towers...