Alrighty, let's keep this ball rollin'!
Everyone needs an extra kick in the ass to keep moving, mine came in this excellently marketed and nicely packaged aluminum can!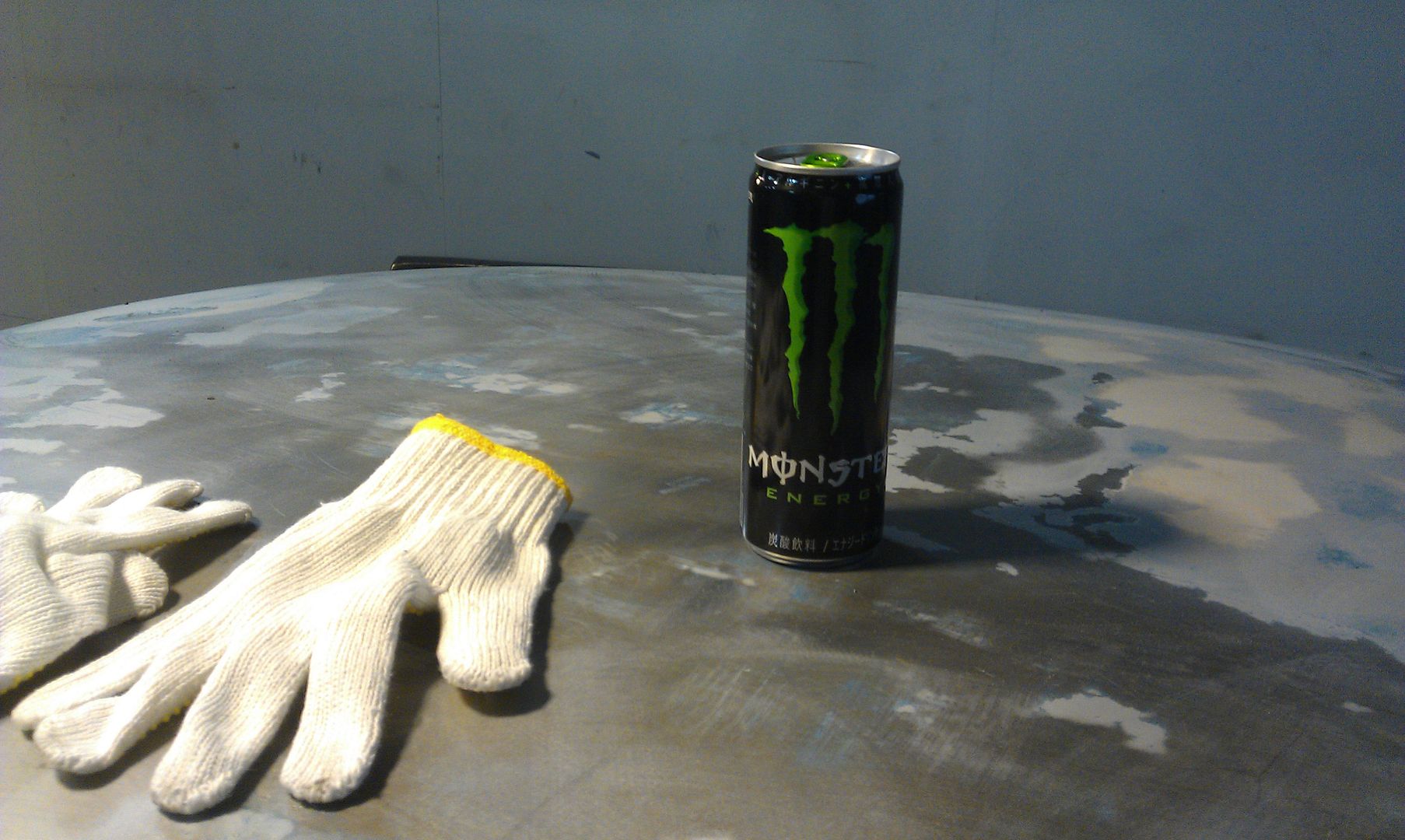 My very awesome girlfriend started in on the second fender and after just a little bit of work, it appeared as if though the whole fender was white. Which, in the end, it was. It was covered entirely in bondo. I don't think I've ever seen a panel covered entirely in bondo. I only took one picture of it and that was when she was starting on it, but you get the idea.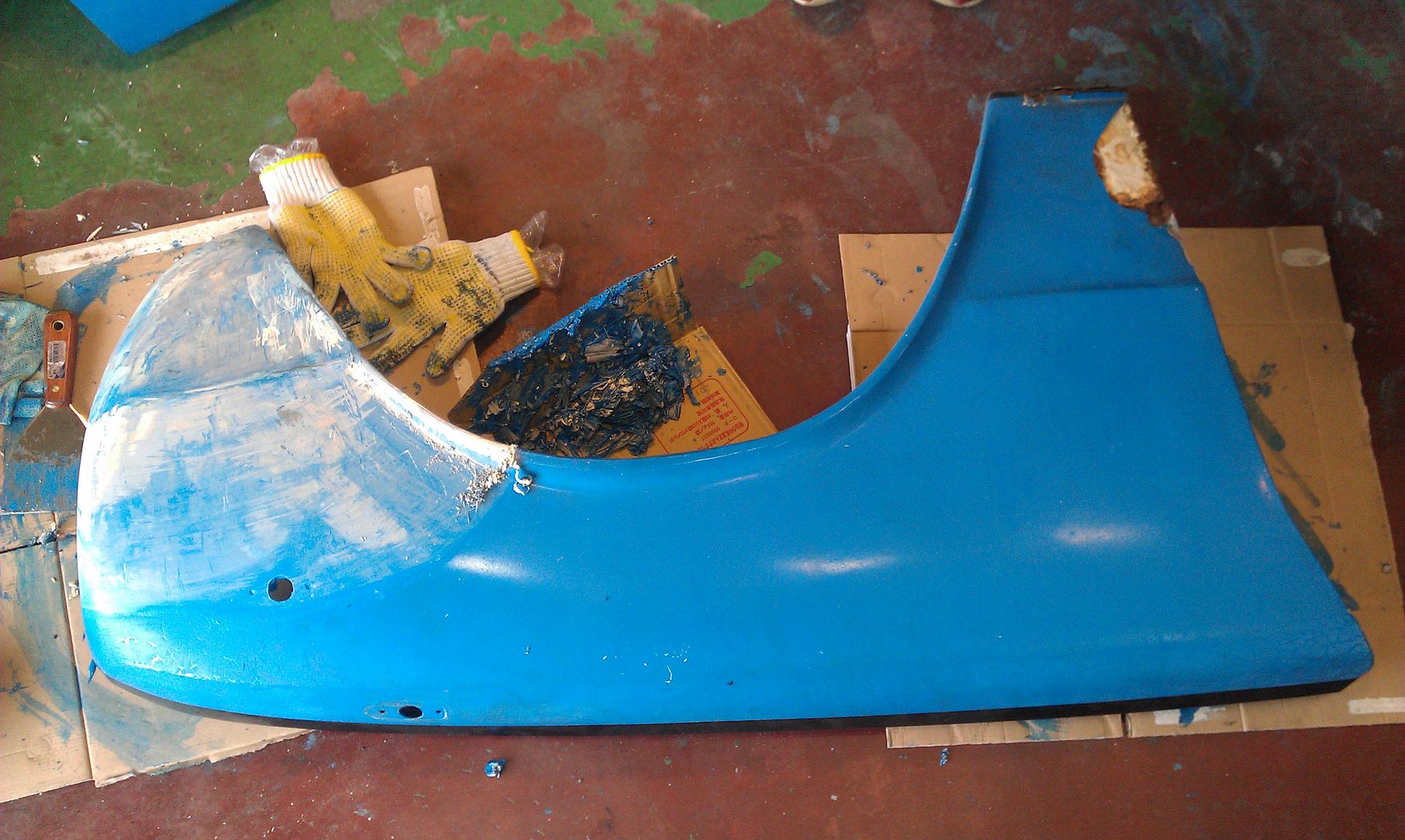 Since the paint was mostly stripped and my excellent girlfriend was working now on the trunk lid, I decided it was time to start removing the sound deadening on the interior.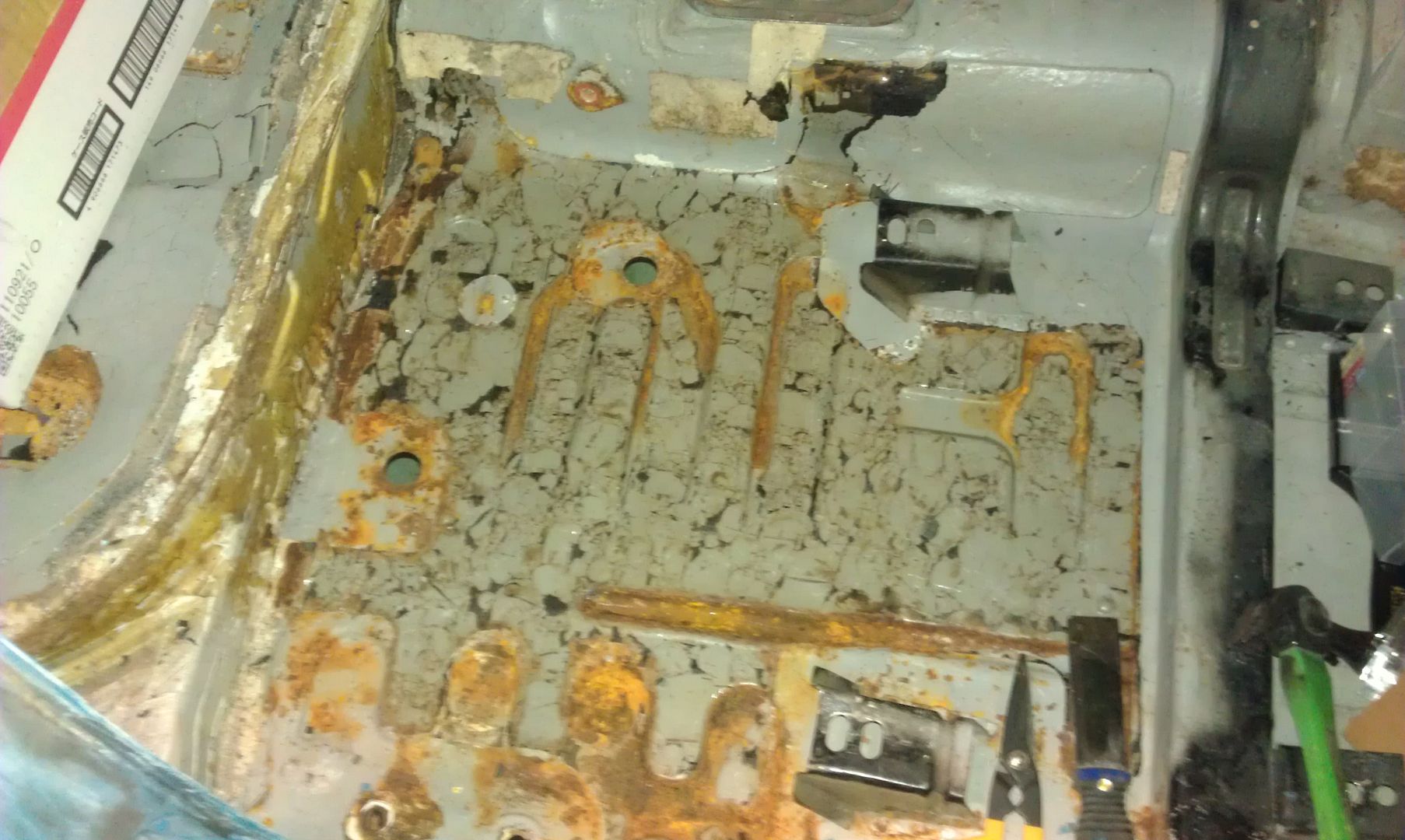 Turned out this was a very good idea because moisture had gotten underneath the sound deadening and rust had started. Fortunately, the steel is all very solid still and this will only require some grinding and rust stop to remedy.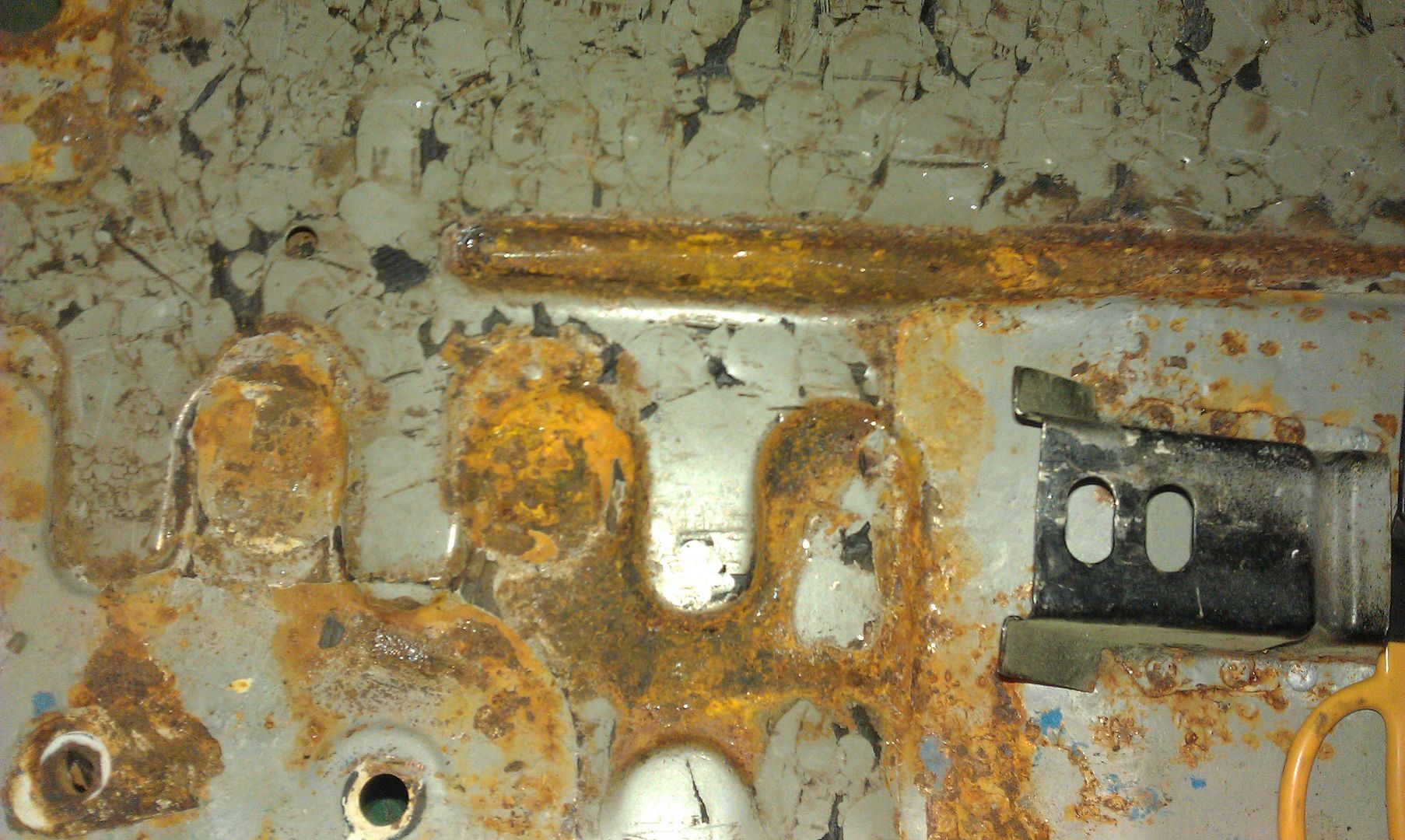 I continued with the rest of the interior slowly chipping pieces away using a mixture of Monster energy fueled determination and dry ice.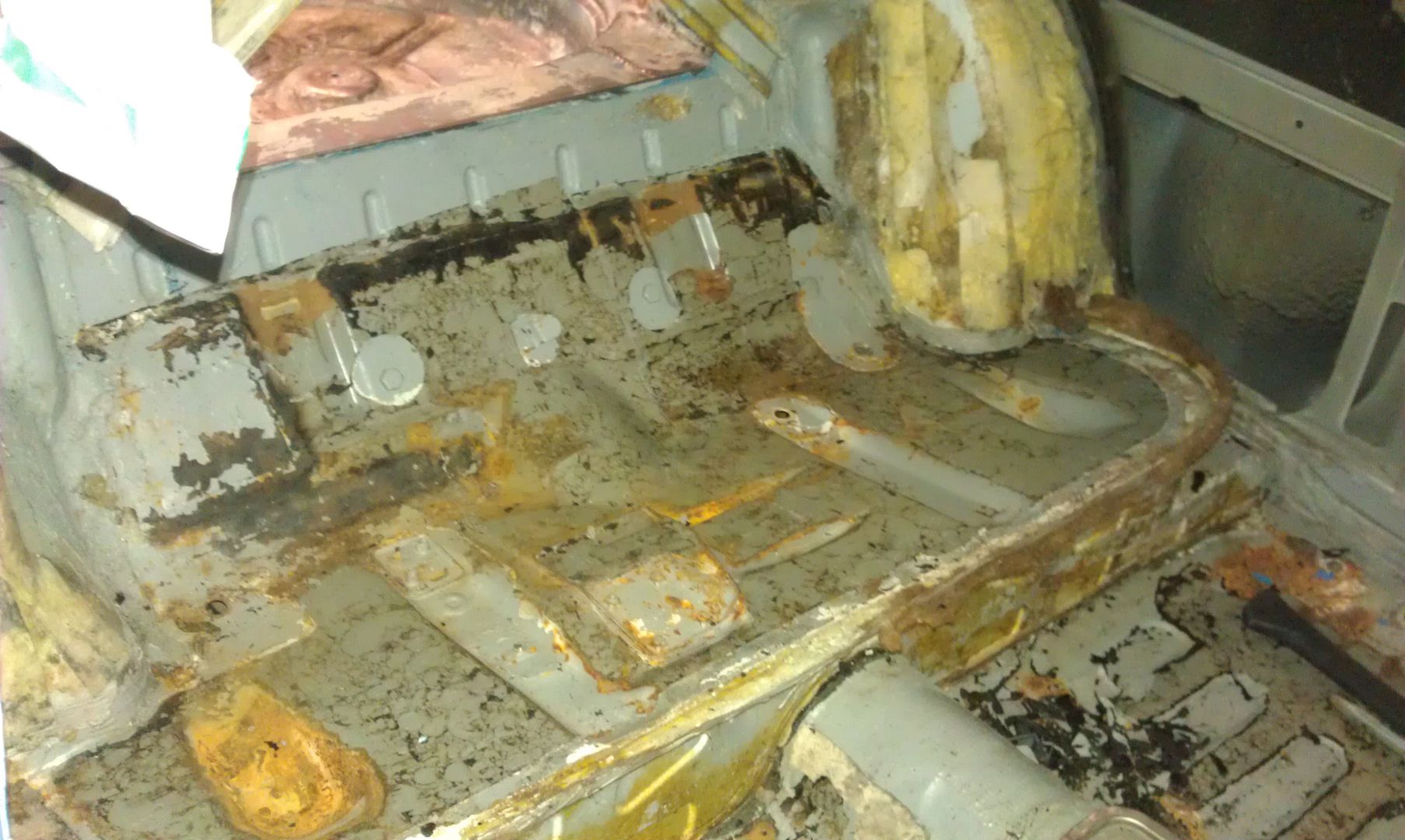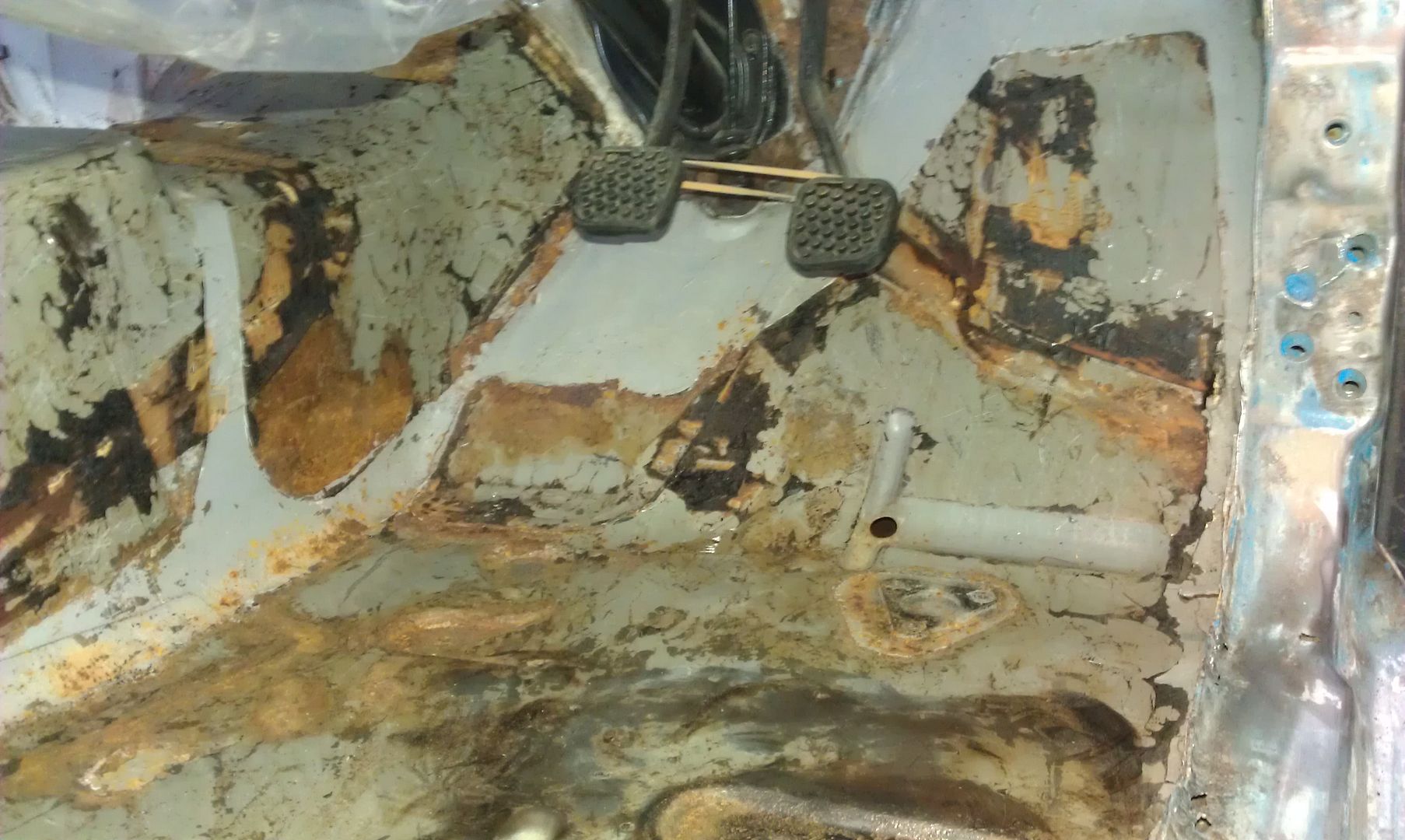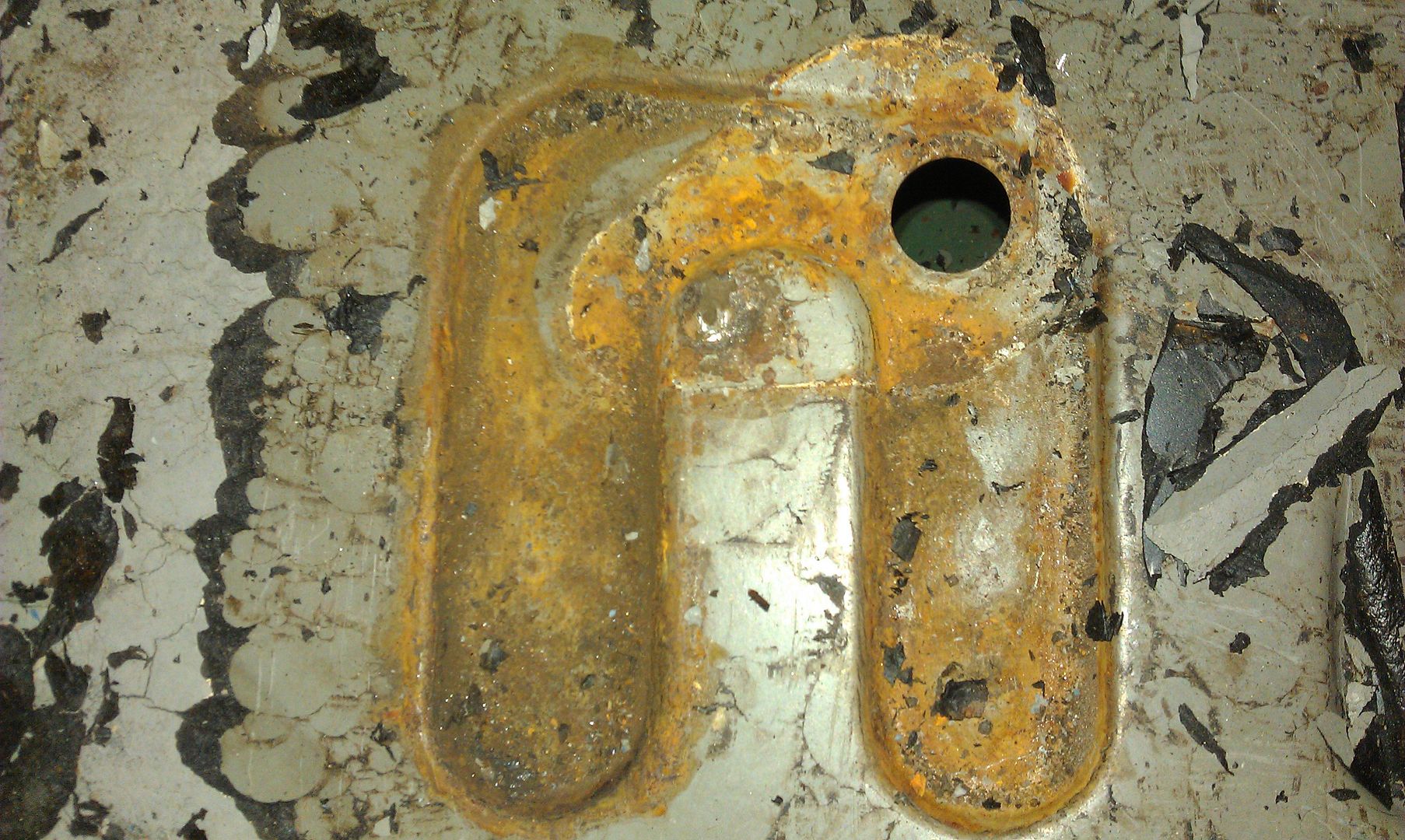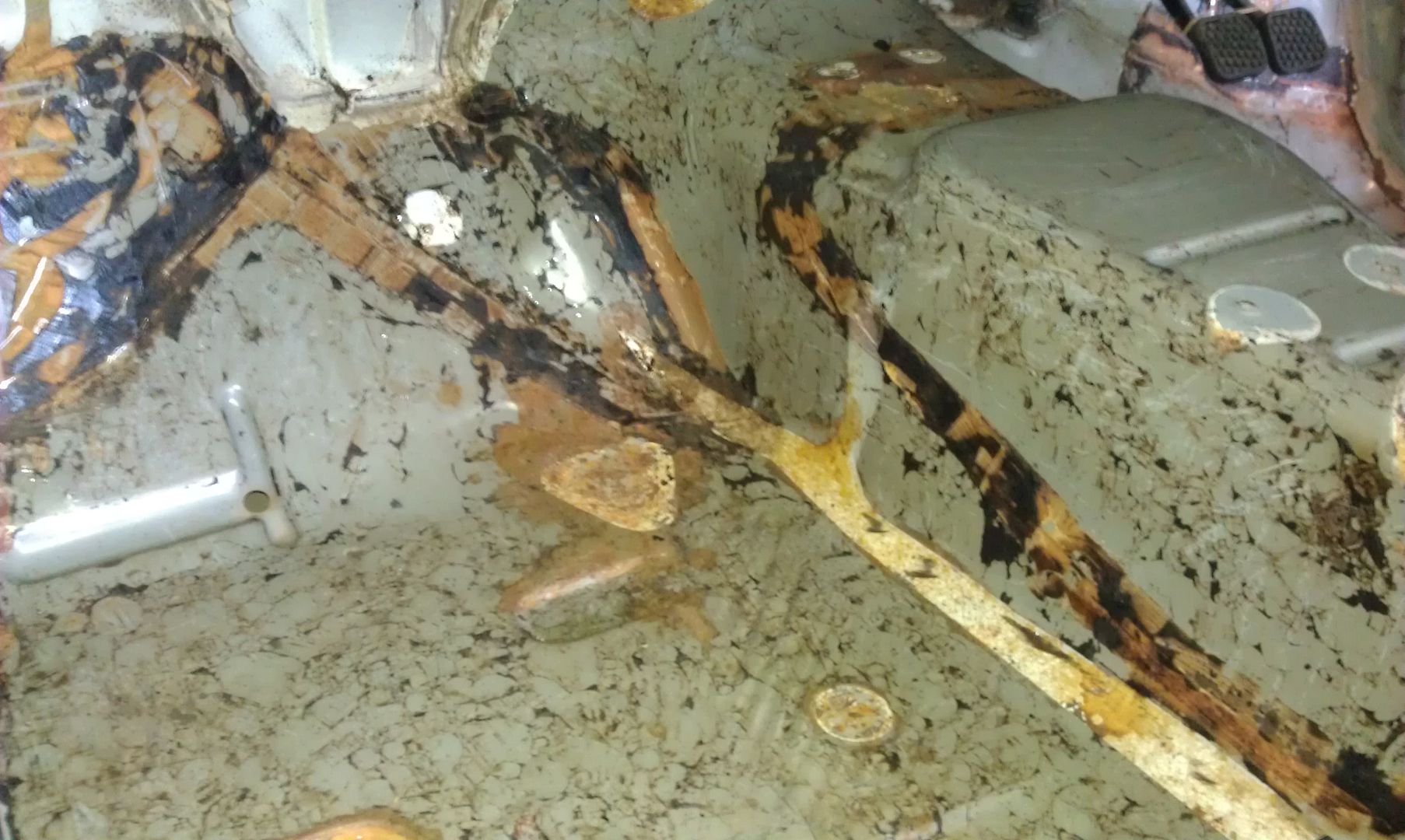 Just a bit of cleanup with the grinder and some sanding and that should be all ready for some new clean paint! While I was on that, my amazing girlfriend was making some progress on the trunk lid.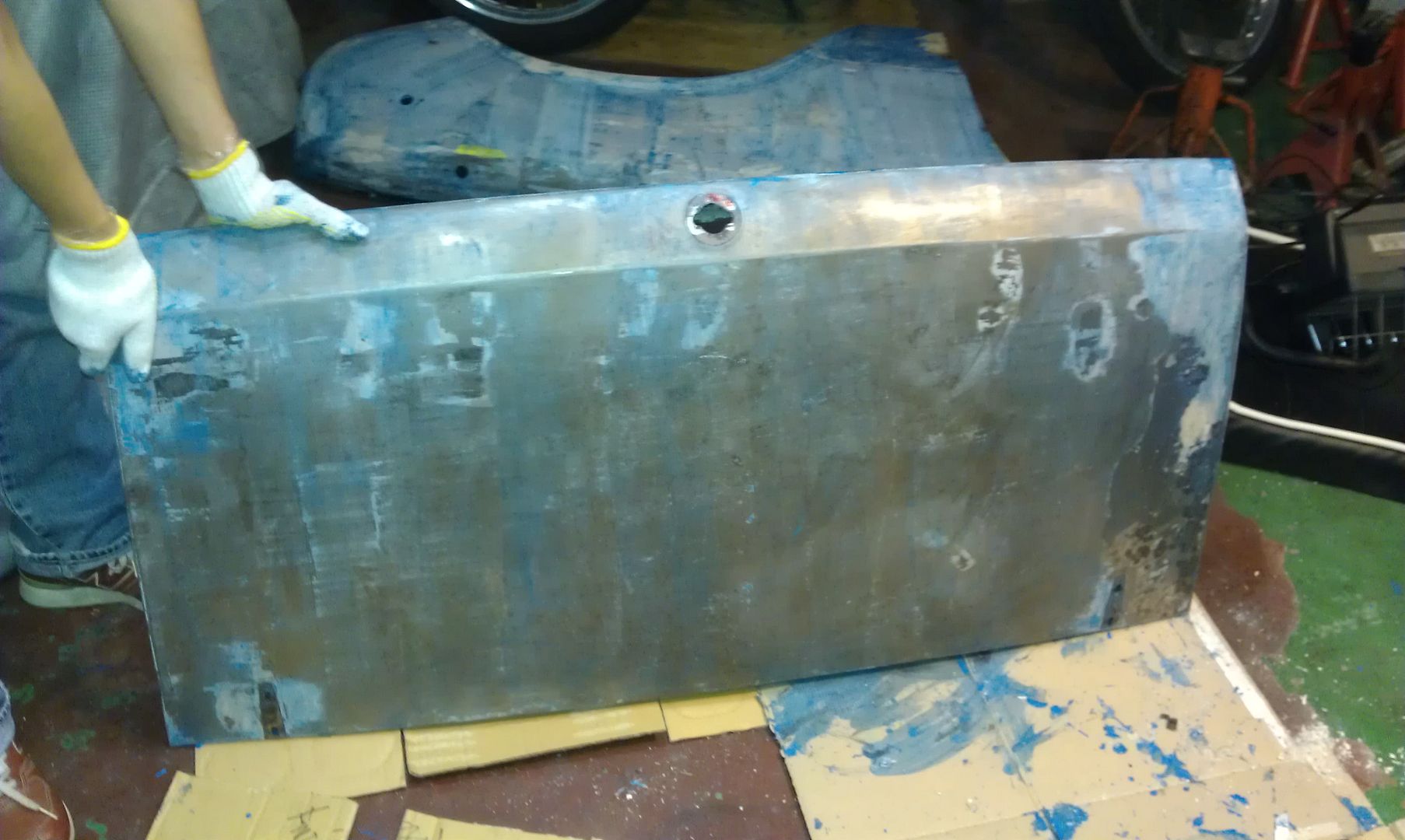 After that I started on dismantling the doors so they could be properly stripped. I forgot how heavy these things are! They are seriously thicker and stronger than most new car doors!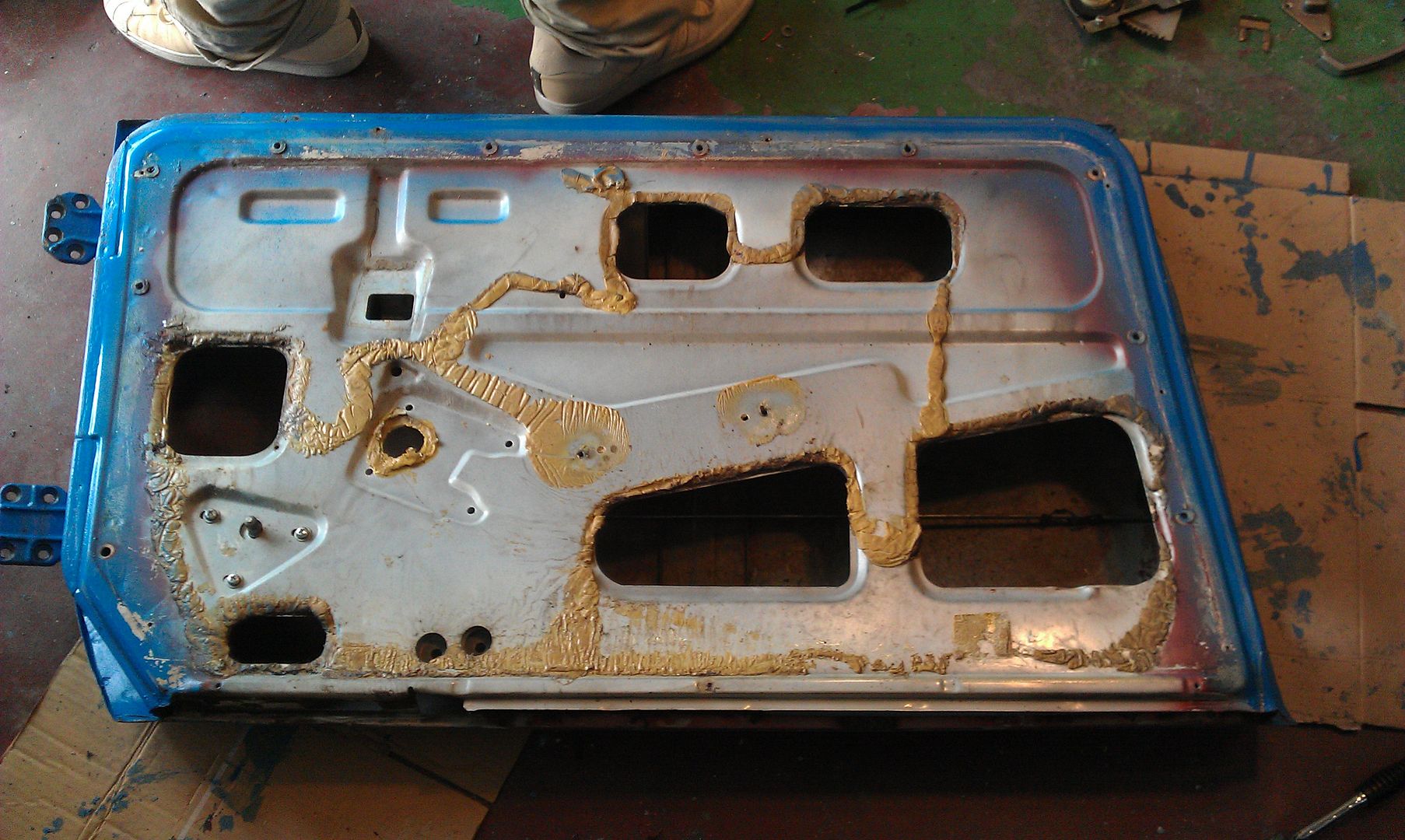 All the guts strewn about the floor.
Frame and glass out as well.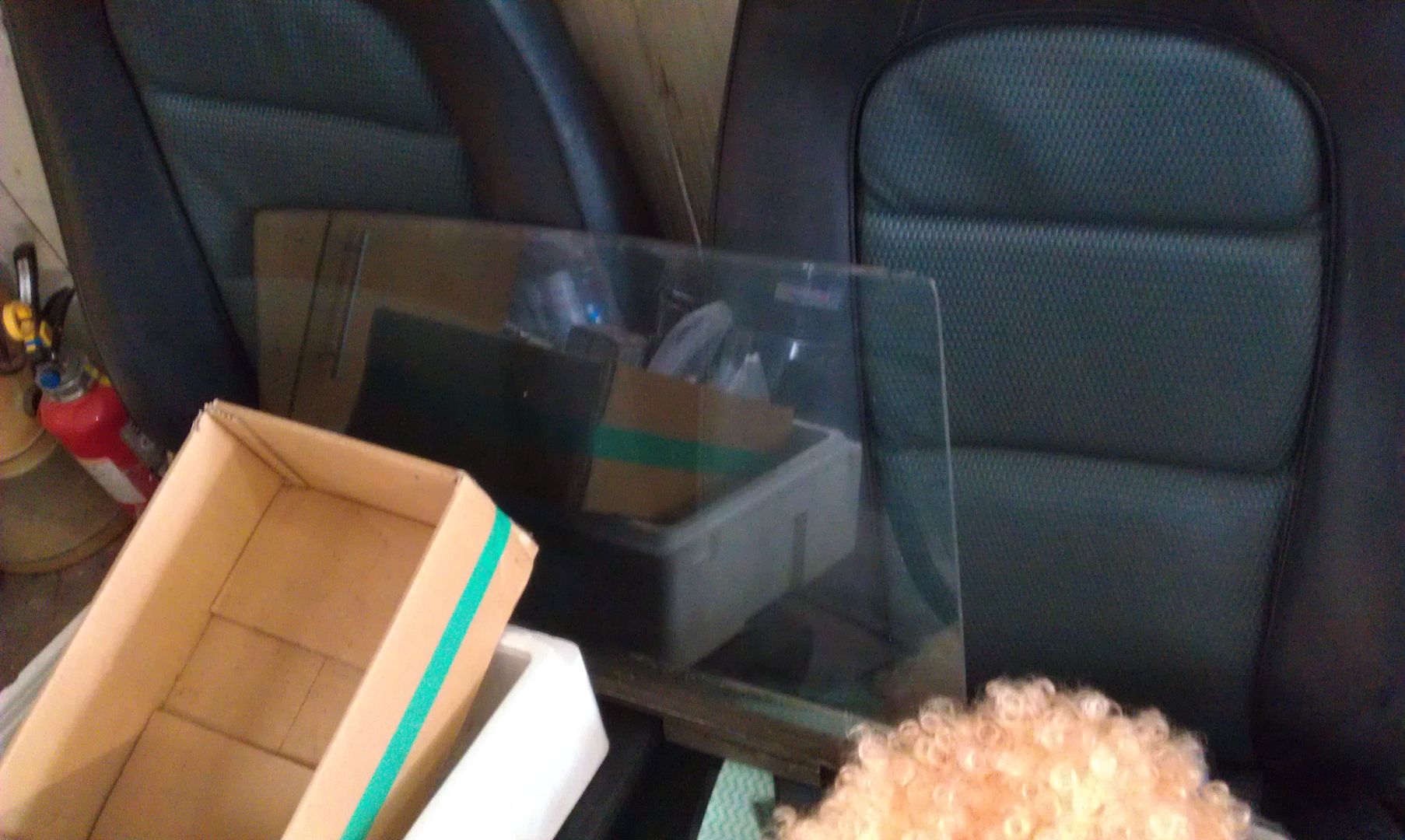 Newly emptied door!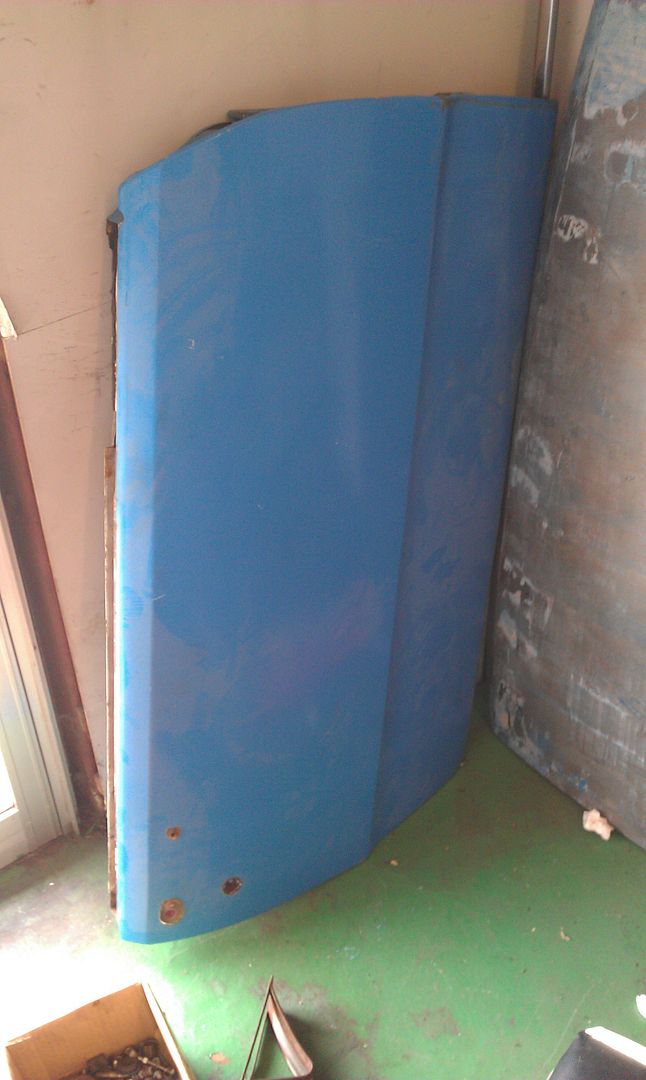 Of course, my splendid girlfriend wouldn't sit around and do nothing waiting on me, so she started on the hood!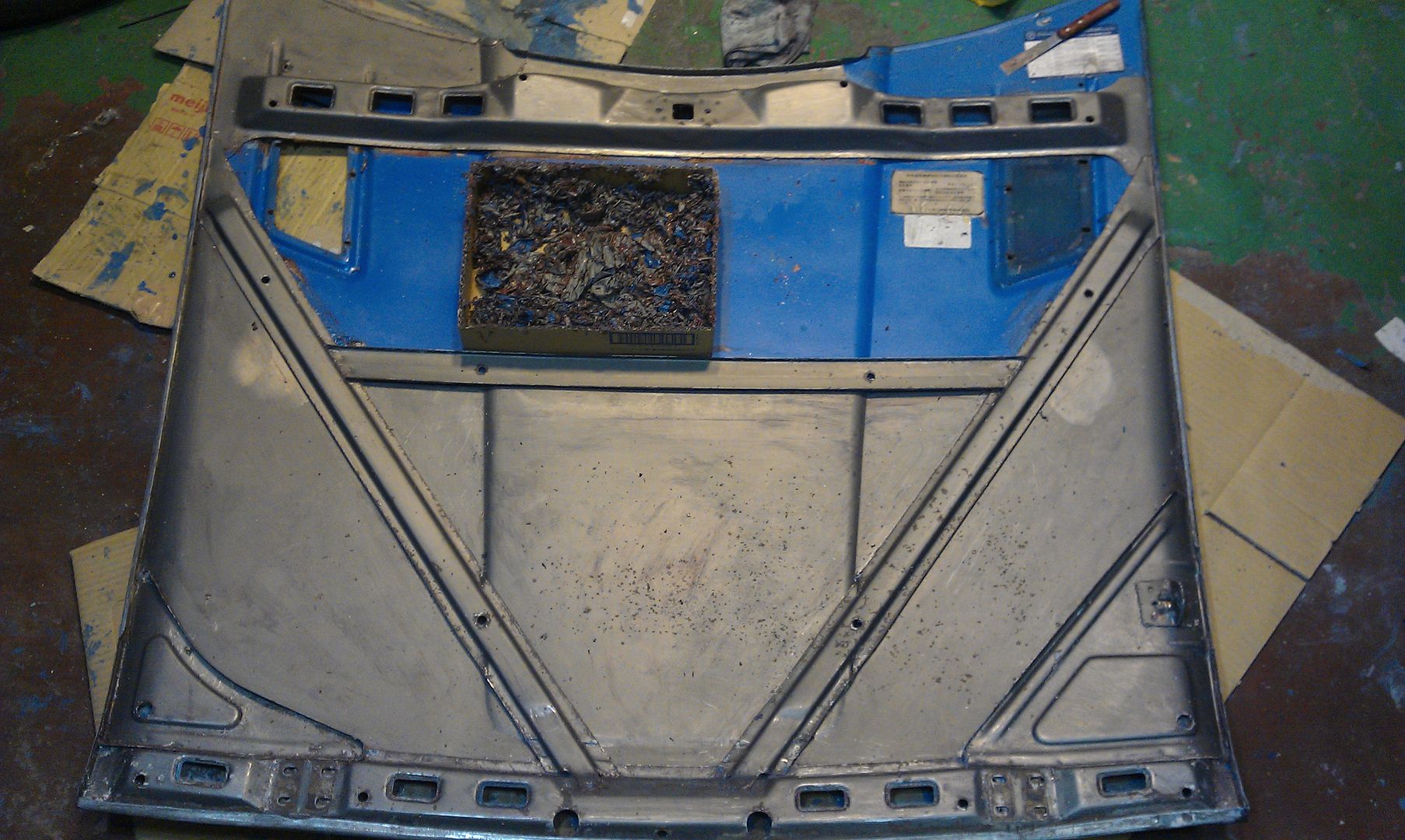 Naturally before she got too far, I snapped some pictures of the stickers so we can remake them on the computer later!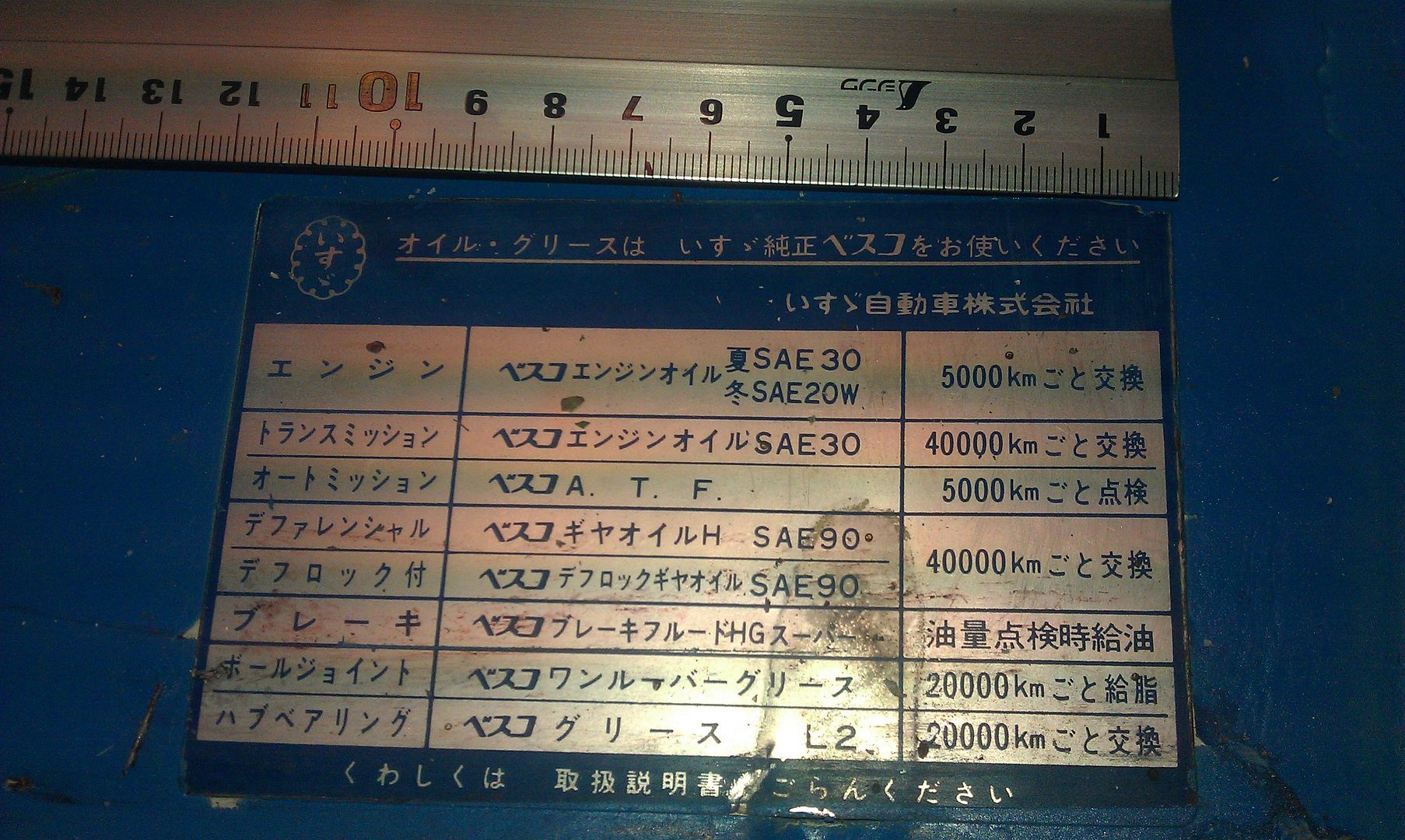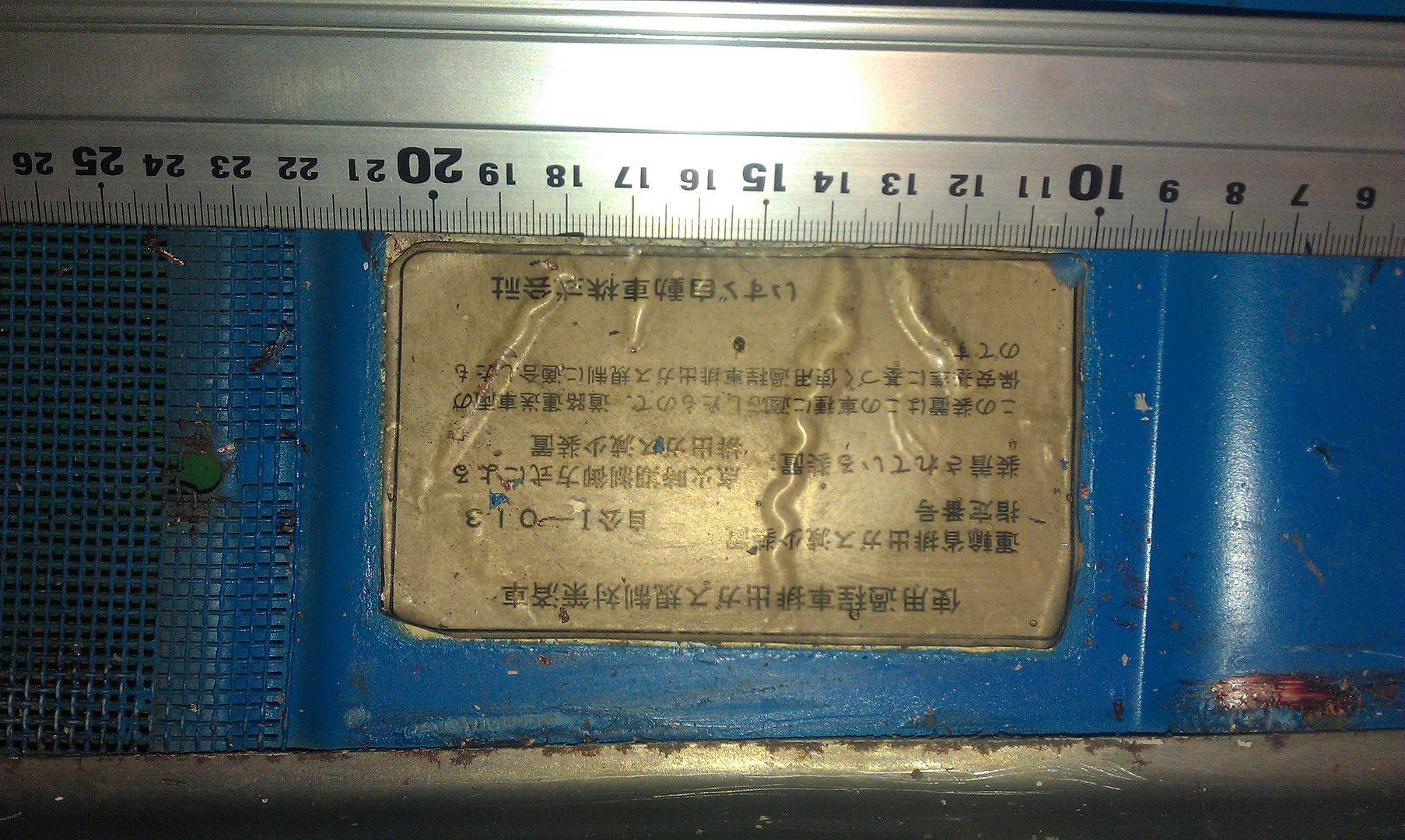 While I sitting back taking stock of how far the car has come...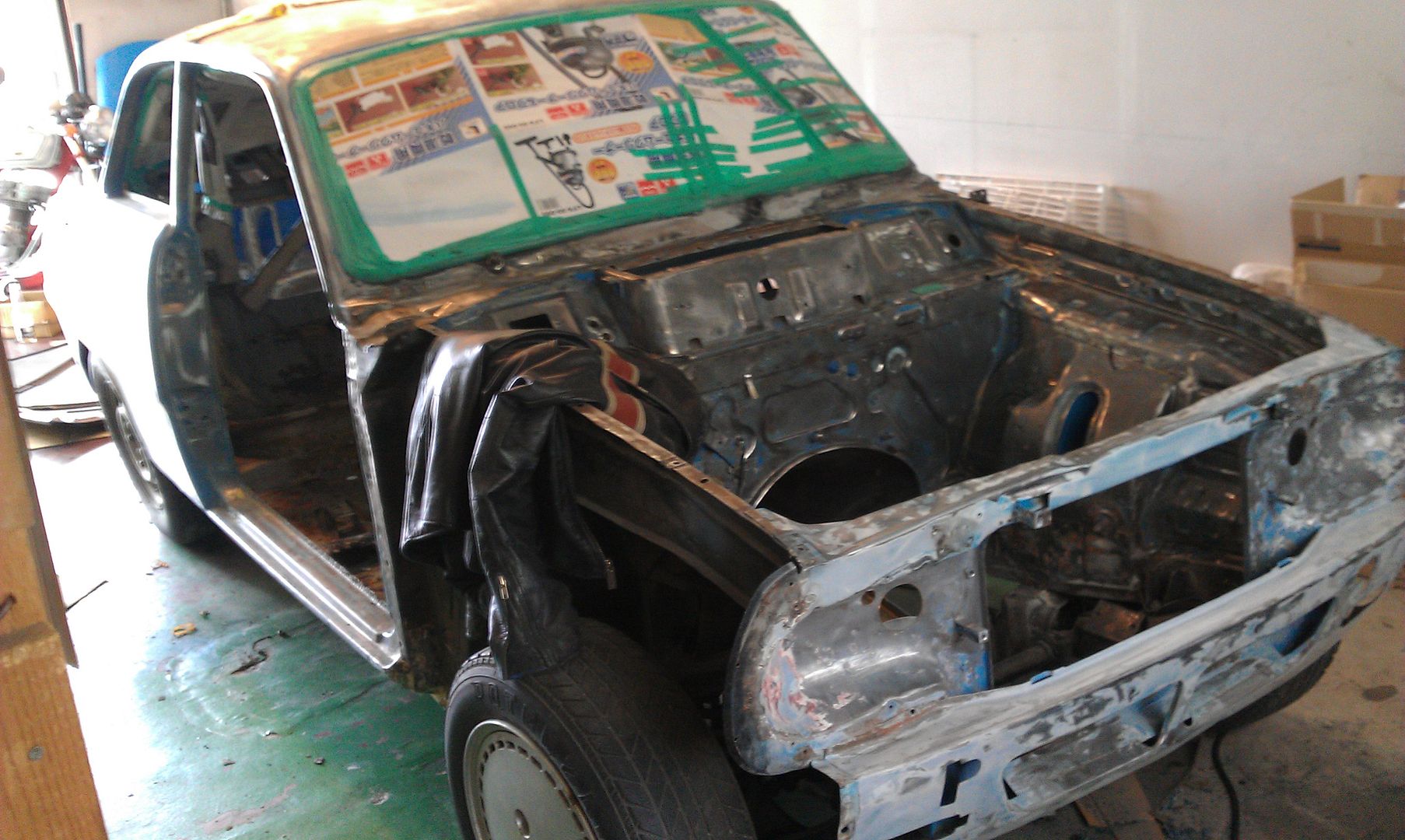 ... a package arrived!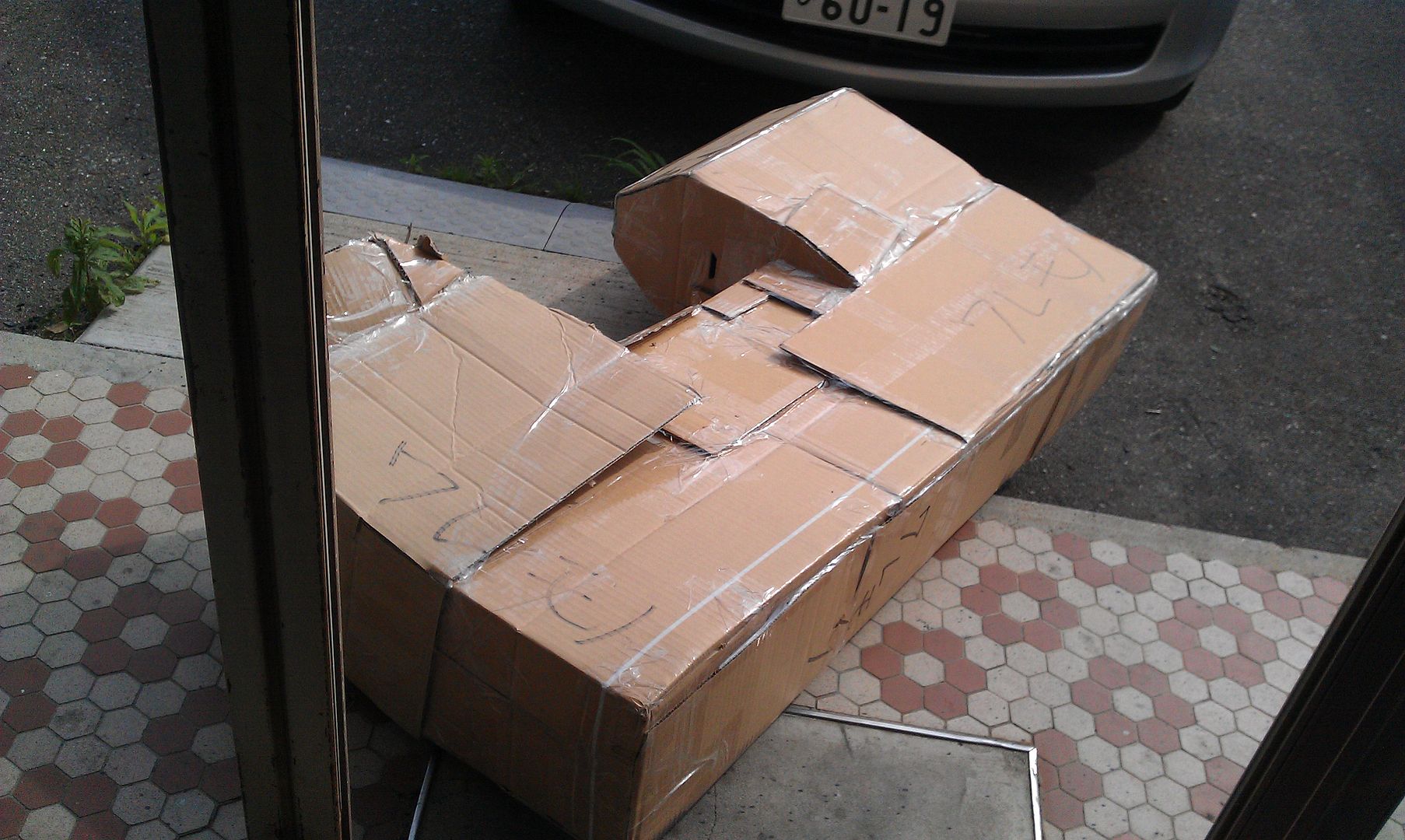 The keen eyed viewer might notice that this package is shaped suspiciously like front fenders, and they'd be spot on!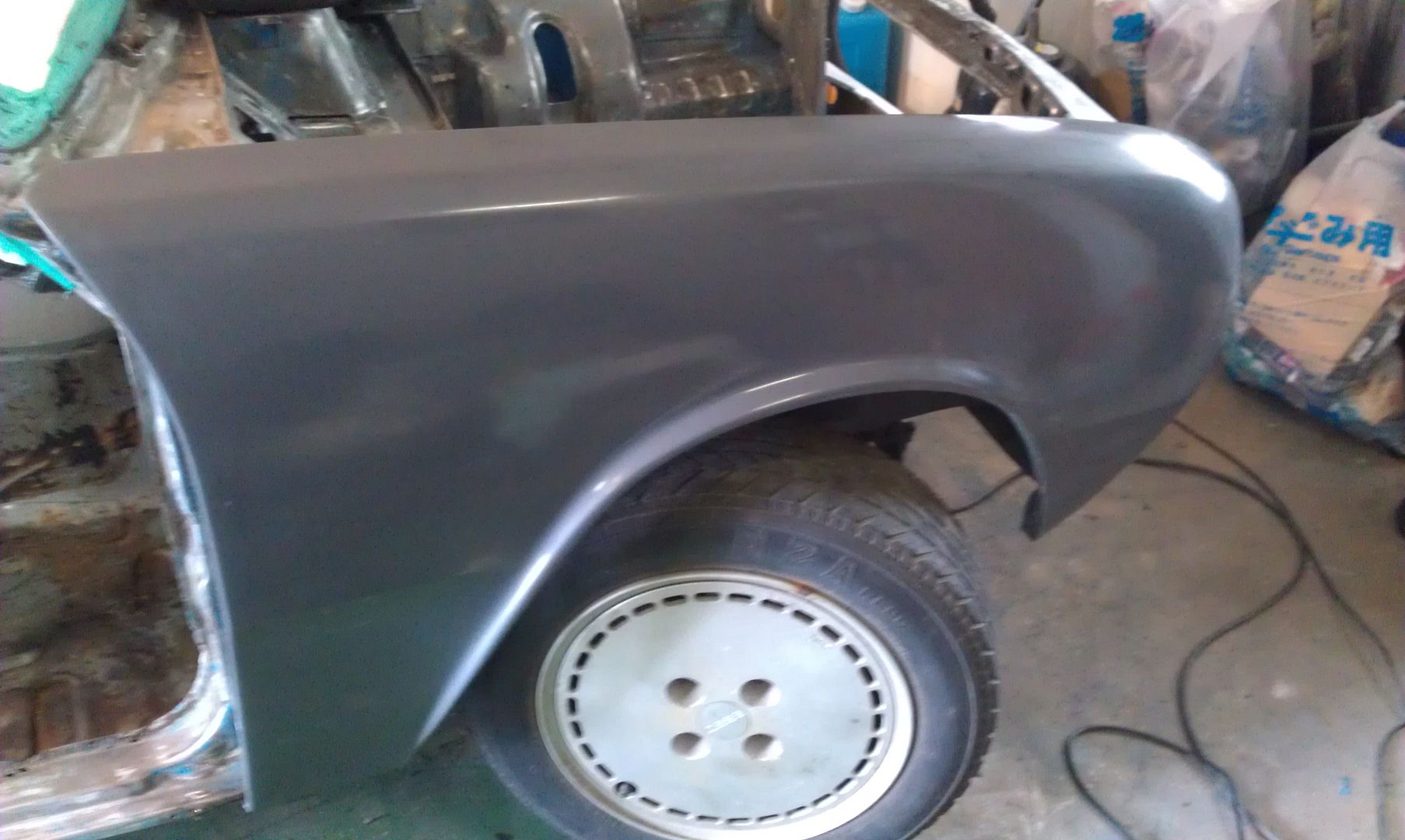 They're FRP replicas but they're very close. Only a couple of problems, most notable being that there are no holes in them, so I will have to drill fender mirror, side marker and bolt holes in them. Next the inner mounting plate that mounts the back of the fender to the body just behind the door doesn't line up like it should, so that will have to be modified a bit. However, compare it to the old fender (this is the one that was completely covered in bondo) and that's a miniscule amount of work!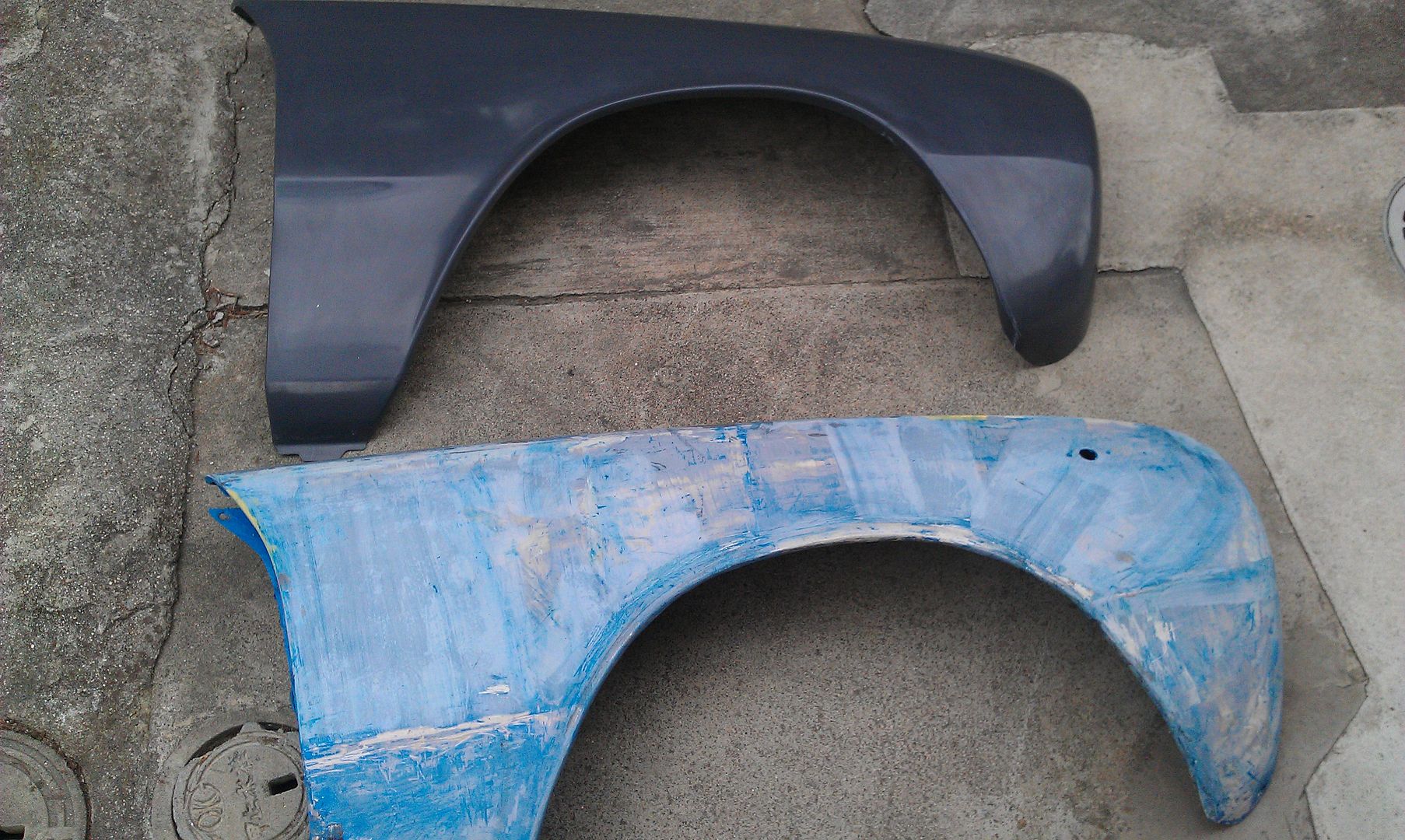 I did actually buy two fenders, I only unpacked one for now though, haha.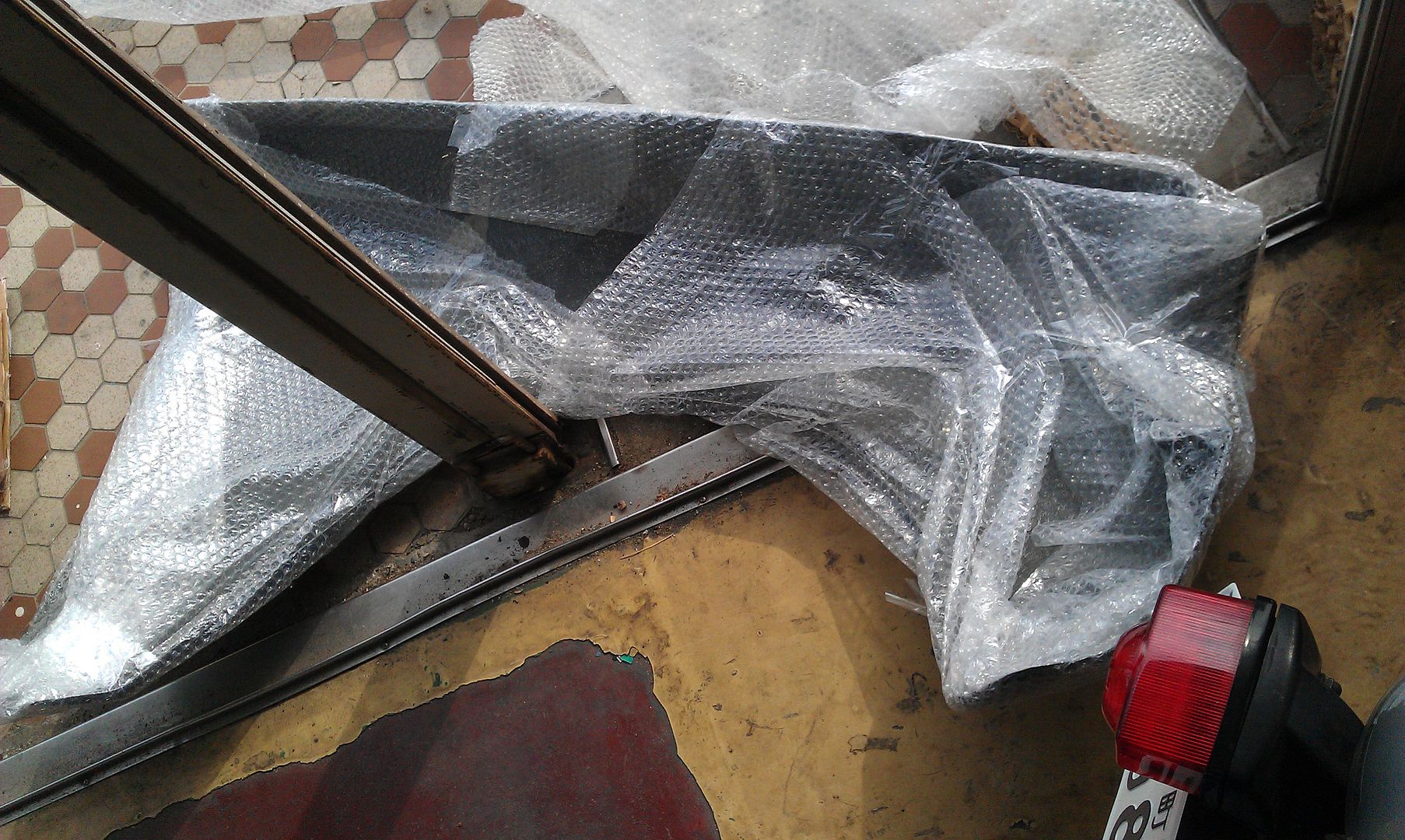 Next up, I decided to find out just what kind of rust trouble I was dealing with. Some some grinder action later and I had all the crappy screwed on metal plates that were "rust fixes" removed. And sweet Jesus, this metal was thin and pulled from like a coffee can or something (some were yellow, others black...).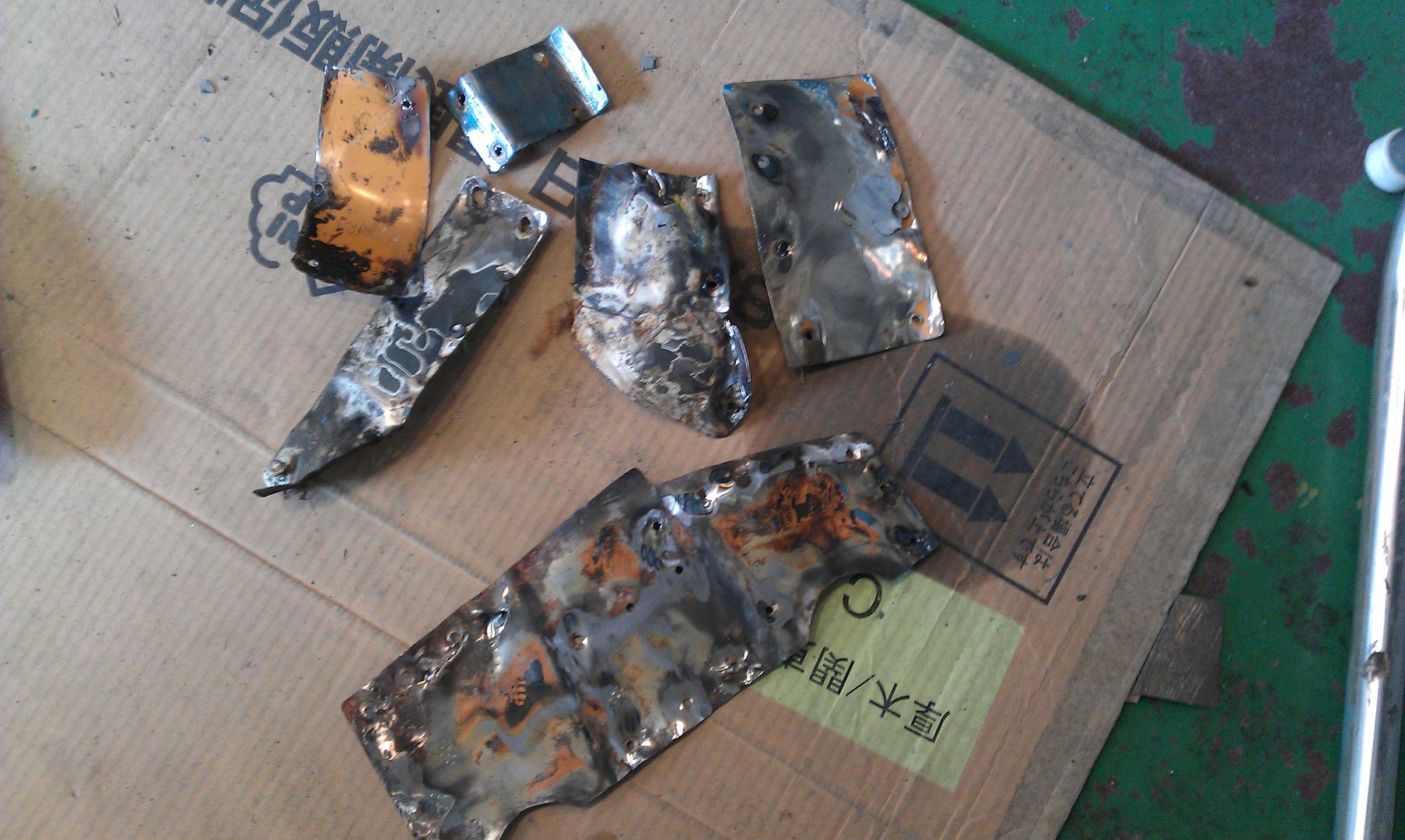 One of the rust holes on the rocker.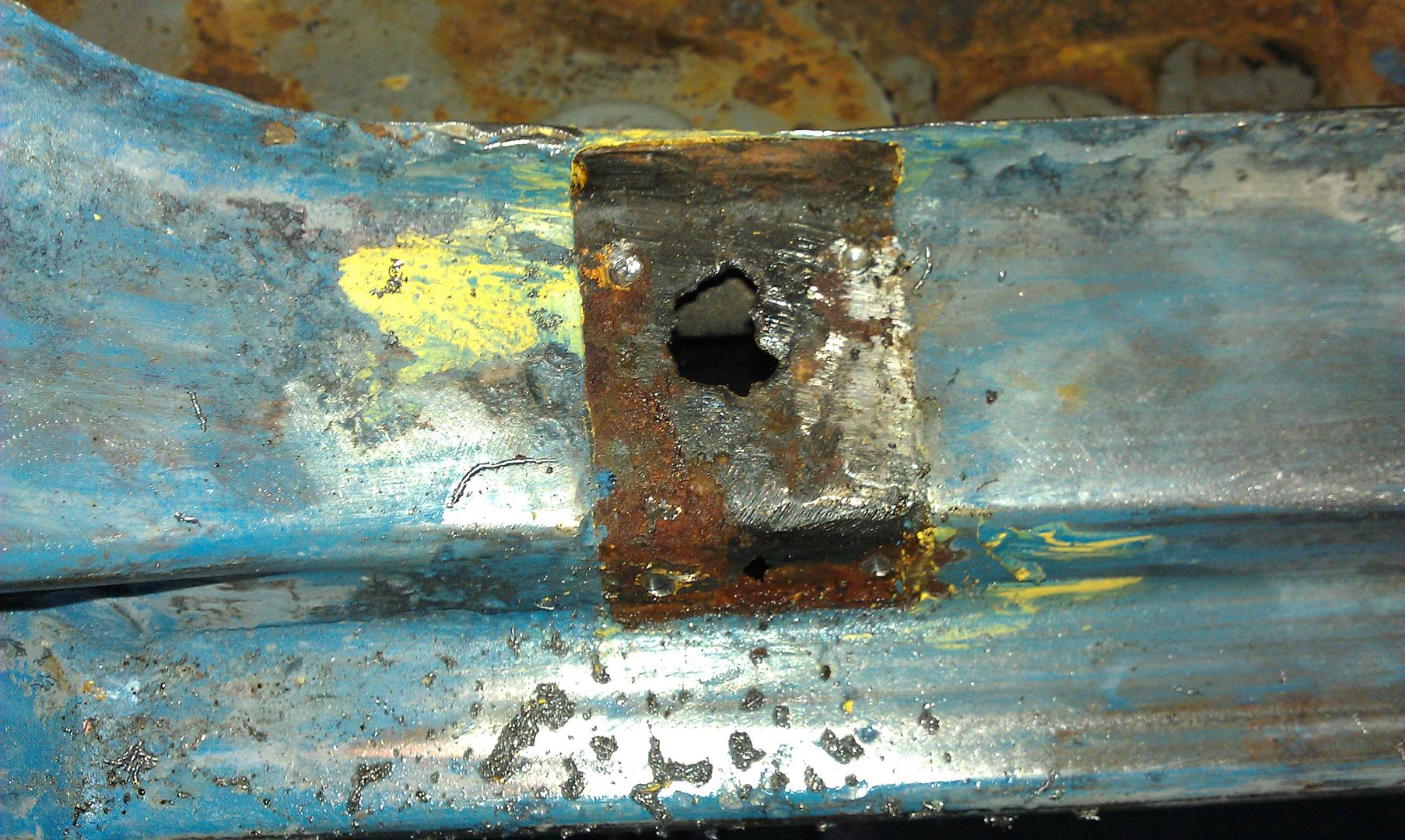 For those weak of heart, you may want to avoid the next pictures, they're bad...
This is the front of the rocker.
The extremely worrisome spot on the passenger shock tower.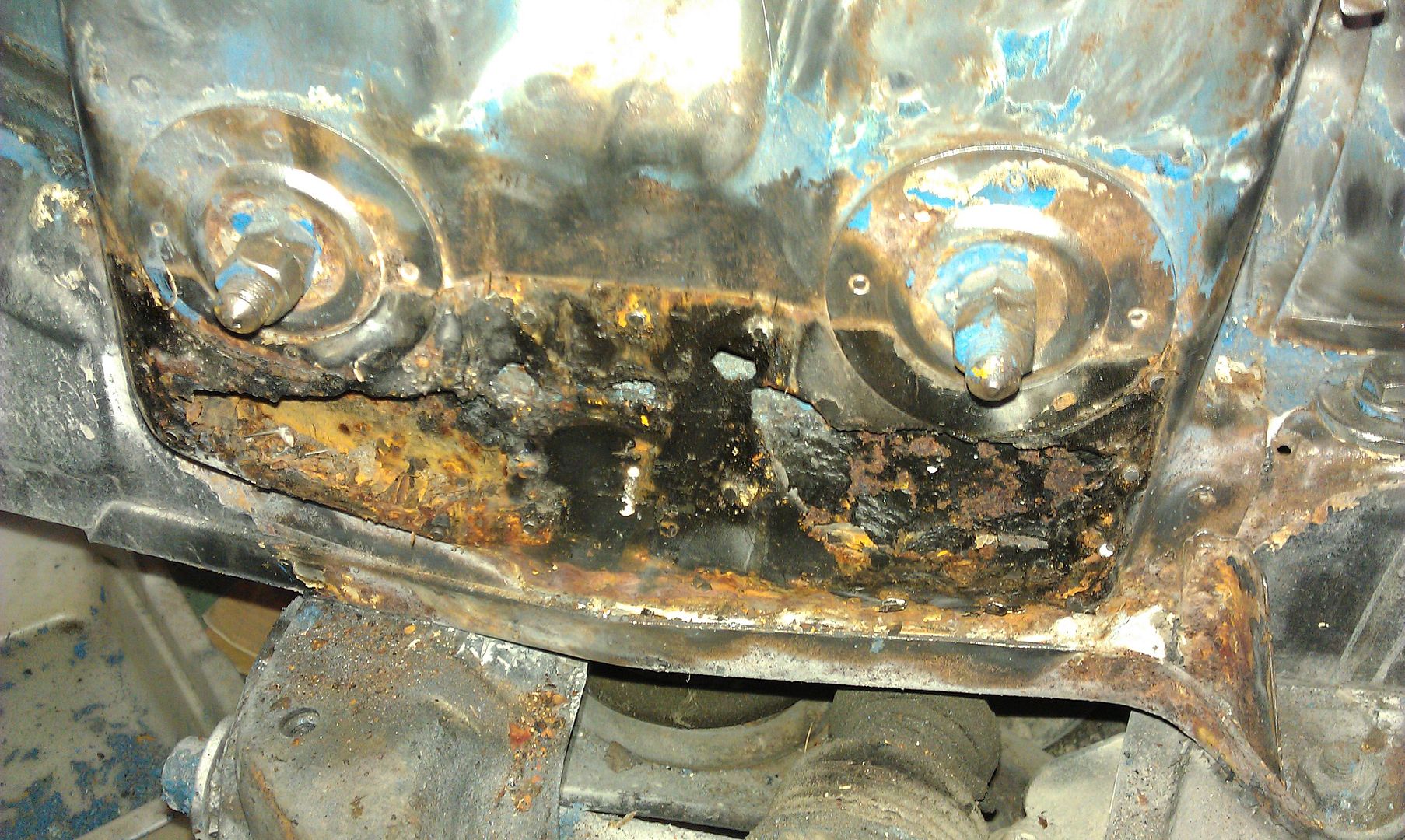 The spot behind the battery.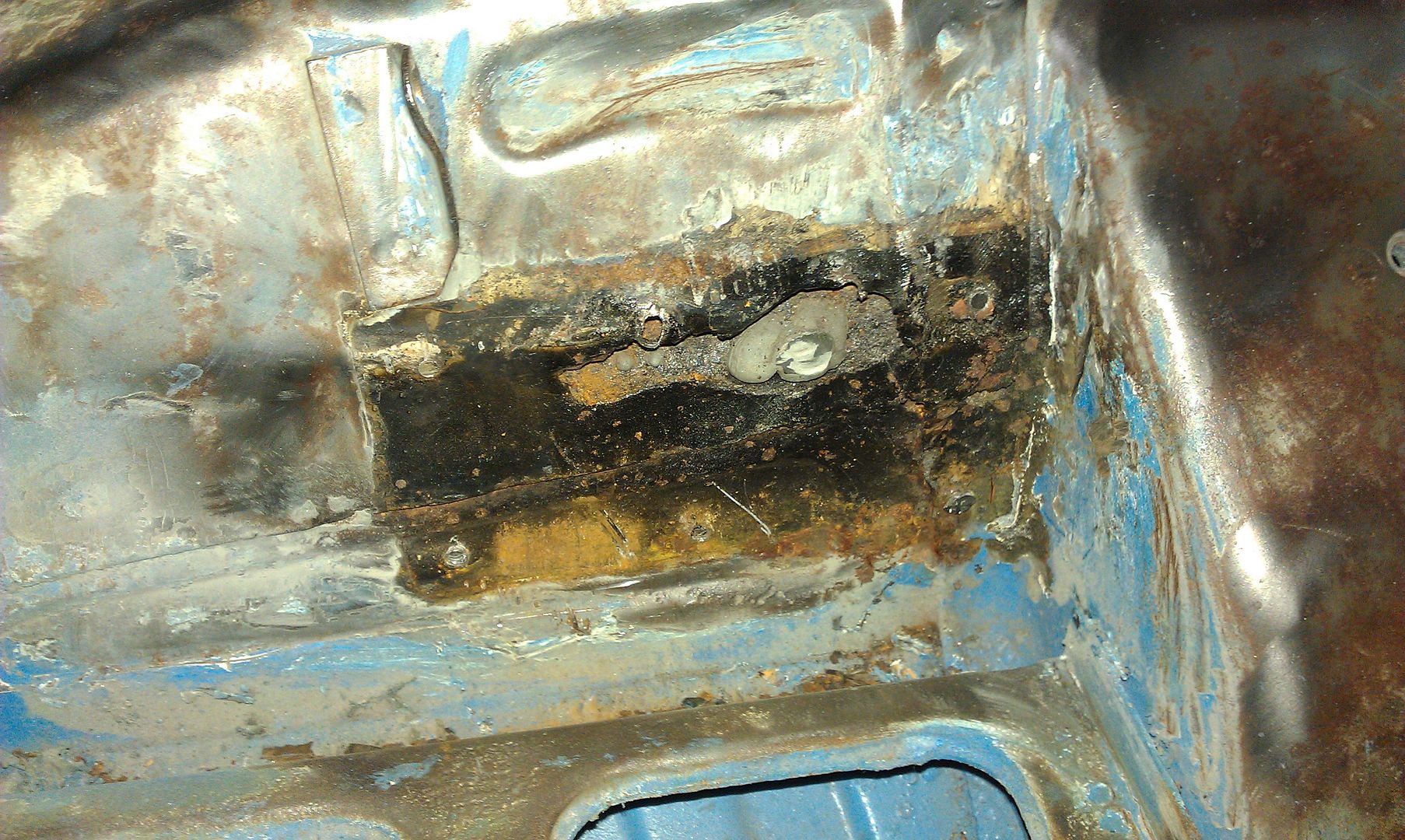 And the front of the other rocker.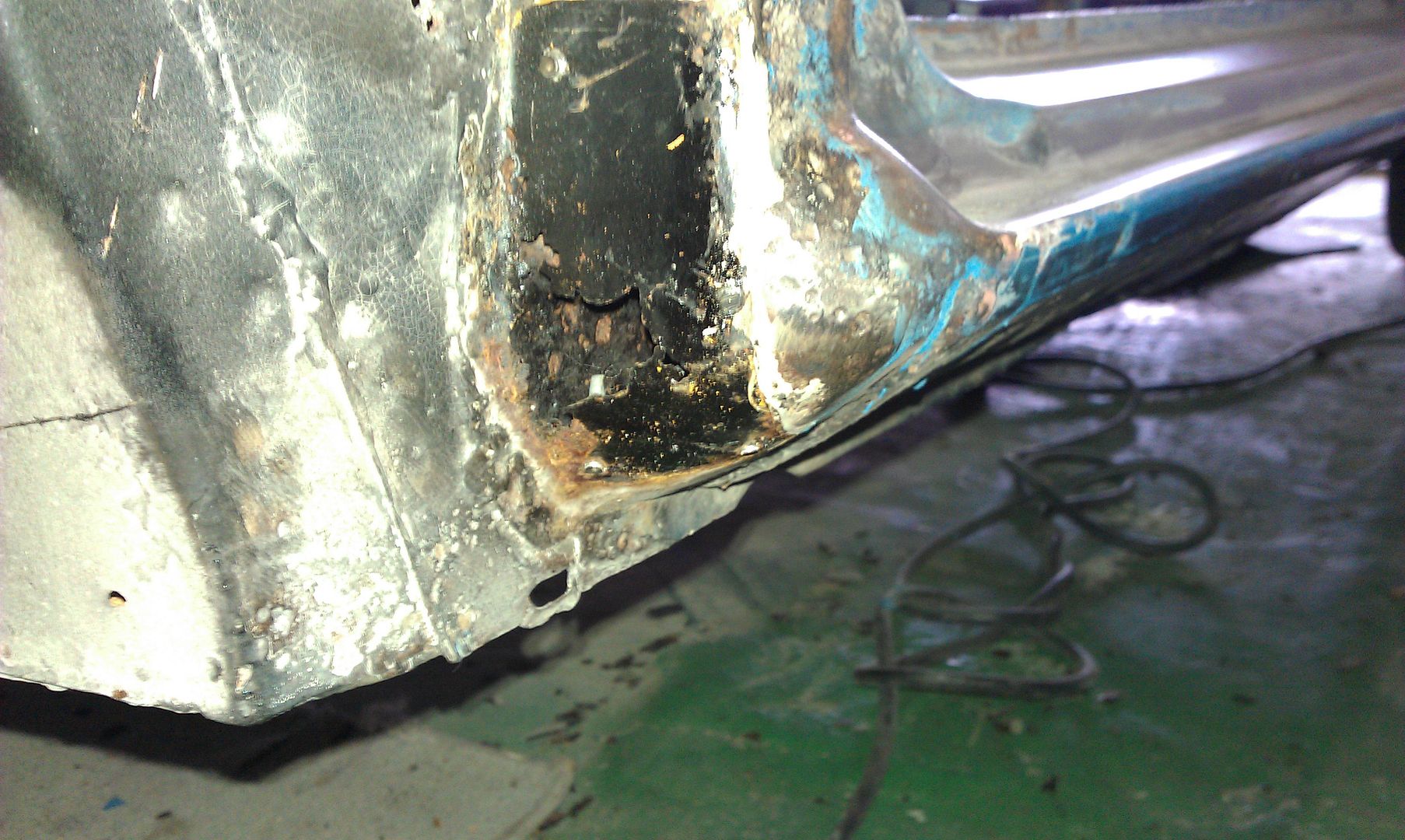 Ya, that's going to take a lot, lot, lot of work. Unfortunately, I can't afford to get the nice guys at Classic Car Nagoya to do this much metal work. Not to mention the fact that the body guy has 2 Hakosukas lined up behind the Familia he is currently working on. Fortunately though, he's an excellent teacher and has been giving me pep talks on how to tackle it. Couple that with the fact that the Shacho has offered up a spare 200 volt gas MIG industrial welder for me to borrow and I'm looking at a lot of fun!
One final parting shot of my magnificent girlfriend's hands and the handiwork those hands accomplished!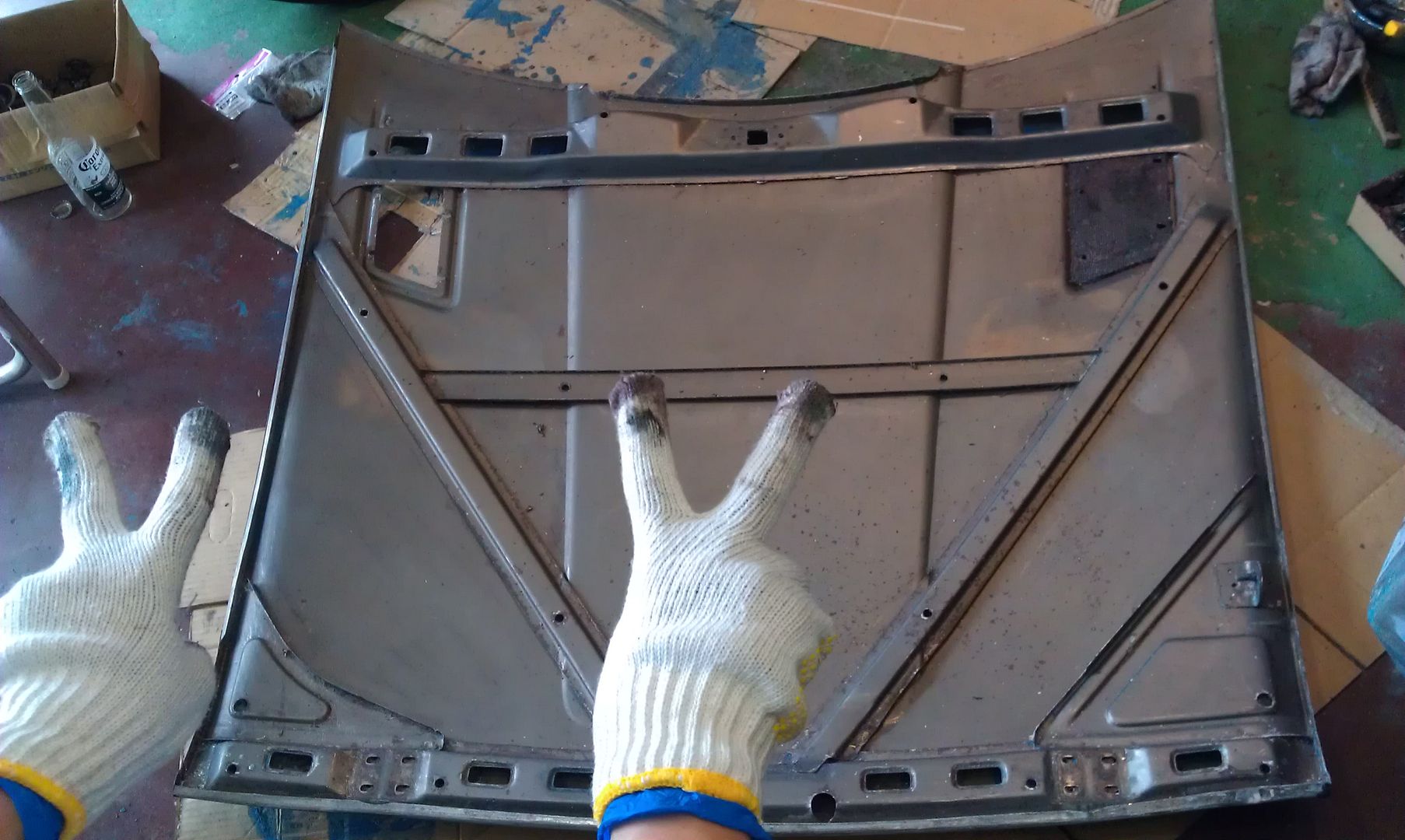 That's it for now guys! More to come as this project is finally starting to pick up steam!
Cheers
David