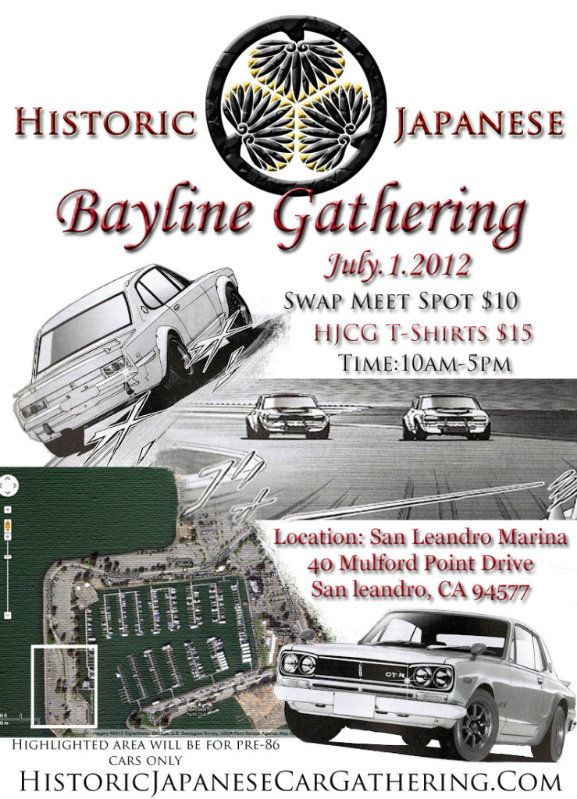 Hello everyone HJCG will be hosting a car gathering for all Pre-86 Japanese Vehicles. We have invited many Vintage Skyline owners to come out personally attend the event. So this will be pretty interesting to see so many vintage Skylines in one place in the USA.
Looking for the hard to find part for your classic? This event will also have a swap meet section and it will cost $10 if you would like a spot.
The release of our Historic Japanese Car Gathering T-shirts will also be sold the day of the event at a cost of $15 each.
This gathering will be held on July 1, 2012 at the San Leandro Marina, 40 Mulford Point Drive, San Leandro, CA 94577. Start time is 10am and will end at 5pm.
Hopefully you guys/gals can attend. If your cars are currently not running, restorations in progress or fully built track cars just bring out whatever you have and come support the classic car community. Highlighted section on the flyers map will be for Pre-86 Only.
No crazy revving, burn outs, and racing will be tolerated!!! It only take one person to mess things up for everyone else but I'm sure everyone knows that.
https://www.Historicjapanesecargathering.com
https://www.facebook.com/events/2937184 ... ser_joined