I figured I'd post up my cars story and some pictures since I've been on here for a while now. I bought it a little over a year ago, I was looking for a fun project so I'd leave my subaru alone for a bit. I've always liked Datsun 510 and 240z's and remeber as a young kids seeing a roadster and couldn't believe it was a datsun. My family has alway been into cars and have had a number of hot rods growing up and would spend friday nights at the Big Daddy's drive-in in Auburn Washington to look at all the hot rods. After I got a little older I was drawn towards Japanese cars, I loved that there was a whole other world of cool cars that I had never seen before.
So one day looking through the local car add I saw the roadster for sale, it's not common to see them for sale here in Utah. It was priced way to high so I moved on but would check on it every once and while to see if it had sold yet. After a while I noticed the price was dropping about $500 a week so it got down to a reasonable price. I called the guy to come check it out. Over all it was in good shape, it had a new paint job and was about 90% done but there was quite a few minor issues that I knew would add up so I gave him an offer and he said no. Well a week later he called and said if i was still interested I could come pick it up. He was moving to Chicago and needed it gone immediately, he wasn't going to have it shipped there. So I said yes, and have been loving it ever since.
Here are a few pictures of it from the ad and the day that i picked it up.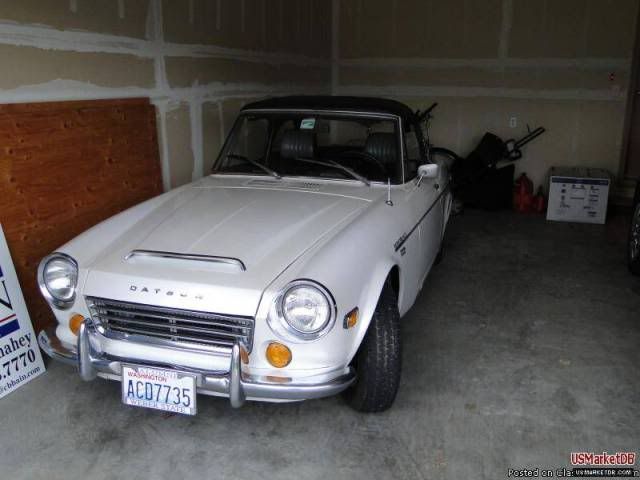 The first order of business was to get rid of the 6 ft antenna and put on some fender mirrors. I then installed Comp racing springs and short bumpstops to get rid of the 5 inch fender gap and find some wheel that didn't look like they belonged on a military vehicle.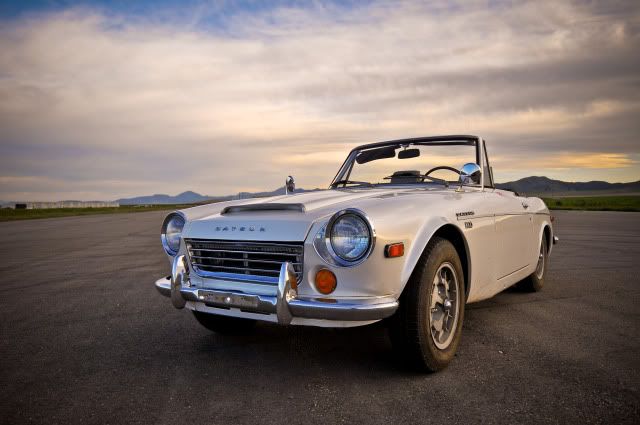 After that I was in search for some vintage JDM wheels. I soon realized that finding wheels for the roadster was a daunting task, being limited by the rear fenders, the wheels had to be just the perfect width and offset in the back but be staggered up front to clear the sway bar. Finding a set of staggered vintage wheels was near impossible. After months of searching I realized it wasn't going to happen, and that I would have to run spacers so I decided to buy a set of 3 piece Black Racing wheels and have them shipped over from Indonesia. They were a bit rough when they showed up so I spend the next couple of weeks restoring them. I sand blasted them and powder coated them red baron red, sanded the lips forever and polished them and bought new hardware. With the right spacers I managed to get them to fit in the rear with just a few mm to spare and larger spacer up front to clear the say bar.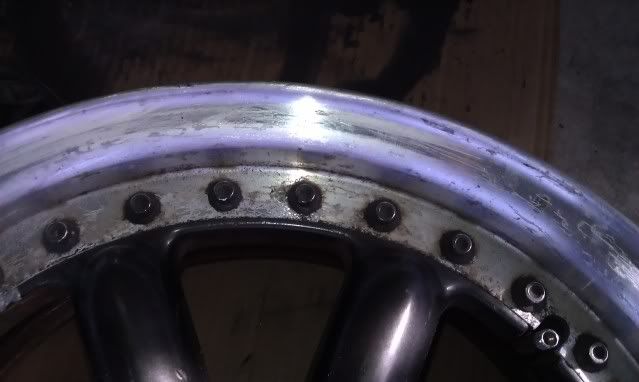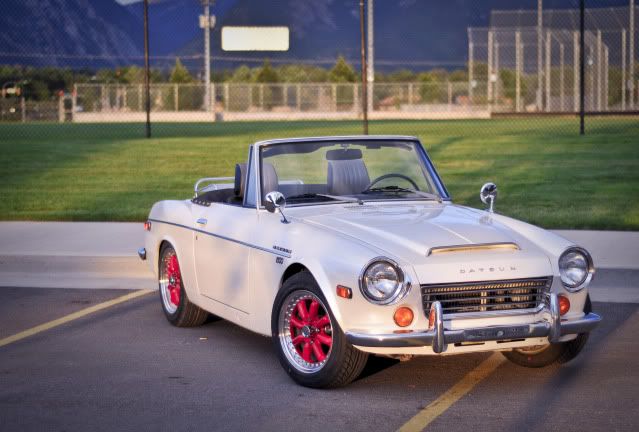 I found out the side marker lights weren't working so I rewired them and swapped them out with clear lights from a 510. I also added some amber fogs and clear turn signals from a older roadster. I'm that the exterior is look good I'm starting under the hood, I powder coated the valve cover and filter cover light blue, like the original Nissan oil filters. Put in a new distributor, polisher thermostat housing and have been replace gaskets. I think over the winter I'll pull the engine and wire tuck it and paint the engine bay and who knows maybe a engine swap.