Hi guys!
Going to do abit of a build thread on my RX7, it's nothing great, it's probably the dirtiest RX7 I have EVER seen, but I love it, I could NEVER part with it, it's almost like a brother to me
Anyways, I purchased the car locally, I had a dodgy front bumper and some terrible looking rear pods, I was told it was rebuilt recently, just a 12A mild port and that was about it, other then that, didn't know too much about it and neither did the owner. Drove it home and it was something different, never owning a rotary before the power was so smooth and very surprising for a little 1.1l that would probably only produce 90/100hp.
As you can see, it wasn't the most attractive thing in the world. It had some bucket seats in it that almost touch the roof, dodgy power windows, but I didn't mind. Not long after I purchased the car, I got it on a hoist to check out underneath. It had coilovers in the front, king springs in the rear, 2 1/2" exhaust with a muffler and a resinator, and factory LSD. Was pretty stoked about it, picked up a bargain for only $2500AU with registration.
I removed bits of the kit, leaving the body to be a mess (front bumper was held in with stainless still rivets, couldnt even drill them out, it looked so much better though, so no complaints here!
About three weeks after owning the car, on the way to work one morning at about 4:45am, the car decided to catch fire just 2 minutes from home, nothing major but was enough to kill my battery and somehow ruin parts off the wiring. What had happened is the previous owner didn't mount the battery properly, it had jumped forward, shorted on the bonnet and started a fire, nothing epic, but a fires a fire in my point of view!
No biggie, kept driving it. My mate had a Momocorse wheel down at as shop for very cheap, so I picked it up and put it in, such a huge improvement, made driving so much more enjoyable
Pretty much at this point I was on the hunt for wheels, but finding anything decent in Australia in 4x110 is always an issue. You either pay through the nose for a good sized 17" wheel (which I think is FAR too big) or be stuck with terrible sizes in a smaller style wheel. Was on the local classifieds and found a set of ROH Centerline replicas in 13x7 +10, not too aggressive and still practical, picked them up and slapped them on.
Was sitting far too high for my liking, so going back to my dodgy was, I pulled out the angle grinder and took a coil out of the rear springs and wound the front coilovers down a touch.
I was happy with it now, looked cool so I just needed some sort of support while driving this thing. This come through in one of my friends half cuts so I snapped it up instantly. Little bit worse for wear but it works!
Drove it around some more, lowered it more too.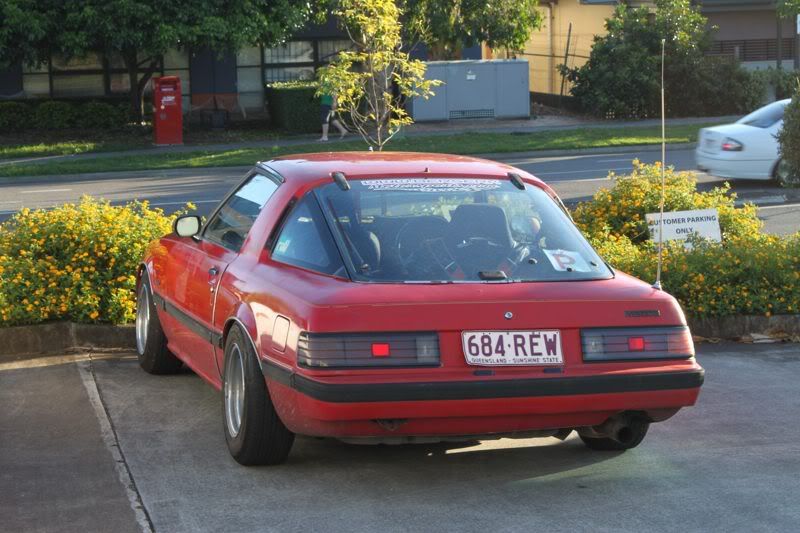 This is where alot of people will realise just how dirty this thing is. I never intended this thing to be a show car, I drive it like a rotor should be driven, and if I keep it like this, I'm not scared to hit things at the track (I am an apprentice painter so it's not cause I don't know how to fix it haha)
Got a new steering wheel, Momo C38
more pictures
Then while I was waiting to finish off my laurel, I put this in it.
and just last week after I finished trying to fix the waterpump
So thats it for now, the build will start getting better within the next 2/3 months, looking at going bridgeport with a bigger carb and just fix little bits and pieces and start doing some track work in it.
Thanks guys.