Funny that you should ask, I was just working on a solution for that this week and will finish it today. The gauges weren't hard to see, but I did want to angle them towards me and that gauge bracket wasn't the best. So I started looking through my arsenal of stuff in the garage and trying to find something that would work. I had thought about a pillar gauge pod, but that would be a crap shoot since I'd have to know which one would have the right angle and size.
Then I went to the shed and grabbed a 2" PVC pipe I had laying around and the gauges fit in perfectly! So I cut three pieces a little longer than the gauges and I mounted them to a 1/2" square aluminum tube I had laying around. The aluminum is to mount them to the panel below the glovebox and raise them up above the edge. I have A/C so you can't go too far back with them.
Here's what I came up with. Click a picture - the pics are large so you can see the details....
You can see the square aluminum tube under the PVC tubes. I had to notch the aluminum tube with a file because there's a support ridge in the panel it needs to clear. The ridge is just like the one below the gauge set in that first pic. You can also see where the PVC tubes are held with a screw to the aluminum tube.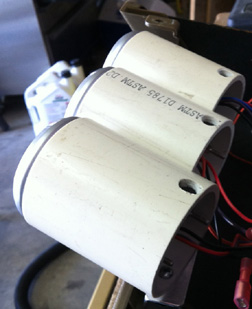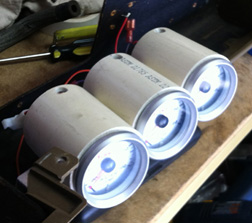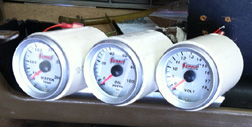 I used epoxy to hold the tubes together, and painted them a satin black.