oldeskewltoy wrote:
It sucks when your wideband sensor fails.........
more to come.......
LOOOOOOOOOOOONG story, grab a bag of chips/popcorn and get settled in.
December 2011 - in the mail comes my vehicle registration. Along with the registration is the need to take Surreptitious back through emissions. Now to remind readers, part of this build was to build a car that was fun, and yet still emissions compliant. In fact emissions compliance was why I went
mild
on this engine in the first place!!!
January 2012 - I'm a little nervous about going through emissions because it has been nearly 2 years, and all the time I've ben "tuning" on her. Well I got up the courage and drove over to Sherwood DEQ and went through and got the following.......
The above is a FAIL sheet. Follow the corresponding highlighter to see my readings and what the standard are... 220 HC standard, I'm pumping out 1968 :tard: That is 8 TIMES the standard!!! The CO isn't helping here either, the standard is 1%, and I'm @ 3.2477% - a factor of more than 3.2 TIMES. This is NOT a clean car... not by a LOOOOOONG shot!
Being mid January 2012, and having about 6 weeks to fix this, I call Bob and see if he has time to set up the tune, this time without a 9mm vacuum leak!!! I speak to Bob, and he is massively booked, so booked that his earliest appointment time for me would be mid to late March.... outside of my inspection window
February 2012 - Another solution had to be found, and found quickly. I put a few feelers out and I decided on PSI in Hillsboro -
http://www.tunedbypsi.com
. Jason is the owner of PSI, cool guy, knows his stuff. I brought over Surreptitious, her laptop with the FJO software, and left them there for a week. This was cool by him because he could fit Surreptitious around other clients... and so save me some cash
I kept in contact with Jason all week long via email, he began the tune with a baseline run (PSI still has all 39 runs... yes 39!) At first he began to pull out ignition timing... those that remember my MAP peaked @ 35 degrees, well Jason begain pulling timing and seeing no loss of power while on the dyno... he was able to pull 9 degrees of timing from the map while retaining ALL of the power. Peak ignition timing on WOT is now a very "Easy" 26 degrees. So with the ignition side set, he looks @ the wideband and it is not operating correctly... The baseline run saw afr around 16.....
16
That lean, with 35 degrees ignition... and still no ping!!! Amazing what deshrouding of the chambers can do to minimize ping
Once an ignition map was laid in, Jason rebuilt the fuel MAP, he scrapped all the previous info from the fuel side, all the other maps that were in the system and began by figuring out the VE (volumetric effficency) of my engine. He built an entirely new fuel map that as of now is NOT using the wideband for fine tuning. Although I do expect this to change....
So with all of PSI wizardry, the best they could get the emissions down to was the 1400s... better, but still WAAAAY off the mark. After speaking to Jason it was agreed that the next step to get her clean was a new cat, and if that failed, pull the cams, for a set of stockers so the overlap would be less. This last option was not my favorite, and although easier then swapping an entire engine, I was hoping that the cat would fix the issue.
Earlier today - I went back to Darrell's Economy Muffler (originally recommend by Arnie Loyning), showed him my original emissions cert from 2010 (seen below)
and then I showed him the failed cert. He looked at me, looked at the car, and said , "I remember you and that little hotrod... what you'd expect a single stage cat to keep all that overlap(cam duration) clean for 2 years?" They set me up with a new cat, a heavy metal dual stage 2.5" cat. The shop owner recommended a 30 min drive to fully heat up the new cat... I drive back to the west side of town, back to Sherwood DEQ....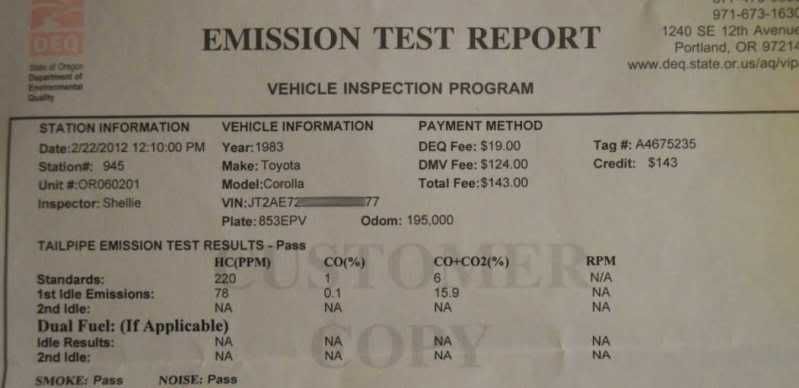 The numbers are now 78 for the HC, and .1% for the CO
she now passed, and is good for another 2 years. I'll now be prepared, that if she fails in 2 years to take a close look at the cat.
oldeskewltoy wrote:
(PSI still has all 39 runs... yes 39!)

for those number hounds... her peaks were 144whp, and 110#/ft WITH the airbox and air intake tube on.
The 145whp and 112#/ft were on Bob's dyno dynamics, but those peaks were done with the airbox, and air intake elbow removed. For those who like to calculate dyno differences... when Bob ran my engine with air intake and airbox, she planted around 138whp and 107 ft/#s
What has improved is the torque curve.... All the dips have been removed, In some areas Jason raised the torque over 6#/ft at certain rpm levels! She pulls long and strong with 100#/ft(@ the wheels) for over 5000 rpm!!!
I'll get the printouts in the next week or so, in the mean time....
http://tunedbypsi.com/blog-entry.php?On-The-Dyno-1982-Toyota-Corolla-383
-