Toolz, I can never thank you enough for hooking me up with all of this fantastic information! I've really come to love these little March's and am actually keeping my eye out for another n/a K10 to build something fun out of, but no matter how hard I search I can't find a single one for sale!! It's like 10 years of production cars up and disappeared I've never seen anything fall off the radar like that before.
Anyways, as I stated last time, I had a ton of parts to put on. So I finally managed to get two days off and got to serious work!
So, as I left it last time I had a bunch of genuine Nissan parts waiting to go on.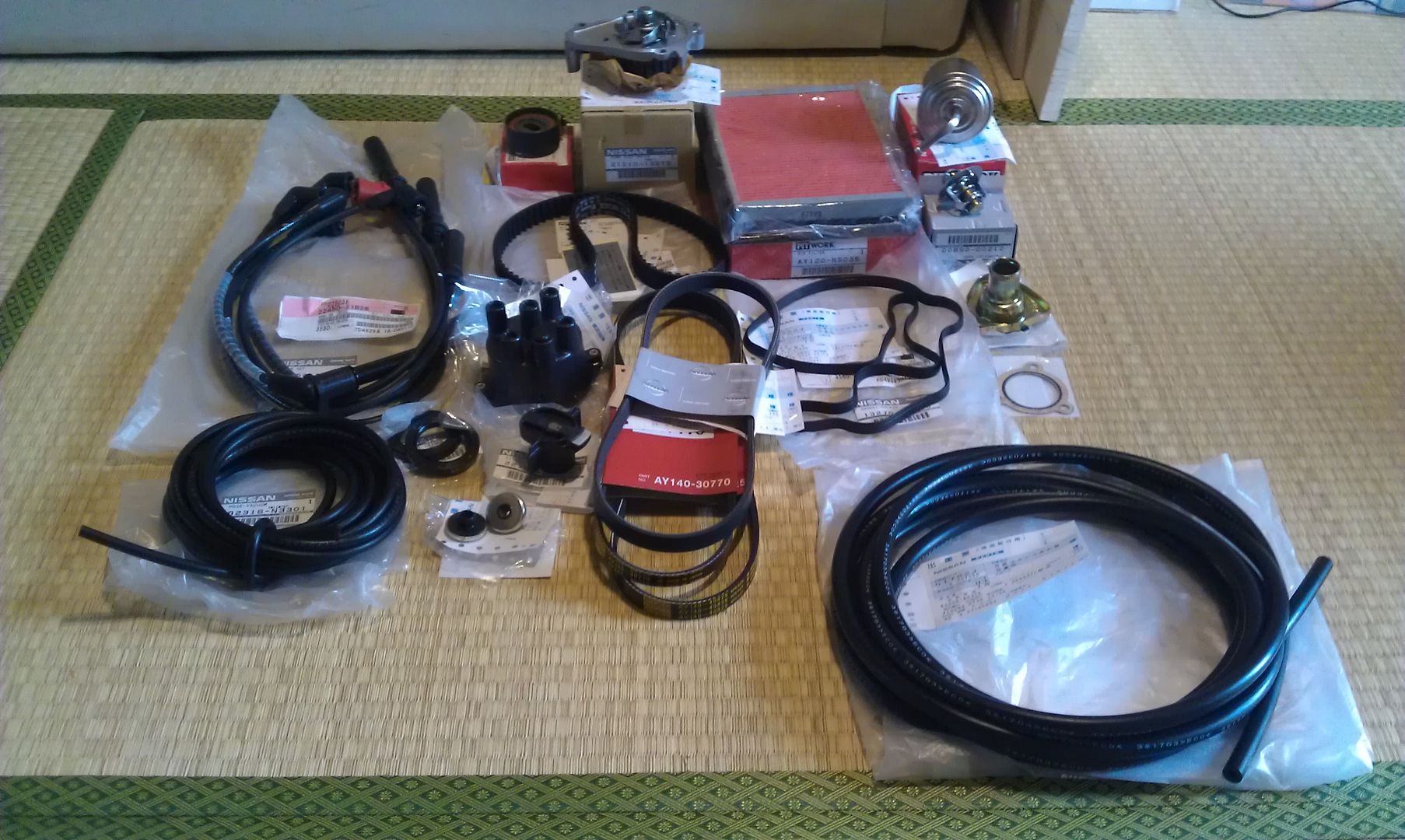 The first step of course is pulling that front wheel off. The adventure begins!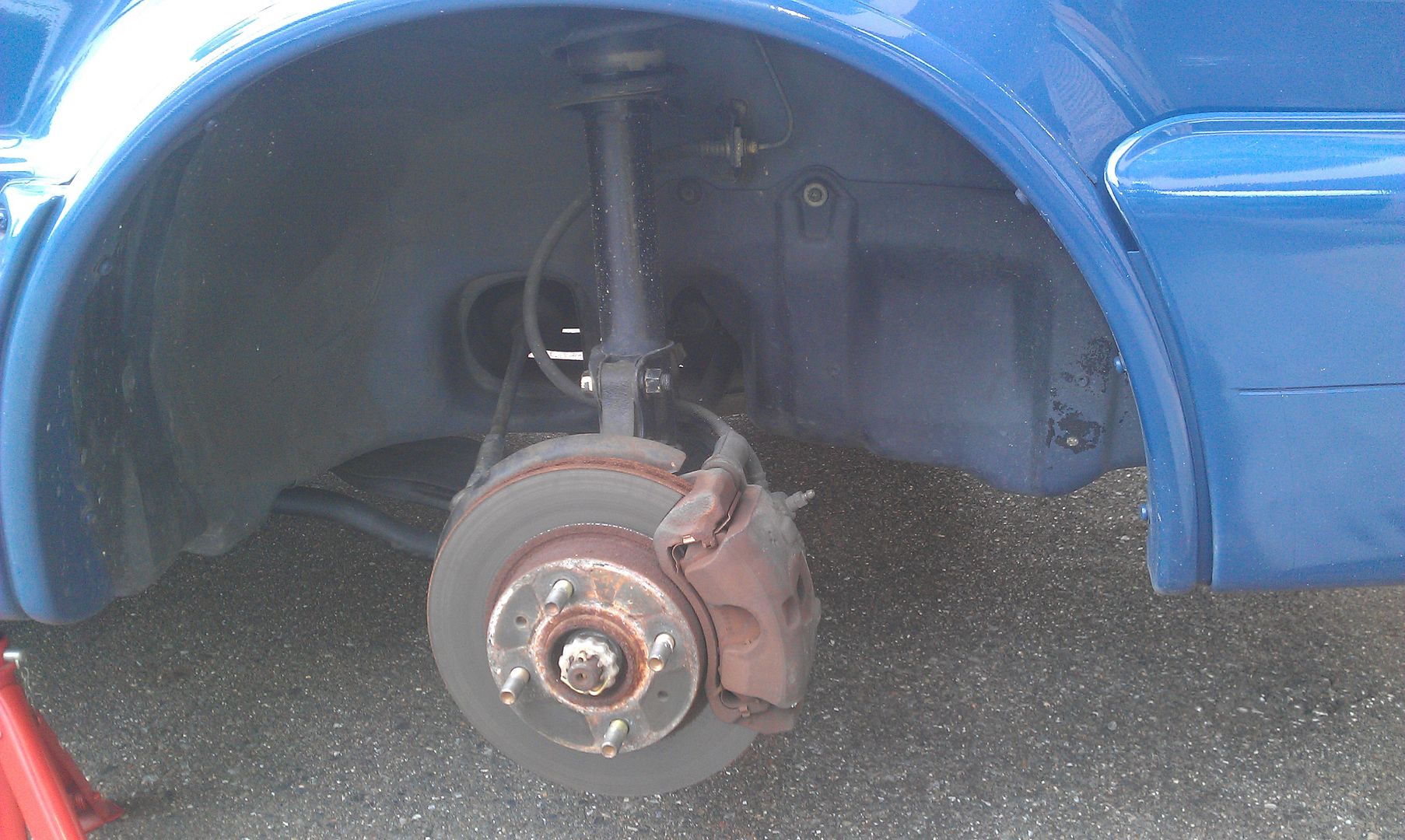 Before you can do anything in the engine bay the intercooler has to come out. That's like the first step to everything, including a simple spark plug change!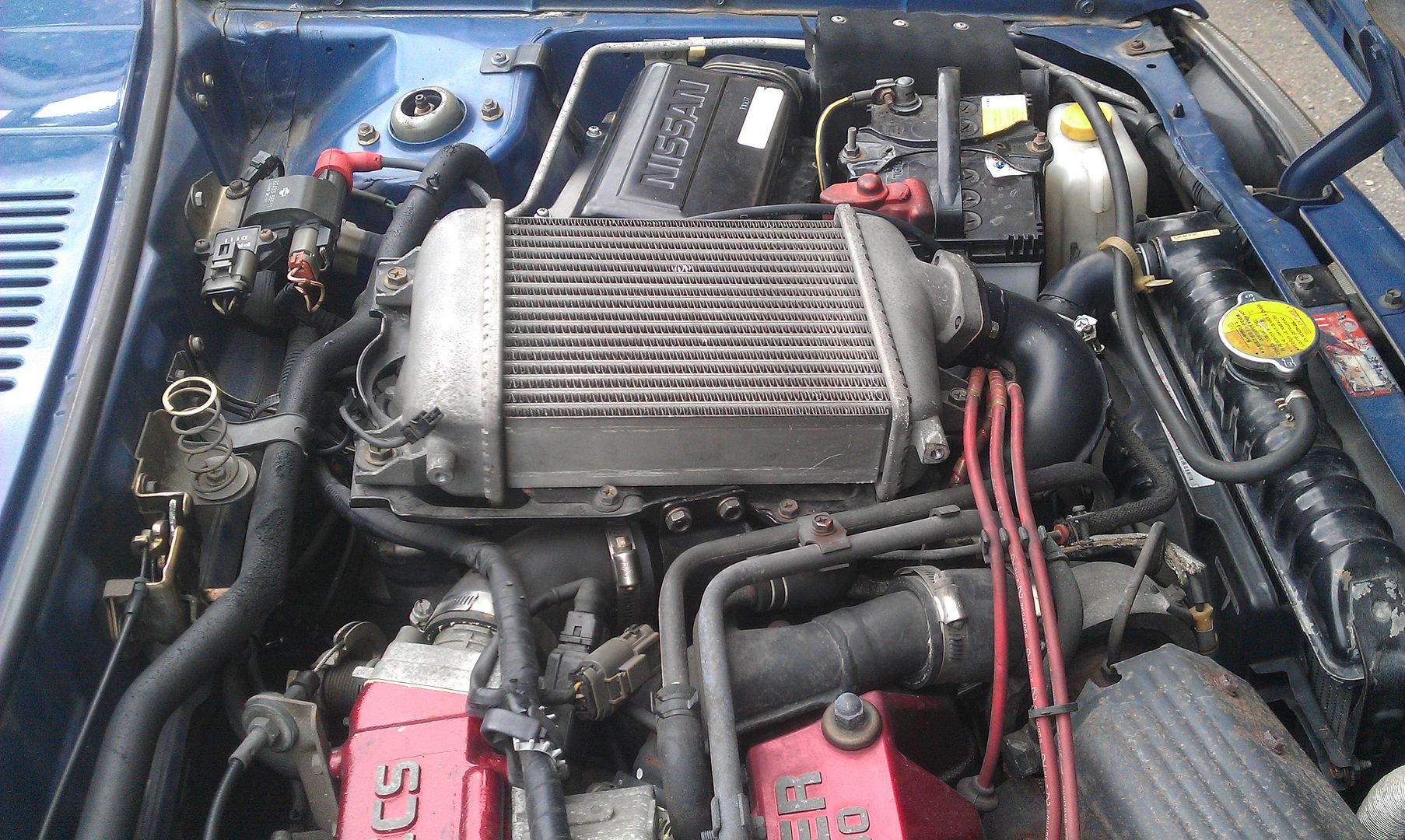 With the intercooler out you can see this weird resonator thing in the section of pipe that leads to the turbo. This part sees no boost and has three vacuum lines leading to it. Little would I know just how important this piece is, haha.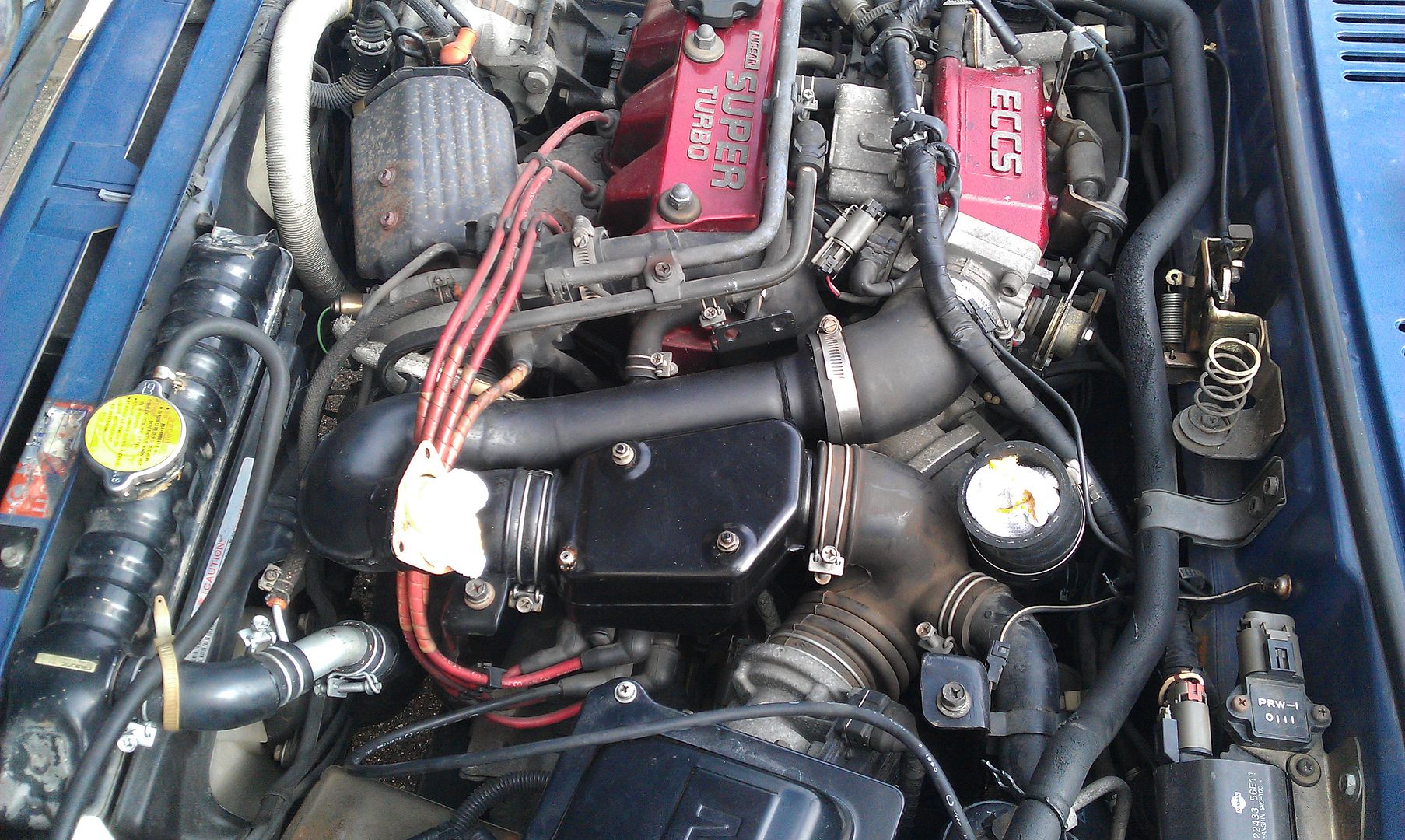 The three lines that run to the underside of the resonator.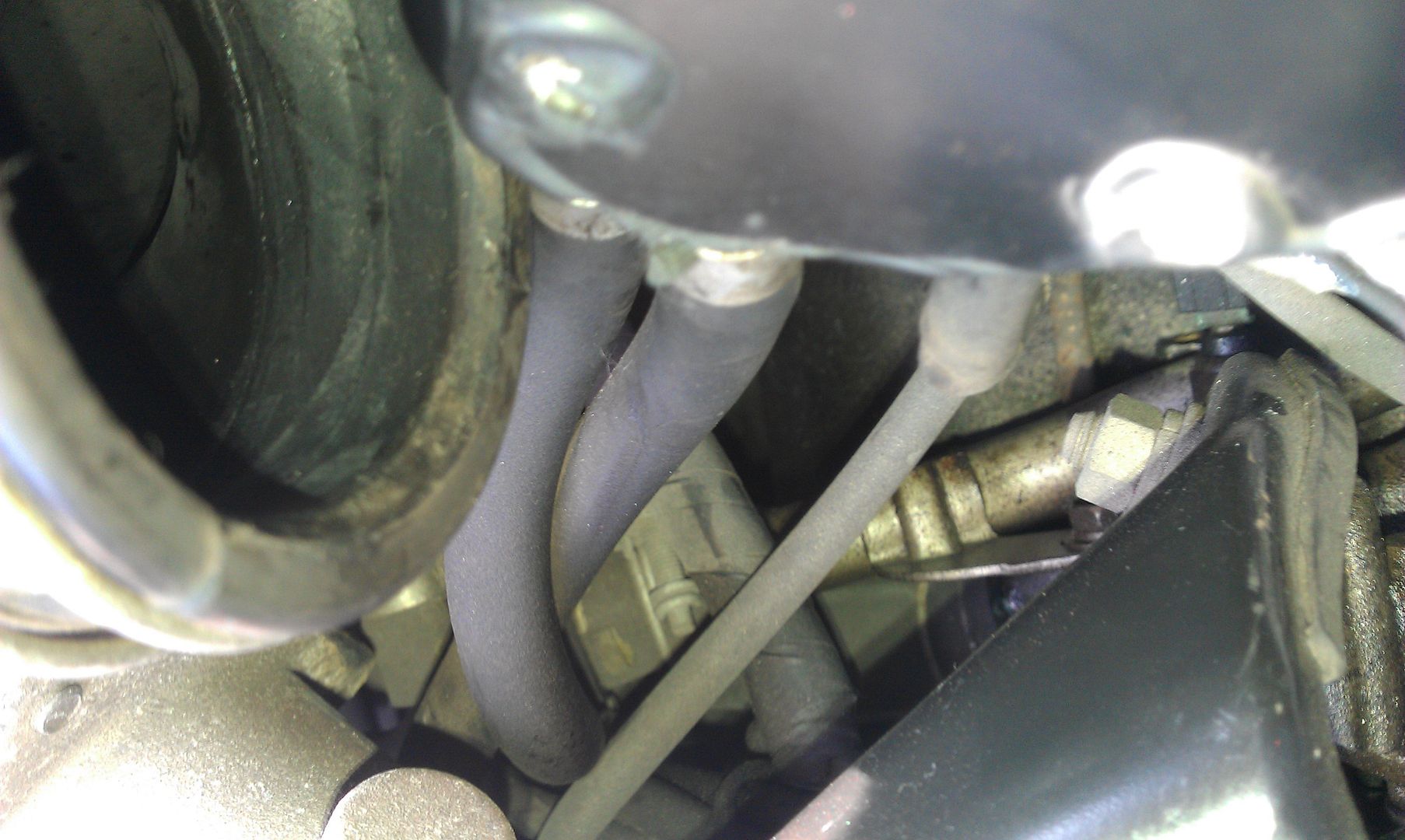 My goal here was to get the valve cover off to put a new gasket on it as it was failing to keep the oil where it belongs (ie. not around my #4 spark plug, haha). This was no easy task! All those steel vacuum lines had to move out of the way. Only one of those steel lines is the water line for the turbo! So, after loosening the banjo bolt up I got closer.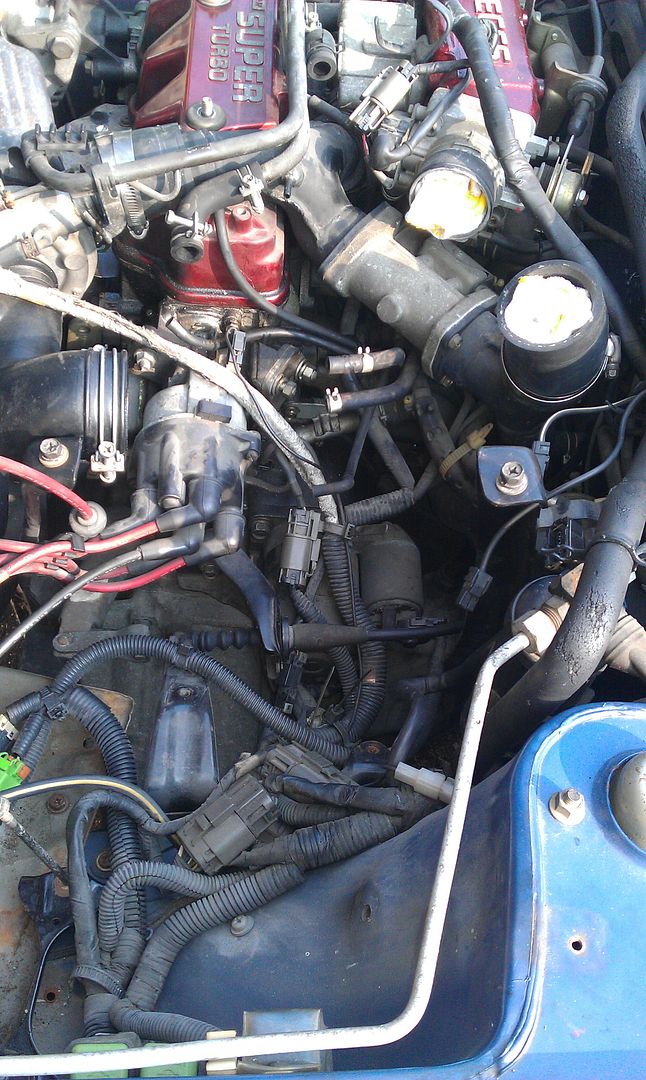 The charge pipe that comes out of the turbo splits just after the valve cover with one half running straight to the bypass valve and the other half heading in between the block and the intake manifold before finally snaking down to the super charger. This pipe obviously has to come out as well.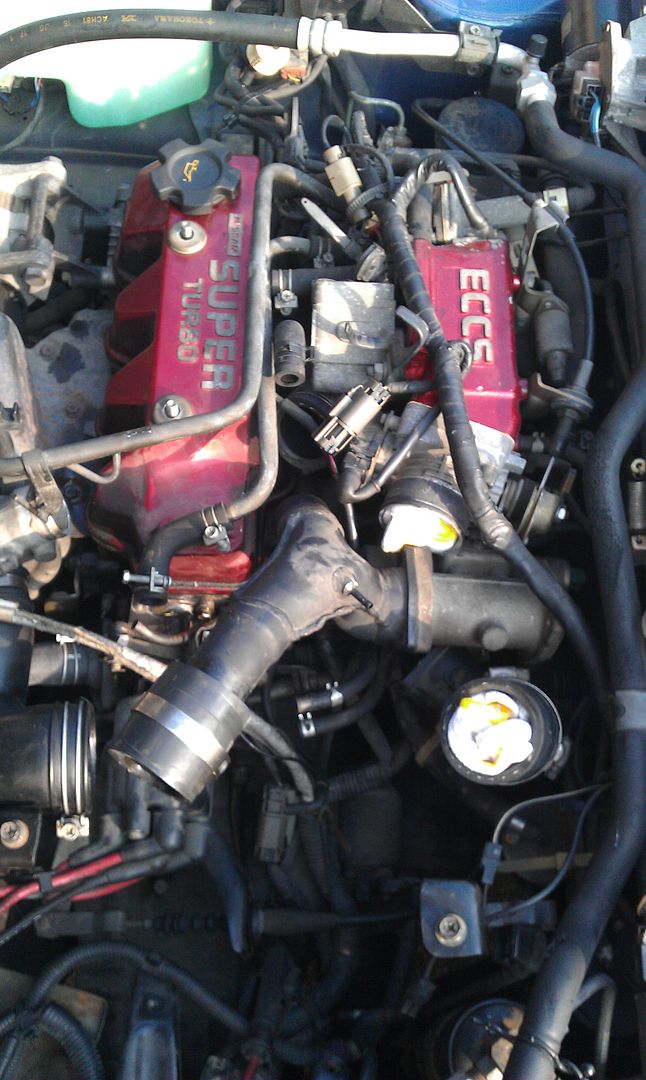 Victory at last!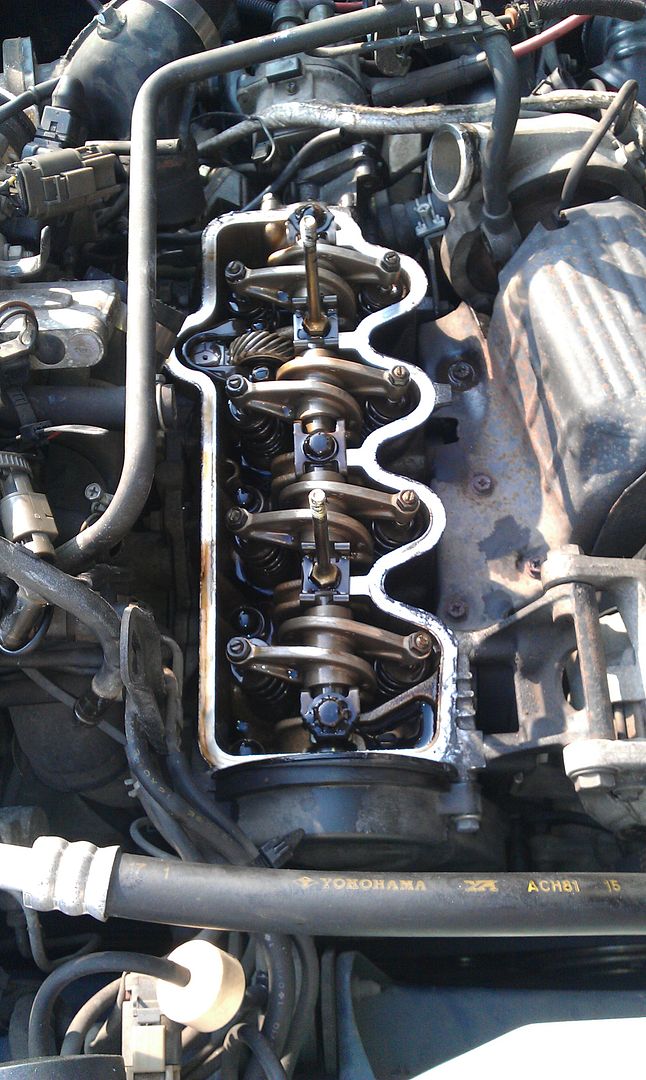 Popped all of the belts off. This thing is really hilarious, you can grab the main pulley and just turn the engine over by hand now problem, I managed to do two full revolutions like that trying to make it to TDC.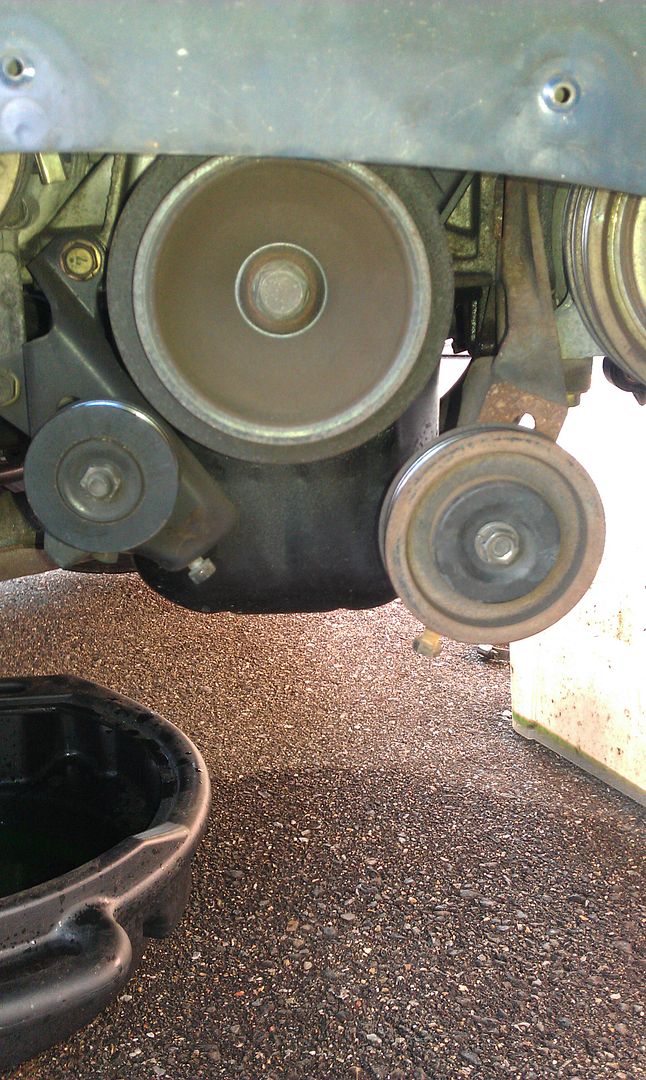 On the front of the engine, before you can get the timing belt covers off you have to take off this bracket. There's like zero room though! I was convinced that this was going to be the hardest part of the whole thing! It wasn't, but it was still a pain, haha.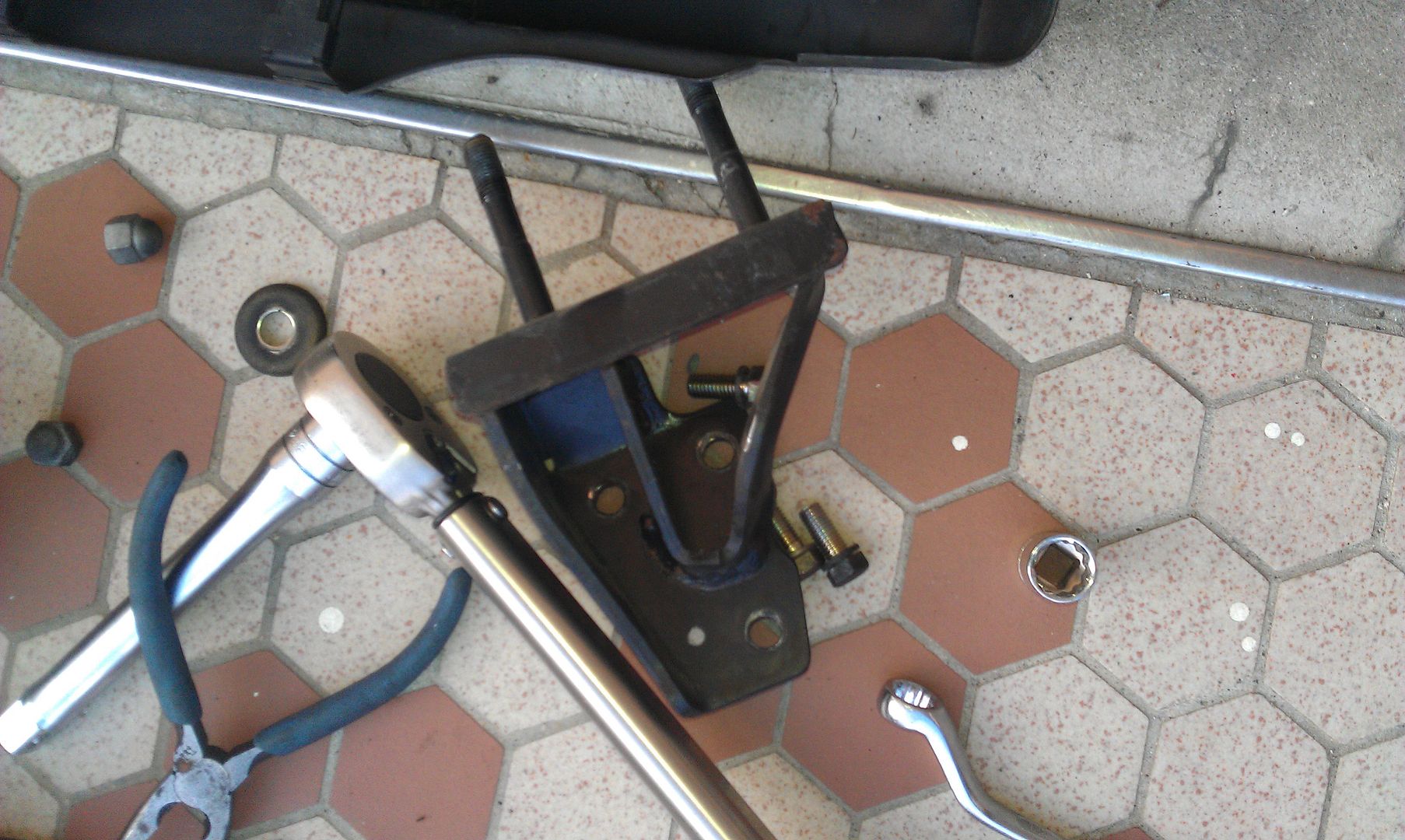 Where the bracket used to live.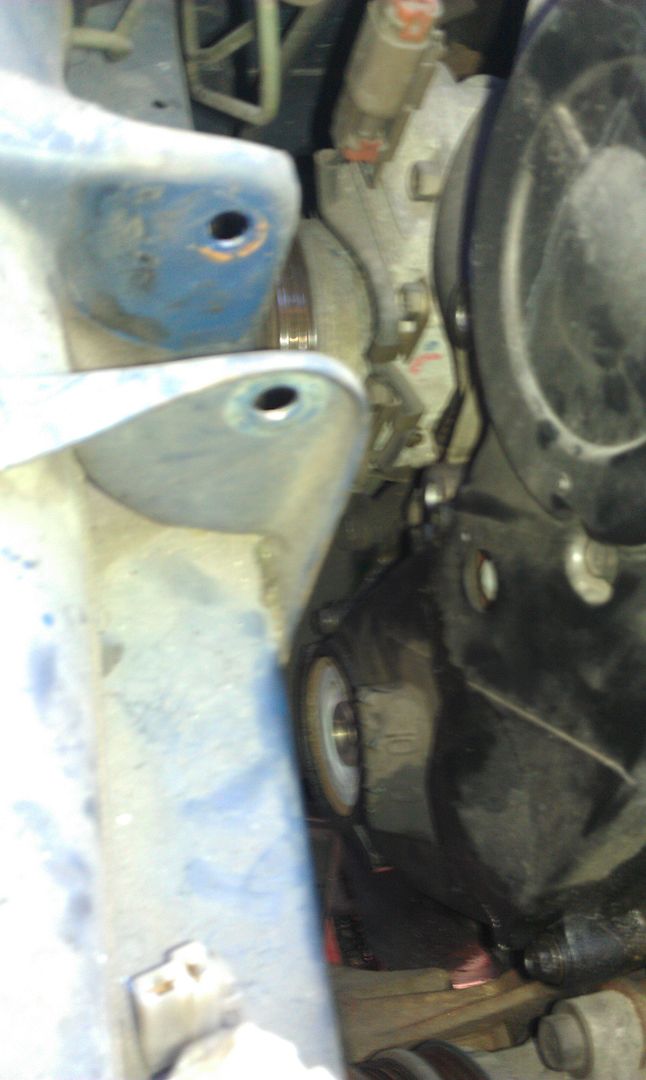 Timing belt off!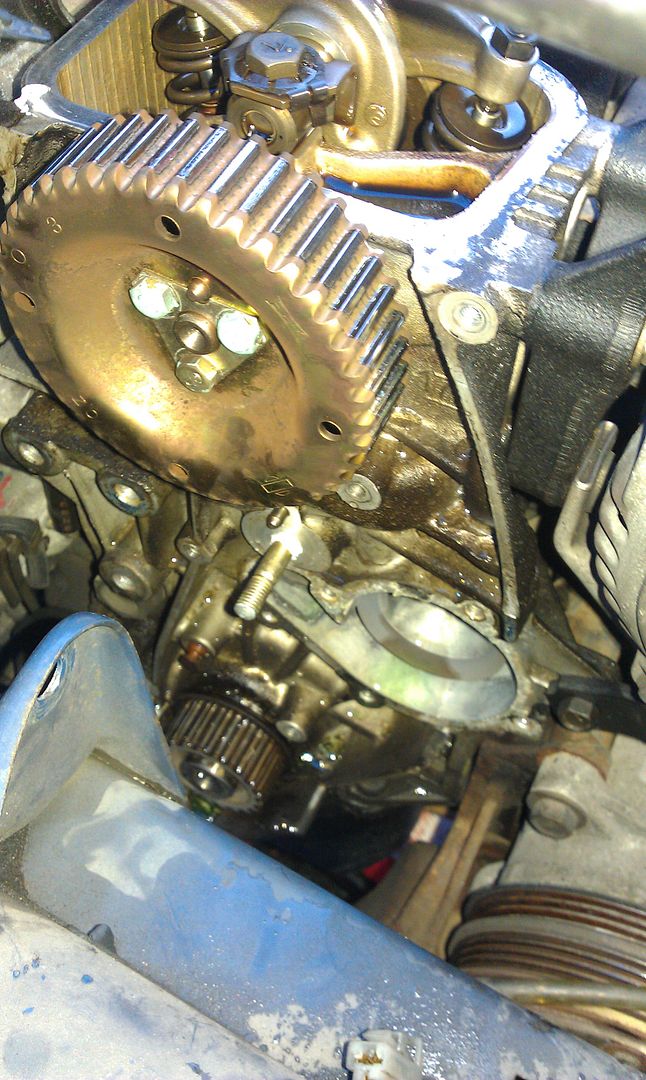 You can actually see the timing marks on the crank pulley and crankcase in this picture really well!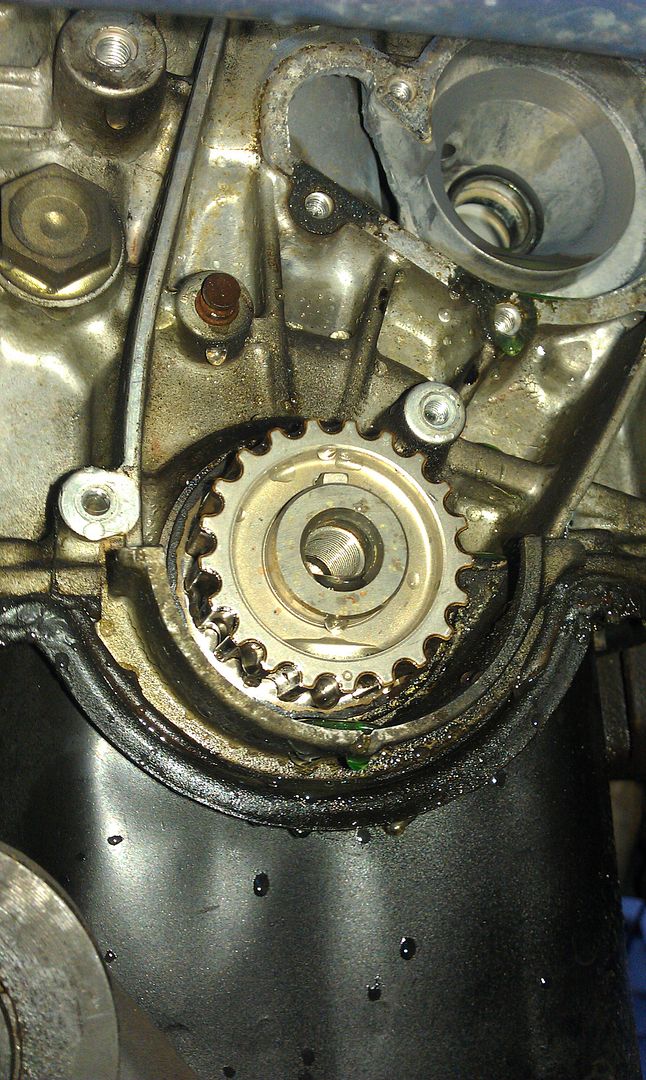 I wanted to get the water pump on but figured I'd start with something easier and went for the thermostat and housing. First new parts to go on!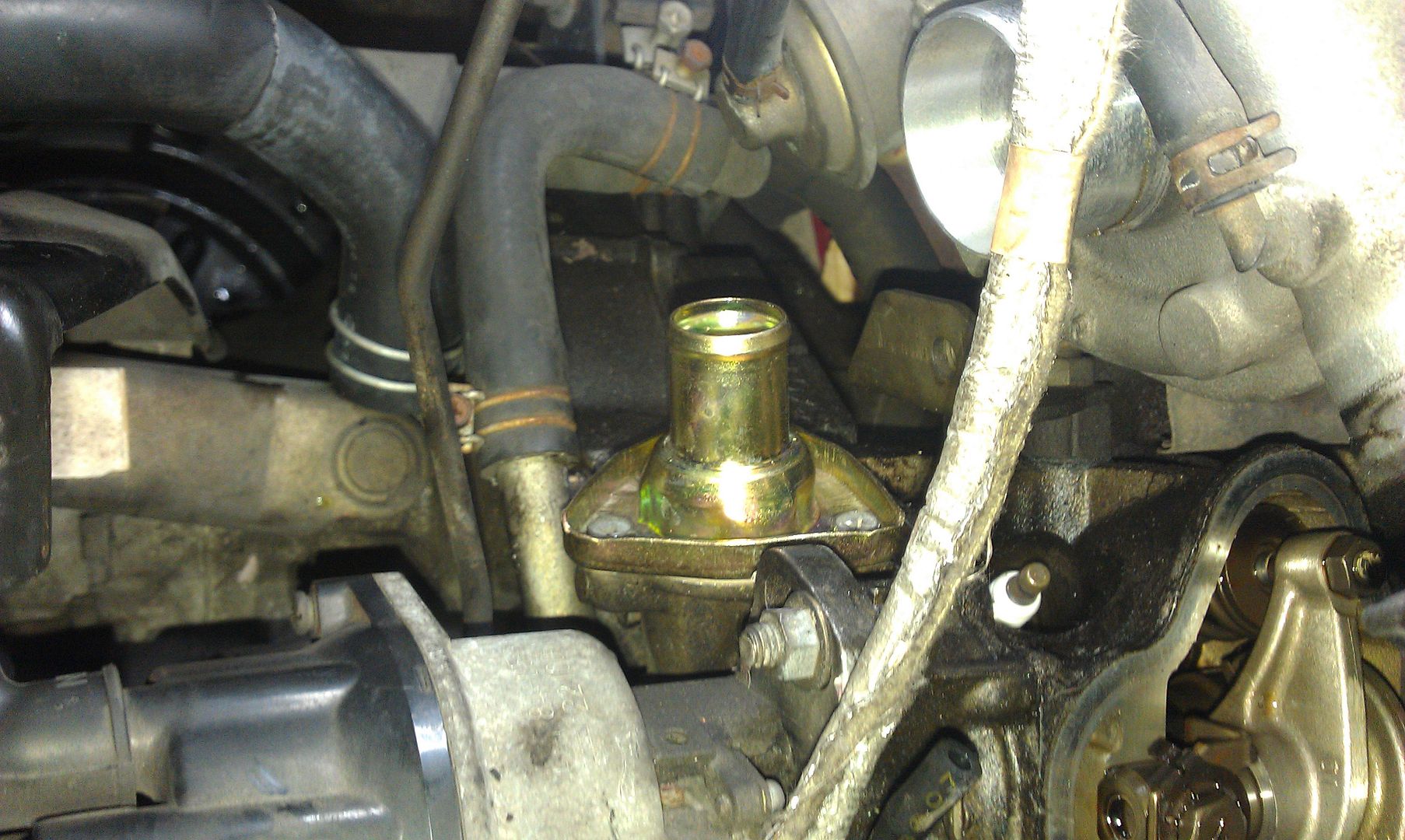 Turned out I didn't need to worry as the water pump was a cinch!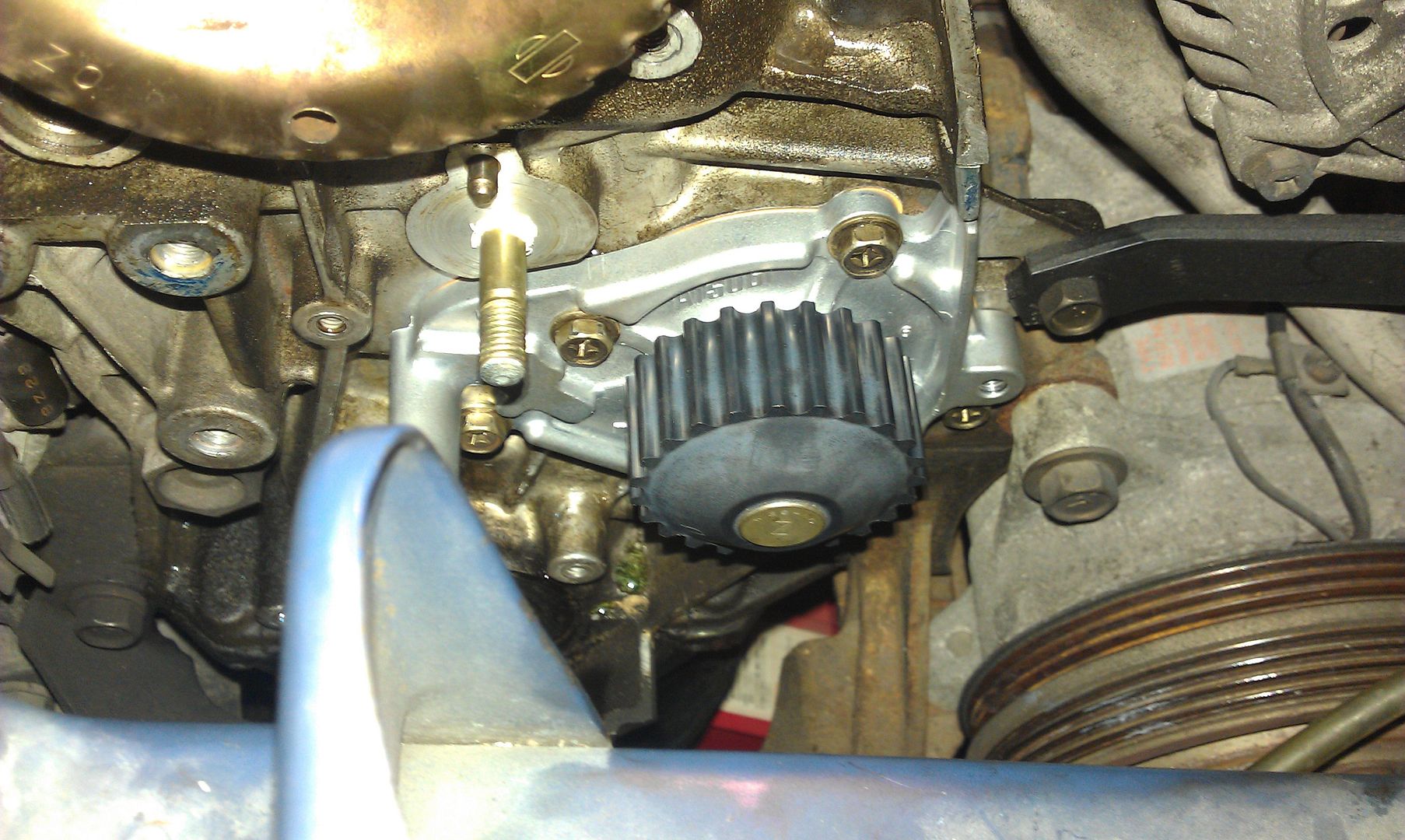 Last thing for the night was to instal new cam and crank seals. This actually took three of us to accomplish, but don't be fooled, it wasn't because it was a difficult job. No, it was because prior to this, a good old bbq and some Mexican beers had suddenly appeared in my garage and none of us trusted our own judgement, so we all triple checked everything, haha. That would also be why I only remembered to take a picture of one of the new seals, haha.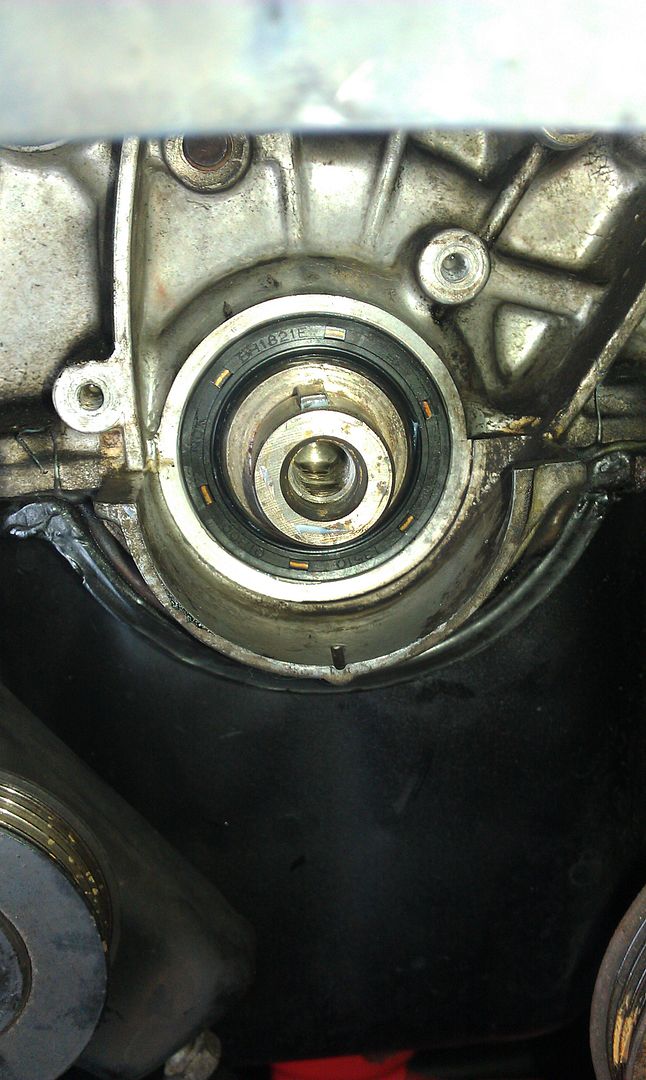 Next morning, I got down there at 8 am and got back into it with renewed vigor! First thing on the list was to get the timing on and tensioned.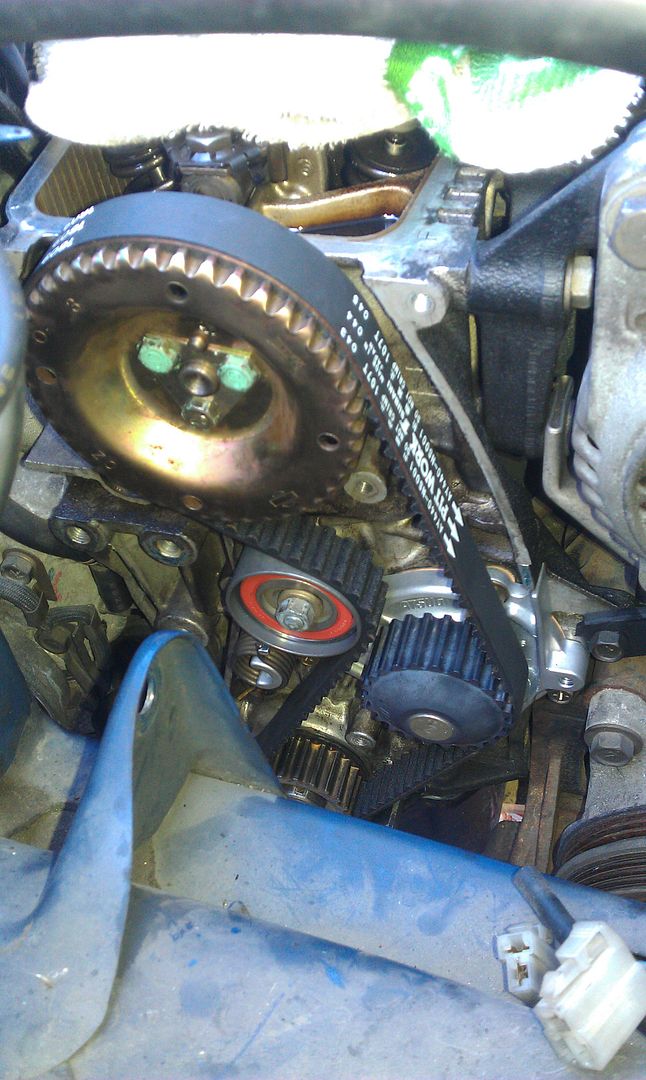 Then I pulled the old fuel filter out and the brown nastiness that flowed out of it was slightly disturbing. I don't think that the fuel filter had been replaced once in the last 20 years! New filter in and shiny looking!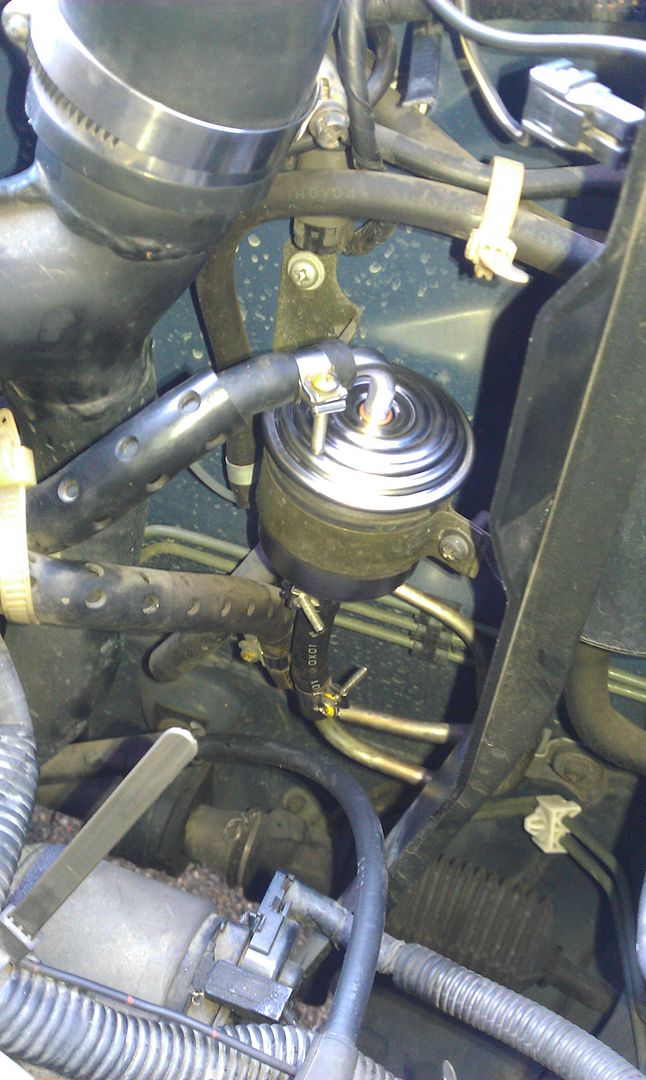 New gasket on the valve cover!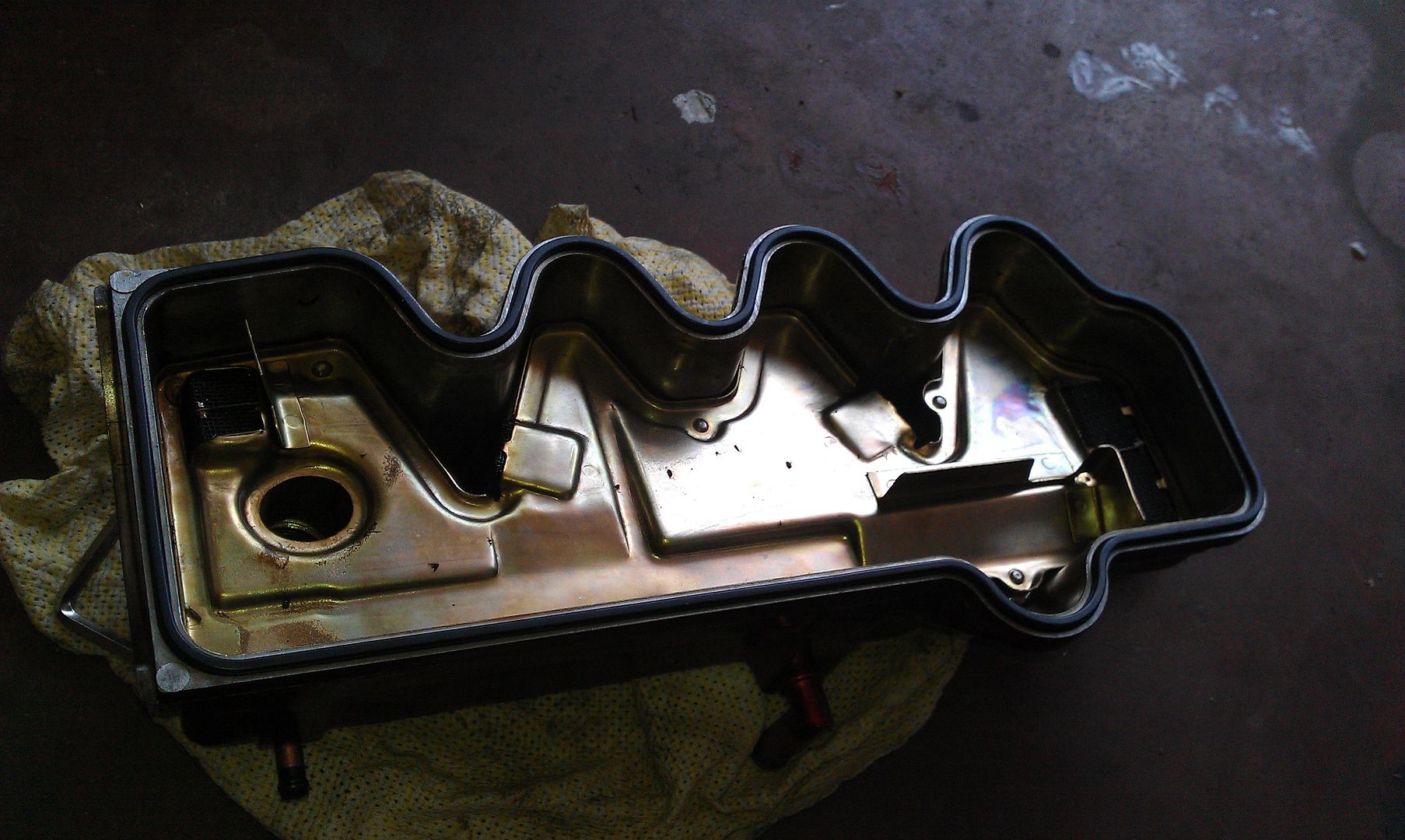 While I was inside I started looking at the bypass valve. This thing is interesting. It naturally rests with the butterfly valve half cracked open. then vacuum and boost cause it to open to regulate supercharger boost pressure and ultimately let the turbo charger take over. It's a crazy piece of engineering.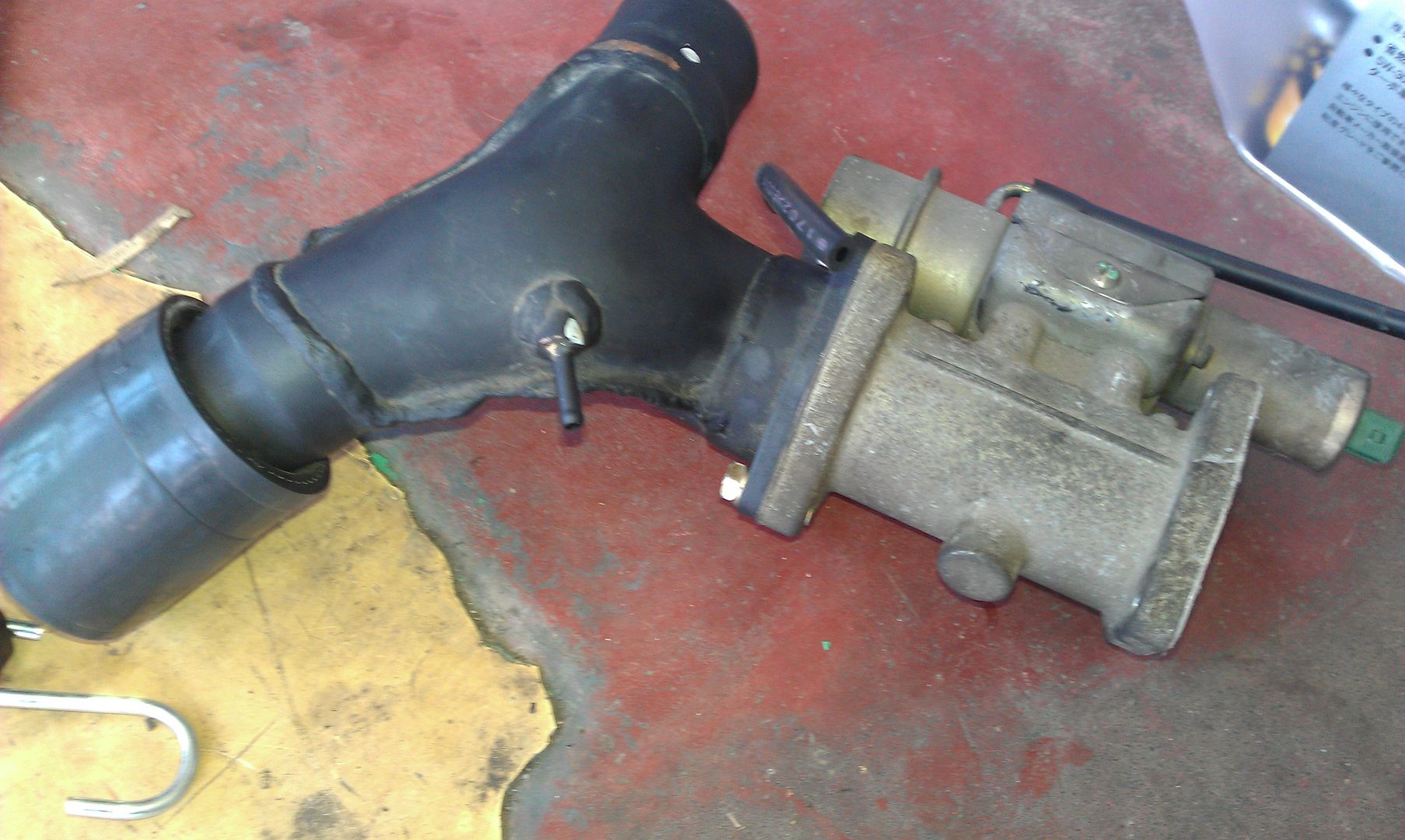 Got a buddy of mine to make sweet love to the vacuum hose for this picture, haha.
Then I started the ever so daunting task of replacing the majority of the vacuum hoses, which was a good idea as most of them were cracked! This was the most difficult thing I've ever done on a car! My hands look like I got in a fist fight with a cougar and lost. I couldn't type on the computer for an entire day after I got done! This is just a small portion of the hoses.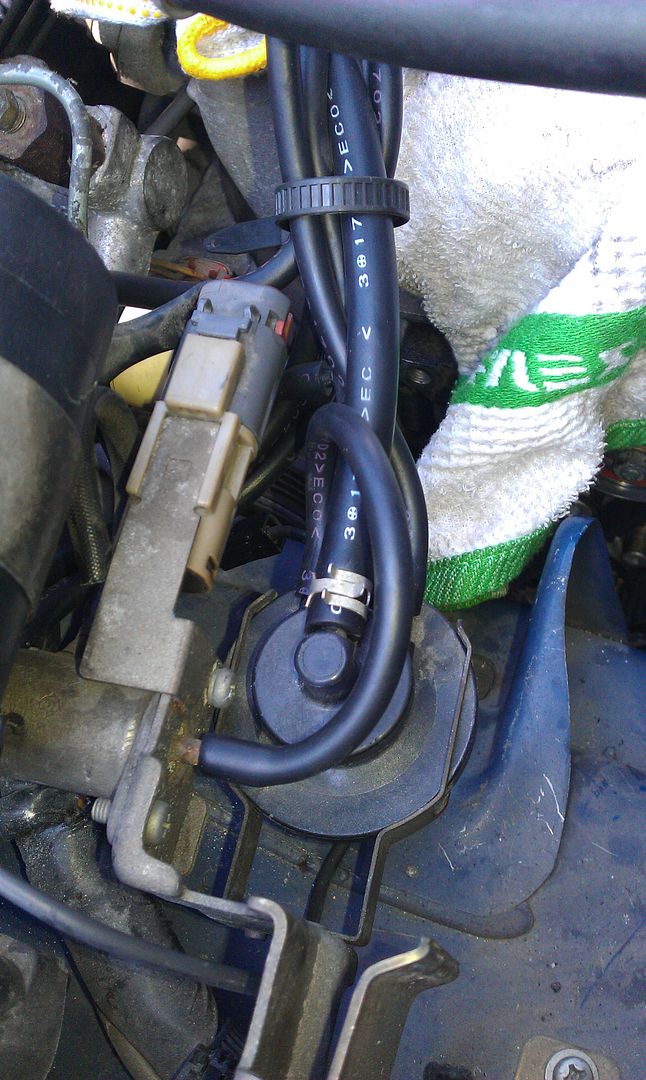 One of those hoses in the picture above actually had a restricter in it (although I have no clue for what reason). So I snapped a picture of the restricter before pushing it into a new hose and installing it.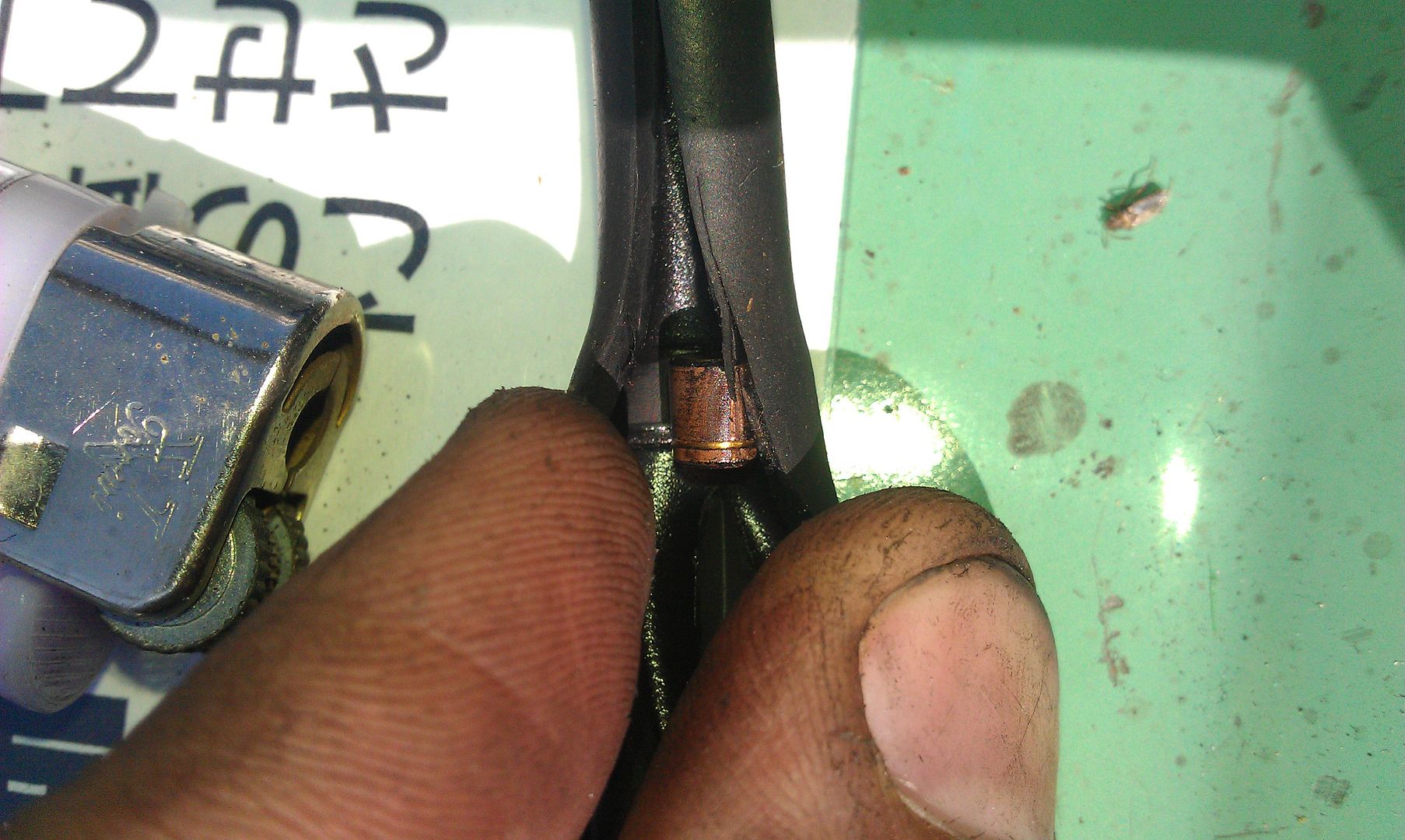 The majority of the old hoses.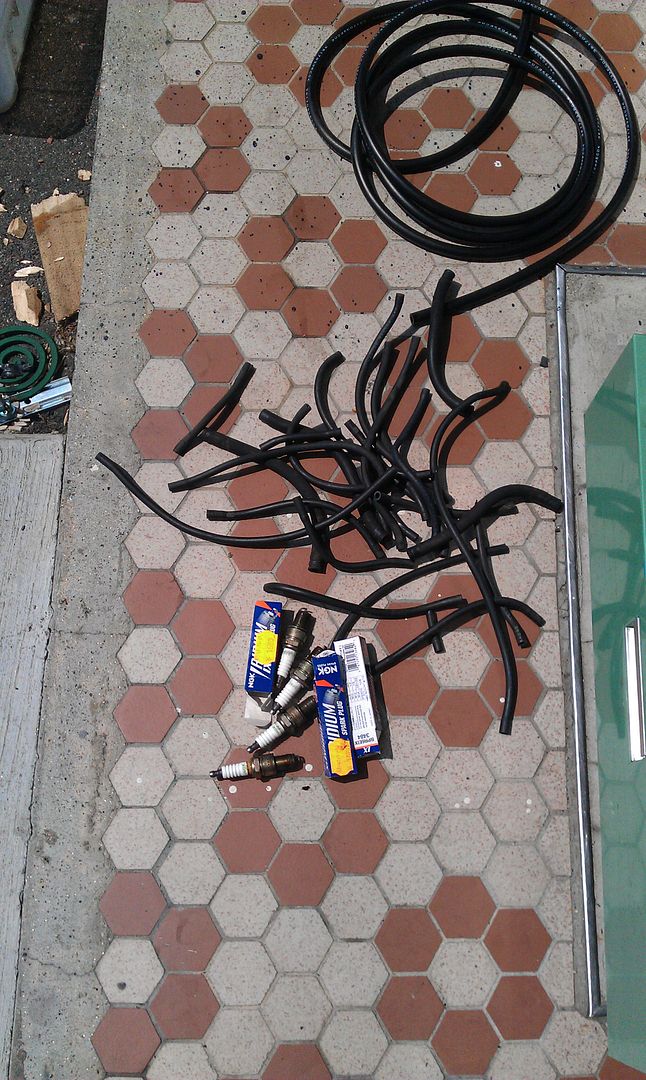 With all the vacuum hoses replace I got to work on the ignition system. New cap, rotor, wires and plugs!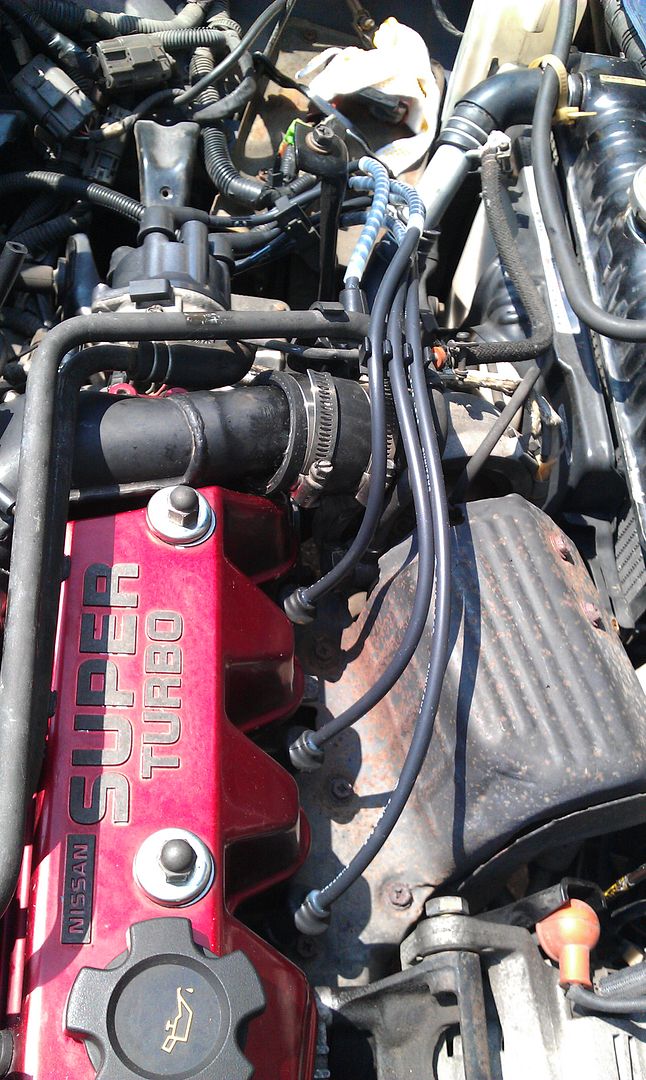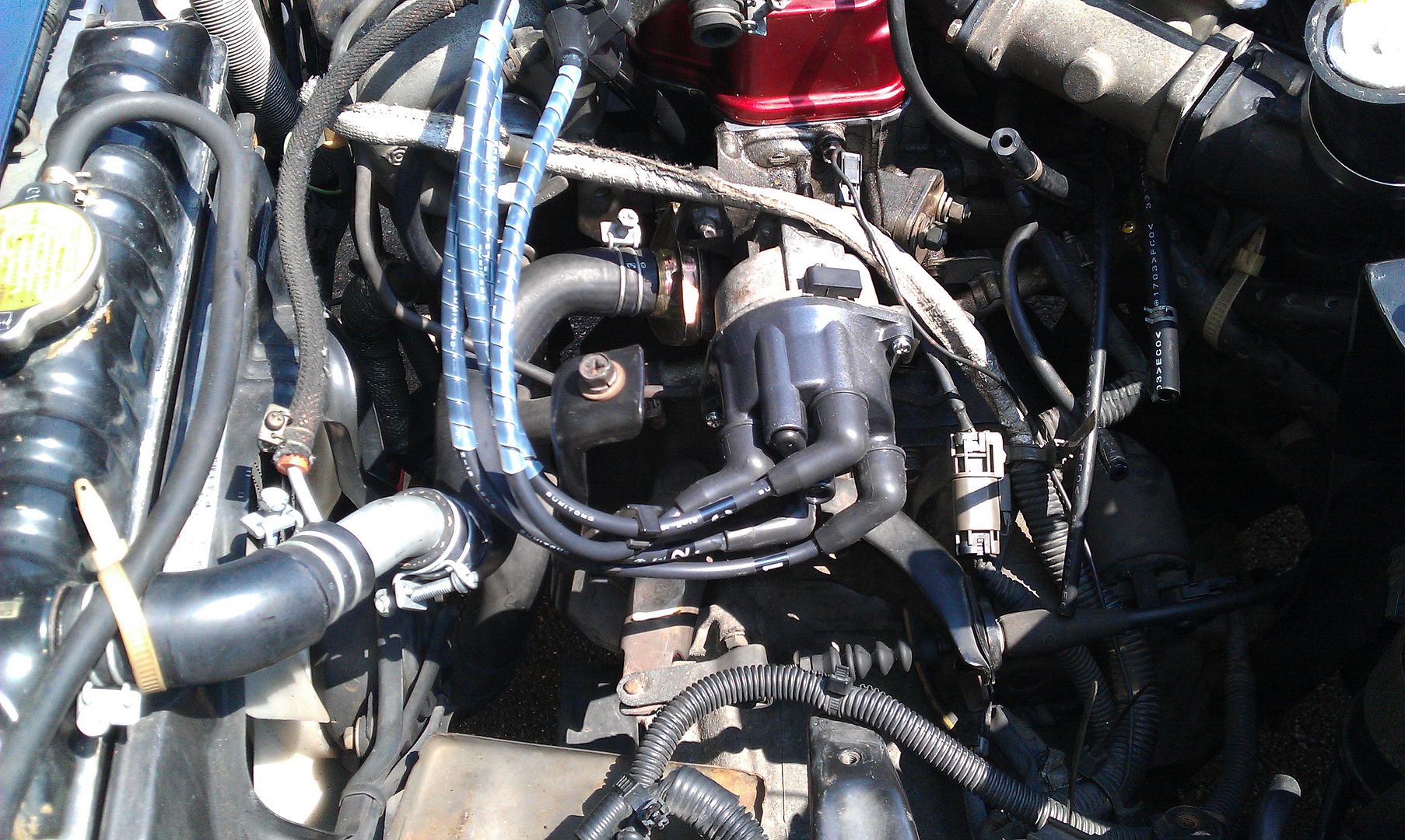 Turns out this was a good thing as the old rotor looked like it had seen better days!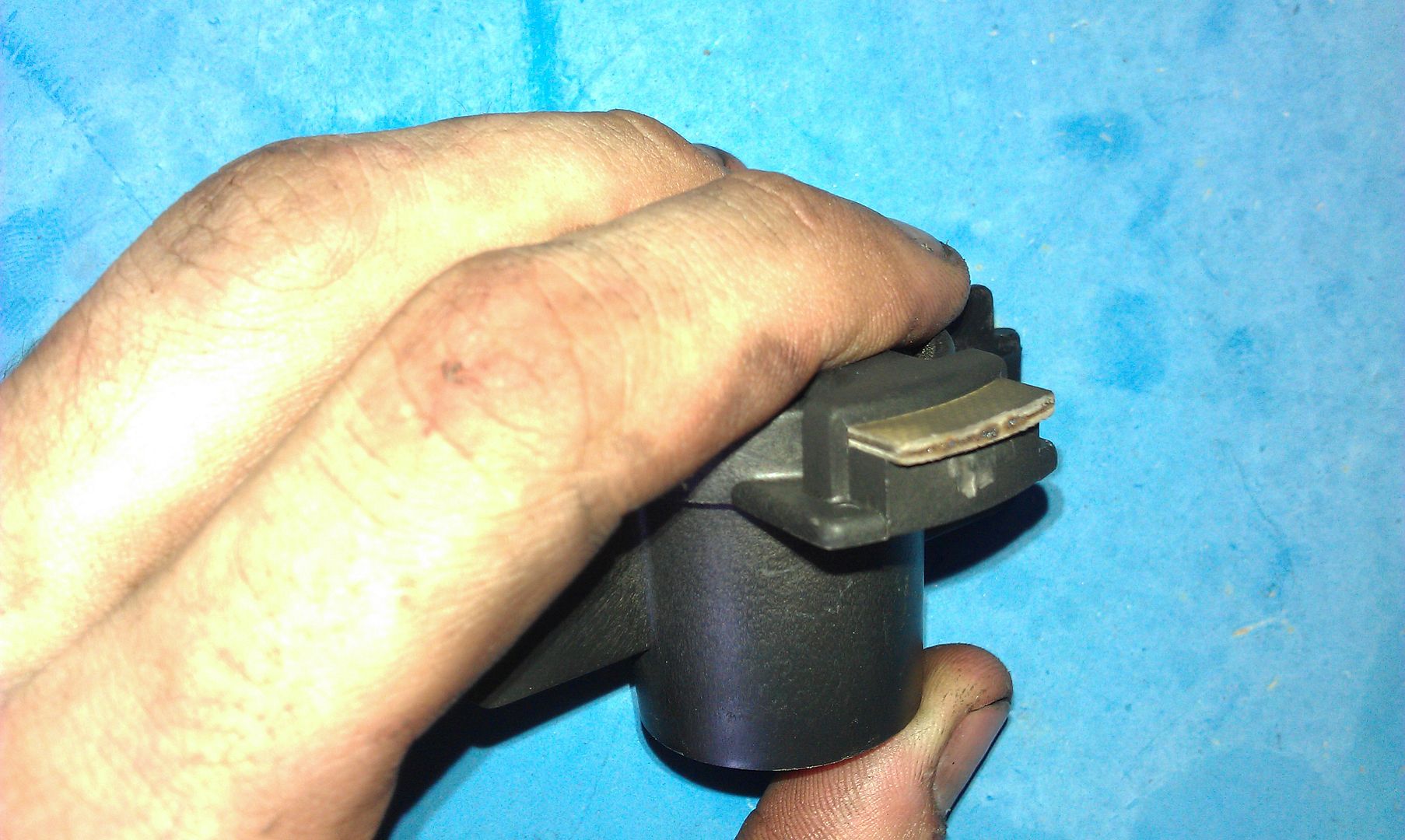 That was all the new parts so I plugged everything back together except the motor mount, belt covers and drive belts and started her up hoping for hte best. She started and purred like a kitten, smoother than I could have hoped for. After a little happy dance and some quick revs to make sure nothing was going to suddenly explode I shut her down for final assembly.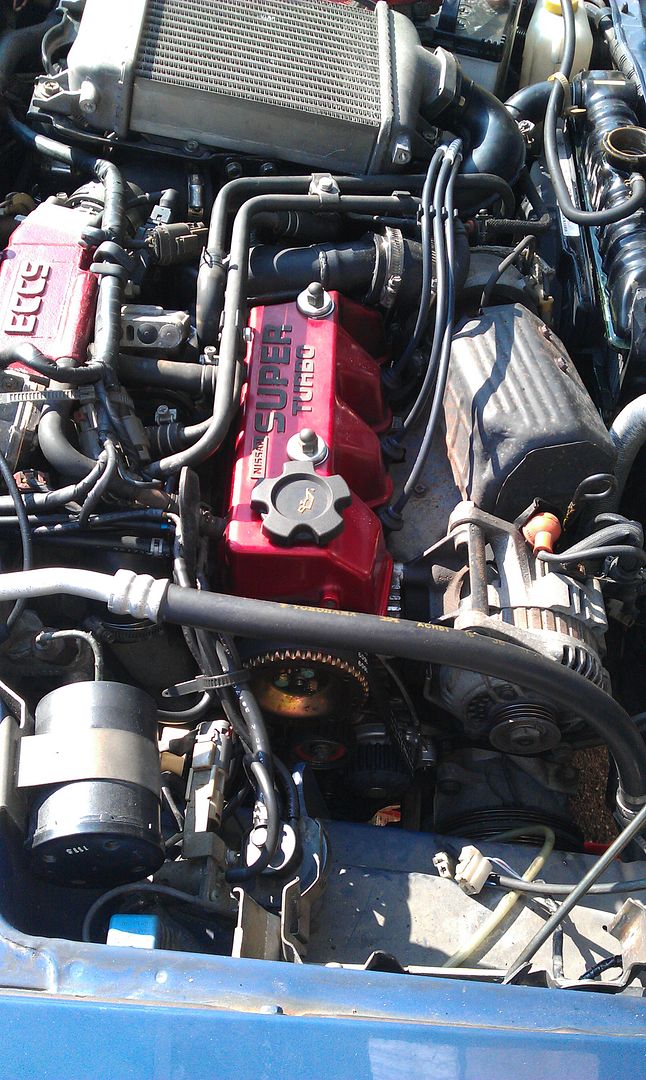 Drive belts on and new air filter in!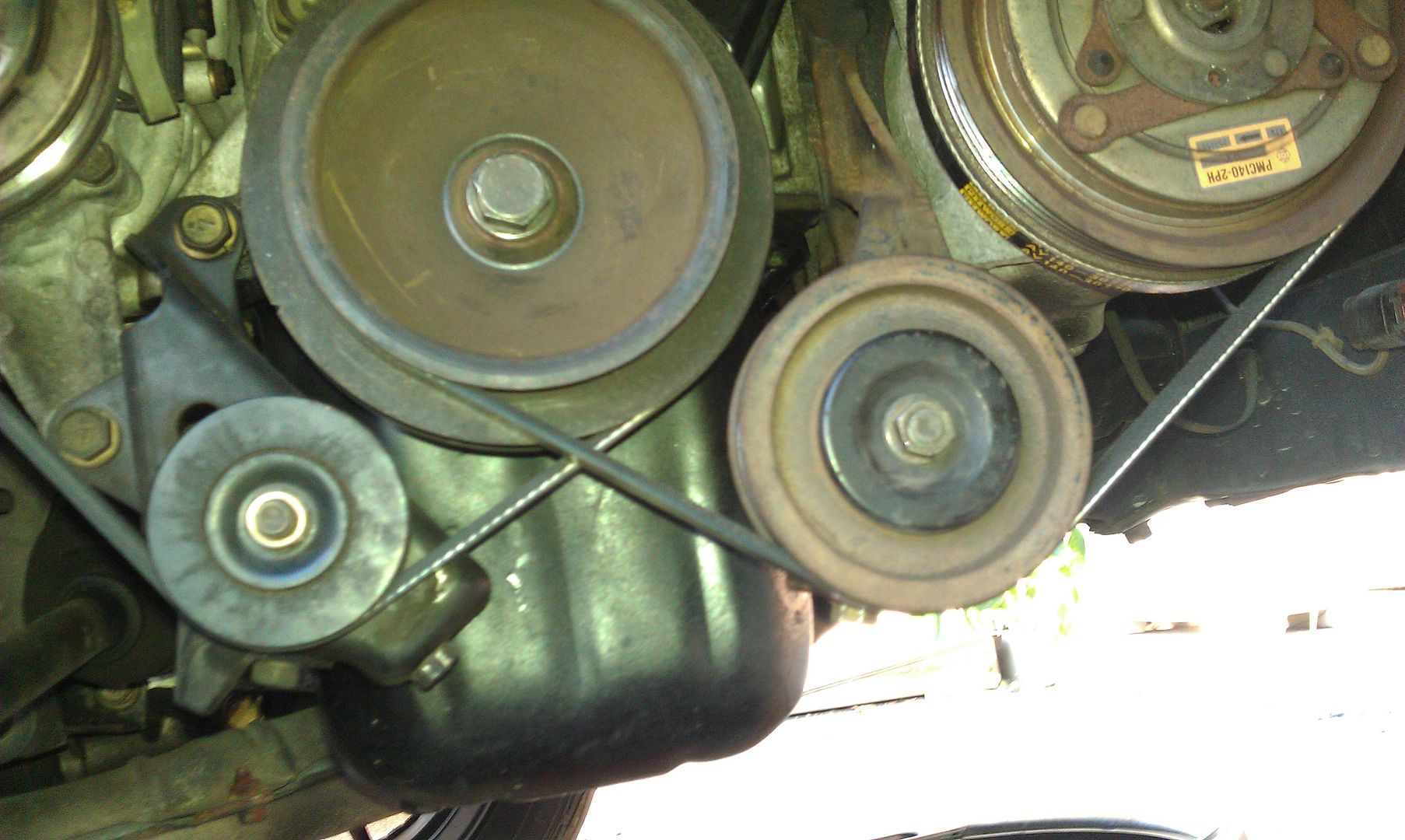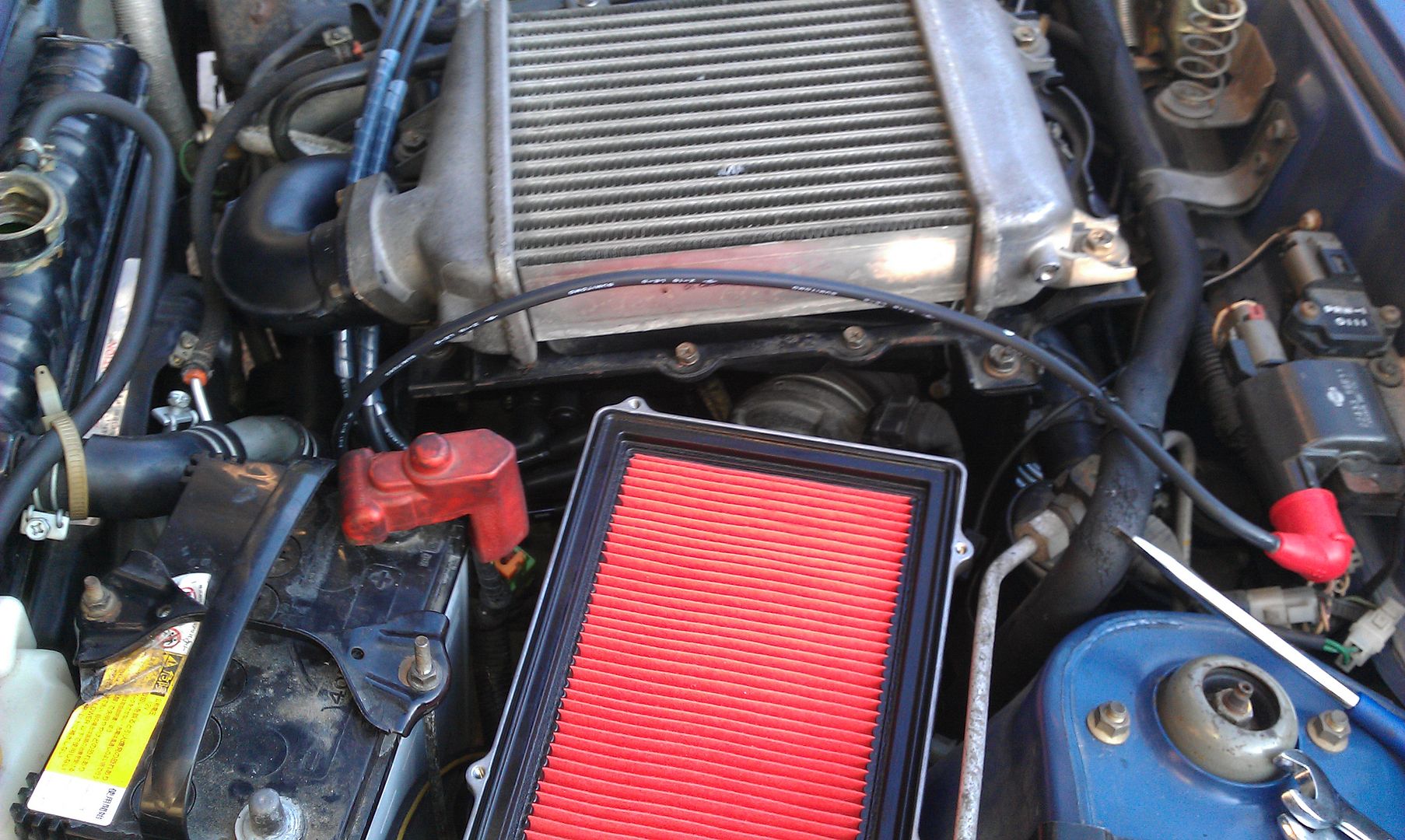 Now at this point I let her warm up for a bit and then went to take her for a test drive. The main purpose of my test is to diagnose a boost fluctuation I get under supercharger boost. I was hoping my vacuum shenanigans would take care of it. What happens is under full boost the boost jumps between 9 psi and 11 psi when on supercharger boost until about 3,300 rpm then it smooths out and the turbo finally takes over. So I hop in the car after the engine is warm (and after double checking for leaks from my coolant and oil change) and take it down the road. Then I give it the beans and look at the boost gauge expecting it to hit 9 psi and then bounce back and back forth between 9 and 11 psi (I'm severely hoping it's steady as a rock). The car makes the most unbelievably sound in the world and takes off like a bat out of hell, way faster than it should be. That happened in the short time it took me to look from the road to the boost gauge it was so immediate. I glance at the boost gauge and it just bounces off of 20 psi as I'm coming out of the throttle! I give it a few more gooses regulating the boost at 15 psi (barely) and am practically puckered. I had no idea the sueprcharger could boost that hard! I obviously got some vacuum hose routing wrong. It's late and dark so I go to sleep on it. Then I think about the resonator. That thing was massive and steel and crazy looking. I just plugged the hoses back into it not paying attention to the order. After consulting my repair manuals I pull the resonator back out the next day and see that I got two hoses backwards. I notice at the same time that I actually have the third hose of the resonator and another hose on the charge pipe swapped as well. I swap em all in to the right place, hammer it back together and take it for a drive. She runs flawlessly! Still has the boost fluctuation, but that's a project for another day.
Final step was tossing the intercooler shroud back on after I hit it with some sandpaper and paint!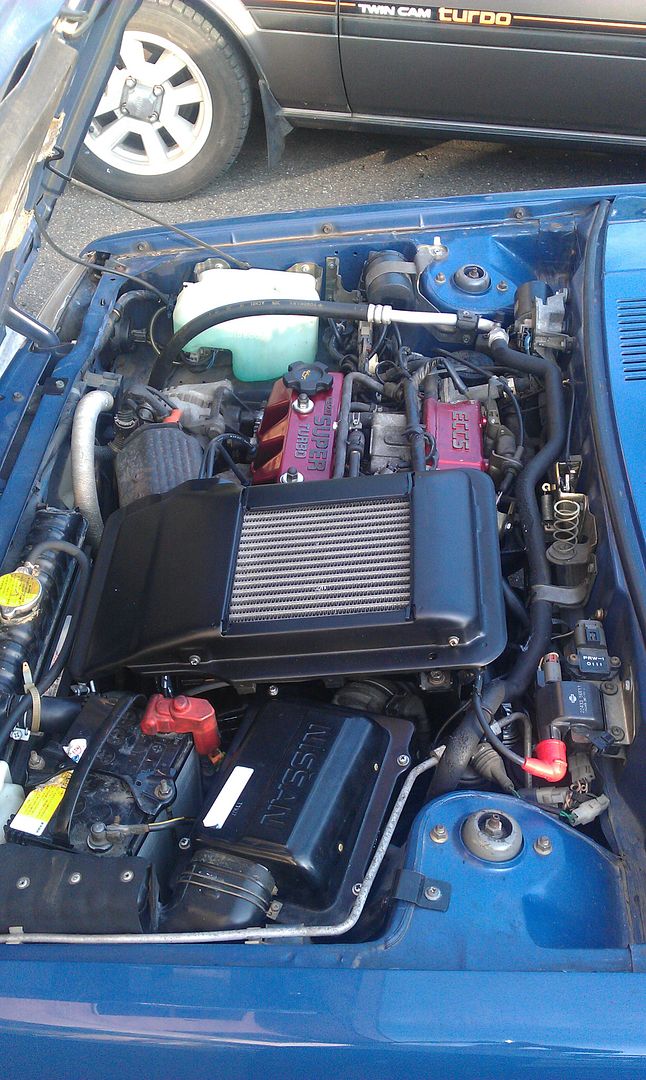 More to come as I get more money!
Thanks everyone for the comments!
Cheers
David