Began replacing the springs today. I had thought the rear shocks would be blown and the front struts would be okay. So, I bought rear shocks. Of course, the rear shocks were fine and the front struts were blown...new struts should be on by the end of the week.
I did get the rear springs and shocks changed. Here's a pic of how not to cut a spring...stock KP61 spring on left, modified on right: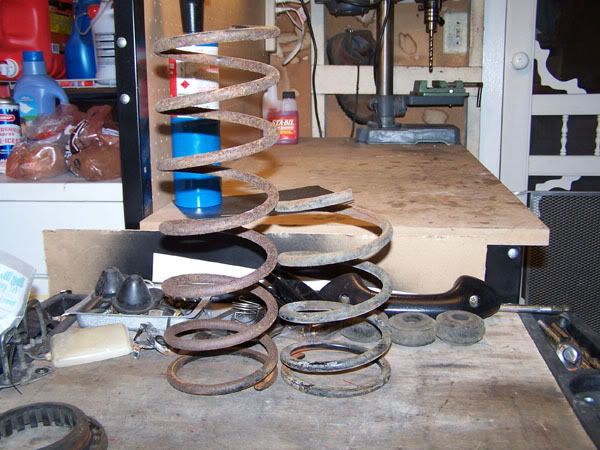 The ice storm has kept me from working on Chuppy but I did manage to get some things done before it got too cold.
All four OEM springs are in with new shocks. I removed the b-pipe and catalytic converter to start work on the new exhaust. It'll be 2" from the b-pipe to a resonator then to the muffler.
Examining the cat I found it to be utterly useless--previous owner had completely gutted it. No wonder the damn thing is so loud and smelly.
In the name of recycling, I cut the flanges off of the old cat and found them to be the perfect size for the resonator. Welded 'em and powder coated them with high temp powder.
Here you can see the b-pipe and resonator together:
I have all of the parts to install my Holley carb. Yes, the adapter plate is already here from Australia. The old hot water choke that came on the Holley has been ditched for an electric setup:
I also got one of these on sale today:
http://www.harborfreight.com/cpi/ctaf/d ... mber=93252
I have it running now as I'm typing--which is the whole idea. Let the tumbler clean the bolts while I do something else. We'll see how well it cleans rusty exhaust studs.
Minor progress today. I went ahead and stripped, cleaned, and coated the heat shields and b-pipe: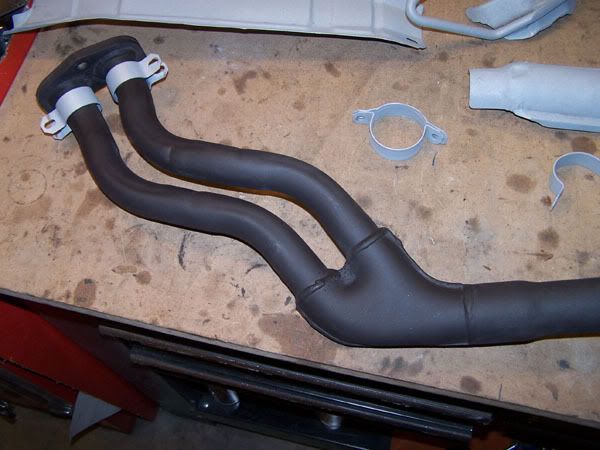 I installed them with the resonator. The resonator made a nice difference in the car's exhaust tone. Much deeper and smoother.
I also figured out why the reverse lights were not working. The previous owner had cut the wires and tucked them up behind the bellhousing. Why cut the wires when there is a simple connector at the reverse light switch?
So, I had to run new wires and a new connector. Bam! Reverse lights work.
Also found a ground wire that had been ripped apart. Replaced it too.
Fender mirrors are on--pics soon.