That seems like a reasonable price.
This car is missing the stainless trim down the sides along with trim around the windscreen. It does not have the original rear indicators and number plate light. The number plate light that is above the number plate at the back is not factory (Unless they did something different for your market). The dash pad has been removed and the dash has been painted a different colour to the original one. Upholstery has been redone and original rubber floor mat has been replaced with carpets. This is all the sort of thing that needs to be done with these old cars. Another dash pad would not be hard to make though. The trim on the Wagon is the same as the ute (Pick Up). Have a look at my wagon in the earlier posts if you want to see what you are missing. You will notice that your front grill is the same as a 1963 or earlier model but the badges and indicators are the same as the 1964 model. I have seen this sort of thing on utes here in Australia. It seems Toyota used up older model parts on the newer model utes. If you have a look at the grill on my wagon and the grill on the ute you are looking at, you will see the difference. If you compare your grill with the other ute in South Africa you will see that yours looks the same. The difference is that yours has oval holes for the latter model indicators.
I have looked through my old emails and I cannot find any correspondence with the other ute owner in South Africa. He was an elderly gentleman and it was his daughter that tracked me down for him. I will keep looking for you. Here is a photo of the guy sitting in his ute. As you will see he is missing most of the things you are. His car is a 1963 or earlier model. I think from memory I was told that his was purchased off the Toyota Trade ship that traveled around the world showcasing Toyota's (South Africa being the last stop). That would put it around 1961-2.
I'd say, the one you are looking at, along with this one would make up the majority of what is in South Africa.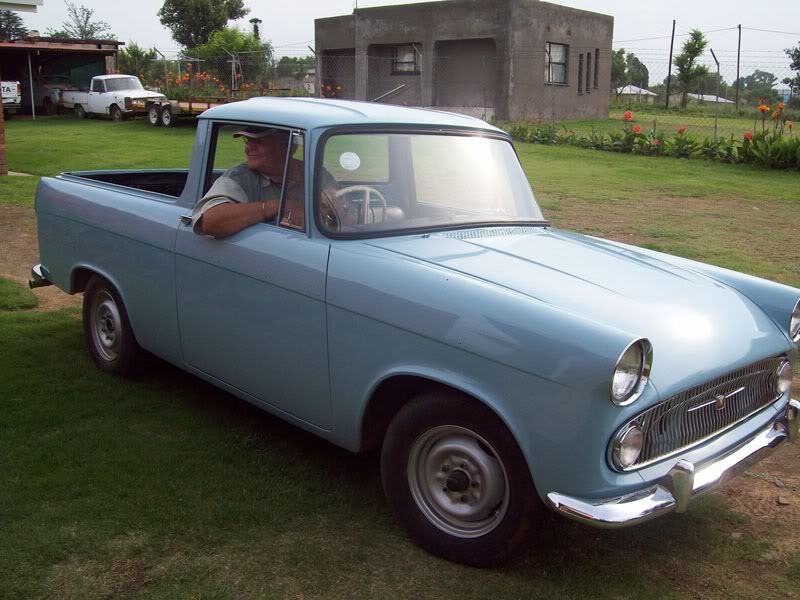 John
johnnyrhino@msn.com