This is my 3rd 80's Celica. I've owned an 85 GTS hatch, a convertible and this one. This is by far not the prettiest one i've owned, and I'm going to use this for basically learning and having fun. That's what it's all about right?
So lets get started:
Over the winter I picked up a decent 5spd 85 GTS Coupe, the suspension was blown, the diff was toast and the electrical was all fucked.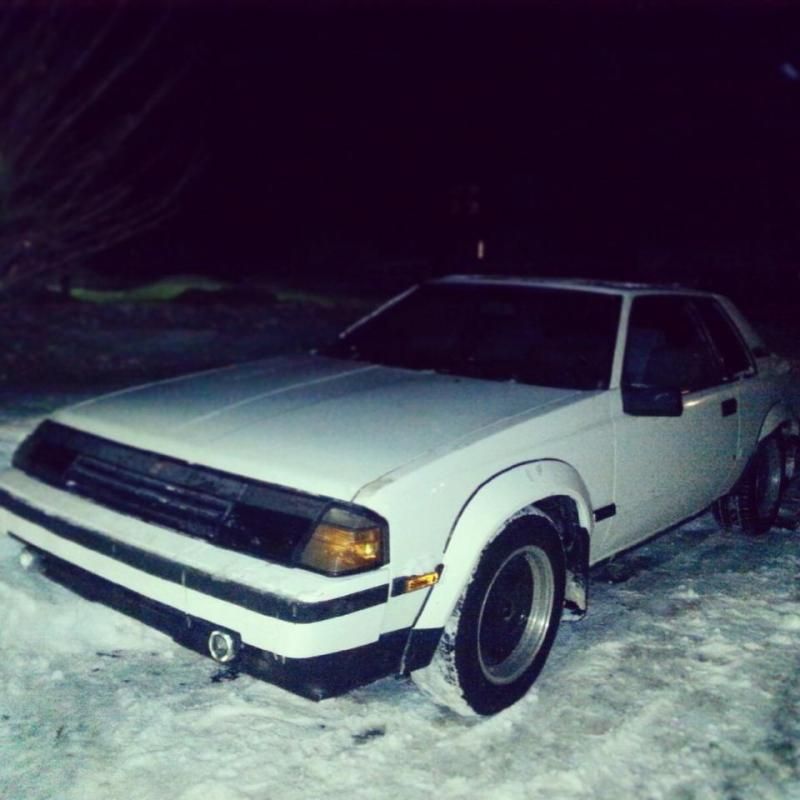 So when I picked it up the passenger door didn't open. Not a big deal right? I was a bit over an hour away from home and I stop at a gas station to check tire pressure and put gas in it. Then the drivers door decides not to close. After finagling it a bit we got it closed, then couldnt get it open. So we cranked the windows down and I shoe horned my fat ass into the car. It was like pushing a breakfast sausage through your nasal cavity. That's how attractive it was.
So after a white knuckle drive through snow in a RWD car with bald tires and a window stuck open we got it home. Promptly soaked the door hinges in vinegar overnight and greased them up, repairing them.
TO THE FUN STUFF.
So my friend and I are building this car, he's an electrical guy so I'm letting him do all the wiring because I suck hardcore.
So I installed an OMP Corsica I had laying around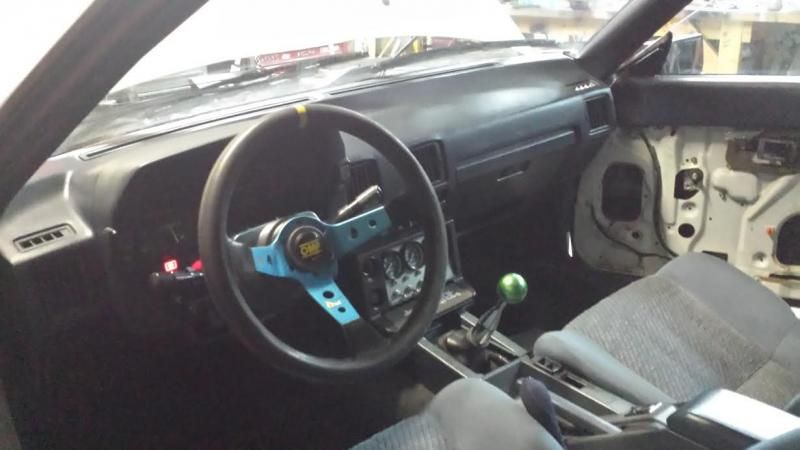 Then my friend and I built this cool gauge cluster:
The bottom left where the AC button was will be the push button start, the switches will be ignition, fuel, fan, radio. Faded green lit gauges to match the OEM ones and amber LEDS will light up with each switch. The little hole on the bottom right is an AUX port which will be wired to a mini amp to go to the speakers in the car (my favorite part)
Here's the amp my friend built:
Here it is with the heat sync and covers:
and heres the gauge cluster in the car: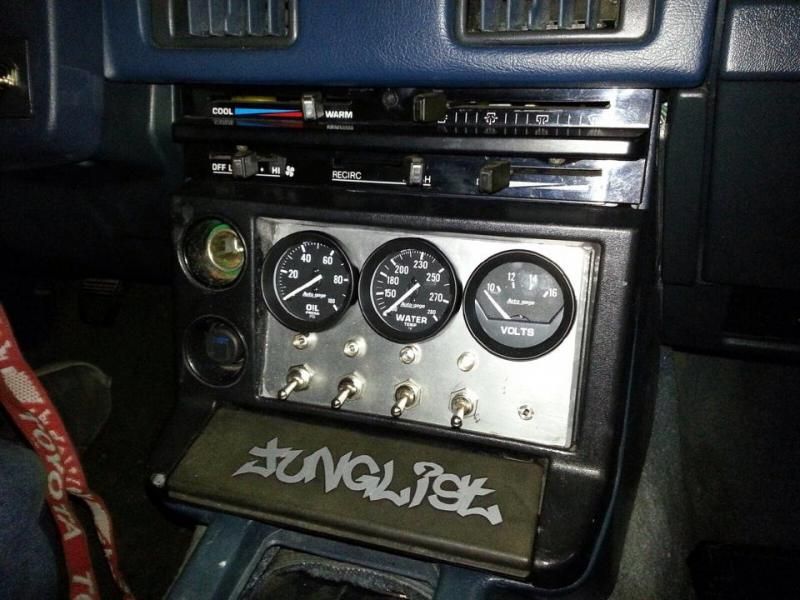 So since she is 30 years old we decided maintenance is our main concern for the time being. So we replaced the intake manifold gaskets, did an EGR delete, new cam seals, new valve cover seals, vacuum delete, plugs, wires, blaster coil etc.
My powder coater owed me a few favors so I had him powder coat the intake manifold and valve cover I had sitting around this cool chromium grey.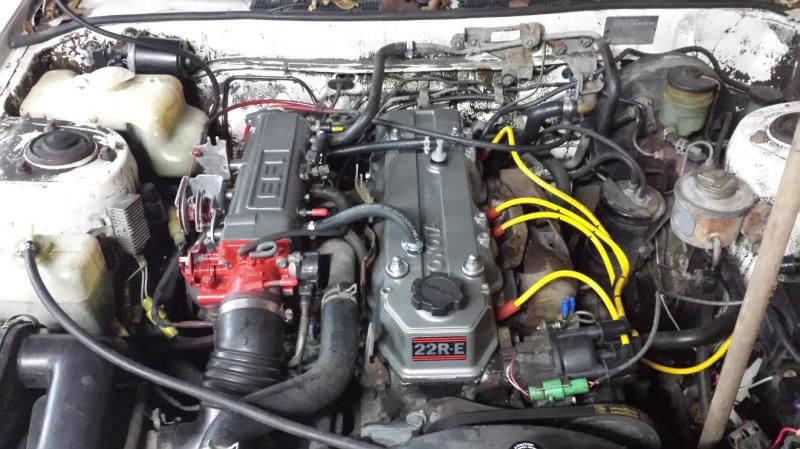 Then I ordered a bunch of parts for it like a master and slave cylinder, shifter bushings, all new KYB GR2's and some sleeve coils up front.
While I was waiting I started refinishing the cool 15in mesh wheels it came with.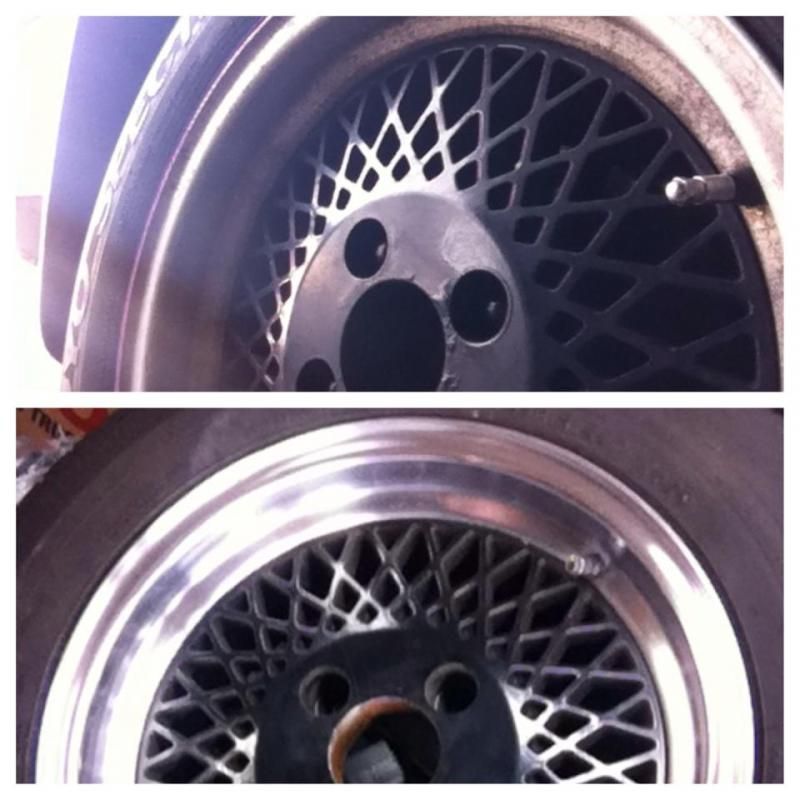 So since the differential was shot, I contacted an old friend from the 3rd gen celica forums and he was parting out his car, sent me the diff and a bunch of other little things. It was a florida car so all the bolts and brackets were good. Then I promptly took it over to Destruction Warehouse and got it welded.
The weather finally broke and my friend and I decided to tackle the suspension.
The strut inserts literally fell apart upon removal...
Front inserts and sleeves installed with my 14in Deltas
onto the rears: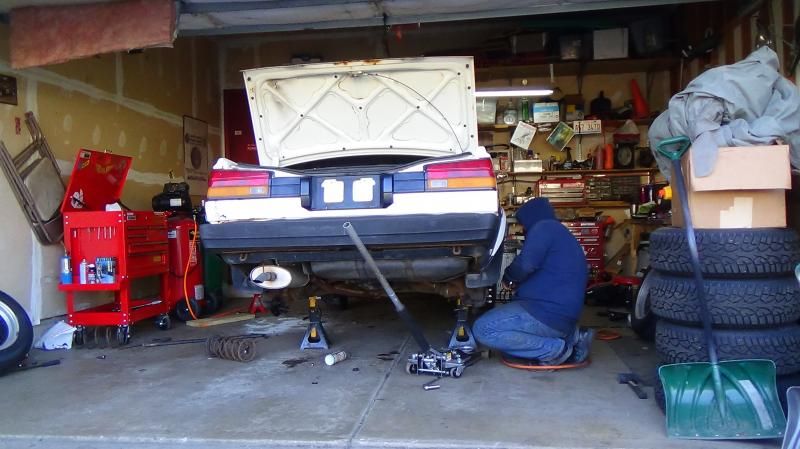 Pretty Low: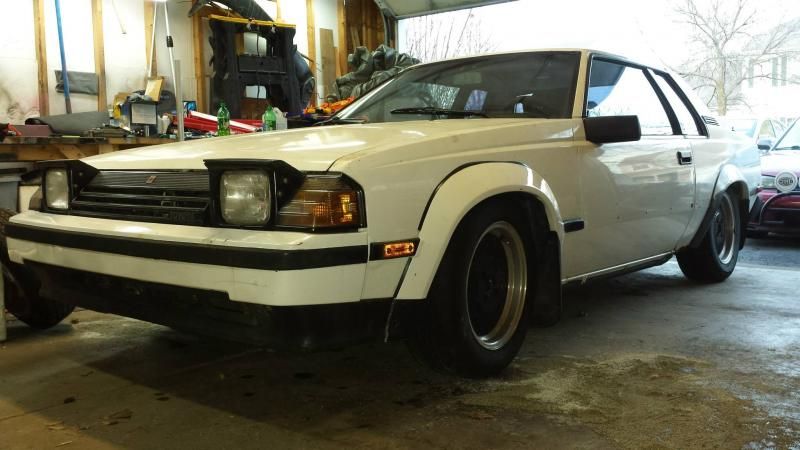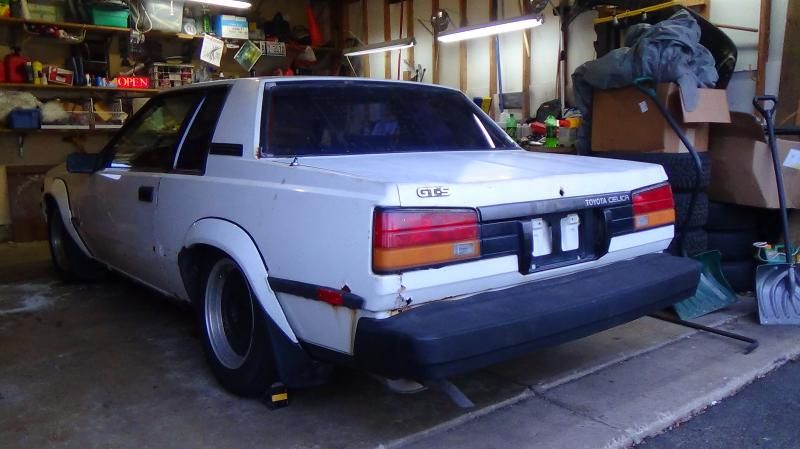 We also installed this trick kit for fixing slop in the W58 trans.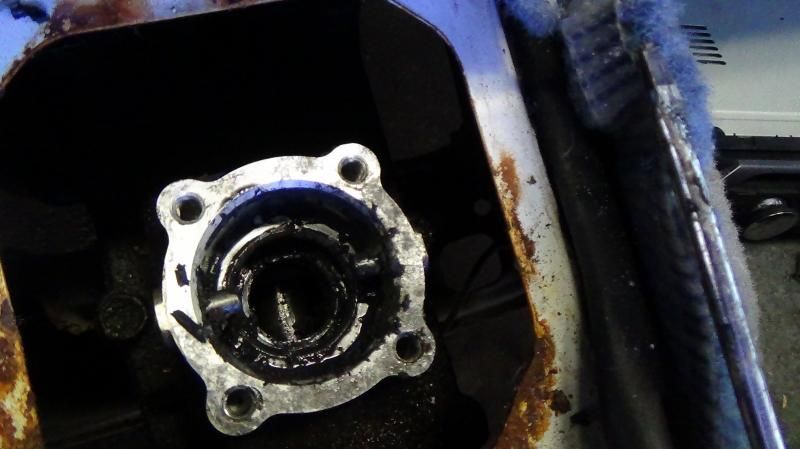 hella fucked in there, the bushing was non existent
Pulled it out: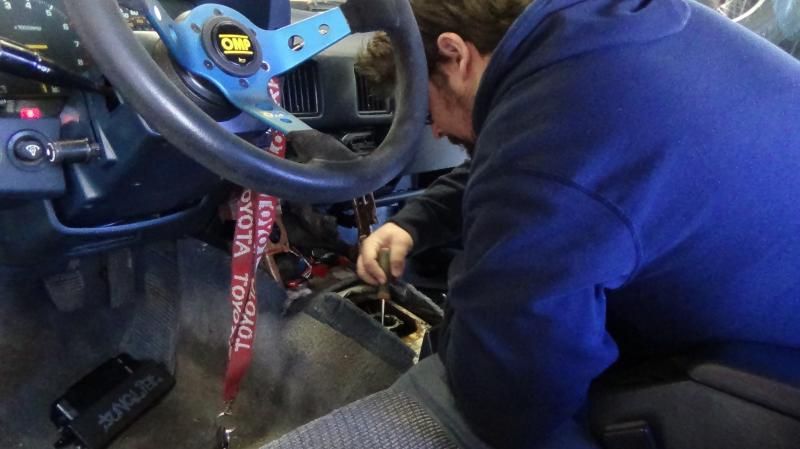 FUCKED ITS LIFE UP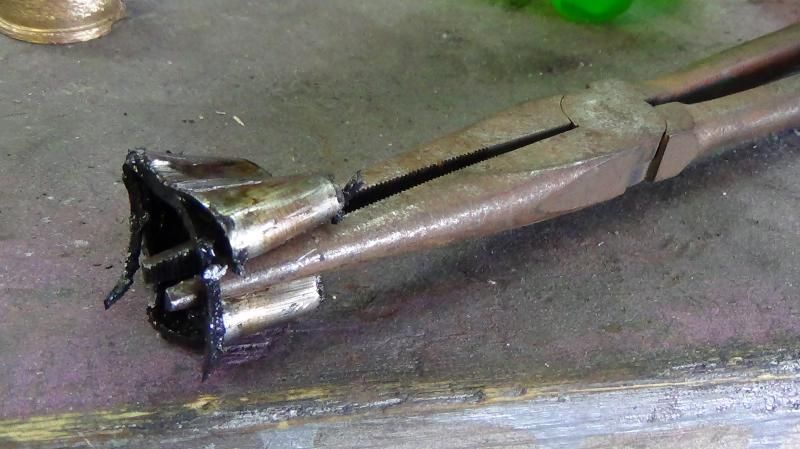 Installed a new collar and this neat little kit. Now there's no slop in the shifter between gears.
I installed my 1in wheel spacers which definitely help the aesthetics, and I also deleted the AC compressor, belt, lines and condensor as well as the idler pulley. I didnt take pics of that though.
FUNCTIONING CLUSTER!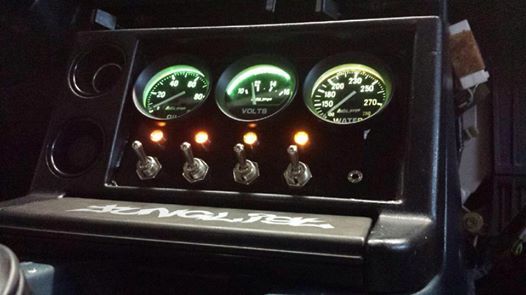 Installed a new TPS sensor since I was having idle issues
THEN DROVE THE PISS OUT OF IT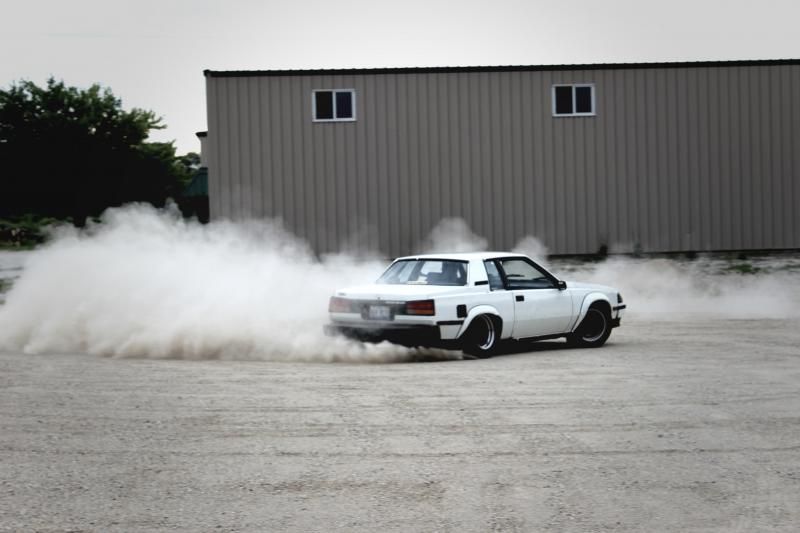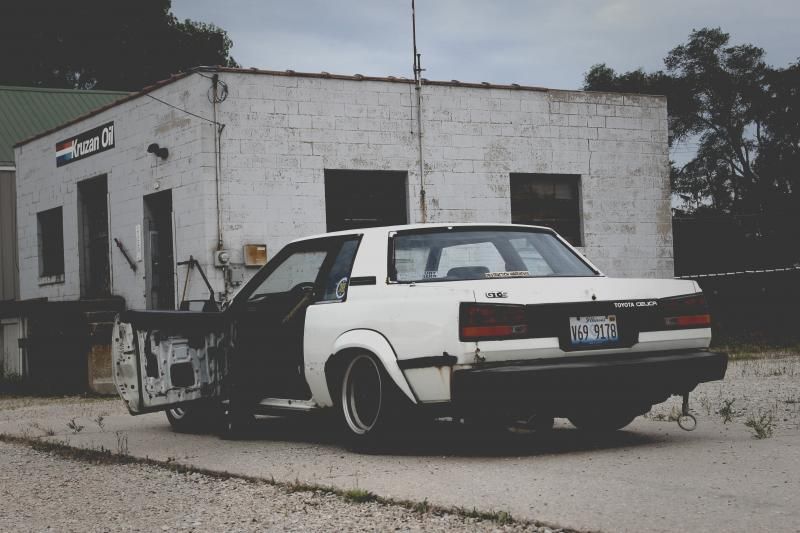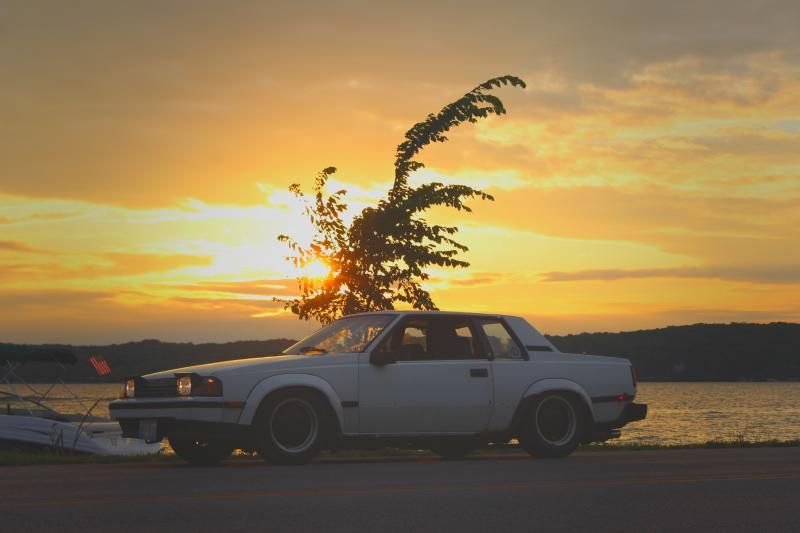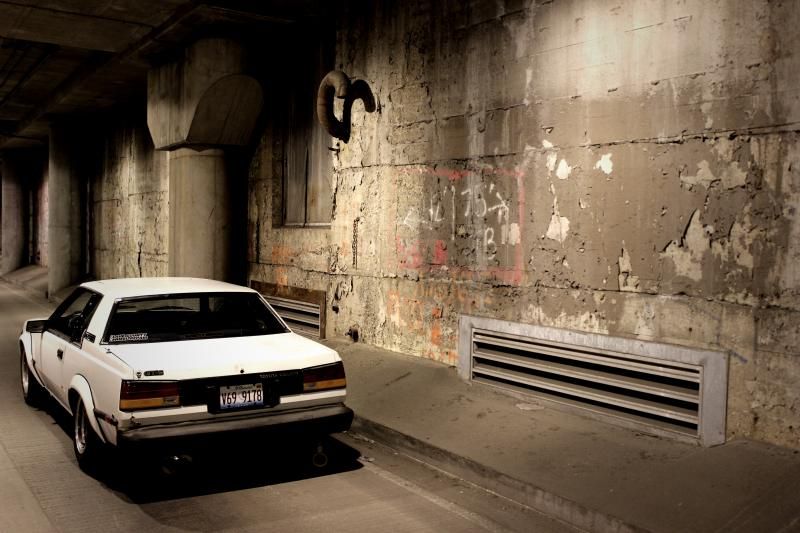 because why the FARK not.
Went to Destruction Warehouse to get some exhaust work done.
Got these pipes from a friend a few years back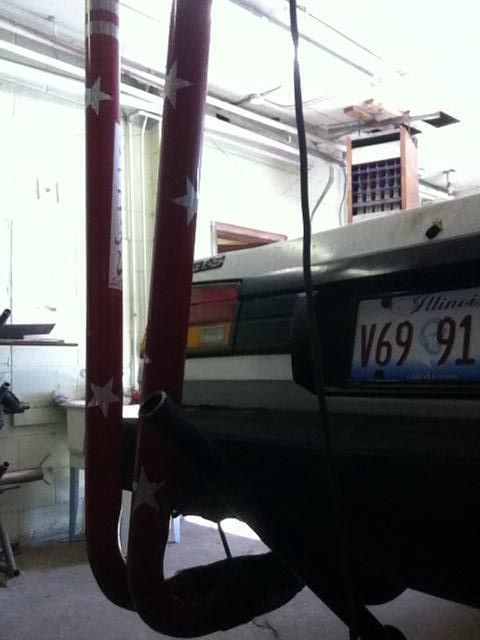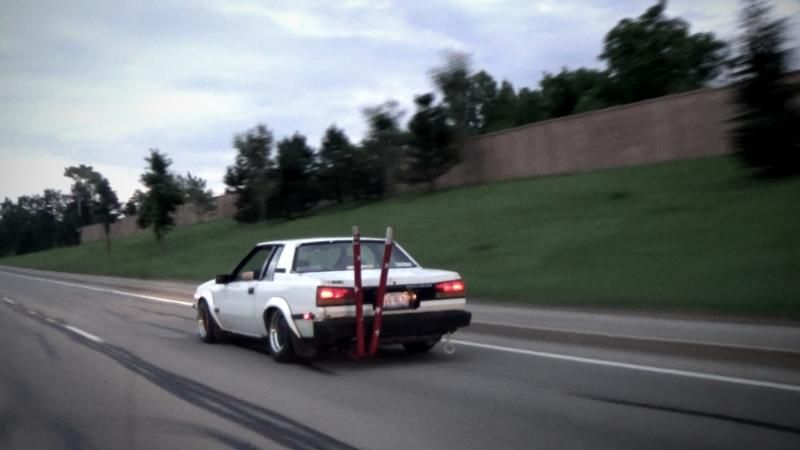 Been driving it more, streeting a little, getting a good feel for the car and what I need to do. Most of all I need someone to go out with me and teach me some basics in person. I can watch all the videos I want, but it wont help unless I see it in the flesh.
SO after driving it home one night 2 calipers locked up.
Being 30 years old, I decided to do a full brake system refresh and rebuild.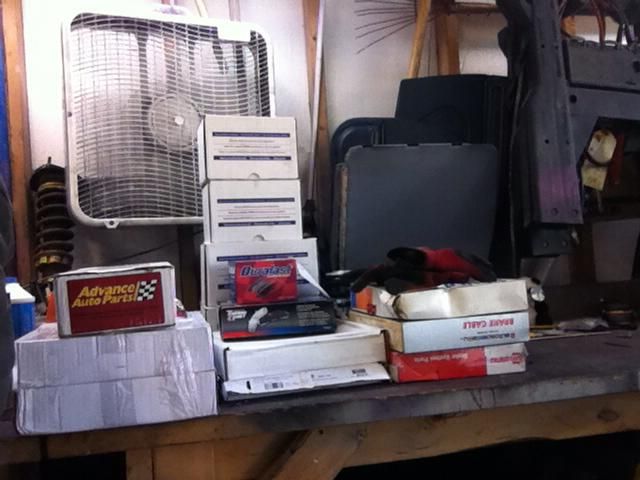 4 new calipers, 4 new rotors, brand new pads, wheel bearings and enough clean brake fluid to force FARK out any junk in the lines.
Since old toyotas have a 2 piece rotor, I splurged and bought myself a new airhammer
The brake fluid that came out of just the resevoir was a milkshake consistency... no wonder I was boiling it.
Every caliper was pretty much shot. Made me feel a whole lot better replacing all of them.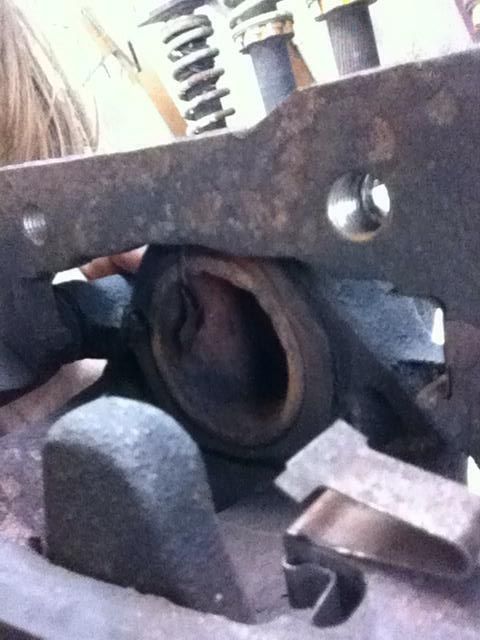 SHINY AS FARK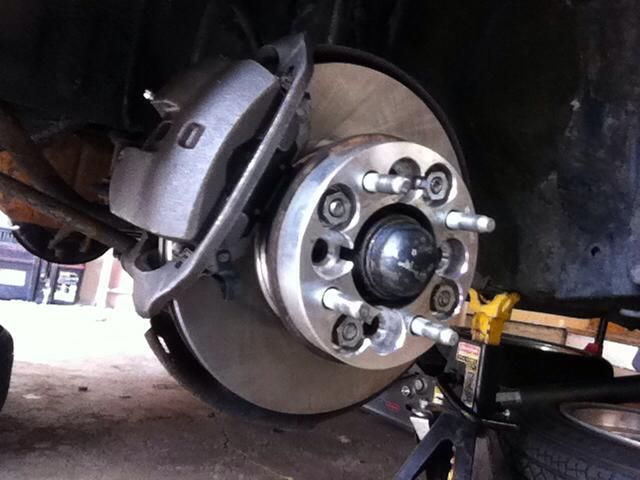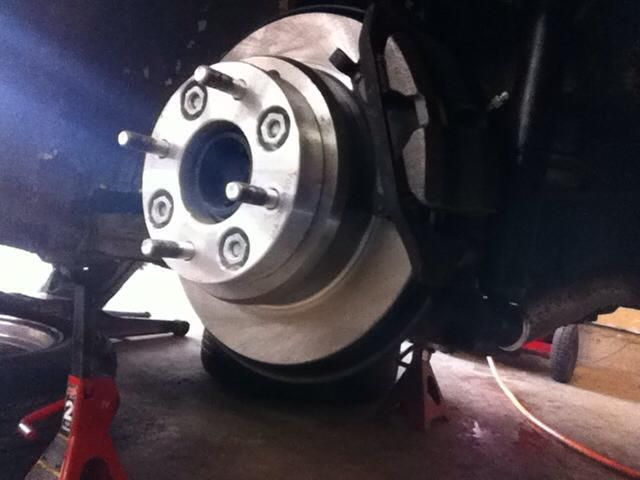 After trying to bleed the brakes, I couldn't get the rears to bleed. A bunch of crap was clogging the lines so my friend and I disassembled every single one and blew them out with brake fluid and compressed air.
Then we found out, after many hours of fucking with it, that the master cylinder had blown. Good thing I bought another one the next day because when I disassembled it, all the seals chunked and the inside of the master deteriorated,
FARK people that dont take care of their cars.
Assembled the new master and bench bled it: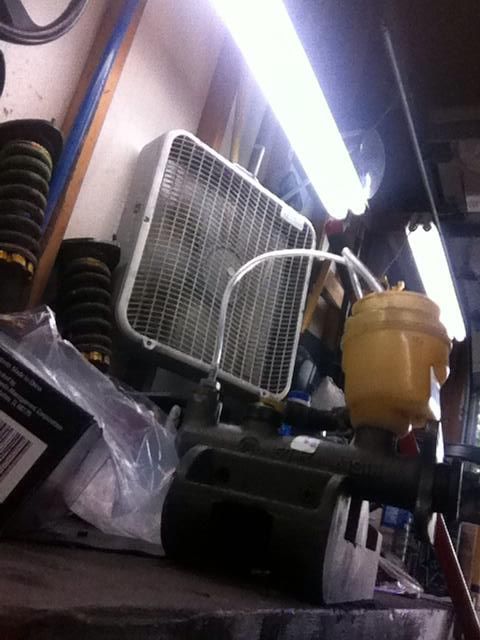 did some streeting, need more practice:
Bought a seat off craigslist for more huggability: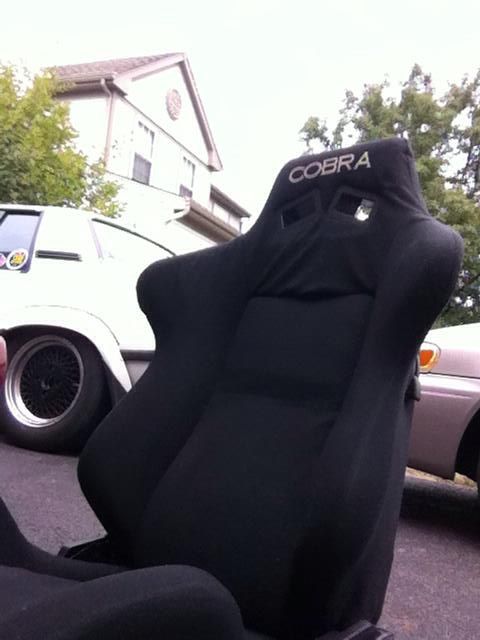 My new wheels came in.
Wheel Vintiques Series 12 15x10 -25
Test fit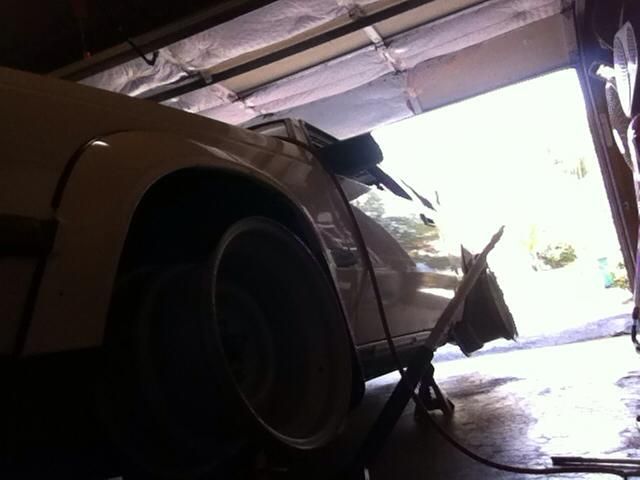 Put 215/60's on it. The rear rubs like hell: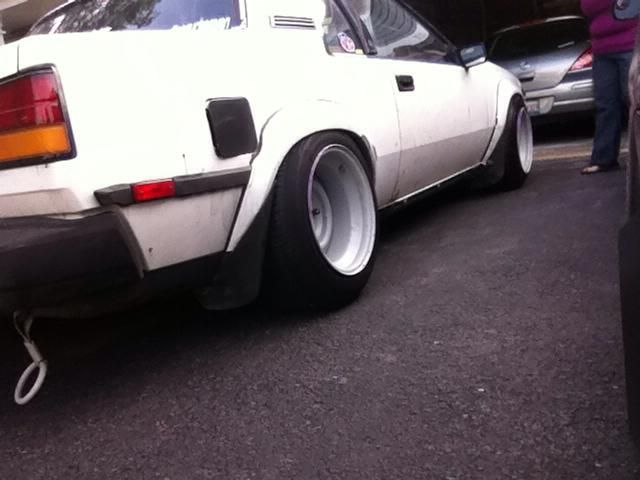 So, I removed the flairs and started cutting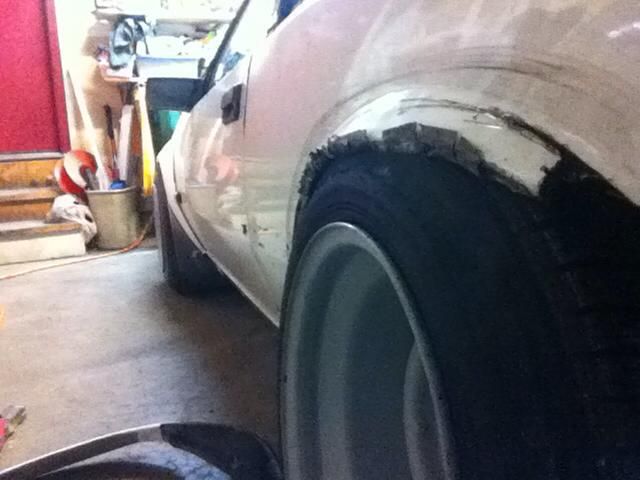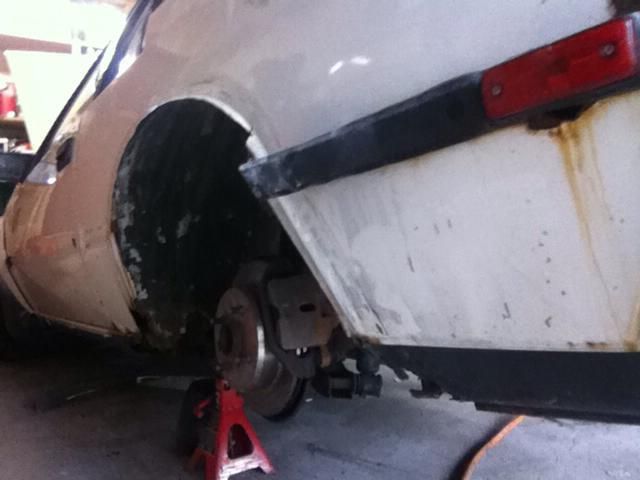 Installed s13 camber plates:
and G35 Sedan rear springs:
Took it to Friday Night Lights: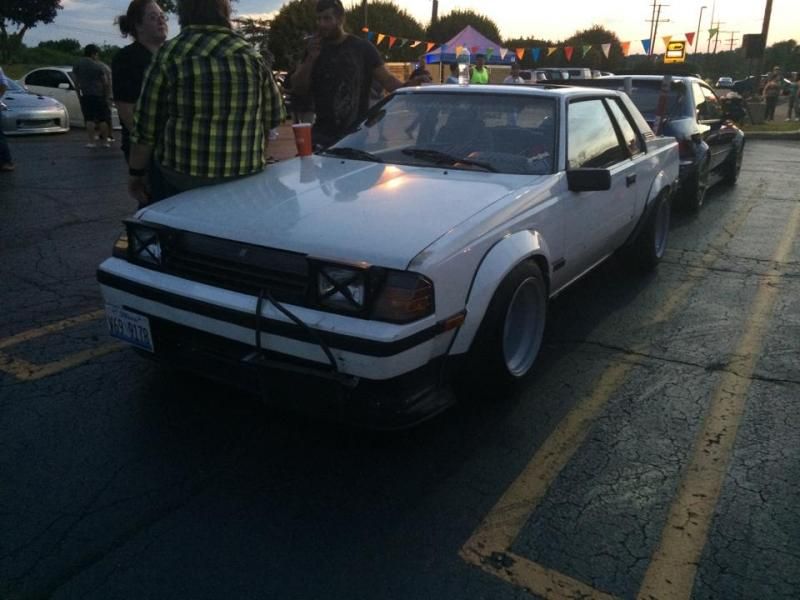 SHAKOTAN BOOGIE!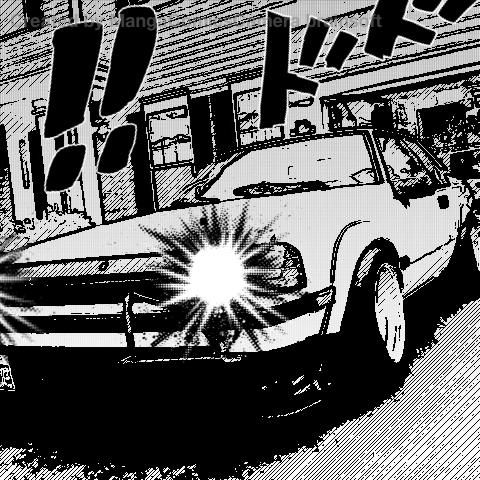 Ok, I'll update more when I do stuff.
Saturday im taking it to US 41 for its first drift day.