While more of a maroon, I do like Toyota's 'Barcelona Red' featured on their newer cars, that code is '3R3', you see this color on Camry SE's and Corolla S models.
Or if you want the red found on the MK4 Supra, it'd be 'Super Red Clearcoat', paint code '3L5'.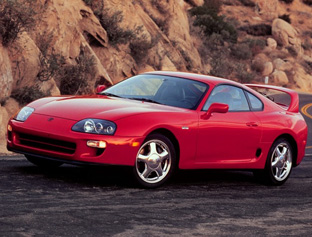 Also a bit of a pointer since I sell Toyota parts, all the red paint codes start with a 3. Even the darker reds. Also if you see a car in a red you like and you're able to get the owner/dealership/junkyard to open the driver side door, look for a black metal tag/plate stamped onto the body, it'll have the VIN# and other info on it, on the left bottom side, look for 'C/TR' portion, the 3 characters after that is the paint code.