alrighty update time!
after dailing the cress for a few months i noticed a few things i want to take care of and improve before i do the suspension.
first were the brakes. the stock ones were installed with no grease/shims and they would squeal horribly at every stop.
i decided to just get new remanned calipers and pads from Napa. total cost: 120 or so. i really wish these pads came with some sort of shims but I'm not sure if its because i went with a parts store pads or what. i applied brake grease and so far there is no brake squeal.

while i was under the car i did notice this which upsets me but i know that its not too bad. drivers fender was obviously bondo'ed and painted when they got the cheap paint job. i will have my friend patch this. if anyone has a dented fender with a good lower portion and they don't mind cutting up that would be awesome
so this might sound really stupid, but can you cut the springs on the damper? or do you have to disassemble? i was thinking of doing that until April or so when i plan to order some sort of coil over application. I'm thinking of going with megans since i don't plan to track the car and they are assembled and just require welding onto the stock mounts.
then i was playing dress-up hehe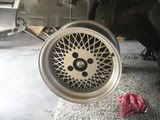 enkei 15x7 0 offset meshies
centerlines 14x7 0ish offset
have a lead on some tires for both sets, but I am almost done my s13 and hopefully if it sells soon i will get moving on this (if not i still will but I have my eye on another piece of J-tin)
the other thing i noticed is my trans seems to slip a bit when the engine is cold. After the car warms up its less noticeable but it just doesn't grab very hard. I am really hoping to find the pedal assemblies at the junkyard when i go in a week or so and then i will worry about finding the w58 to switch to a five speed
The last few months Ive noticed I have had significantly reduced my MPGs, but i plan to give the car a tune up in the next week or so. We have been having a mild winter so Im getting antsy to start working on her
stay tuned
_________________
Schassisowner's garage sale 4me parts galore!
http://japanesenostalgiccar.com/forum/viewtopic.php?f=14&t=18604&p=158903#p158903
mx32 2jz swap in progress