Anders... I came from the world of "vintage" Mustangs, back in the early 90s** I restored a 1970 428SCJ Mach 1 Mustang (only 2671 made, out of total production of 190,000+ total units)...
The people who "goverened" that hobby, the MCA (Mustang Club of America) had different views about restore, or resto-mod... have you ever driven an old Mustang... they drive like trucks, especially with 800# enge/transmissions laying on top of the front wheels...
ANYWAY... I chose to find a car that wasn't a classic, at least not in 1994... and that was an AE86 GTS. I owned 2... and by the time the 2000s hit the AE86 was already destined to be an "emerging classic" (so said Hemmings Motors News in Feb 07)... so another car too valuable to play with...
So I moved to the AE86s, less loved, slightly lighter older brother... the rest you know....
Here is a mostly complete list of the cars I've owned...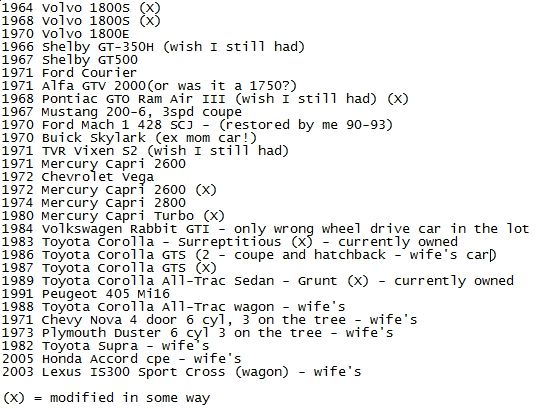 A bit of an update....
Remembering... Surreptitious goes to Loynings, and is tuned on their steady state dyno. Off to DEQ(emissions testing) and fails.... I bring her back in, they make a few adjustments, I go back to DEQ... 214 HC, 0.447 CO - She passes and no new cat required this time....
Now as far as daily performance.... She idles...(between 1000 and 1100) she idles and doesn't stall when coming to a stop... she idles with all the installed electrical draws on (lights, wipers, heater fan, 100 watt fog lamps) she even idled with the cooling fan on @ the inspection station without stalling or stumbling while the test was being performed...
This tune is only a few days old... but so far it has inspired some new confidence...
from another forum wrote:
so uhh...after the new tune....whats the power look like
?
WOT was never a problem... she always (with one exception) planted great power...
What is odd... I'm only running 2 BTDC degrees of ignition timing...
OPINION:
They did the reverse of what I thought to be needed..... I figured more timing (not less) would make it want to idle up.... What they did was feed in the less timing and they opened up the throttle plate a touch. With the throttle plate open, this lowers the pressure in the manifold... and so when there is a change like vacuum being drawn to run the brakes... or a alternator puts a load on the system there is less pressure change in the manifold... less pressure change, less unstable idle.... and so it idles pretty well under loads now.
The above is the change after the failed inspection....
BEFORE the failed inspection... They did a lot of changes in the map... the fuel map especially. If you remember Bob had set the original fuel map as best he could... but with a 6mm hole in the manifold he did the best he could. Once i found the hole, and fixed it I DEPENDED on the self learning feature to "fix" the fuel map. Well... now she has a dedicated fuel map built on a steady state dyno to keep AFRs(between 12.5 and 13) in the peak range to make power, and protect the "fragile" OEM cast pistons from detonation.
So, back to the car.... with my new found trust in her overall character... and to signify her change from temperamental toy
... into reliable, dependable toy
She gets her first new set of wipers in over 5 years a set of Anco Aero Advantage..... Why??
Now that she runs well besides wipers working, I felt it is time to finish up the parking brake.
oldeskewltoy wrote:
The emergency brake cables need a fabricated bracket on the driverside(thank you Jesse), and a zip tie around the axle hop line mount to secure the passenger side cable.

Back almost a year ago when the GTS diff went in we had been successful in finding mounting points for the heavy cables... but the small bracket inside the trans tunnel used to support the front where they come together was about 1" too far forward to actually be useful...
so today we (Jesse and I) removed the bracket from its original location, reversed its position - to make mounting in the new location easier...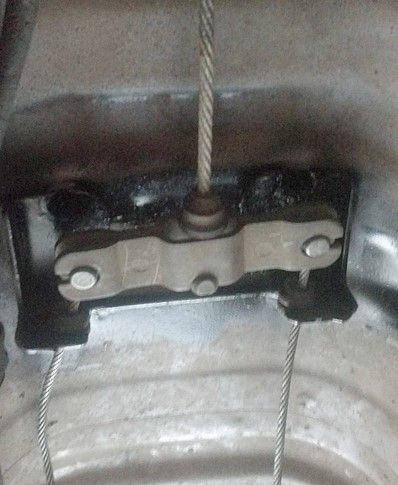 Now that the cables are supported front and rear, I can finish up with the handle. Anyone have a spare GTS parking brake handle? Josh informs me the GTS has a different fulcrum shape for the cable to ride in... and MAY be required to use GTS calipers and cables...
OR... I can figure a way to lengthen the single cable about 3/4" to fit.
oldeskewltoy wrote:

OR... I can figure a way to lengthen the single cable about 3/4" to fit.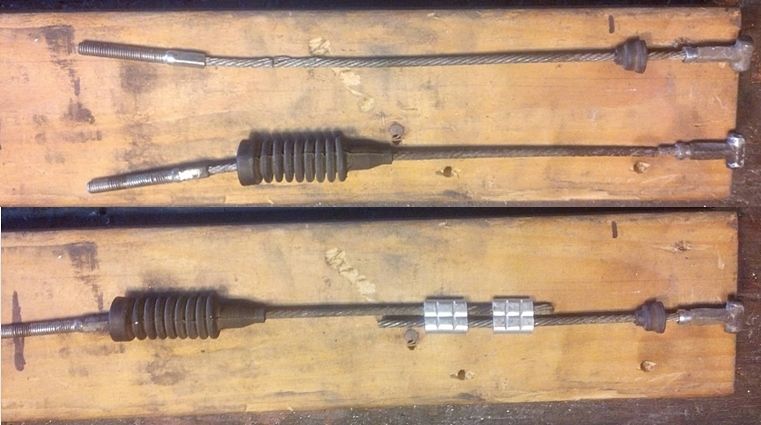 I should have kept the lengthening to 3/4", I did about 1 1/4"(length of threads) and although it now works, I have little room left for further adjustment...
If/when that time occurs that it is out of adjustment, I'll cut off the bindings and place the two sections a bit tighter together...
but for now... we have a working parking brake.....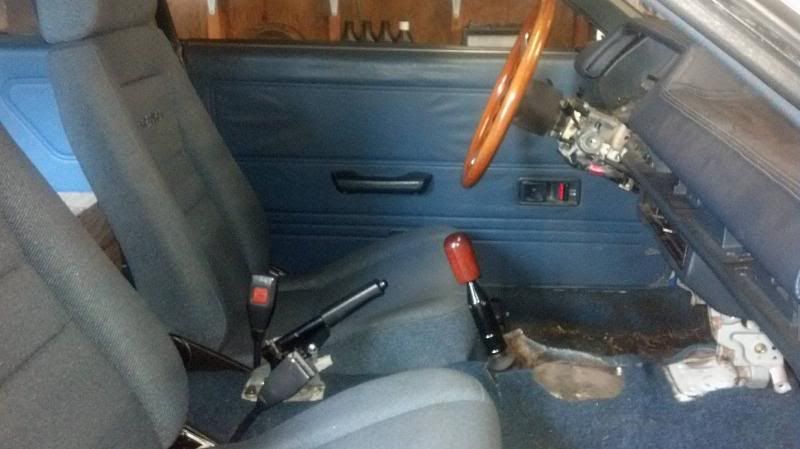 NOW... maybe I can think about carpeting, and the remainder of the interior....
... and so now begins the beginning of the end of this build...