Alright, I finally got to tear into the big girl this weekend and see what exactly I was missing. So, let's open those doors and get started!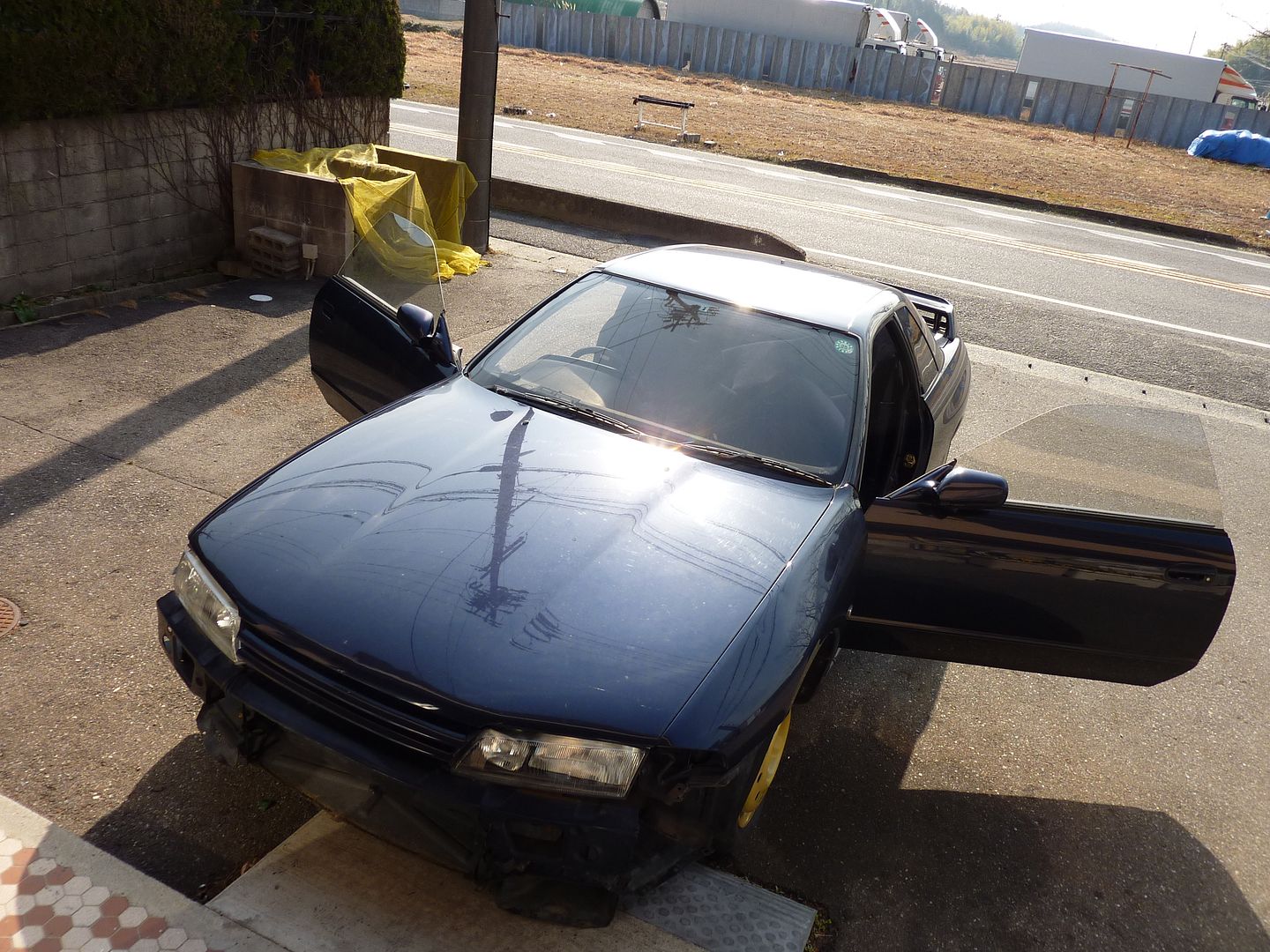 Got all the carpet and seats out on this side...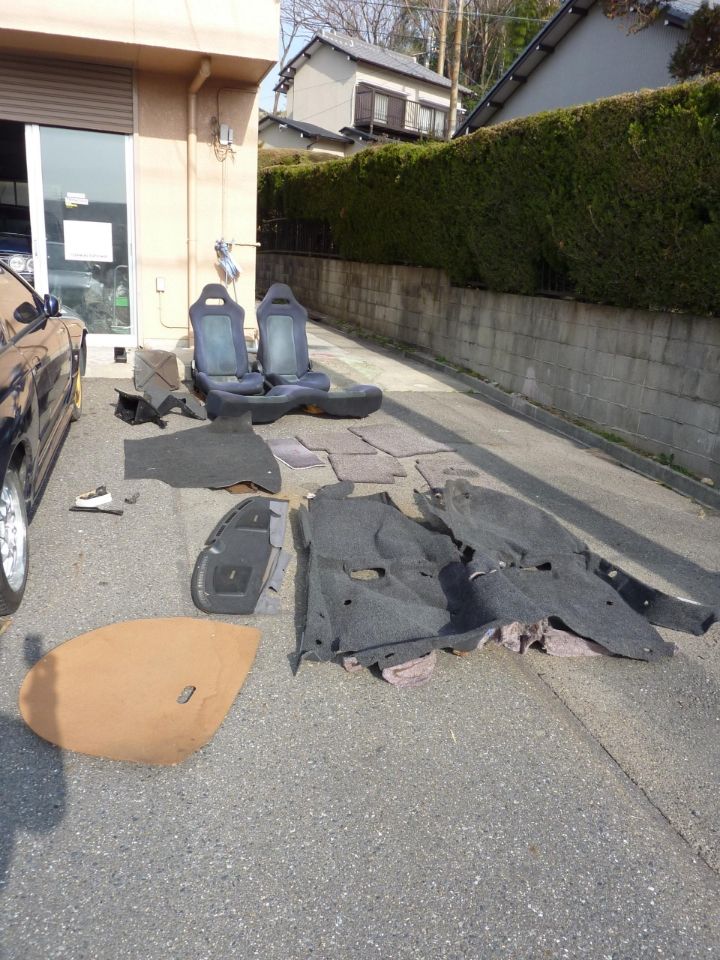 ... and all the interior panels out on this side.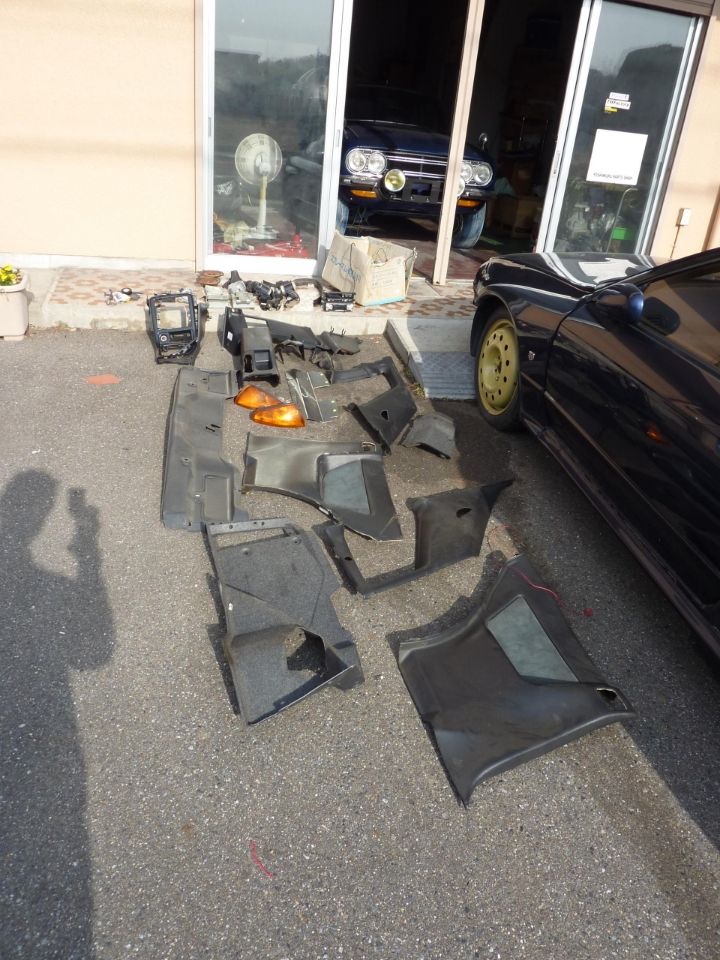 All the factory audio stuff and rear seat belts.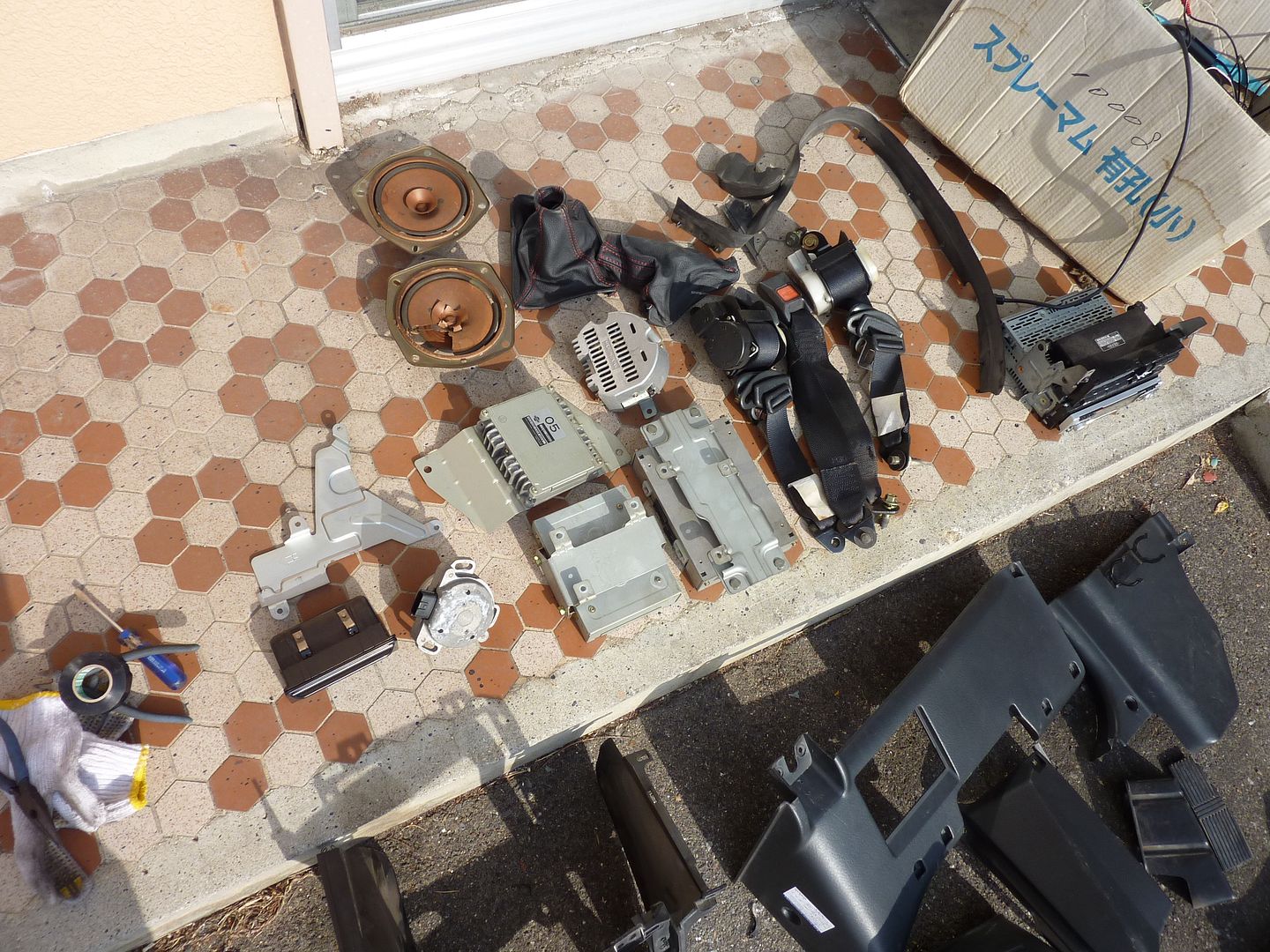 It took some doing, but it's nice to have an empty trunk...
... and an empty interior.
Whoever had the car before installed a pretty extensive CD changer setup. Unfortunately, they took the changer and left this rats nest of wires.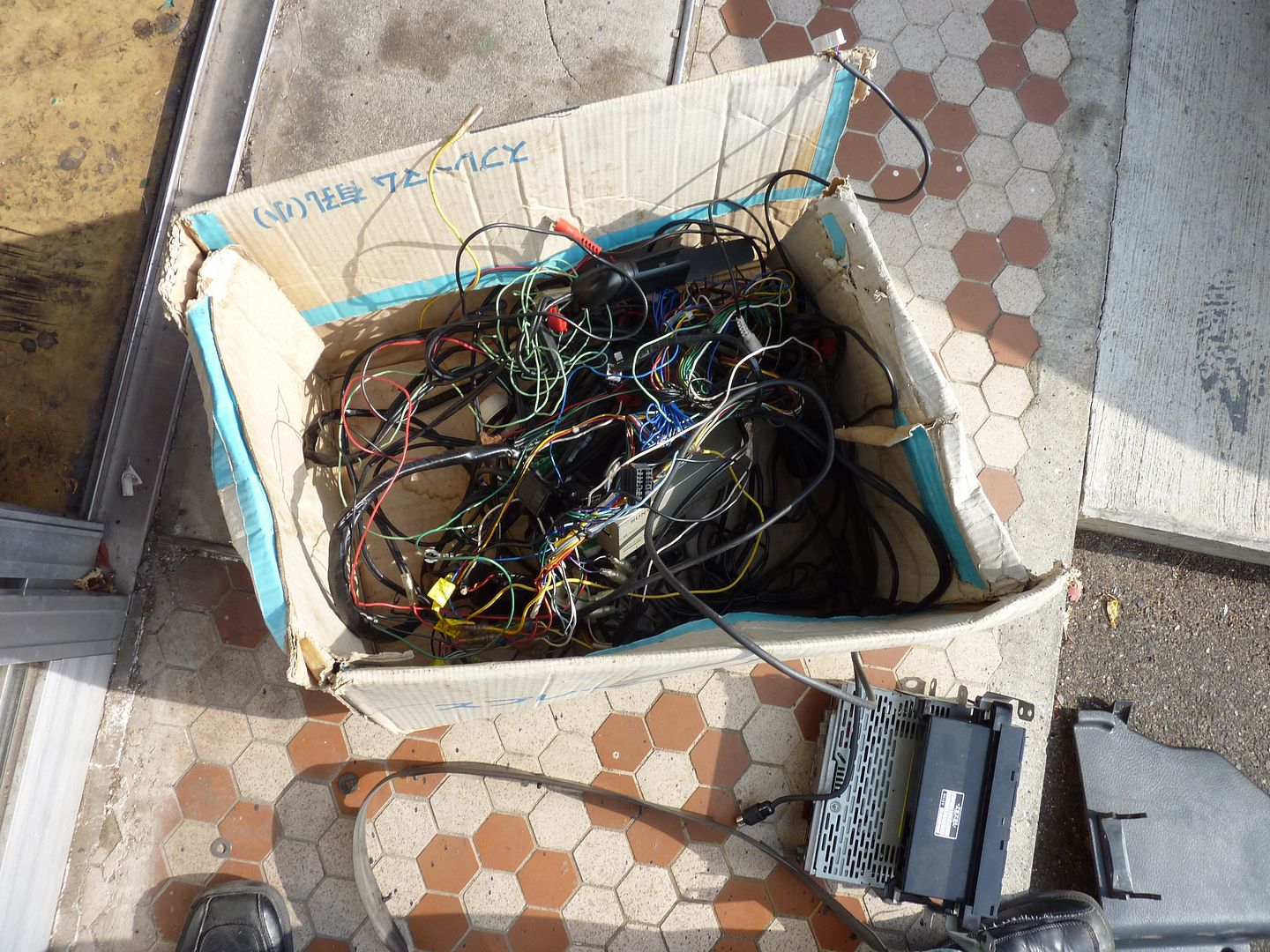 That's a lot of stuff!
After a bit of vacuuming and cleaning, I got the trunk mostly back together! Someone cut massive holes in the panels for the strut tops. My guess is that this was for both the adjustable struts and that they had a strut tower bar back there as well. Although, that's just a guess since I didn't get a tower bar with the car.
I have no idea why, but the previous owner also hacked up the trunk lid support structure. They did the same on both sides. No clue whatsoever why they would feel the need to do this.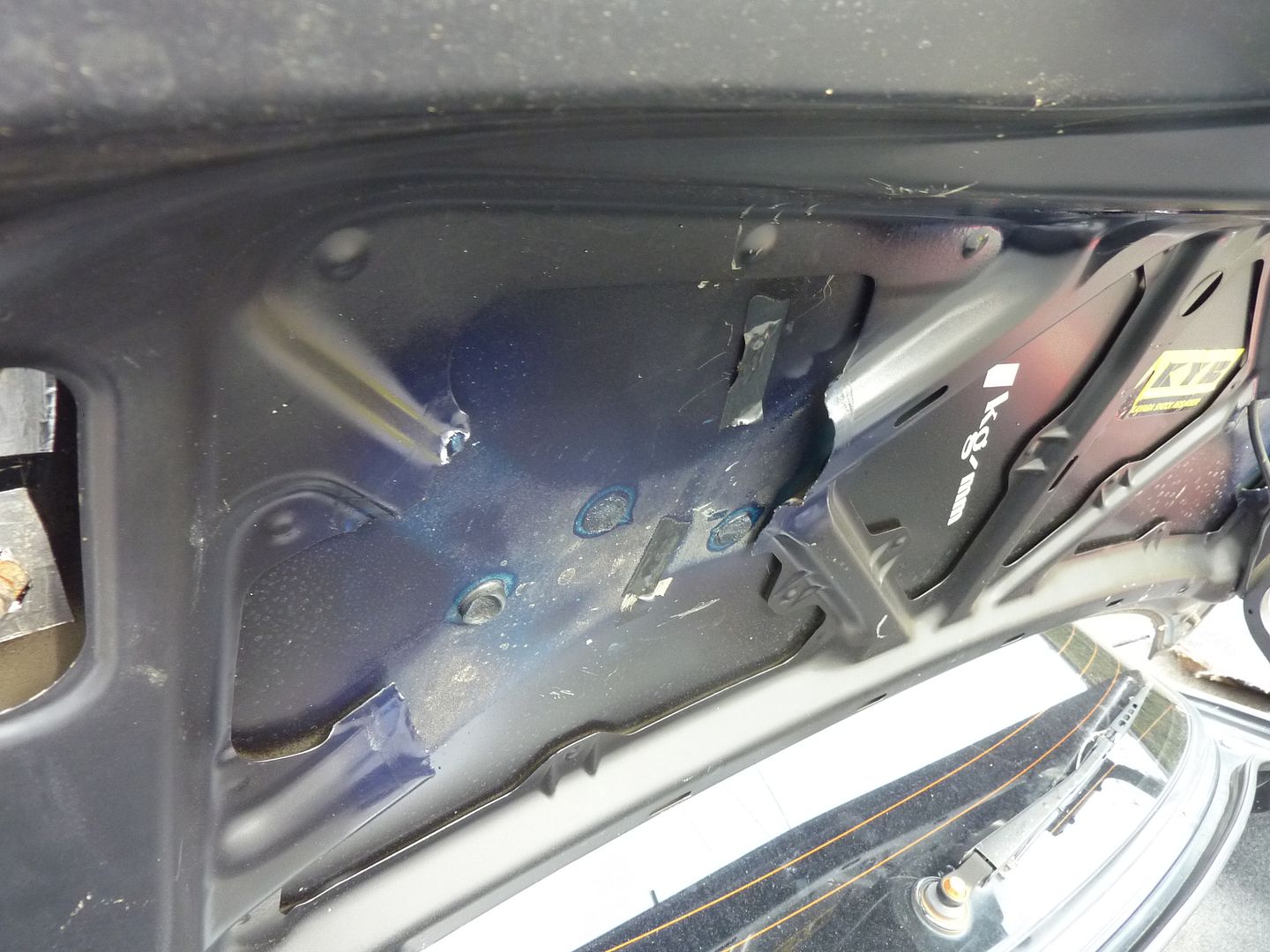 Next, I took a quite a lot of sweat, poured it into a bowl, then mixed in a healthy amount of blood from my hands, gave it a stir while cursing, topped it off with a pinch of tears, and poured this out.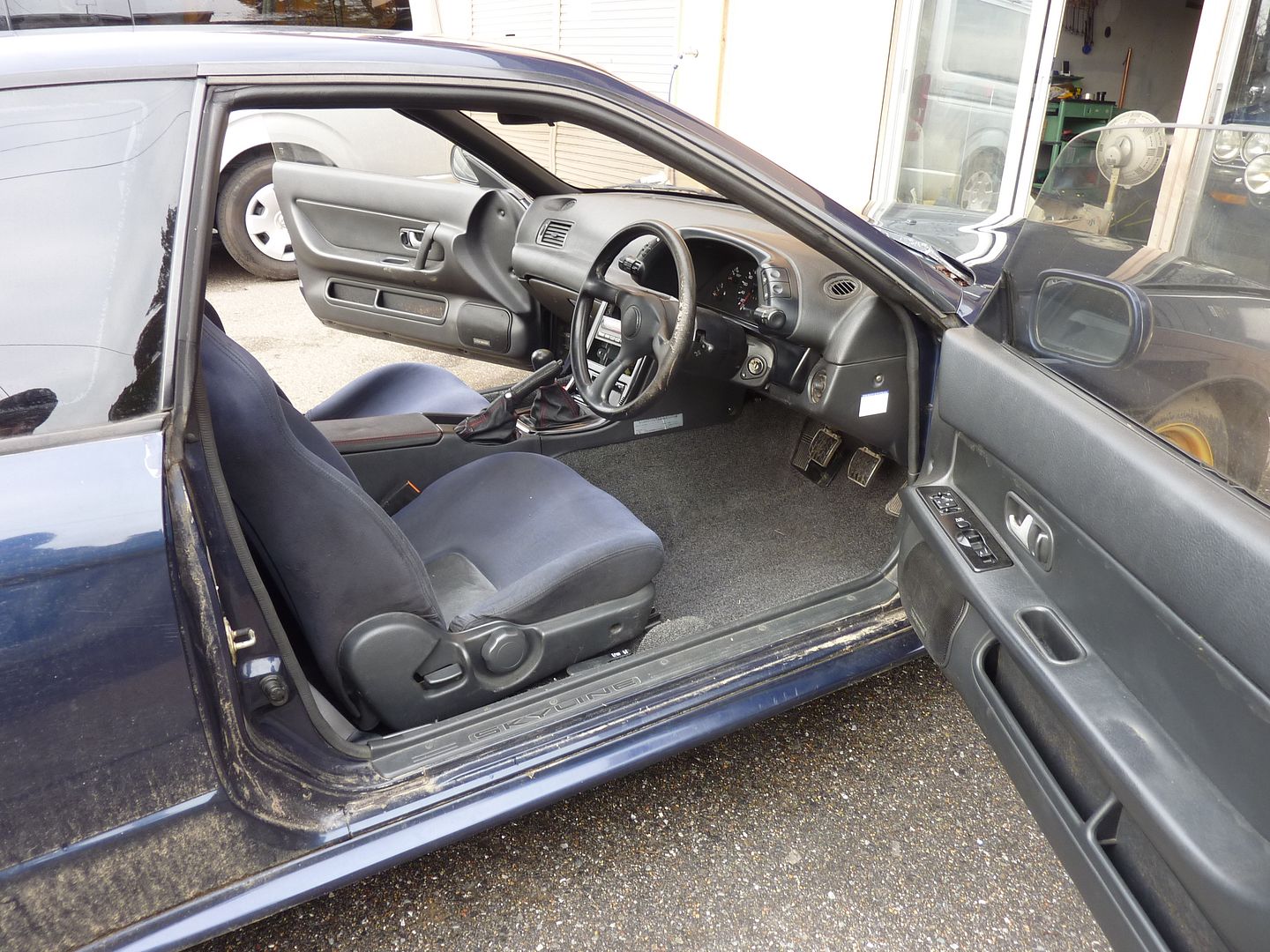 Blimey, that looks alright!
There are some immediate problems you can notice. First, the triple meters in the center console are missing. Those will have to be ordered. Second, the center console trim piece looks like monkey butt. I will have to remove that and repaint it. Third, there is no stereo, but that's a simple fix that's really low on the priority list. And fourth, the shift boot and e-brake boot aren't original and don't fit particularly well, but they'll do for now.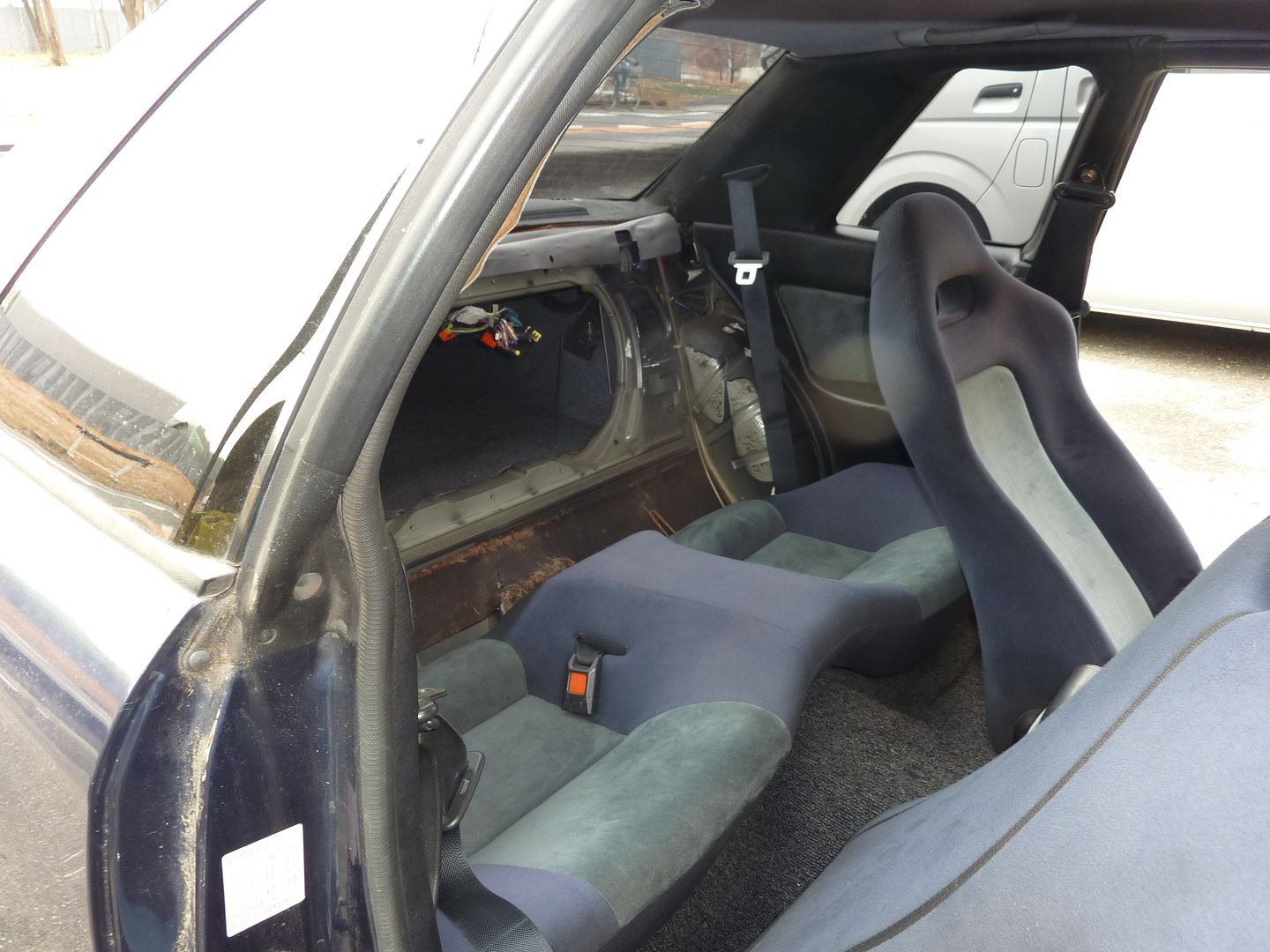 Also, some keen eyed viewers may have noticed in that last pic that half of the rear seat is missing. Someone, somewhere is saying "What am I going to do with just a seatback?" All I know is, I gotta buy the top half. Another problem I ran into was with the glove box. It doesn't quite fit. I'm not sure why, but it just doesn't match up like it's supposed to.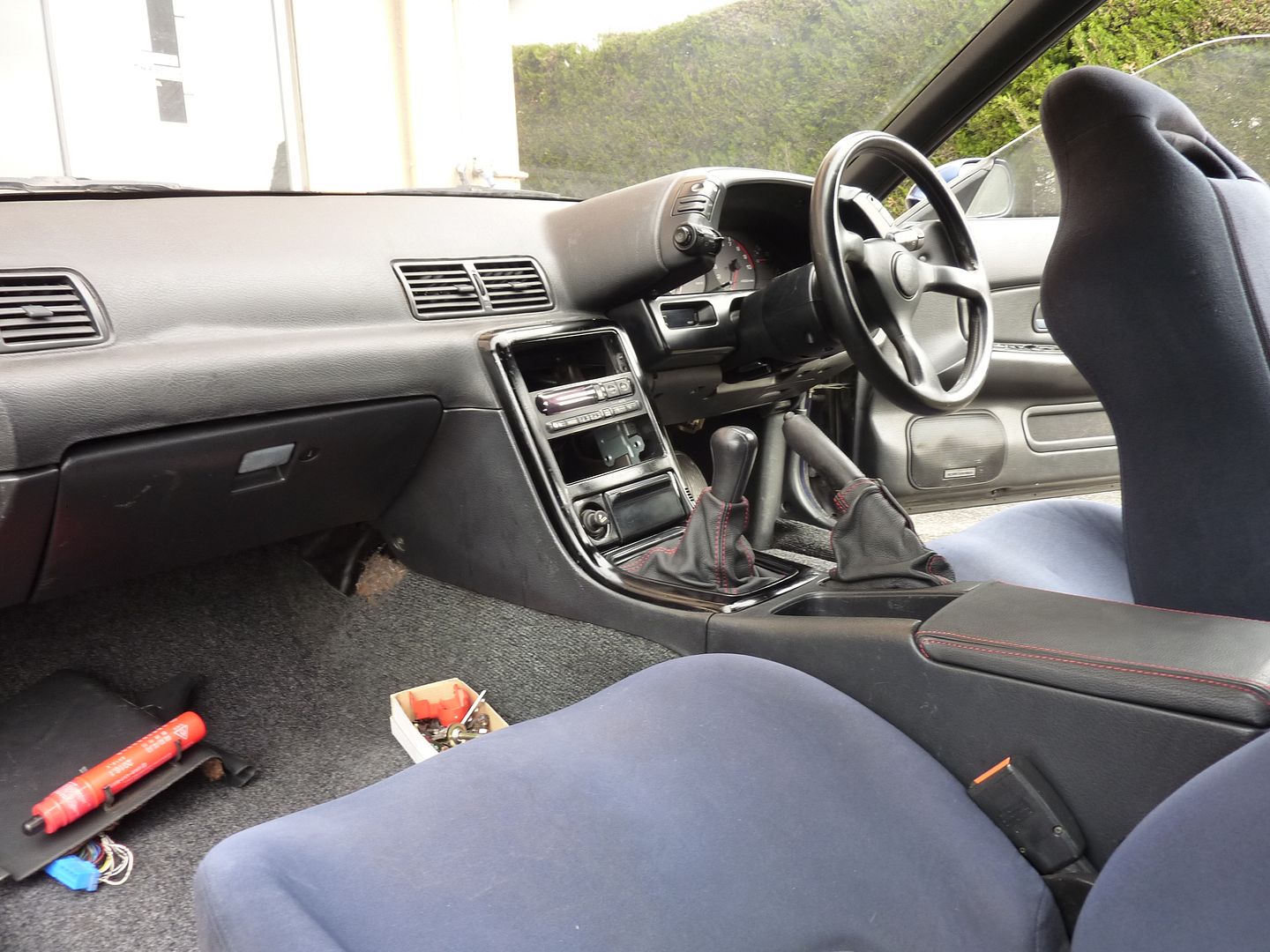 I installed all the factory audio stuff and what not that bolts to the bottom side of the rear parcel shelf.
And then popped in the big metal plate that separates the trunk from the cabin.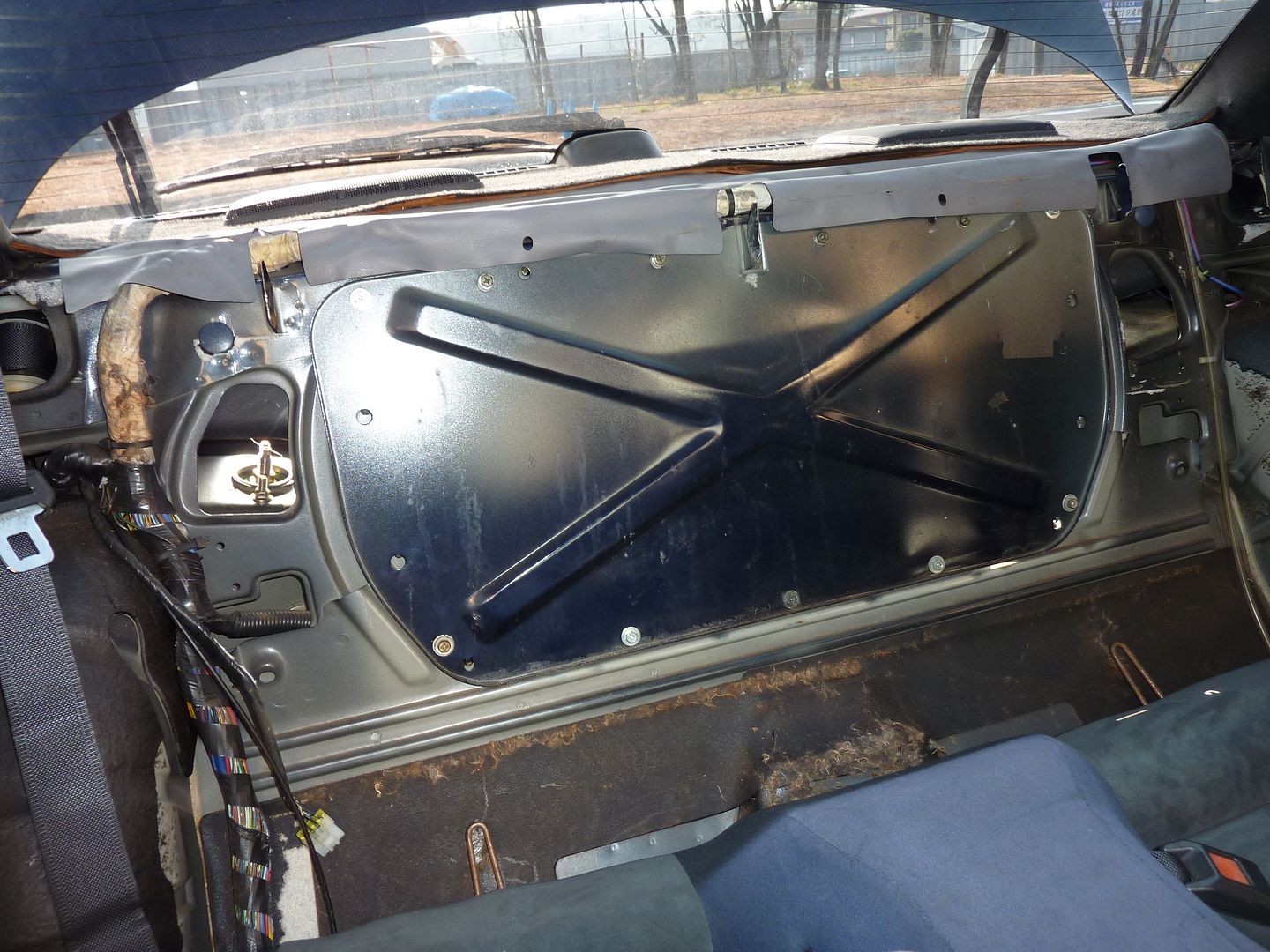 Next, I gave the factory floor mats a bit of a clean and tossed those in!
The heel pad on the driver side was all ripped up and ugly looking, so I ripped it out. Looks much better now.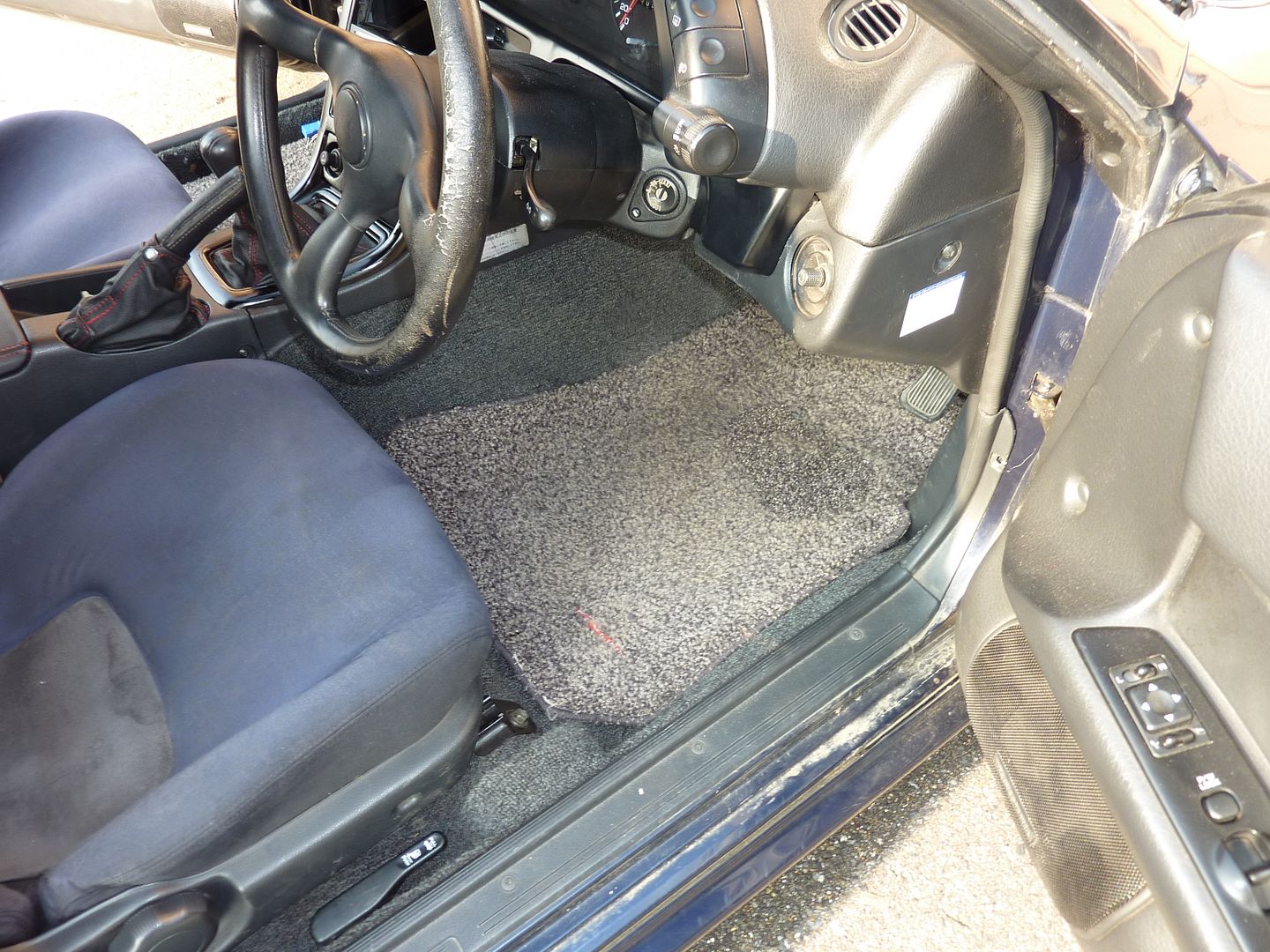 The last thing I did for the day was take a look at the timing belt. It said it had been replaced just 15,000 km ago, so it should still be right as rain. But, since the radiator was already out, I figured now was the time to double check. I also gave the water pump a good spin and all seemed well. I think I'll leave both the water pump and timing belt on there as is!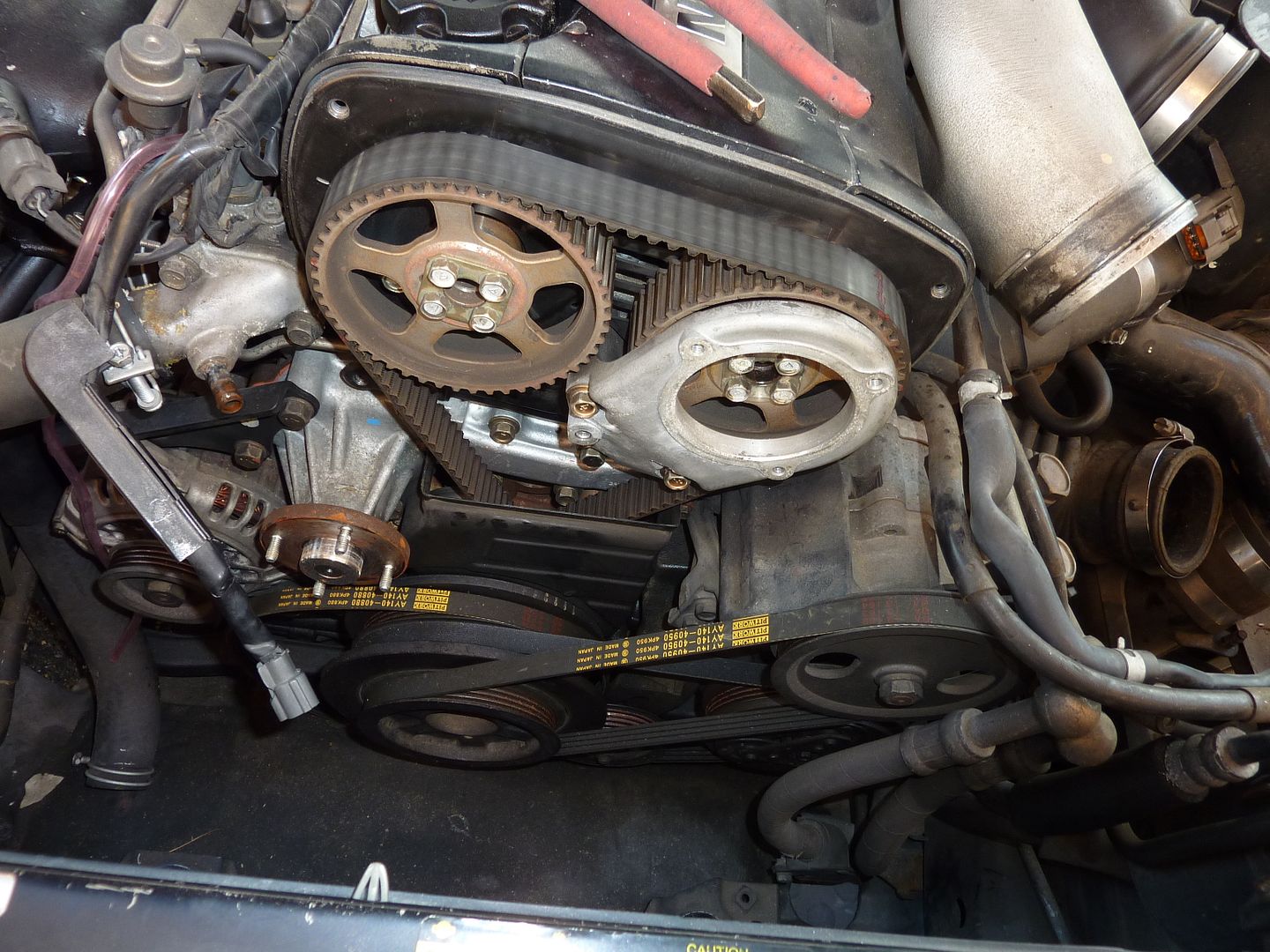 So, the main purpose of that was to put all the parts I got with the car back on and see what was missing. Here's a list of stuff I need to buy/do and what's been ordered as of last night!
ECU
MAFs (ordered)
Radiator (ordered)
Intercooler and piping (ordered)
Airbox
Wheel and tires (ordered)
Wheel lugs x20 (ordered)
Rear seat (ordered)
Triple meters in center (ordered)
New steering wheel
Battery
Oil change
Spark plugs
If I can get my hands on a good ECU, I should have everything I need to see if this beast will start! Of course, I can't drive until I spend an entire day hammering wheel lugs out and putting new ones in... thanks for that Mr. Previous Owner!
Thanks for reading guys!
Cheers,
David
(Here's a little something I thought might be fun to do. Like everyone else, I have to have some music rocking in the background while I get my wrench on. Well, while I was slicing my hands to bits on interior stuff, these are the tunes I had going in the background. Maybe this will help someone find some new music for their garage time!)
Today's Garage Soundtrack:
Chiptune 4 hour compilation
Link:
https://www.youtube.com/watch?v=GH7eUlri4yM