Hey everyone,
My names Mark, I'm 21 from Atlantic Canada and thought I'd finally get around to posting a build thread for my 510 that I picked up a year and a half ago. I first noticed the car on an local online classifieds site around September and it caught my eye right away. Made the 400km trip to take a look and was greeted with a bone stock and very solid car owned by a couple in their late 60s who had recently upgraded to a newer car. I changed the fluids and drove the car back home and it never had a single hiccup the entire trip back, not bad for a car that old and which sat for as long as it did!
A pic from the drive home, still bone stock right down to the auto transmission.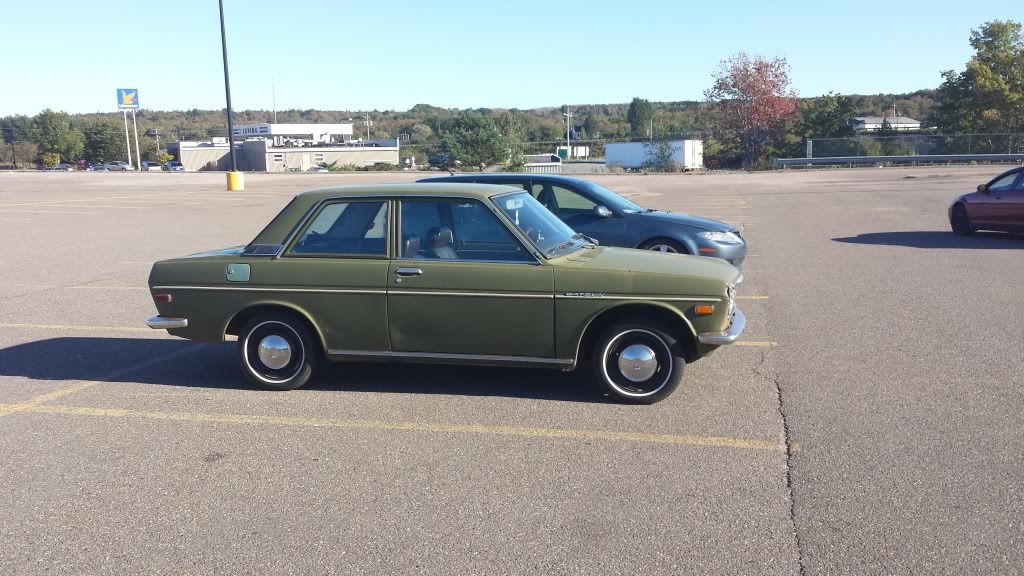 Got the car home and drove it around for awhile while I decided what I wanted to do with it, at first it was an SR20DET swap, then decided to try an old school L20b but couldn't find any local, so decided at last to build up the L16 and do the car in a 70s theme. (which lasted for awhile but more on that later)
One of my first purchases was a set of slot mags and a 280zx 5 speed I found local for amazing prices, then a more performance oriented head and other odds and ends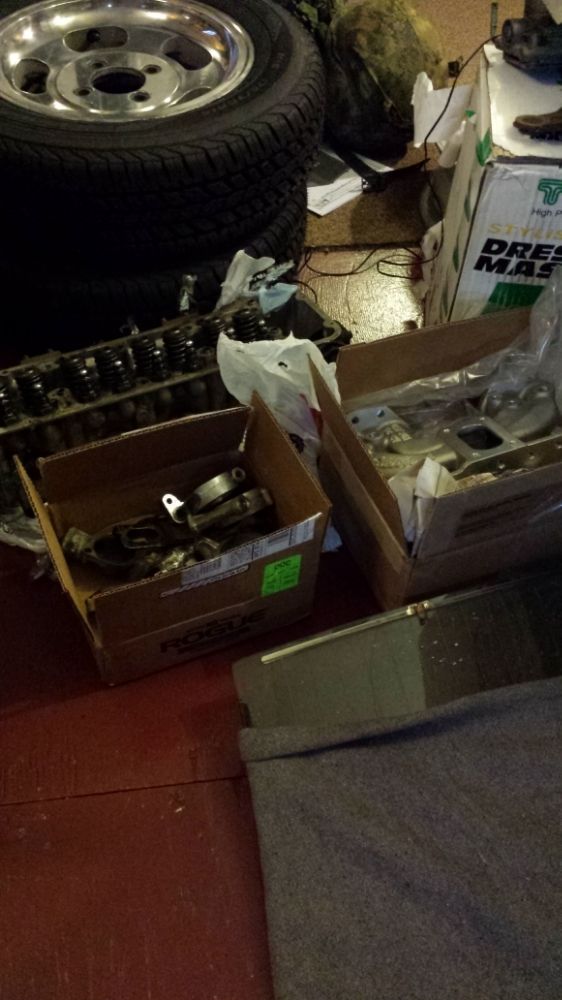 Ended up putting the slots on in November right as the snow hit and I put the car into the garage for the winter
And then started tearing into the motor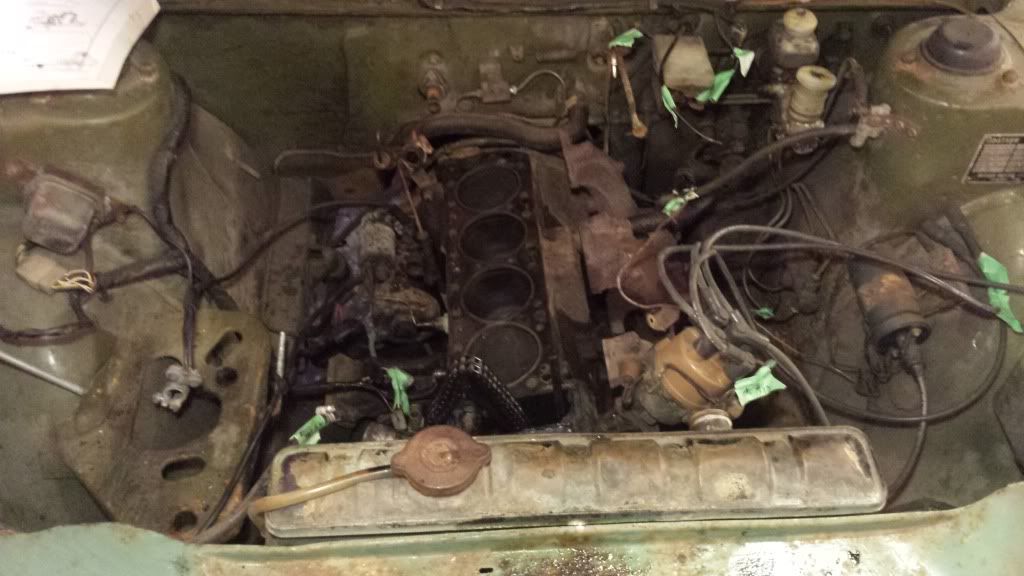 If I knew what the future held I wouldn't have bothered doing anything with the L16 but since I had no idea I went about boring the block .30 over, installing L24 flat top pistons and rebuilding my A87 head with big valves and a huge Isky cam (530 lift, 306 duration)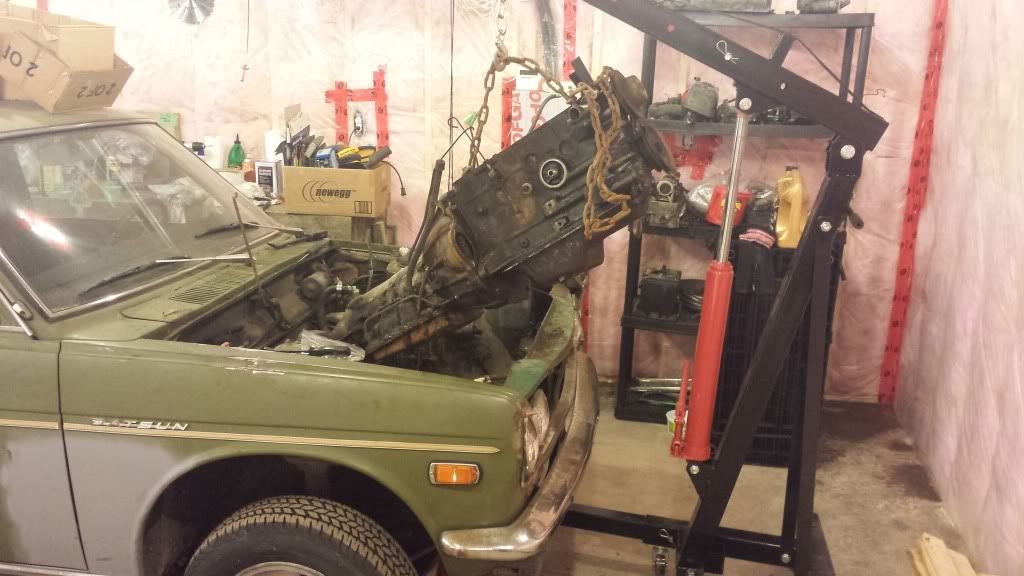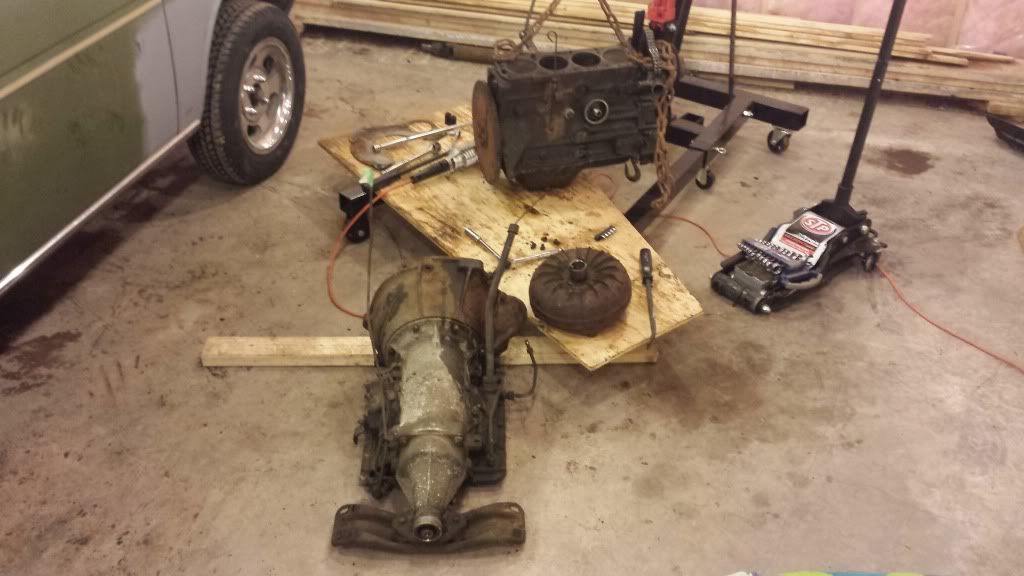 At that time more and more parts were coming in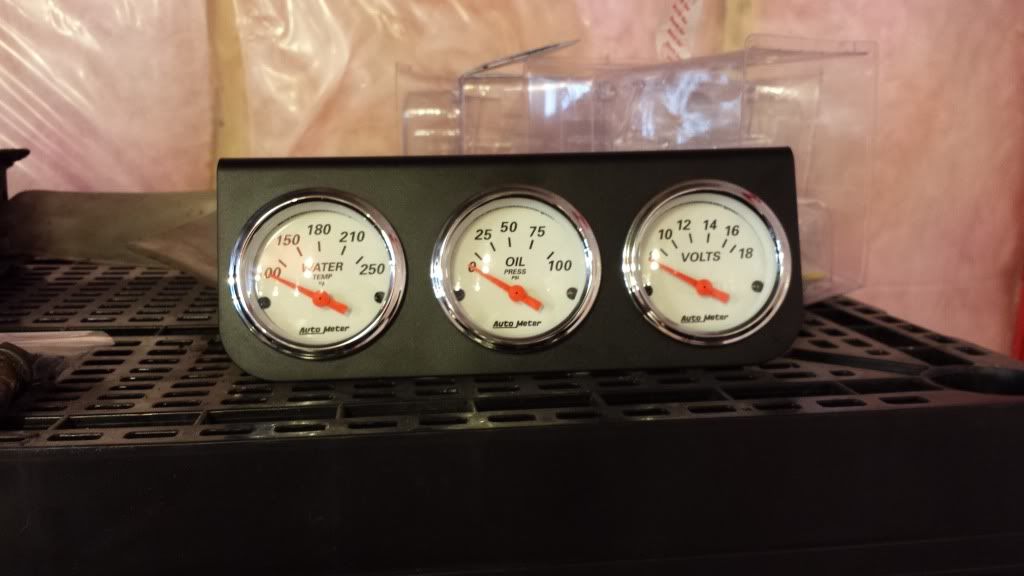 And this which I paid more than I'd like to admit, a NOS 8 track player with box speakers. One of my favorite things I've picked up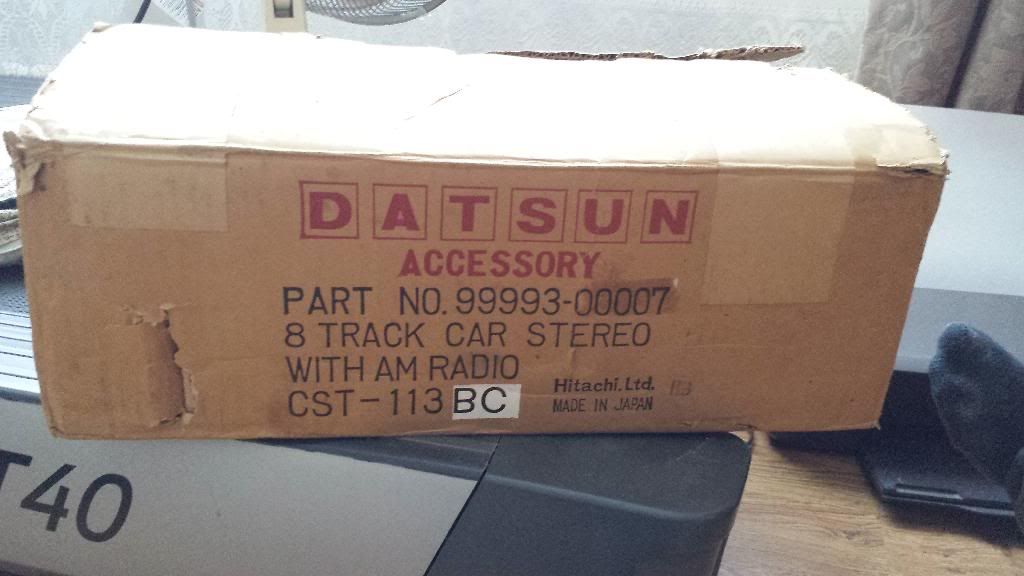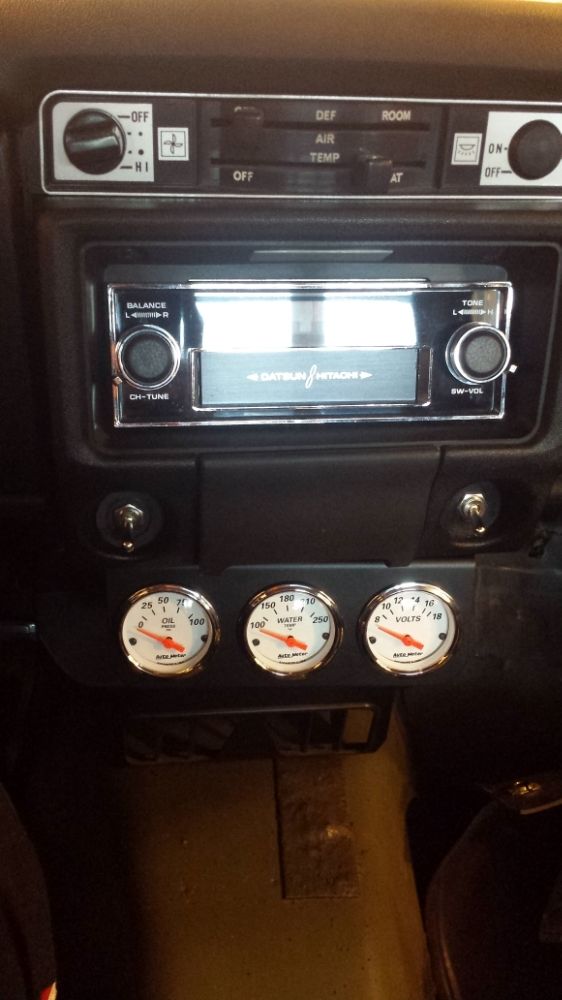 Motor starting to take shape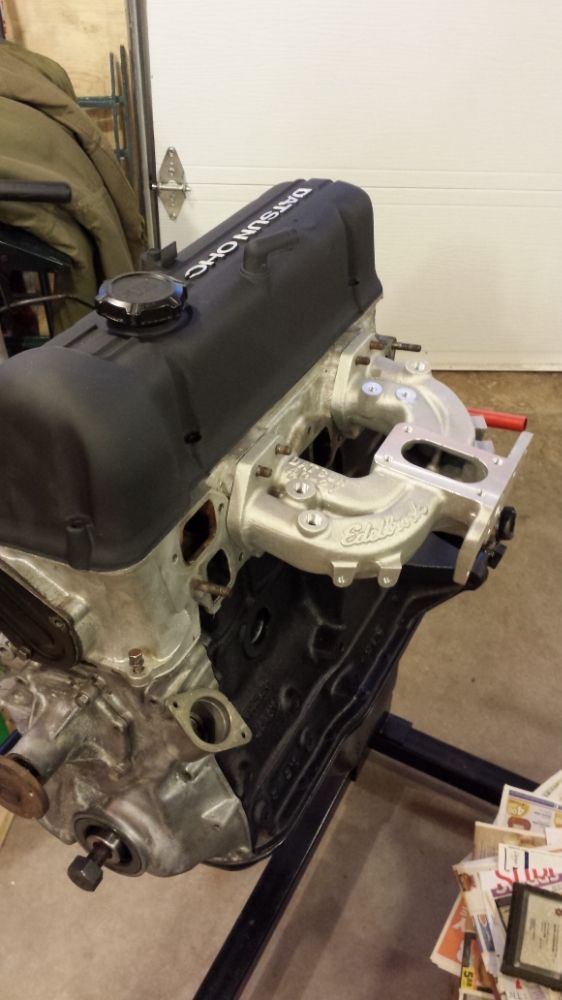 By that time spring was here so I pushed the car out of the garage to pressure wash the engine bay in prep for the engine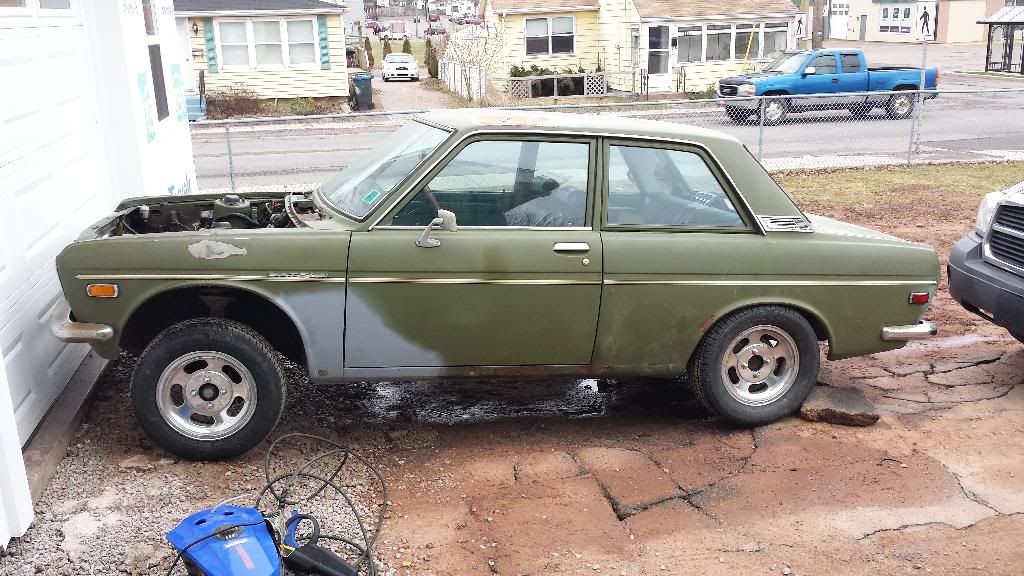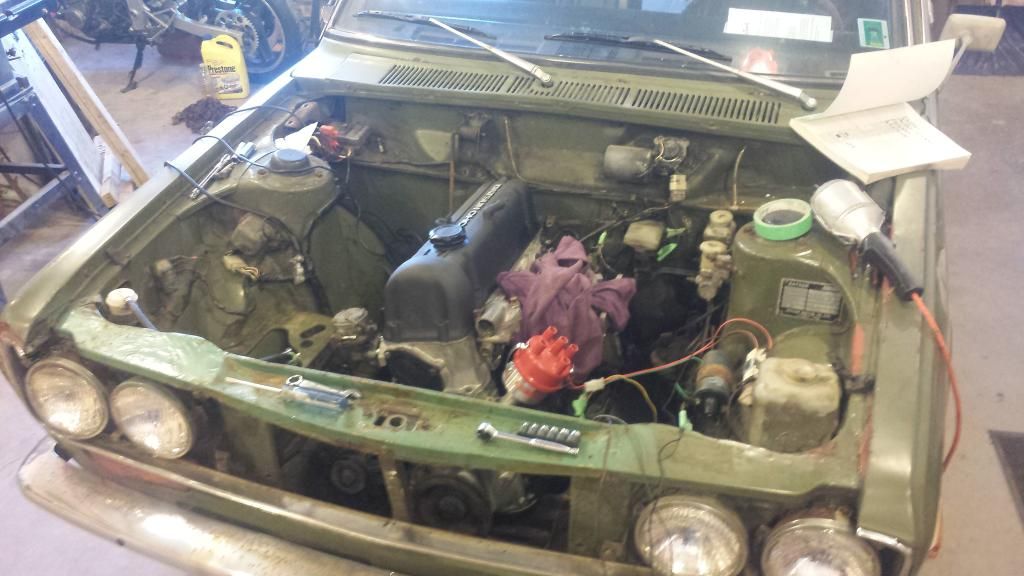 Was almost done at this point but ran into a problem figuring out my correct lash pad size so the car sat while I was away for work and driving my other summer car.
Came home one weekend and after trying to do some bodywork on my hood which was pretty rough decided to get creative with it
This brings us to around August when a good friend of mine who loved my 510 found one himself with a ton of extra parts he was not going to use since he was dropping an SR20DET in. I ended up grabbing 2 L20b engines (one complete with dual SU's) a set of dual Weber 40s, and a couple other odds and ends from him.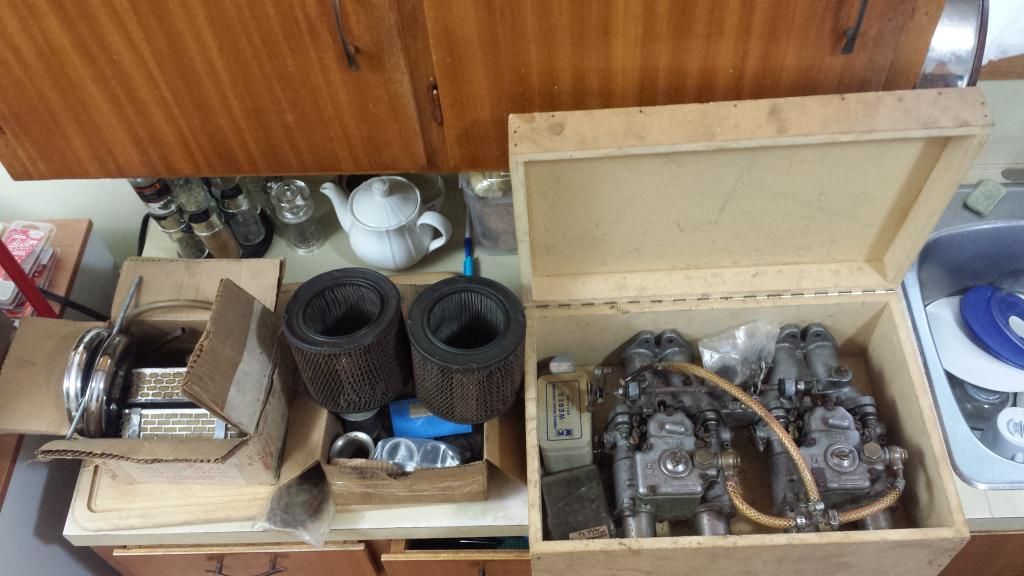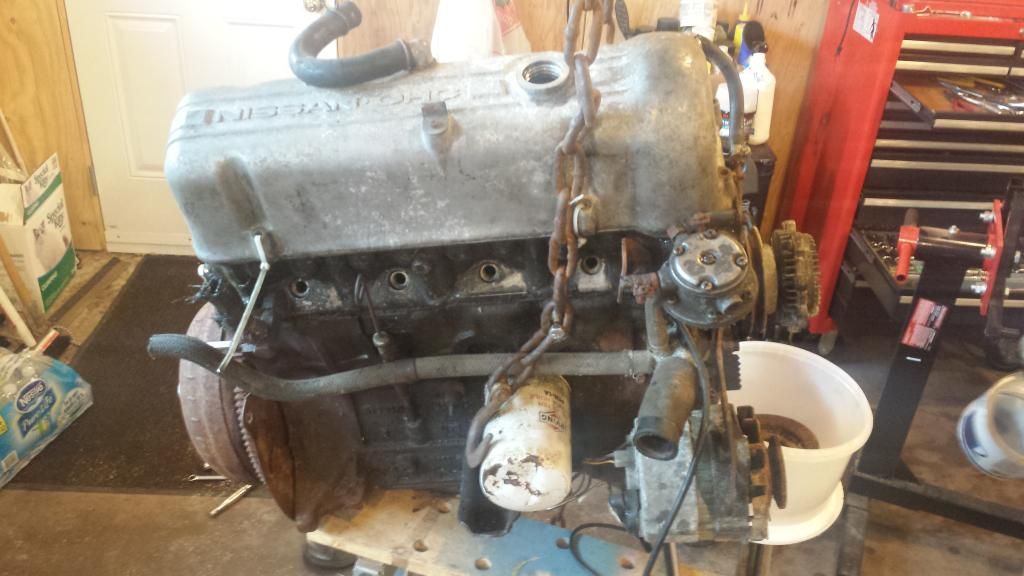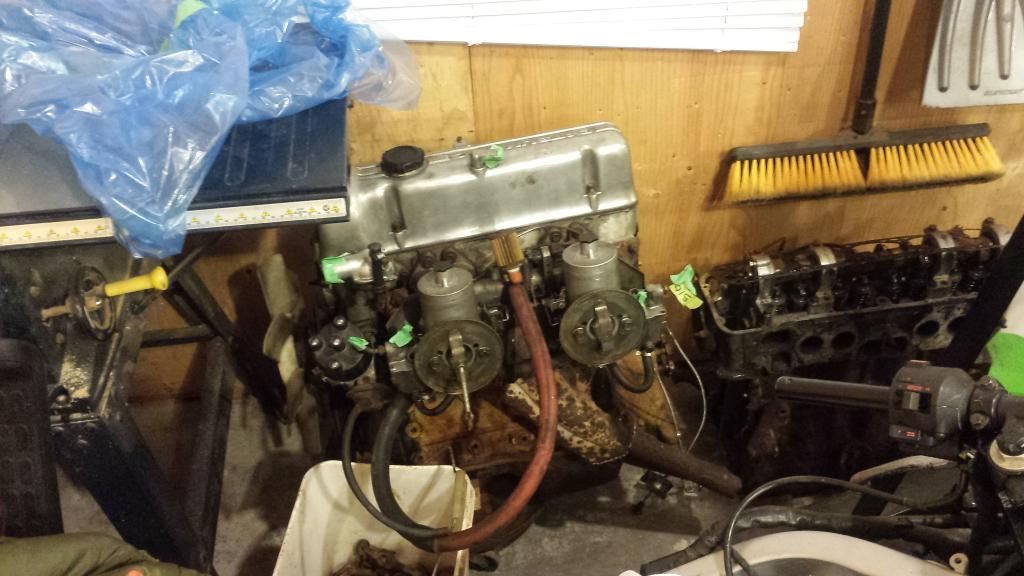 Instantly threw the Webers on my L16 and tried to start it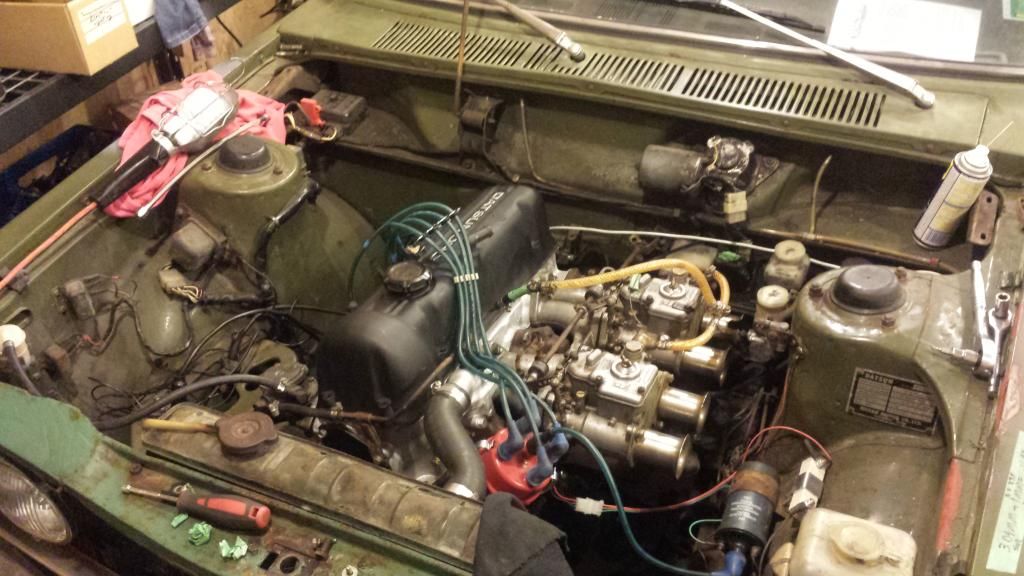 And the car wouldn't start. Kept acting like there was no spark even though there 100% was. Turned out the webers were jetted way to big so took them off for the stock manifold and carb since I wanted to drive the car before winter. Upon doing this car still wouldn't start but was much closer, ended up being a valve lash problem after all the time I spent trying to figure out the right lash pads I still didn't have it right and the valves weren't fully closing. Swapped out my rebuilt head for one of the extras off the L20b's I bought and the car started right up! Took it for a quick drive up the street and shortly after got hit with snow. Sat in the garage for half the winter before I changed my mind on what route I wanted to go with it and went about tearing the suspension apart to lower it.
Before any suspension mods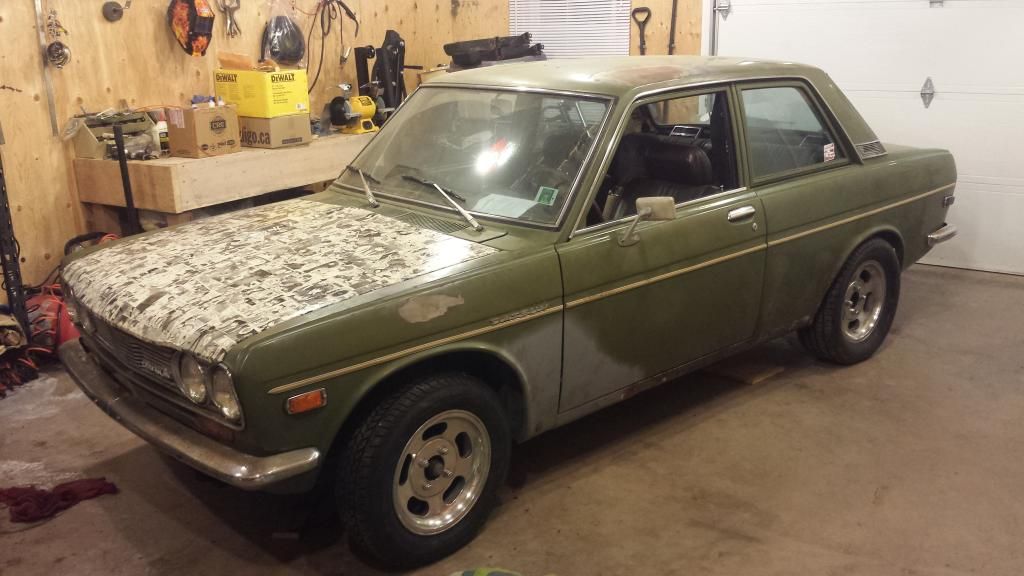 Refinished my steering wheel at one point too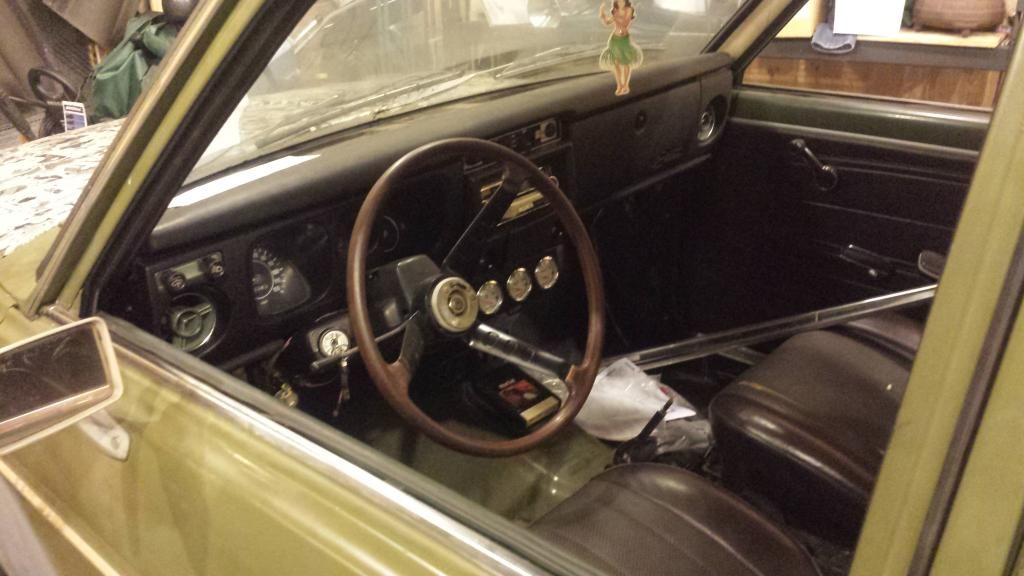 I didn't want to spend the crazy amount coilovers cost so I went about it in a cheaper more hands on way.
Cut the spring perches off my strut tubes and had them shortened and rethreaded to fit first gen MR2 inserts
(before being shortened)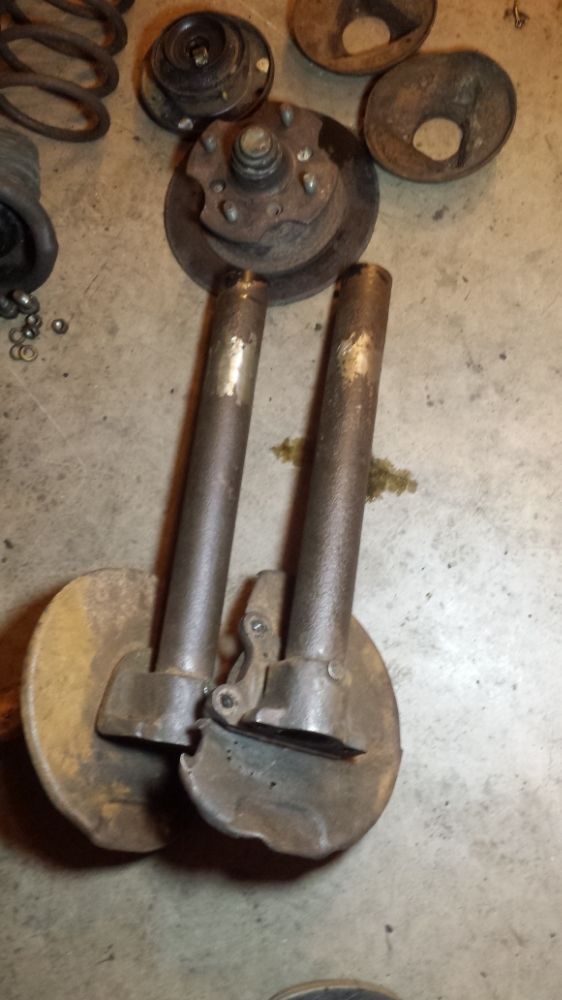 Bought some Techno Toy Tuning camber plates and weld on coilover sleeves for the front, and went with a set of F-Body Camaro shocks (2"shorter) in the rear paired with cut Dodge D50 front springs to get a good spring rate and height in the rear
While this was all happening I decided to start rebuilding one of my L20b motors into a 2.1 Long Rod using Z20e rods, Z22e pistons while boring the block 2mm, and the built up head I had previously taken off my L16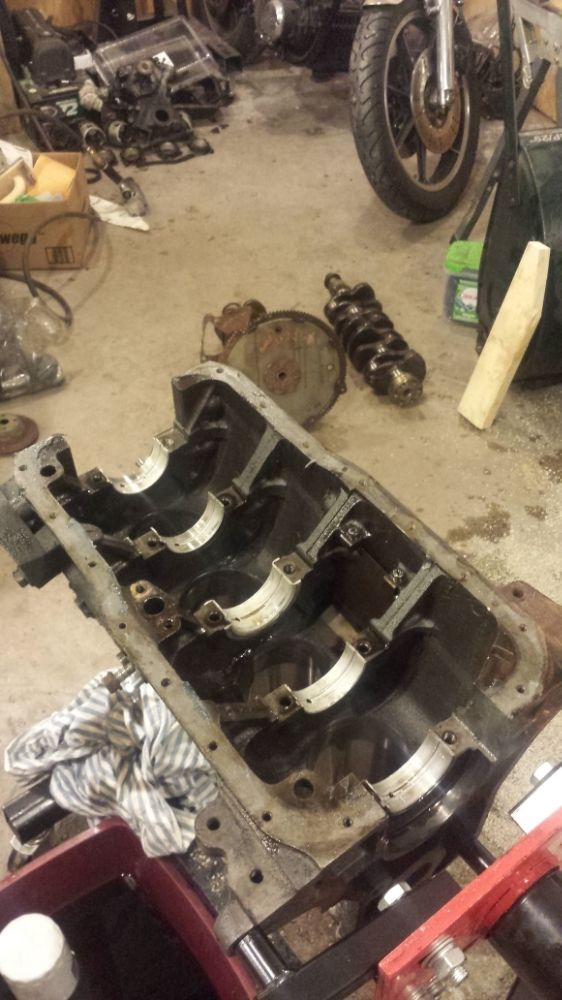 Which brings us to the current time, suspension is all back together, motor is waiting on being bored and I'm hoping to get an exhaust built in the next few weeks and have the car on the road! Don't have any current pics as I've been crazy busy with work but this is pretty close to the ride height it's at now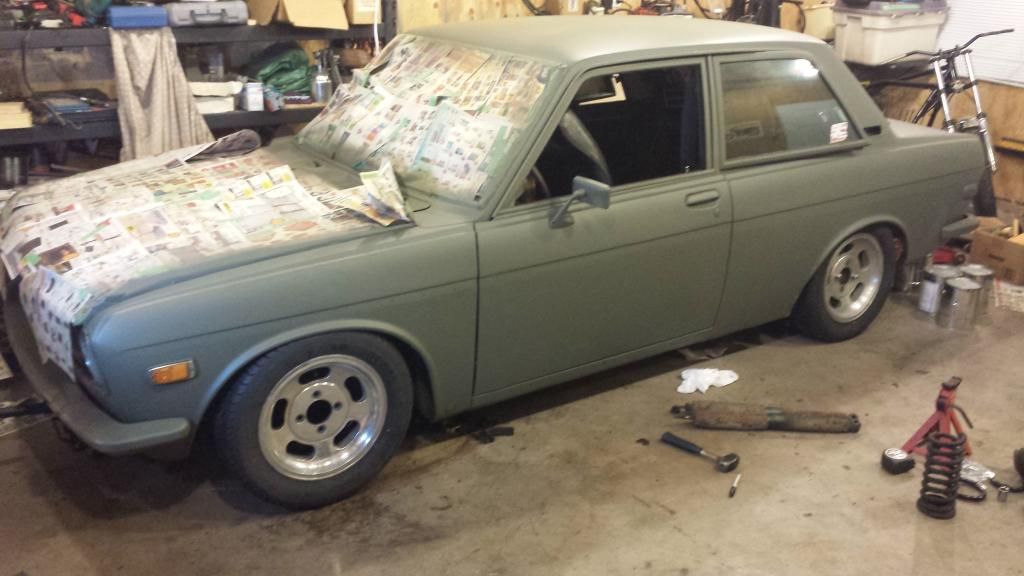 I toyed with the thought of plasti dipping it to see if I like it a solid color and after looking at it for while I decided I actually like it more with the ratty exterior so the dip has since come off. Hope to have some more updates including some vintage JDM wheels in the future so stay tuned!