Thanks for your answers untill now!
14" wheels are to small for my brake conversion. Want to use a big brake kit for a BMW E30. Yes I know its a different bolt circle, but the 4x100 is very often used. So I can get brake parts and wheels cheap. Thought Alvin used 16" Panasports on his black beauty.
As I saw this picture I thought "Yes this is it!!"
I would do the tech work and only the worst parts of the body first and will paint it simple except the doors..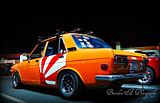 what do you think about this look?
If I have enough time, I will do the body work.
Does someone of you have contact to somebody from Nissan USA which could help by getting a

"chassis stress analysis"

or something else.
Nissan Germany couldn´t help. I will send a mail to Nissan USA if no one have a intern contact
_________________
1999 TOYOTA Altezza RS200, XE10
1969 DATSUN Roadster, SPL311
1972 NISSAN "
Hakosuka
" Skyline GT-X, GC10
1994 TOYOTA MR2 Turbo (GEN3)
*RIP