Roger that guys great info and acknowledged!!!
The fue fliter is brand new however..... when I pulled the old pumps off the pump filters were jammed packed with rust. When I removed the lines from from the "new" pump no rust or residue was there. I will check forward Filter today.
Mr. Orion, It tries to die suddenly right after about 28ish minutes of driving and the only way I can make it that far is if I give it light throttle inputs. I tried 100% throttle once and the FJ didn't like it at all.. If I shut the car down for about 10 minutes and fire it back up, I can drive for another 20-25 minutes and then it happens again.
When I got the car there were aftermarket relays runs to one pump alongside the stock wiring. they seem to not kick on at the same time. The signal I used to power my Pump was from the aftermarket power source the installer seem to bypass any stock wiring. The wiring for the fuel system was the only thing I didn't rewire myself but I will. Also there was a Capacitor looking device on the battery that ran from post to post.... I took it off I should have asked what that was about. Also my injectors are newly rebuilt had a new OE FPR but took that out after the plugs got soaked. Since putting in the Nismo FPR the plug have been dry as they should. Only downside to the nismo is no guage and all the local guages are in MPa...
( got the pump used from a buddy annnnnd fail )
Stock and "new" single setup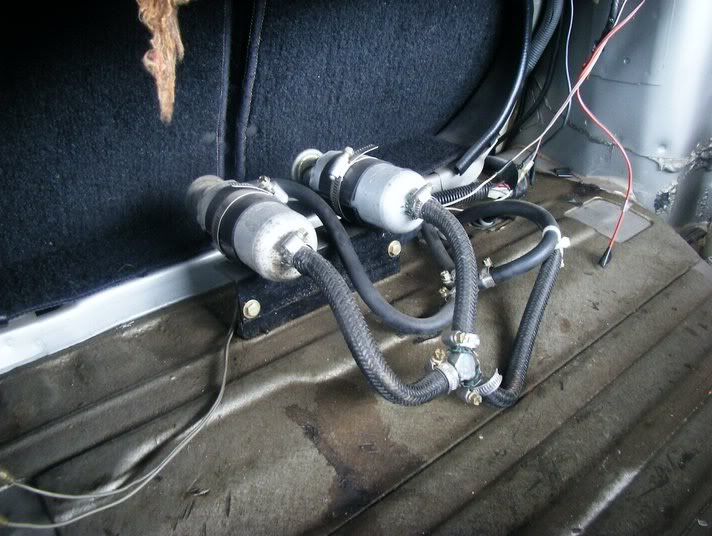 MSD 2225
The pump was whining normally and then became then very low at those point the car dies so I suspected pump pressure issues. After turning the Nismo pressure regulator counter clockwise the pump regained its high pitch however there was no pressure on the lines.
I picked up a metered gauge today and will put in one of my new OE Bosch replacements today. After local Japanese inspection, I will be fully upgrading the ignition system with SR20 bits. As I drove the car I could just feel the potential of the engine being robbed by the current technology. Also doesn't help that my R33 is near 500hp haha.
I LOVE the attention this car got yesterday and so much respect was given from older Japanese guys.