Cheers mate, yeah I still haven't seen another one but I know of one being wrecked in another part of the country (hence finding the tail light) and I've seen a photo of another one that has Falcon wheels and Australian plates on it. There's an orange wagon on oldschool.co.nz which is pretty cool too!
Tailshaft centre bearing/mount was pretty second hand. Couldn't get a new one so got a Bluebird one and made it fit by machining up an alloy 'snout' kinda splash guard with an interference fit on what was already there, and a steel washer to space it off. Diameters were all correct but the guards were different, offset was wrong etc.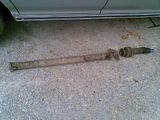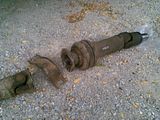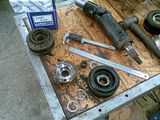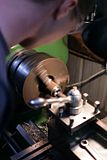 Obligatory shot of me looking like a goose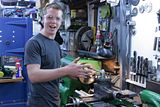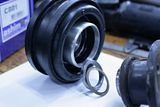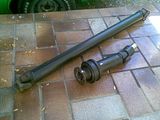 Oh yeah and got given some 14x7 0 offset Japan-made chromed steelies, fitted them with some cheap 195/70s. Fill the guards spot on. Gonna sack it soon... haven't done it yet because I had to get it roadworthied etc. That's all out of the way now though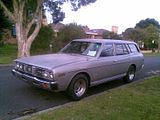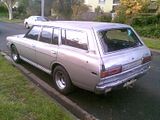 And I spent like 50 hours pulling bits apart, cleaning them and putting them back on. There was so much of that plastic sticker stuff like a screen protector on a phone that had never been removed. And poxy carpet installation etc all sorted. Replaced seals here and there, gave some locks a good clean out and dose of lube etc.
Just for good measure... totally pimping dash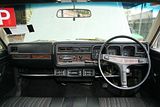 About then, I got it on the road and loaded it up with some mates for some cruising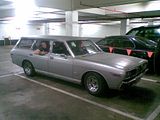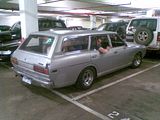 Good idea of how good it should look when I drop it properly.
Custom plates: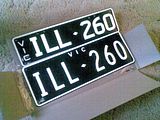 Also pulled the rear bar off, gave it some tap-tap back into better shape, painted the back of it, the towbar etc, organized a bit of other stuff around there too and put it back together. Much better.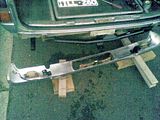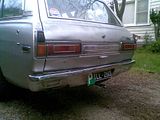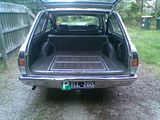 Pulled the dash apart, repainted some trims, put white LED backlights in, got a few other problems sorted and put white LED dome lights in the front and the rear of the interior.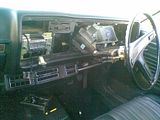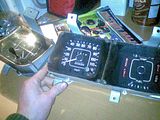 Haven't got any photos of that back together (phone camera doesn't do much justice) but it looks trick.
Plans in the near future involve lowering it more, finding a H230 front bumper (has an ugly 330 one on it at the moment). Electronic ignition, a dedicated LPG system and a working stereo (never had a car with a stereo before so I might put a decent one in this). Some stickers, maybe a chin spoiler? a sportier exhaust and perhaps a small turbo. Then I might look into a taller diff ratio with rear discs etc but that is all a long way off. Took a few months just to get it registered