bochorongo wrote:
Im ready to do the distributor !
where do i begin, what parts do i need ?
Step #1 is to find a distributor from a '79-82 210, preferably the one with the black box on the side. Looks like this: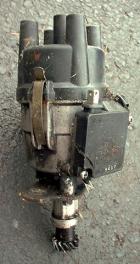 Step #2, pop it in and roughly set the timing. If you made sure to get the connector from the JY where you got the distributor, there are two wires coming out of the distributor. Look on the black box and you'll see one says "C" (Common, aka ground/negative) and "B" (Battery, aka positive). Just run those two wires to the proper coil terminals. Then set the timing with a proper timing light, and away you go. Took me all of 15 minutes to do this on my B210.
It is often recommended that you also swap in the coil from the 210 (or something like an MSD Blaster 2 coil), but it's not mandatory. Rumors abound of the stock coil failing after awhile with the electronic distributor but I've personally never seen it.
So if you get your dizzy from the JY, nab the coil too.