Well, I guess an update is pretty overdue...
First off an explanation on my last update. We got everything together and for some reason the bushings I got from Nissan would not press in. The outer sleeves would compress and curl, or the whole bushing would try to press in at an angle. Couldn't just press them in by the bolt sleeve because that would have ruined the rubber bushing itself.
So with 4 brand new screwed up bushings we decided the best route was to check the local junkyard first thing Monday morning. We got lucky and he had exactly what we needed, wanted $100 for both control arms and while we thought that a bit high we were tired of fighting it and had run out of options. He was going to have them pulled for us before the weekend, I was going to go down and we would finish everything up....would've been great if something went as planned for once but it didn't.
Enter bad weather. Unending rain and rising creeks do not bode well for a junkyard...no parts. Come first of the week everything dried up enough that my parts were pulled. Polyurethane bushings went in with the new bolt sleeves from the now messed up new bushings I bought. Everything waited until I went down on Saturday...and that's where the real frustration began.
My ride came and picked me up and we got to work as soon as we got down there. First step was getting the control arms installed as well as finishing up installing the rear coilovers. Things were going good until I went to install the rear sway bar. Nuts were gone, they weren't anywhere to be found. Once I got back from the parts store with new nuts and washers in hand we finished everything up and I thought we were finally catching a break...wrong again.
Pulled her out of the shop for the first time in 4 months...she lives!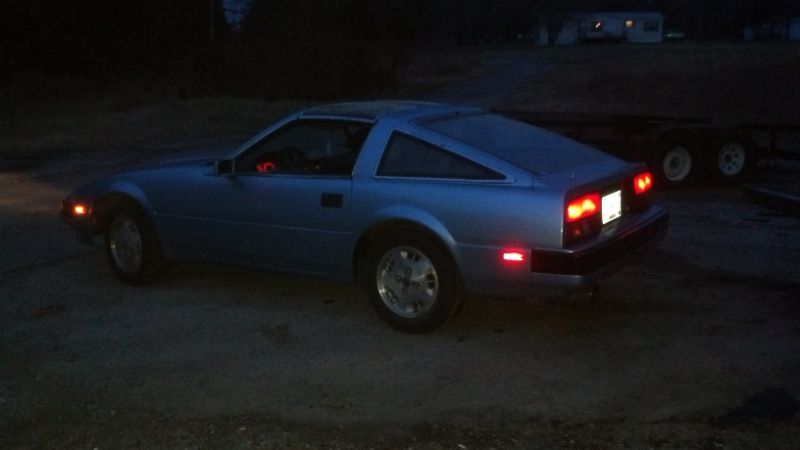 On the drive to the other shop to do the transmission I noticed weird sounds and a nasty vibration. Pulled over at the gas station and found one of the problems. Rear driver brake caliper was locked up. Decided to just drive to the shop since we were already half way there but we were switching drivers because I wanted a second opinion on the vibration and noises. Didn't get far before pulling over again, found the source of the vibration...front lug nuts were loose on both sides. Turns out we both thought the other had tightened the lug nuts down. Stupid mistake but no damage done. Made it to the shop and got it lifted into the air.
Snapped a quick picture of my cleaned up front suspension. Wheel wells will be getting a god scrub and fresh coat of under liner once I get some wheels ordered.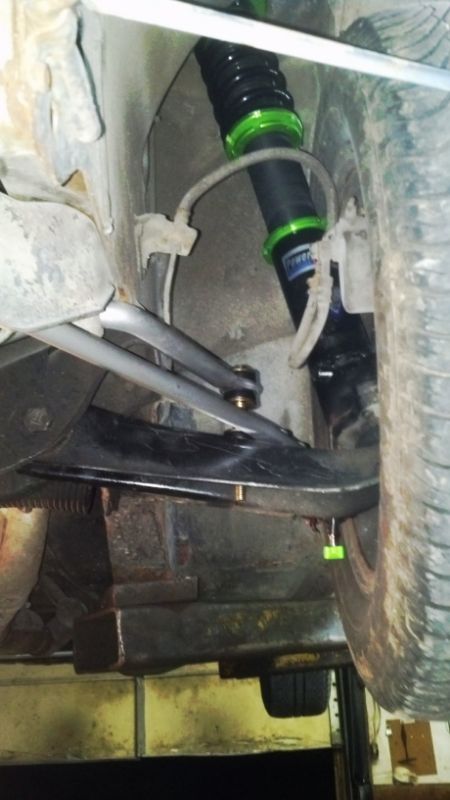 Got some parts set aside for the clutch job...
Remember me mentioning being really frustrated? Yeah this is were it started. Took us nearly 3 hours to pull the transmission because the muffler shops around here wont use clamps and instead opt for welding. I'm still not quite sure how we pulled the trans without removing the exhaust but we did. In the process we found that my drive shaft bolts were loose. We also found out that the previous owner had really screwed us over by lying to me about the car. Was told that he had installed a new clutch and everything looked great in that area. Pulled the clutch off to find that it was and old original Nissan clutch and the worst burnt and cracked flywheel I've ever seen.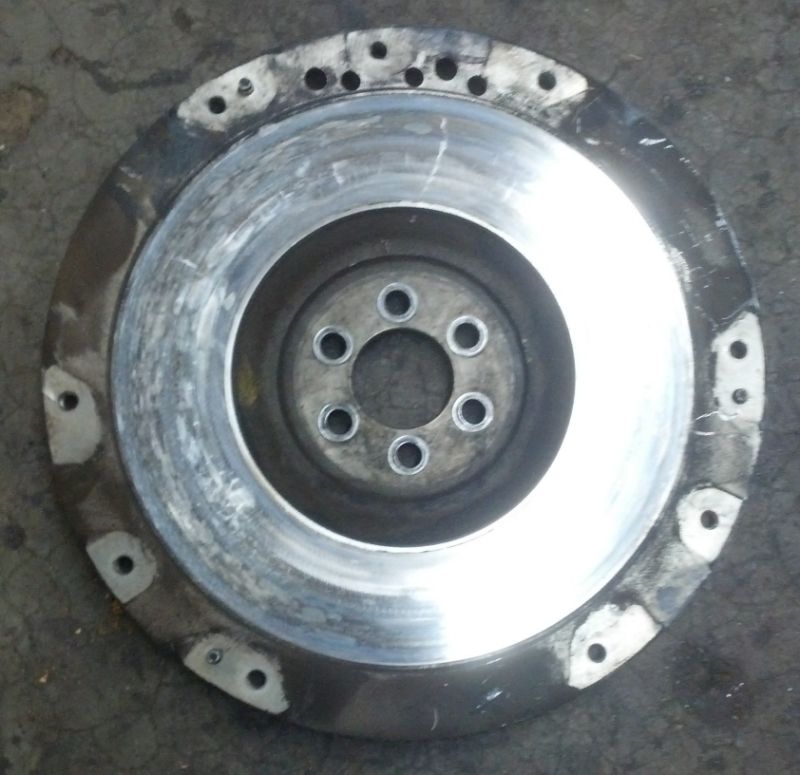 Not the prettiest thing to see at 12 o'clock at night after you've been working since 11 that morning. I know I shouldn't' have trusted a previous owner but everything he told me seemed to line up with what it was doing when I bought the car and I just assumed I wore the clutch down a lot when my clutch master cylinder went out on me in traffic.
All said and done my flywheel is going out to be resurfaced today and make sure its ok. Once we get it back my girlfriends godfather is going to just reinstall everything and have it all done for me to just come and pick it up.
Sorry for the long post but I thought some of you might be interested in everything.