Hi All,
I thought id post some pics of my 15
A brief history first.
Some of you may have seen this car on Ausrota, and possibly FFR a few years back.
Originally built as a stock resto by MR-RX3 back in 2003 to the highest standard (took out 15 trophies at various shows from 03-04)
Everything on the car was replaced with NOS or restored to better than new.
No expense spared. The only performance addition was the ultra low ride height, 18" rollers and an Uber fat sound system. So Kudos go to Clayton and Jordan for a top quality build.
The car was then sold to a bloke in Melbourne with plans to do a rota conversion. That didn't eventuate, and was then up for sale again.
At the time i was feeling nostalgic, and was looking around for an old classic piece of Japanese metal to do up (Back in the mid 90's i built a TA22 Celica with a 12AT and was also lucky enough to own an Original JDM 74 model LUCE)
But, my first car as a teenager was a 1970 Mazda 1800 deluxe.
That where the idea of finding another, and carrying out a rota conversion came about. The shape is one of the best to come out of Japan in the 1960's and was truly deserving of a rotary powerplant upgrade (and would be something original)
That's when by chance i came across this example. As soon as i saw it, i knew it was meant to be, so a deal was struck and it was on its was up on a car carrier. All the body work and interior was done, it just needed the rota to make it perfect.
Well, 1 year later, the conversion is done. There is still plenty to do yet, brake upgrade, diff etc, but the main part is now sorted
Ive only really had it running properly the last week or so, and am stoked with it so far. I wanted to make this engine look like it was supposed to be there, so no major "visible" surgery was carried out on the car. And the engine and bay has been detailed to suit the vibe of the car.
As far as the driveline goes, its a series 5 13B turbo, std internals,
the turbo is a hybrid custom unit using the S5 front housing and a T04 rear. Custom steam pipe high mount manifold with a 46mm external wastegate. Custom 2.5" mild steel exhaust system, std top mount I/C (no room for a front mount) Microtech MT8 ECU.
all the rest is just custom fabricated stuff we had to make ourselves. The conversion itself certainly wasn't easy, but it wasn't impossible either.its a tight fit, and took a fair bit of planning and preparation. In saying that, it was still a budget build, as im not made of money
anyway, here's a few pics from along the way.......
From when it was known as "olskool"
the old 4 banger
out with the old
dummy fit the 13B
and skip a few months....new radiator and wiring is finished
all done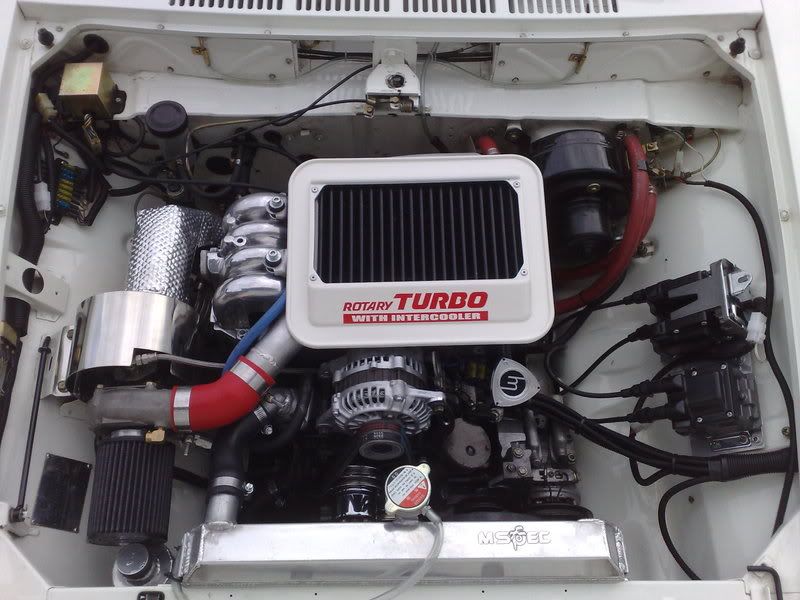 I had to get the suspension raised due to the 3" single piece tailshaft.
It would have been touch ing the floor the way it sat before