With the wagon gone (
) I'm down to Mr Poo, the Rover and my 1300. The 1300 was the first car I ever bought and even though a couple of times I had it up for sale (half heartedly), I'm glad I kept it as I met my closest mates through it and had some hilarious adventures (and at the time, very unhilarious breakages and rage moments). Plus, how often do you hear old blokes saying they wish they still had their first car?
I used to work for Smorgon Steelmark (when they still existed) and I used to buy all of the PPE gear for the workers. The company I dealt with was run by a closed religious group, and everyone who worked there drove old chrome bumpered cars. So when I used to drop past, the carpark would be full of Mk1 cortinas, early commodores etc. It was pretty cool. They were all daily drivers too (this was the early 00's).
A girl who worked there was getting married in WA, she had to sell her car, I wanted a Datsun Stanza but couldn't find a decent one at the time and I ended up with this:
It's a '76 FA3TS two door sedan. Translated it means it had a TC 1.3 litre and was the later "widebody" style. Technically it is a pillared "coupe" and R100's are fastback, but who cares. It had pollution gear on it, but is pre ADR 27a (an Australian Design rule for pollution gear etc). When I bought it, it had a 32/36 weber, extractors, a crappy ish but nice sounding exhaust, stupidly big 205 tyres on all around on Cheviot "Star" mag wheels and had been in a few bingles. It also came with every since piece of paper, the purchase receipt, the owners manual, the service manual etc. It was literally a little old ladies car before Dolly, the girl I bought it off, owned it.
This is all pre digital cameras, but to make it short, believe no one on the internet when they say "it bolts straight in". I found that out when I first put a 323 5spd into it and had to get the tail shaft shortened. Then I put in a coil over kit and bigger brakes off a Toyota Tarago (discs) and Holden Camira caliper. With this in the front, it was insanely good fun to drive and I could easily pull away from the rotary guys on cruises up through the hills on the outskirts of Melbourne as I could enter a corner quickly and keep a high speed through it, then pull out of it with the revs up due to the 4.11 factory diff
Then I put in a D5 motor, which is out of the very last RWD 323's and is a 1.5 litre motor. Not as revvy and not as fun, put it had a pinch more torque.
Then the clutch cable snapped (I thought I had shattered the clutch as it locked in gear one night) and I bowed to peer group pressure and this happened: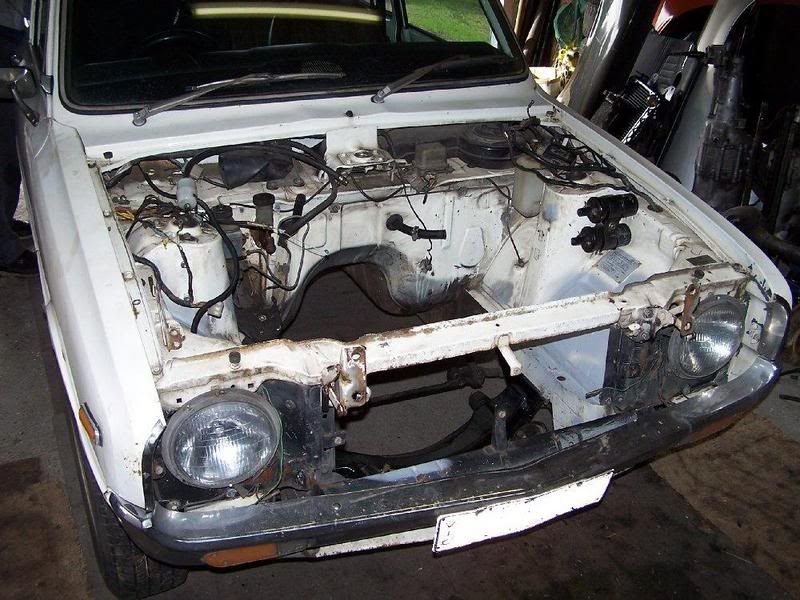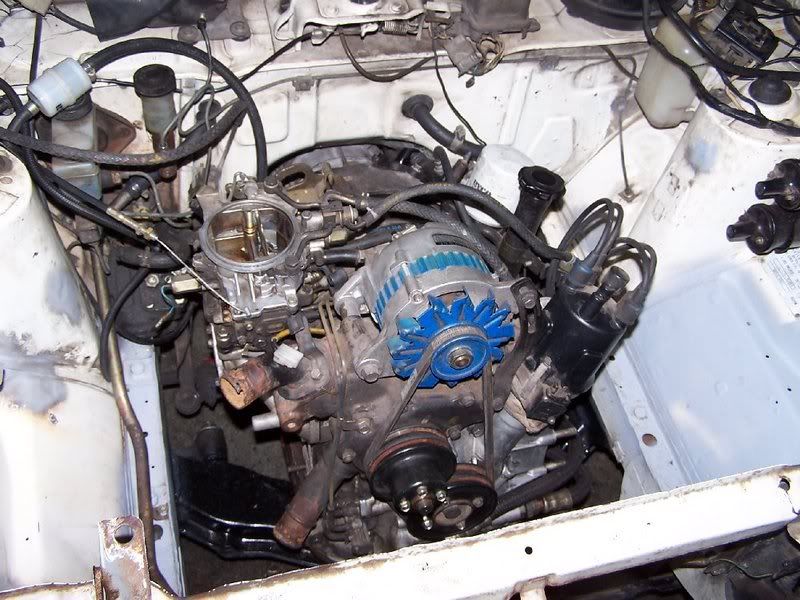 _________________
occasional blog:
http://ewokracing.tumblr.com
Brought to you by me as I search Alta Vista for Geocities webpages using Netscape Navigator while listening to Jam & Spoon.