Much earlier this year I was working at the Dayton Auto show. Its a tiny crappy little boring show. When you work auto shows you meet all sorts of different people. Mostly sheeple that buy SUV's and mini-vans. But occasionally you run into a fellow enthusiast. I ran into a gentleman, and I cannot remember how but we started talking cars. He told me about his fathers all original 1967 Firebird convertible. And mostly we talked muscle cars. Then he started talking about his first -new- car he bought in 1978. He told me it was an old Rx-7, so of course I told him about mine, and how many I had owned. I even made mention of how I wouldn't mind having an Rx-7 that early. That's when he started telling me that he is looking to sell the car. But he doesn't want it to go to just anybody. He wants it to go to the 'right' person. Someone who will take care of it, and fix it since it has been sitting in a barn for so long. I gave him the website URL to Ohiorotaries and told him to get on Facebook and stay in touch.
I did in fact want an early '79. When I was in high school I took autotech, I was assigned to a dull red 1979. I pleaded with my teacher to work with the car, we mostly were doing brakes initially anyway, so he didnt mind. The car had red plaid interior, and a glovebox full of Pacific brochures. In the end, the car was crushed. The school was not allowed to sell donated cars, and so I was left with nothing but memories of that car.
I didn't hear from that gentleman, and forgot about the car. I figured it was in really poor shape, and probably too expensive. He didn't tell me much other than it was a '79 he bought in '78 and it was a five speed car. Fast forward a few months and I went to a Cars and Coffee at the Greene in Beavercreek. I took my 1881 and was almost immediately approached by a familiar looking gentleman. He started complimenting the car, and talking about his. And for the better part of the conversation I forgot that we had met before. He even started telling me about the car again. Except this time, he said it had been garaged its entire life, was still in a barn, and... It was yellow.... Here we are chatting at Cars and Coffee.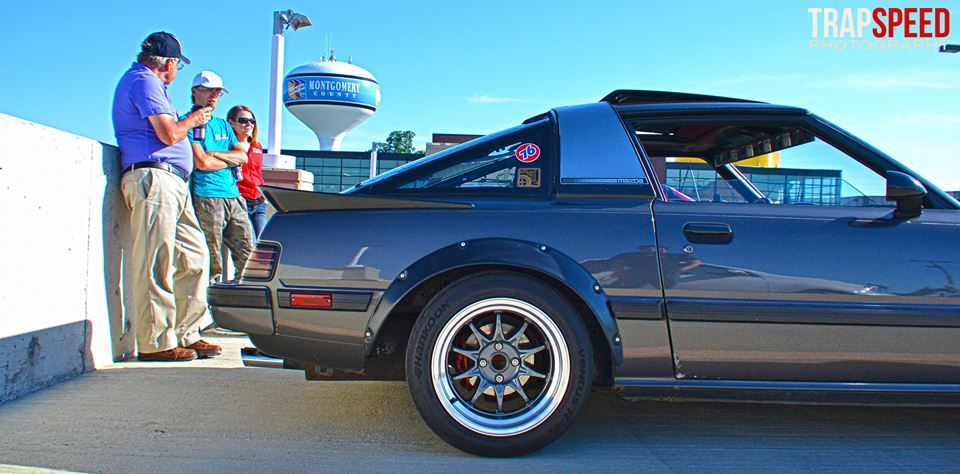 This time I got his contact info, and afterwards I wasn't sure if it was worth investigating. I didn't have the funds for another car. Then I drove a friends Silverstone '79, and decided I should at least take a look at the car. So a few weeks after the Cars and Coffee, I called him, and a few days later I went to see the car.
The day prior to seeing the car he called me and started telling me everything that was wrong with the car. He repeated over and over about how it wasnt perfect, and it had been driven a lot. And that the mileage showed. I really started to worry about how bad the car was going to be, and he had mentioned he wanted to sell it cheap. I was ready for a car in terrible condition, but hoping for a car in good shape. The last thing I was prepared for, was the condition the car was actually in...
It was a wonderful moment when we laid eyes on the car, it was so perfect. The car was off the road a ways, but as I came down the driveway my jaw dropped. I couldnt believe it.... I immediately realized I wasnt going to be able to afford the car...
He admitted that he had cleaned up the car, despite that I just couldnt get over how nice the body or interior was.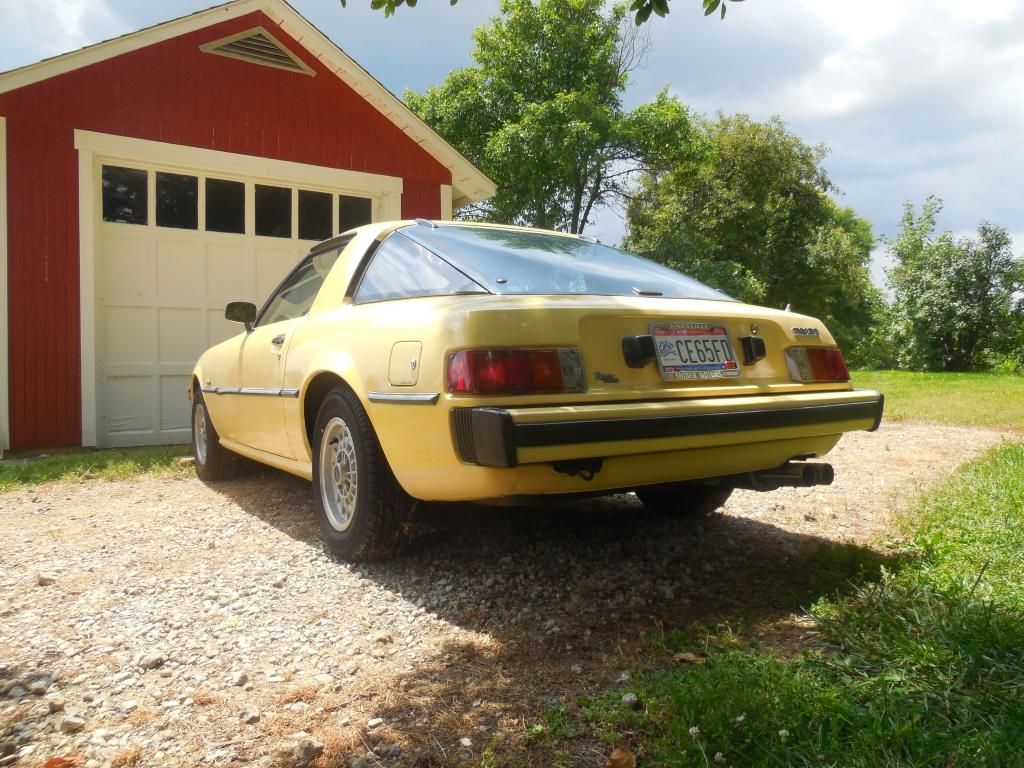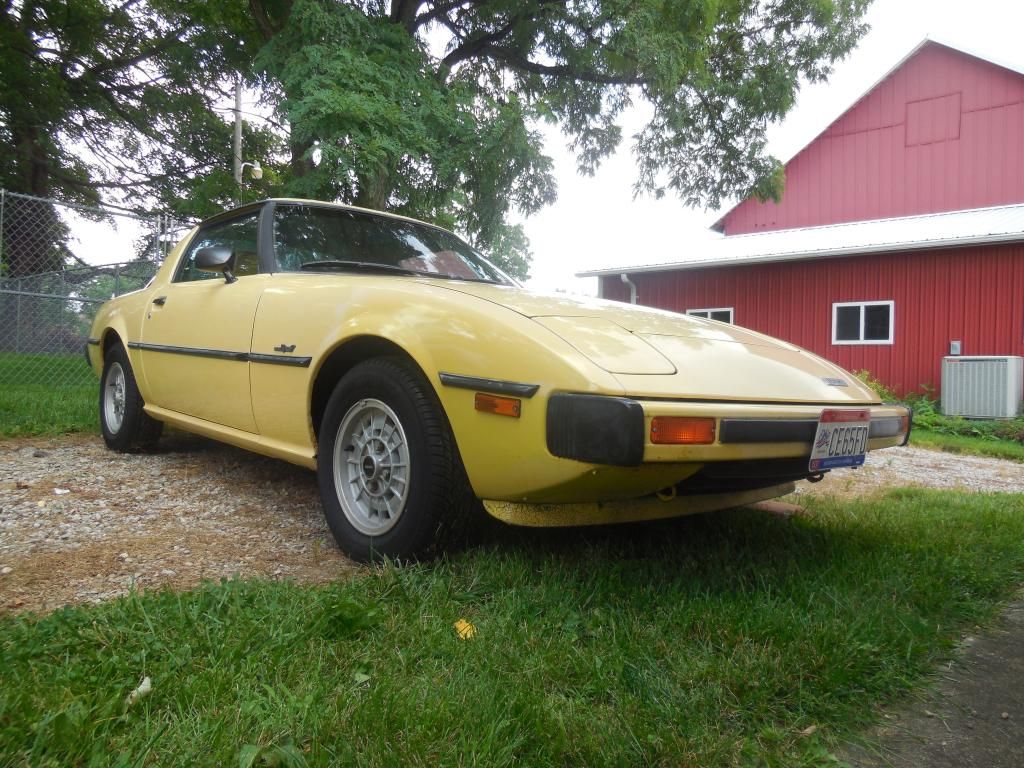 I went over the car with a fine tooth comb, the few faults I found were pretty minor. The interior was beautiful...
In my hurry to leave my house I forgot my tools and jumper cables. Luckily he had some tools, so I stole the battery out of our car and removed the trailing plugs. One rotor sounded a little weak, but after a few cranks it sounded pretty good. I assumed maybe a seal was stuck and cranking free'd it up.
I decided against starting the car as I didnt know how bad the gas was, and it was missing a vacuum line. So even if it did start, it wouldnt run well.
Well when it came to talk price, I was very surprised. He wanted to ask 12-1500 and was willing to take $1000. I told him the was was probably worth every penny of 1500. But that I couldnt swing that much money at that point in time. He really wanted the car gone as he was paying to store it where it had sat for the last few years. So before long a deal was struck, and the car was mine!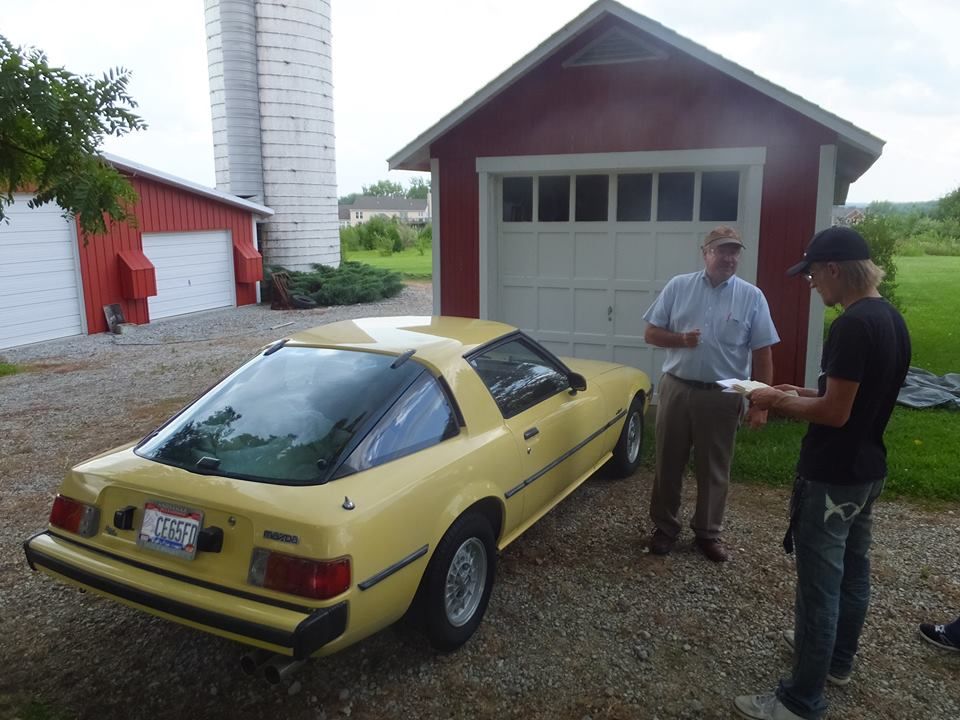 He was the first owner, he had bought the car in 1978 after finding a dealer that wasnt marking cars up a ridiculous amount over sticker price. The catch was you gave the dealer three color choices, and preferred options, and sat on a waiting list. He waited for six months, his preferred colors being red, blue or yellow. With yellow being the last choice, and a sunroof as one of the options. A few folks turned this car down, as yellow wasnt a popular color. And it was a non-sunroof car. So he almost contemplated passing on the car. But after waiting for so long, he jumped on the car. He went to pick it up at the dealer and it was on the showroom floor roped off. They even let him drive it out of the showroom!! Because of this it has its window sticker, and -lots- of other documentation. It even came with original keys!
On the flip side of the keychain is an address, to a p.o. box. It also has a random looking number. If you lost your keys and someone found them, they just needed to drop your keys in a mail box. It would be forwarded to the p.o.box and Mazda would mail you your keys back. Pretty sweet! Probably not going to test if it still works though lol A good buddy came out in his 4Runner, and helped me get the car home.
Then I managed to get the car fired up by cleaning the plugs, freshening up the gas, and installing a good battery! It moved under its own power, and I parked it in the garage that first night!
https://www.youtube.com/watch?v=TBKyRAx ... bWpyRt7fJQ
Day one of ownership, title the car in my name.... Check, I have consummated the relationship lol Mind you I havent even run the car to operating temp at this point.
Step two, change oil and filter...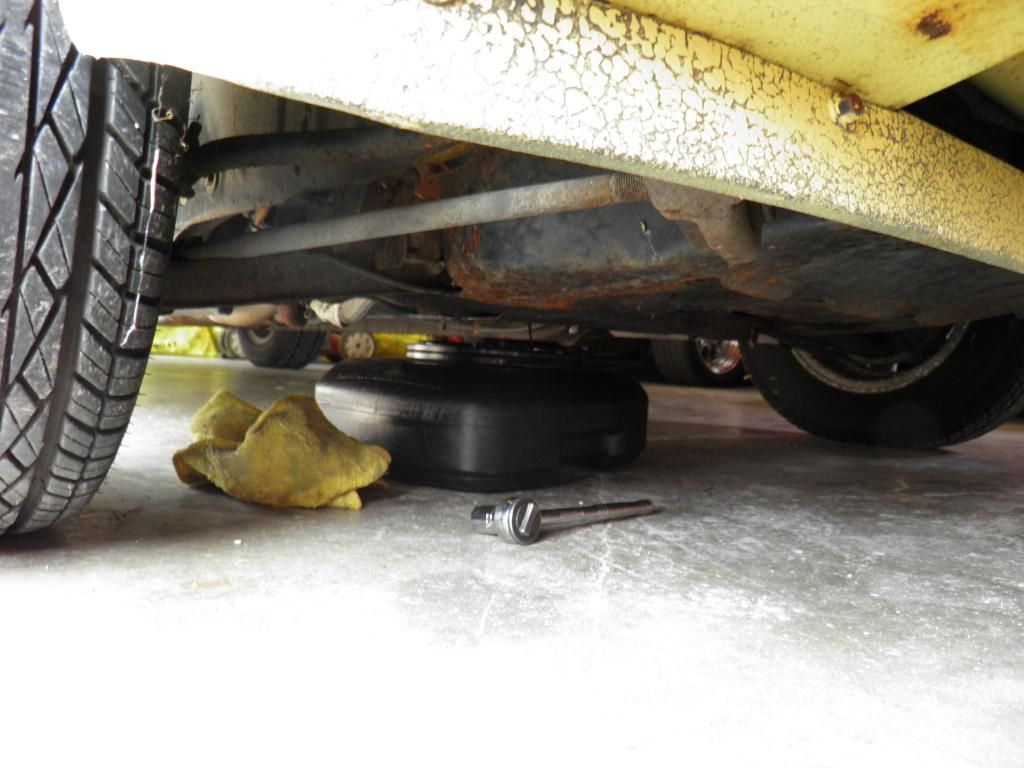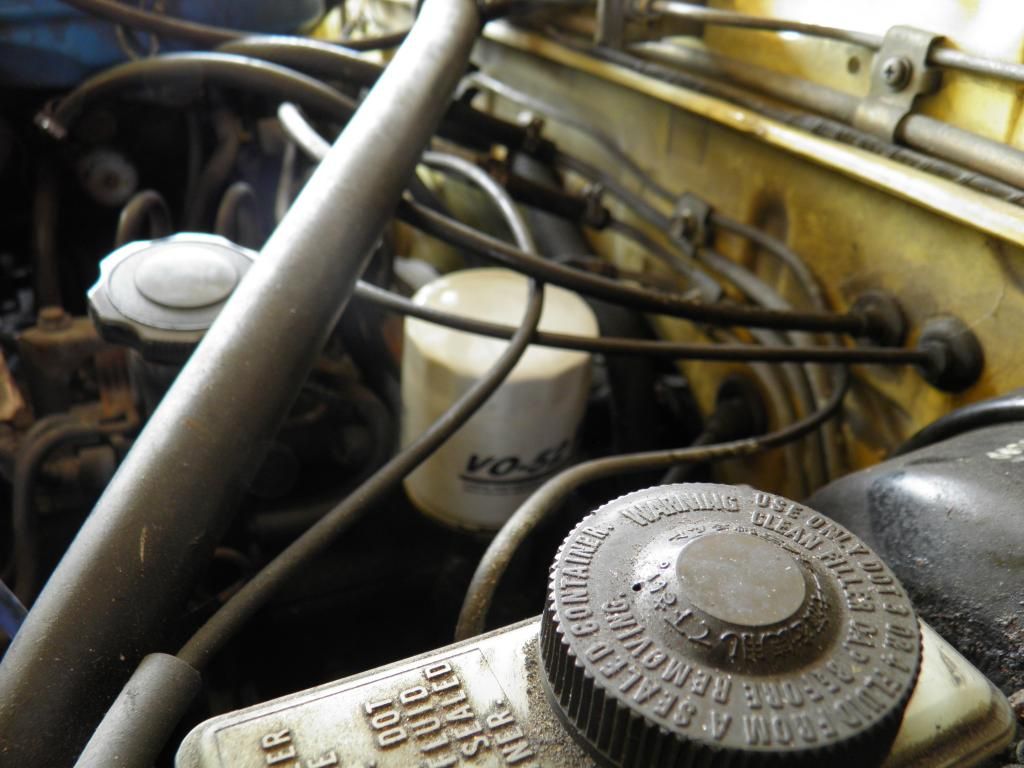 Remove ancient metal framed air filter....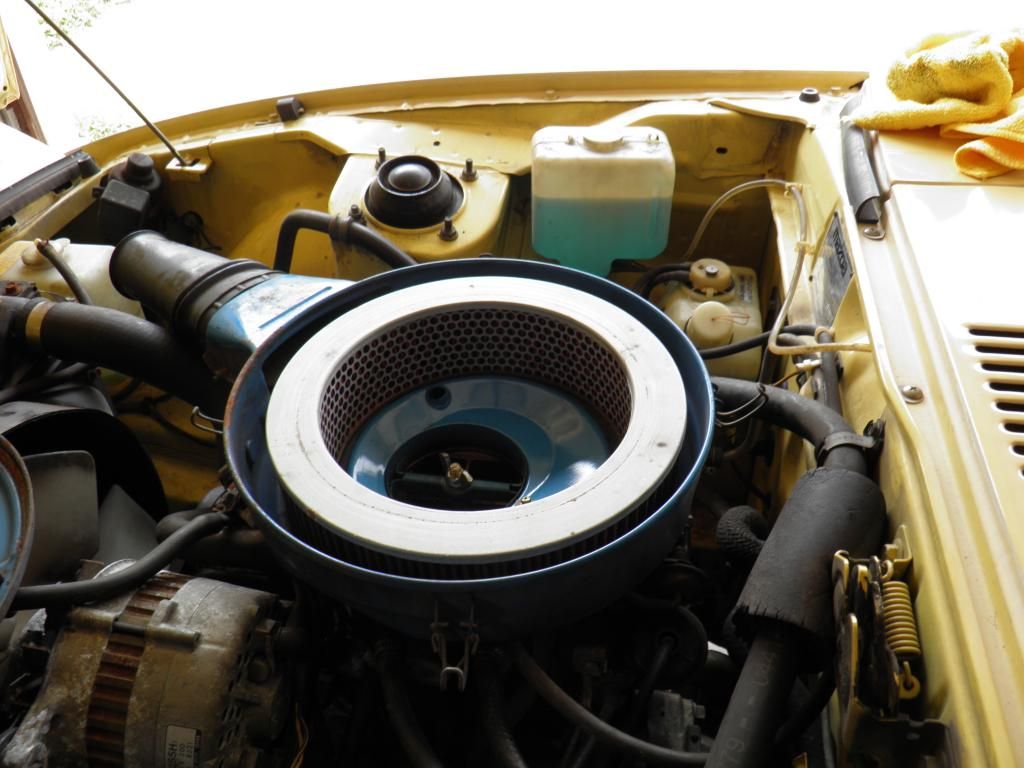 Replace with new...
Change out plugs... Then inspect drums and bleed brakes...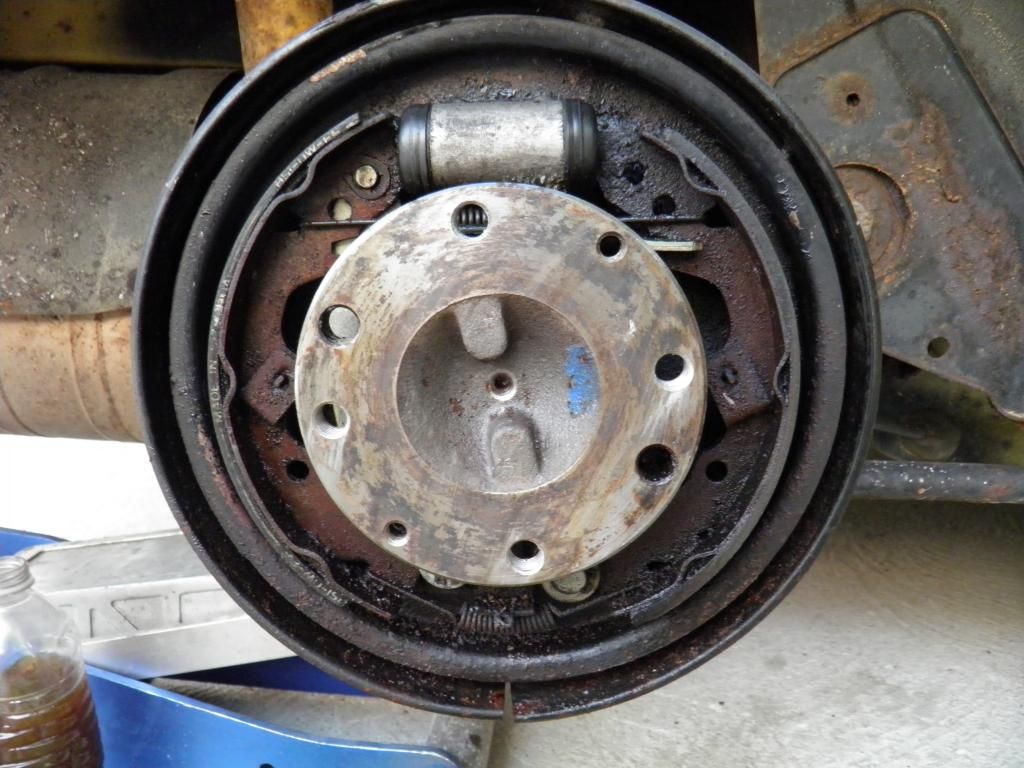 After this I started the car, didnt pump the gas, didnt use the choke. The car fired right up and settled into a strong 750 rpm idle. It was still smoking out the exhaust, but I let the car warm up. I let it idle at full temp for about 15 minutes. Once I was satisfied that it wasnt going to overheat or otherwise blow up, I took it for a lap around the block. Stopped, checked everything, idled the car longer this time. Went around the block again and opened up the throttle on the steepest part of the drive.... The secondaries opened! It -flew- up that hill! Stopped at the house, and checked everything.... Nothing was acting funky... So I grabbed my gas can, the mower needed gas, and I drove to the gas station!
Mind you thats a two mile round trip thereabouts. While there she got filled up, the tires aired up, and then I beat her all the way home. Did a little burnout at a stop sign by accident, and even chirped the tires into third gear. This engine is strong!! I started driving the car around on short trips, and recorded some of it. The coolest thing though, is that the car isnt smoking -AT ALL- after bringing it up to temp and running it to redline under load it is running great. I am so happy, and I cant wait to get back home from working in Indianapolis and buff the car, oh yeah Ill drive it too lol!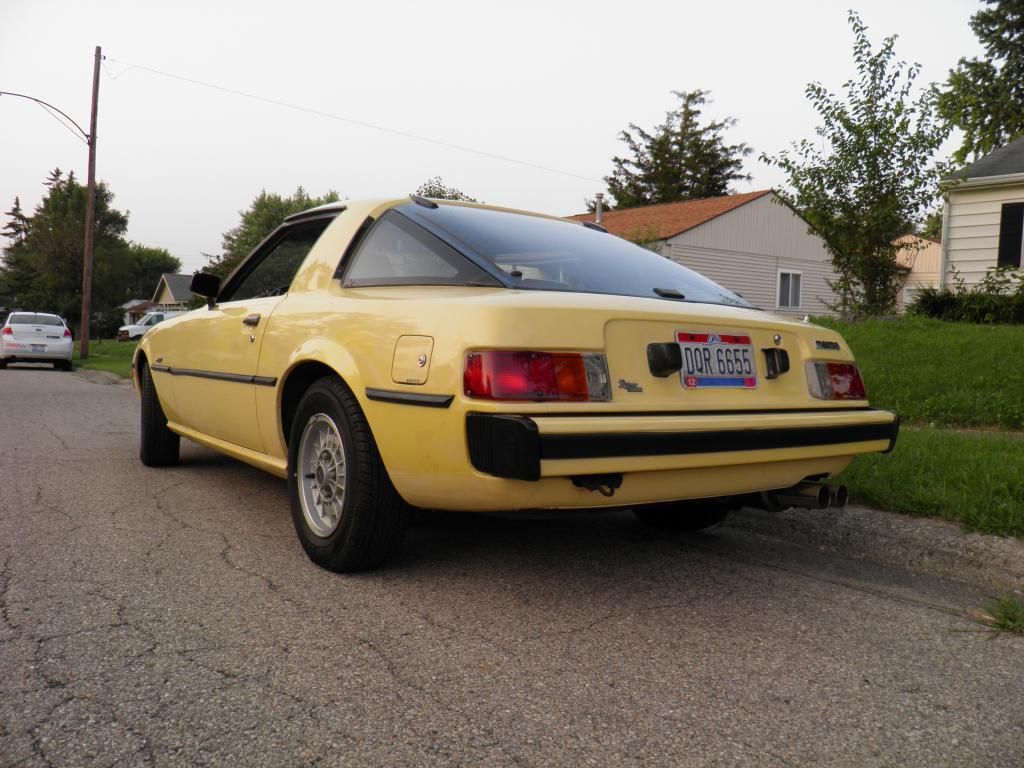 Today started with getting the 7's acquainted. Having an S1 and S2 side by side is a cool thing to be able to do!
Then it was time to do a thorough cleaning, the SA having been stored, had some mouse poo in it.... Time to clean the heck out of it!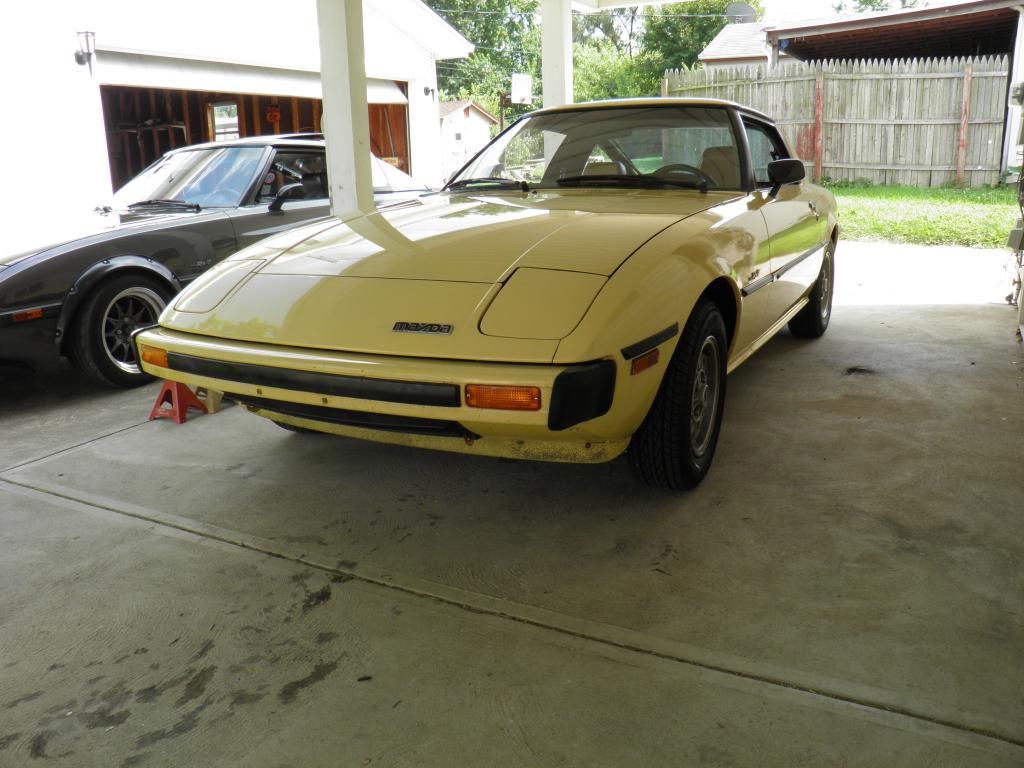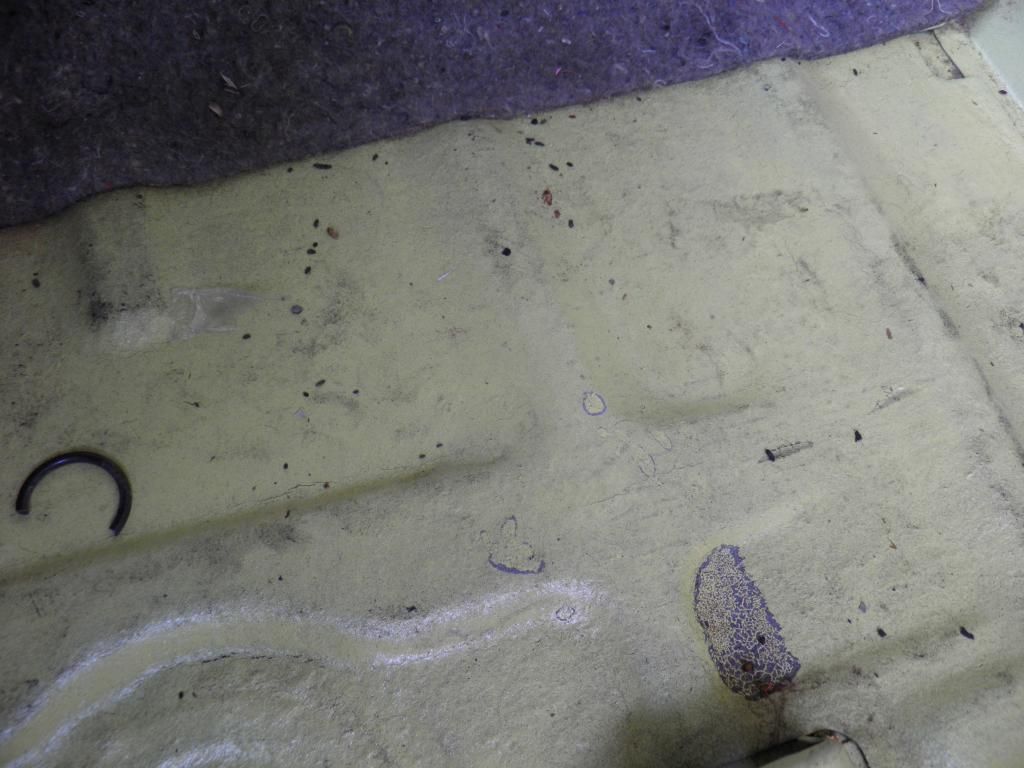 While cleaning the car I made a -very- cool discovery. An unused, full size spare... Its a factory fresh waffle!!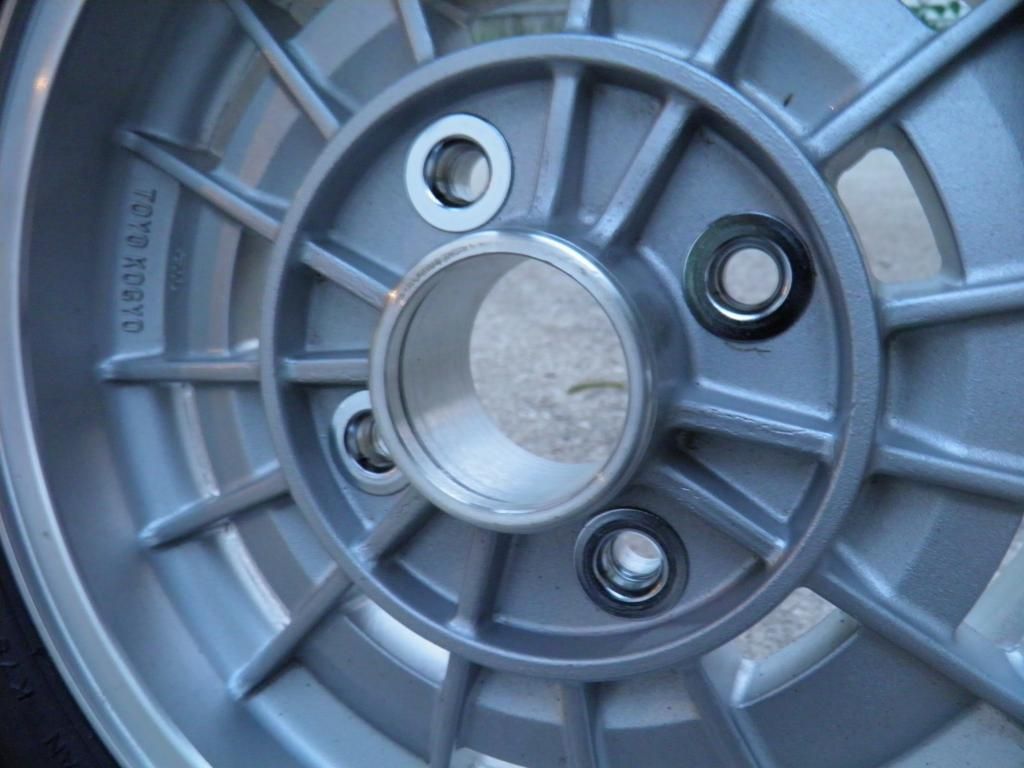 The tires date code says it was made in 1980!! It is still holding air!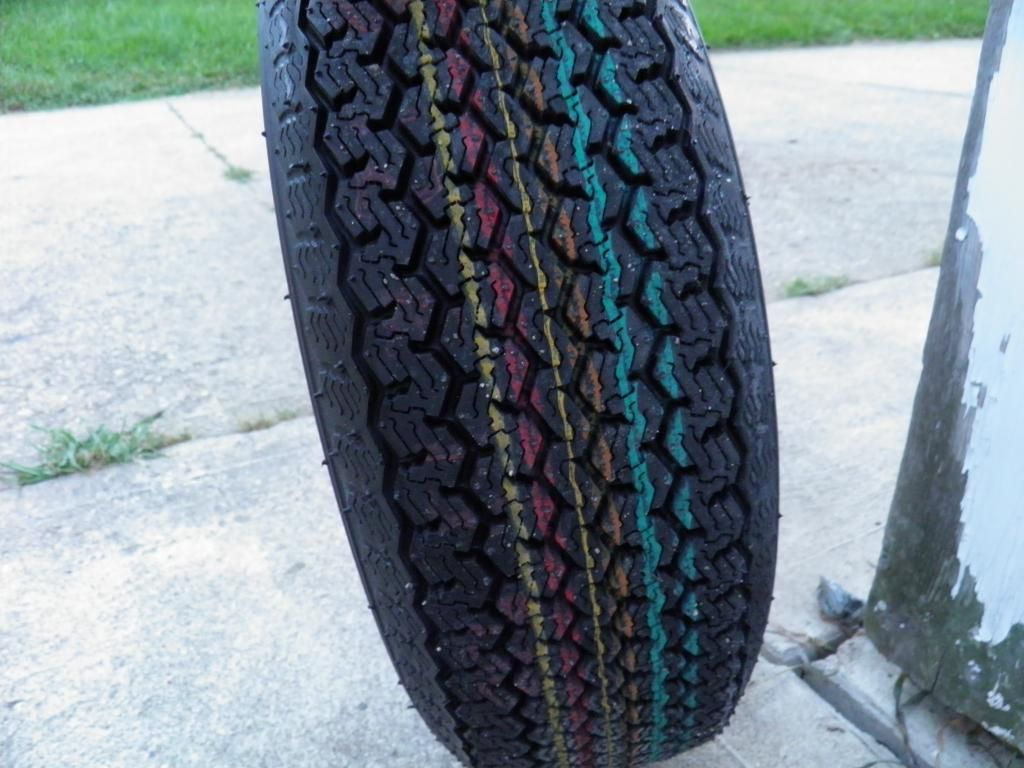 More to come, need to build a factory style exhaust for it, and clean the engine bay. Hopefully my brake master comes in soon, its the only thing keeping me from going for a cruise!
Ripped some more of the interior out and scrubbed every inch of it...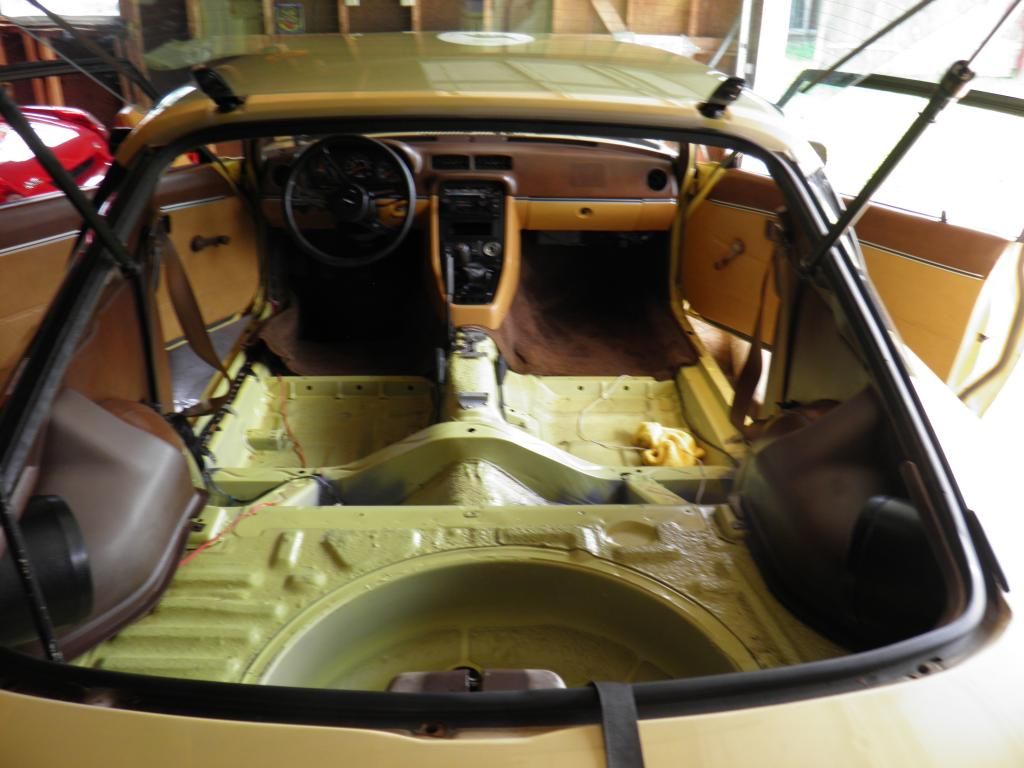 Reassembled it, now it smells like Meguiars natural shine interior spray, and Febreze Wild berries and honey lol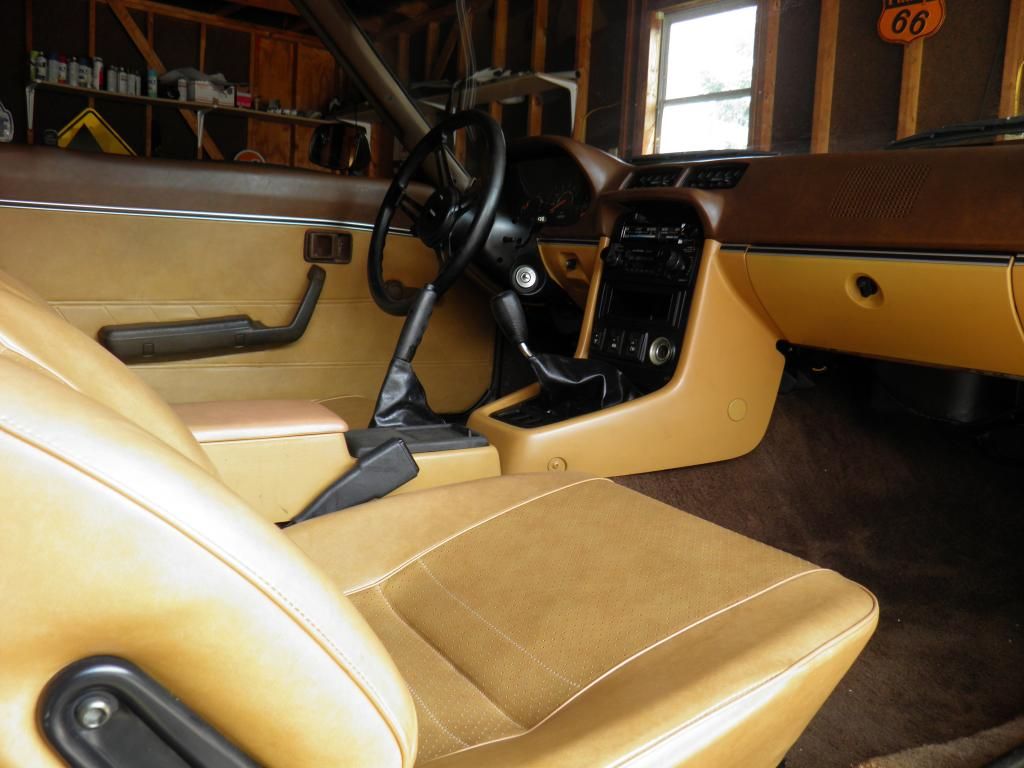 Then I started buffing the car, the color is coming back!
Got a sweet Ohiorotaries shirt to match the car!
And finally tagged the car so it looks like I actually own it lol