Hey guys! Figured I'd make a build thread to show you my project and help me get it all down in one place. The story of my car might turn out to be a bit long, I've been through a lot with her, and have gone a million different directions with the build, although I finally have made the decision on what I want the car to be.
I originally bought the car in 2009 for $500. She was ugly.
The car was stripped for the most part. Basically only had what it needed to run.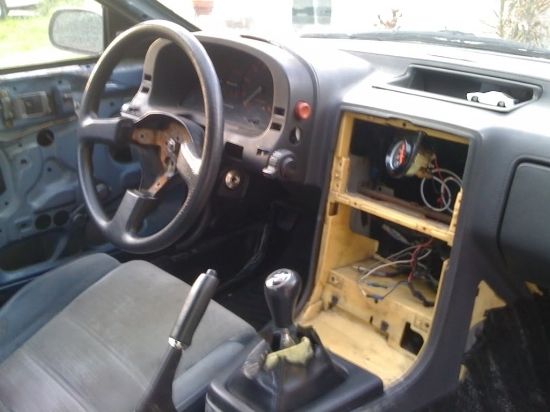 That was okay though, I was 17 and broke, but I finally had an RX-7! I drove the crap out of the car and stripped out what was left of unnecessary things. It was going to be a stripped out drift race car!....
I saved up some money, and got a little bit more for graduation, and combined to buy a turbo 2 motor and trans. I was working a crap job at the time, had barley any money coming in, but I decided it was the perfect time to rip the car apart to start the swap! Well, I didn't do nearly enough research, I needed way more to make the swap work, plus I decided to strip down and paint the engine bay while the motor was out. I think the car was off the road for about 6 months this first time.
Old motor
When the motor was finally in and running with the painted bay. I didn't even have a Turbo 2 hood at the time(with the scoop for the intercooler) so I drove the car without a hood forever :facepalm:
Then I got a used fmic from a buddy and put that on. Also got an aluminum hood off another buddy that of course didn't match the car at all.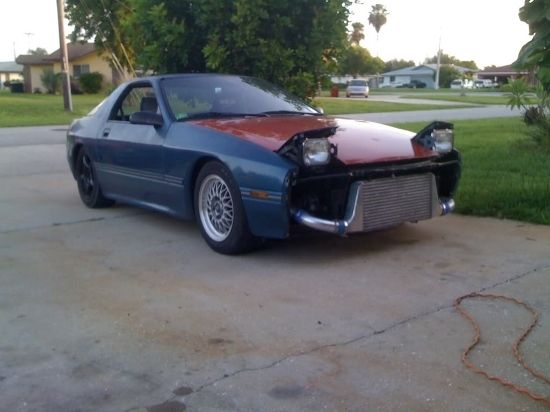 Got a used and very expired Sparco seat. Also stripped all the sound deadning out of the car, that was fun. Man, was I cool...
Diff wasn't locking and it was a drift car, so naturally I welded the LSD diff. Ugh. At least I cleaned everything up while I had the subframe off. (Spray paint)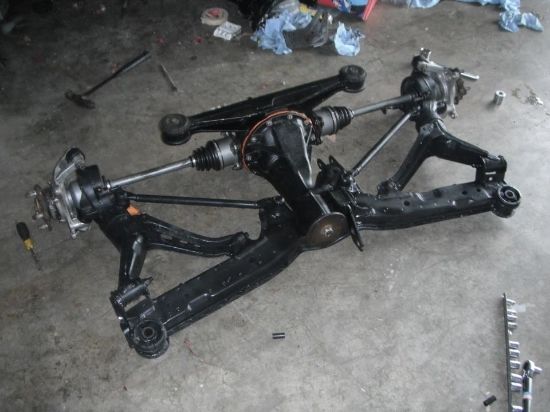 I got BC coilovers for the car and for the first time in probably 2 years, since the 5 lug swap, I had a matching set of wheels.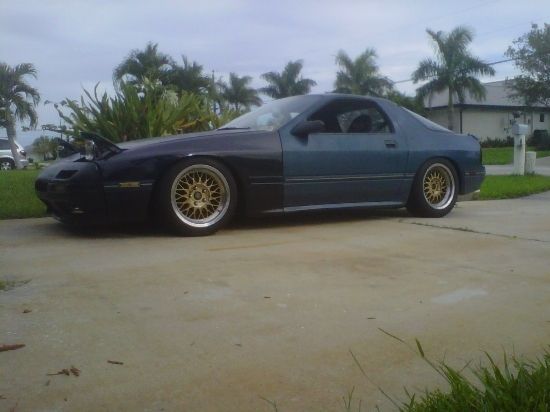 The car had to painted, I was dead set on it being glossy... Rush, rush, rush, cheap, cheap, cheap. It was good from far, but far from good.
Of course, shitty paint, shitty prep, and shitty guns make for a shitty paint job. Not to mention my friend wasn't as good at painting as he said. Orange peel and drips everywhere. , started to sand the bad spots and tried to respray them myself. I knew nothing about paint and put it on way too dry, didn't even sand all the clear off. It's embarrassing to look back at honestly, but it was all part of learning. Oh yeah, and I got Ford Crown Vic rims for her.
Drove the car like that for awhile, then decided it was time for a change. In life, not the car. But the car was coming. Drove my ghetto ass car all the way across the country to move from FL to AZ. She somehow made it. Took this about 2 mins after arriving at my new home in AZ.
I sold my daily to move to AZ. A funny thing happens when you drive a stripped out track car every day, you hate it. I suppose a track car can have some interior, right?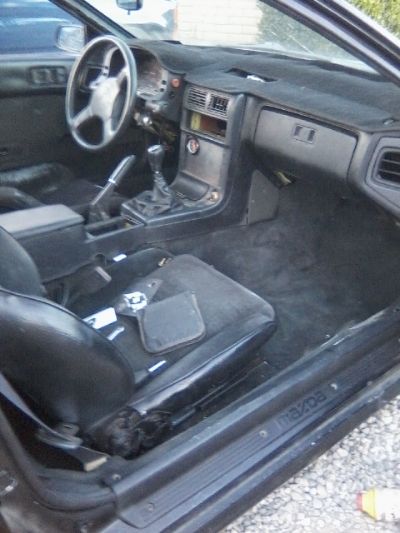 While I was over there I also finally started doing some proper mods. I got an aluminum radiator, a bunch of adjustable suspension parts and a few other things. Reason I started with the suspension stuff was I bent a lot of the stock stuff being an idiot..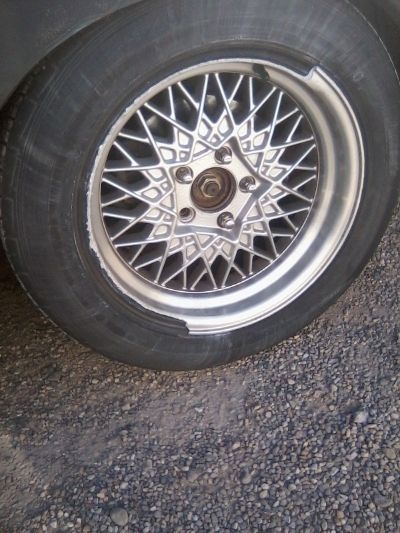 This was a bit of a turning point for me. All I did was hit a curb and it was a lot of money to get everything fixed, what if I hit a wall at the track? The car was getting pretty sentimental at this point as well. I had driven it across the country to AZ and from there gone to Cali twice, Las Vegas( to get the interior) and to a couple other places. Side note, on one of the cali trips, the welded diff failed (surprising..) and my buddy had to come rescue me. The car was off the road for months while I tracked down another T2 diff. Had to ride my bicycle everywhere. I vowed to never have a welded diff again and more importantly, start doing things proper with the car.
Fast forward quite a bit. Drove the car BACK to FL. We're pretty much back to present day. At this point I have no intentions of drifting the car. I'm doing everything the right way now, I learned from all my ghetto rigging that it just makes more work in the long run. I'm in the middle of sanding the car back down now and getting the body straight to do a proper paint job. I worked at a body shop in AZ, so I actually have a pretty good idea what I'm doing this time around. I also just picked up a full A/C system and a unmolested chassis harness to put in since I stripped a bunch of stuff off mine(racecar).
Been getting the the body parts I want before I paint the car. I got oem T2 side skirts, oem rep T2 front lip since I couldn't find an original, a T2 hood, rear bumper aero guards, and I spent way to much time and money tracking down a super rare yours sport wing. Here is how the car sits now, being prepped for paint. Oh, I also got all of the newer Series 5 bumpers and moldings.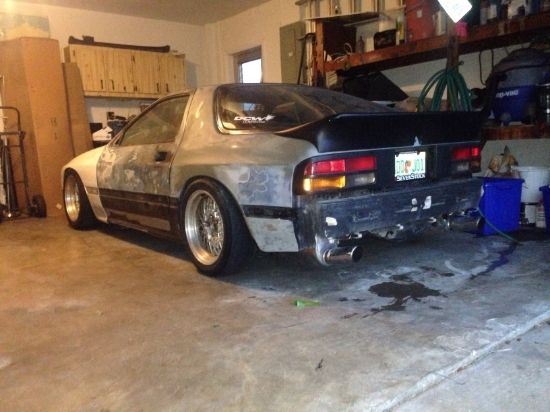 I've got a lot of other interior parts and stuff I've been putting together for the car to replace some of the stuff that is torn up. I'll put those and the A/C stuff in once the car is painted. Since I have to rip the dash back out anyway, I'm also going to put pull the carpet and put sound deadning back in.. Also buying a set of orginal Infini rx7 seats for her. Just trying to turn the car into a really nice daily at this point. Thanks for taking the time to check out my car, hope this wasn't too long and boring. Updates as I get work done!