Time to bring this old thread back from the dead!
Although, it might be confusing to follow exactly what's happened up to this point, so I'll do a quick recap.
Back in April of 2012, I really wanted to get back on two wheels, but since I didn't actually have a motorcycle license, I was limited to 50 cc bikes. Turns out Honda makes a 50 cc that rides and feels like a full size bike called the Dream 50. The Dream is modeled after the old Honda CR110 from the 1960s, which is one of the best looking bikes ever made in my opinion. So, I picked one up!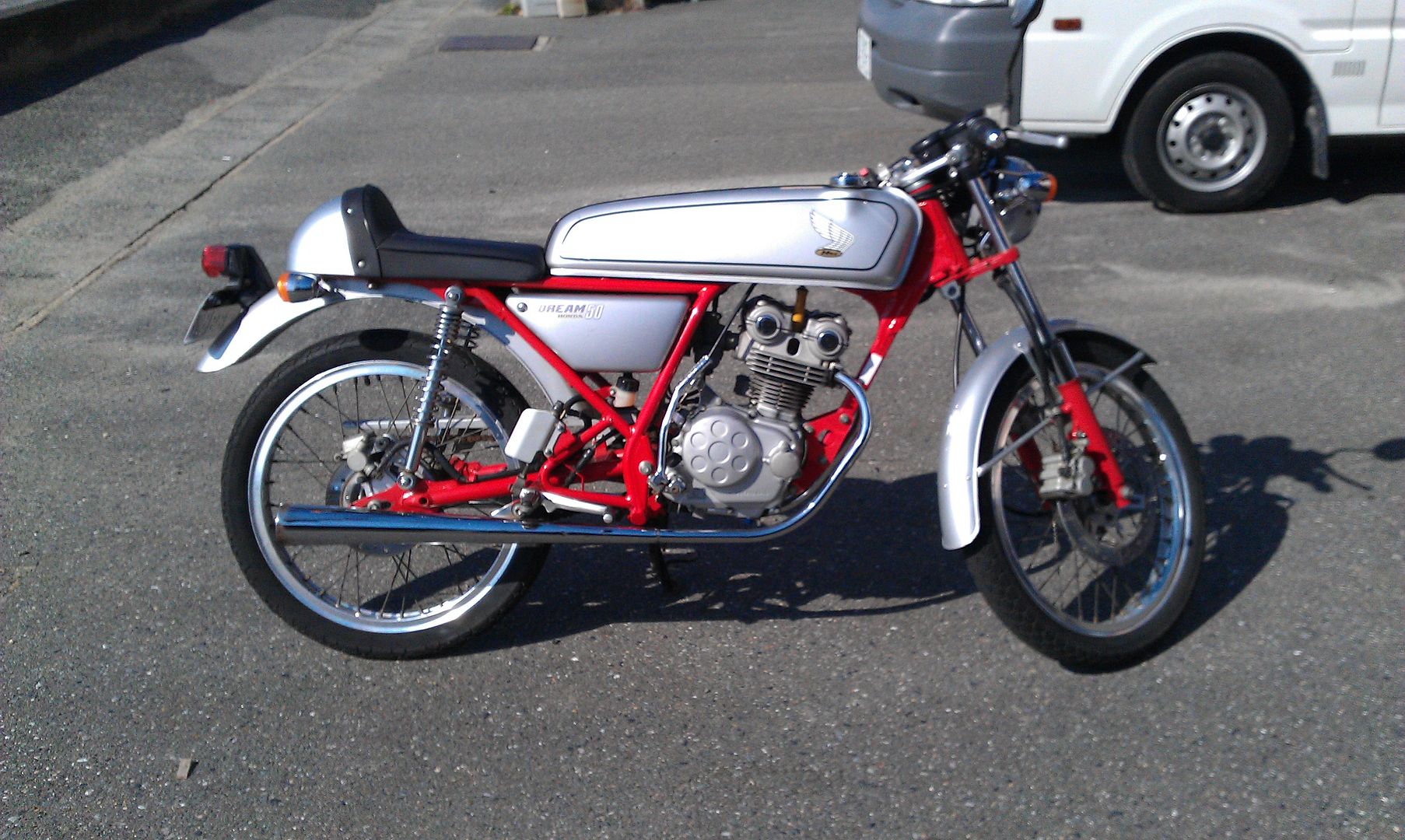 Over the next year I made a bunch of mods to the bike. This mostly involved a Mikuni carb, Moriwaki racing pipes, a Kitaco coil, smaller front sprocket, fender and airbox elimination, new rear tail light and blinkers, CB250RR tachometer, CB250RS rear shocks and front outer springs. The bike was felt very tight and both the handling and engine response were very good.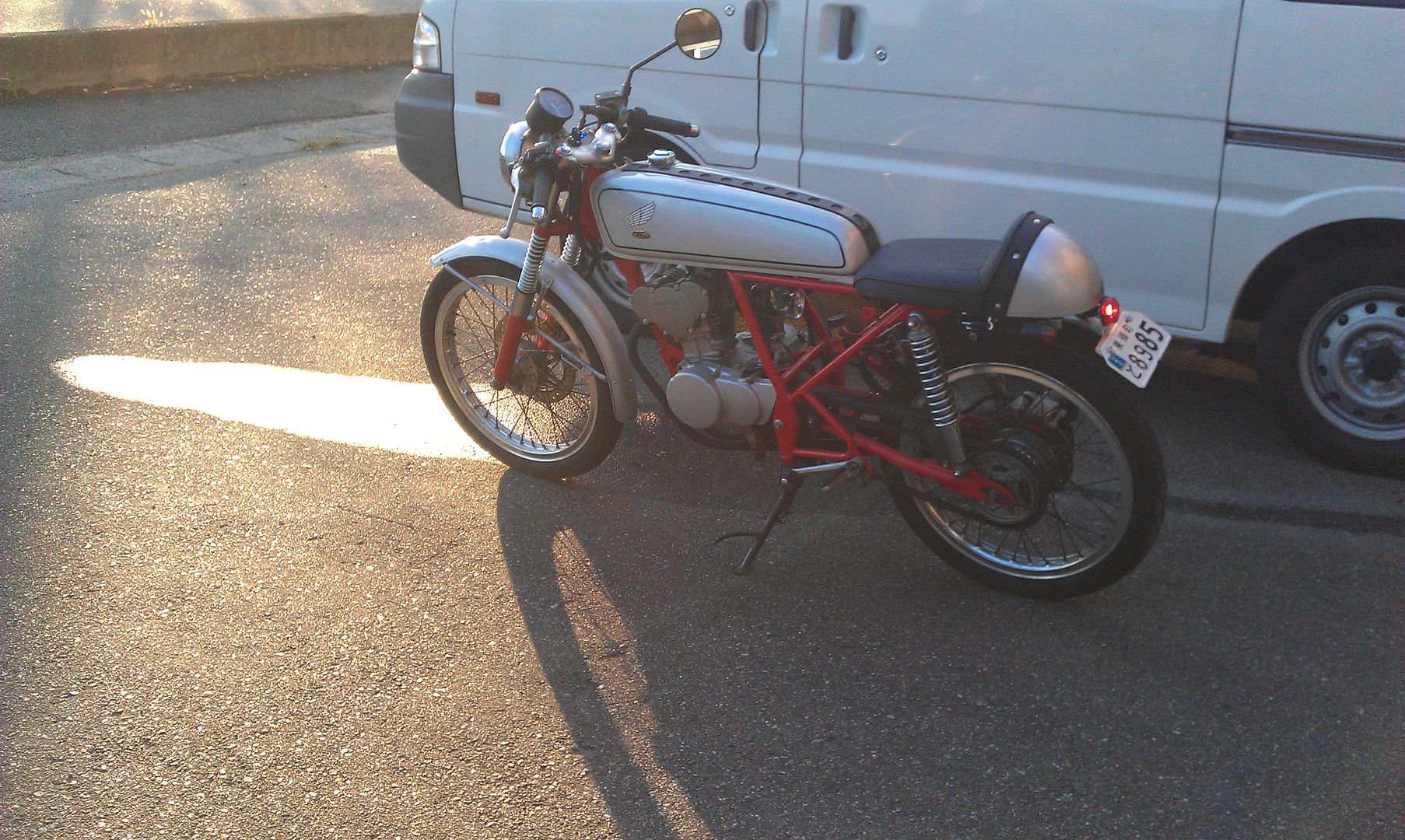 Of course, I then got ambitious and wanted something a bit more faithful to the old Honda racers of the 60s. So, I decided to buy an old Honda CB125T and convert it using parts from the Dream. It started like this: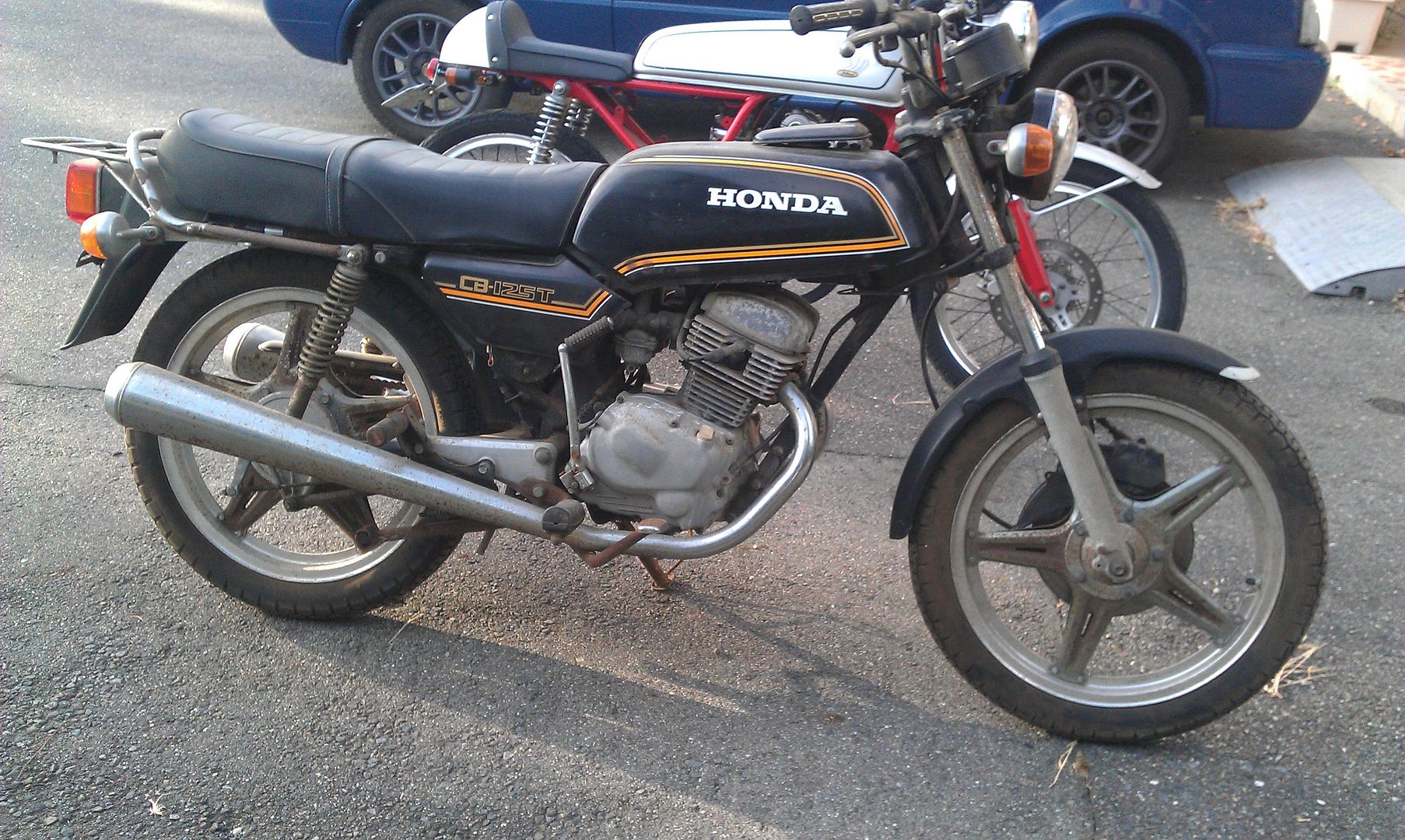 After quite a bit of custom work I got to here: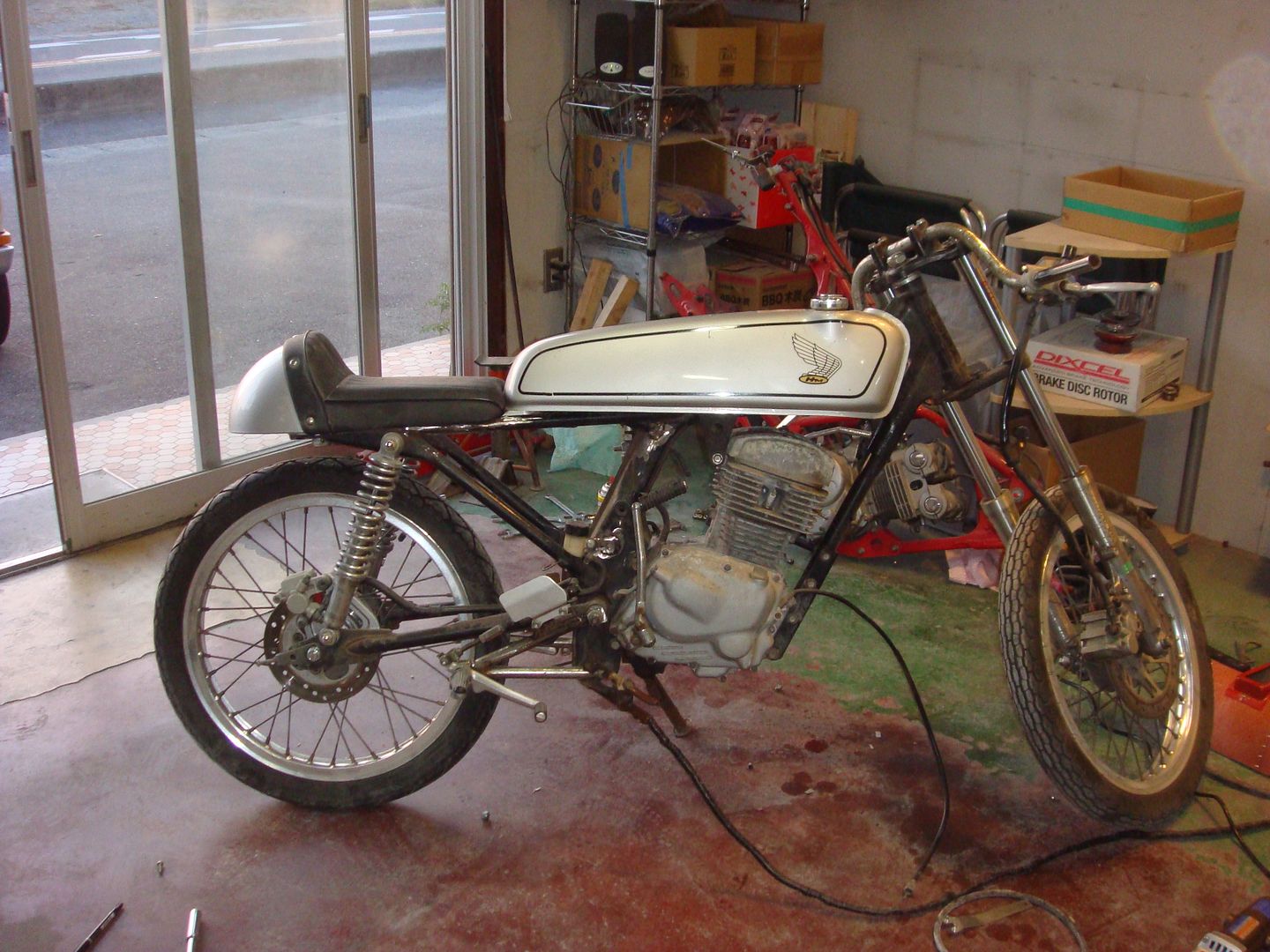 And then the project stalled hard. The problem was I received another car and wanted to button up my Bellett before starting on the other car, which pushed the bike to number three in line. That means it got rolled out back where it sat for a very long time. After a while, rust set into the frame and it got to the point that it wasn't worth saving anymore. I decided that I would keep the tank, wheels, seat, etc. and send them back to America where I would go about building a new bike based on a CB350F.
Having made that decision, I justified my ignoring of the bike for an even longer time. Then, last Thursday, the weather is beautiful and I'm wishing I could be outside enjoying it. Instead, I decided to read through Sideglide's build thread (
click here to check it out, it's awesome!
) on his Dream 50 and it sparks an idea. I think to myself "I've still got most of the parts for the Dream, why don't I put it back together and then roll that for this summer!" Of course, I want to spend as little money as possible getting it going again as I'd like to dedicate every spare yen I have to getting the Bellett done.
I get off work and race straight home to get started. I strip the CB down, pulling parts like a mad man. Then I get Miki to help me drag the hulk of a frame and engine out of the garage and I bring in the Dream frame. I'm bolting bits on furiously, but naturally, I'm coming up short on parts. I got it to this point by Thursday night:
I took stock of what all I was missing and it was a pretty daunting list.
Front handlebars, throttle and grips – Sold to a buddy
Kitaco coil – Sold to Sideglide for his Dream
Front outer springs and forks – Traded to Slideglide in exchange for his old forks
Moriwaki muffler – Sold on YAJ
Mikuni carb – Donated to Sideglide for his bore up
Chain guard – Scrapped
Headlight and turn signal mount – Scrapped
Key and meter mount – Scrapped
Front fender – Scrapped
Some of those things would cost a bit of money to knock out. However, when I sold my Moriwaki pipes, they sold for 30,000 yen, so I set a goal for myself to keep the total amount of money required to get this bike going for under 30,000 yen. This meant I had to get a bit inventive! I worked fast and hard and didn't take many pictures, so I'll try to paint a good picture for each of those problem bits up top using a story.
I started by purchasing a set of used clip on handle bars for a Yamaha RZ50 on Yahoo Auctions. Cost? 4,500 yen shipped. Not to mention they arrived on Saturday! I immediately ran into a problem running the handle bars though. Because they weren't designed for the Dream, the mounting bolts on the handle bars smash into the tank at full lock. The solution was to just mount the handle bars lower. I have really long amrs, so this isn't much of a problem for me.
Then, to round out the handlebars, I bought a set of grips and a twist throttle from the local motorcycle shop, Shabon Dama. Of course, at Shabon Dama you can always catch something awesome in the parking lot, like this insanely rare Bimota. Check out the front swing arm!
The next problem I had was a headlight mount. While at Shabon Dama I also bought a generic headlight mount and a new coil. I went to mount the headlight, but it turns out that with the handle bars in the position they were in, the headlight mount tried to occupy the same space as the brake master cylinder fittings. So, the headlight mount had to go above the handlebars.
That handled most of my problems, but I was still missing exhaust pipes. Fortunately, I still had my original twin pipes hanging about, so those went back on. Then, to cover the intake side of things, the original carb went back on. All that needed to be done now was to figure out the wiring and build a key and meter mount.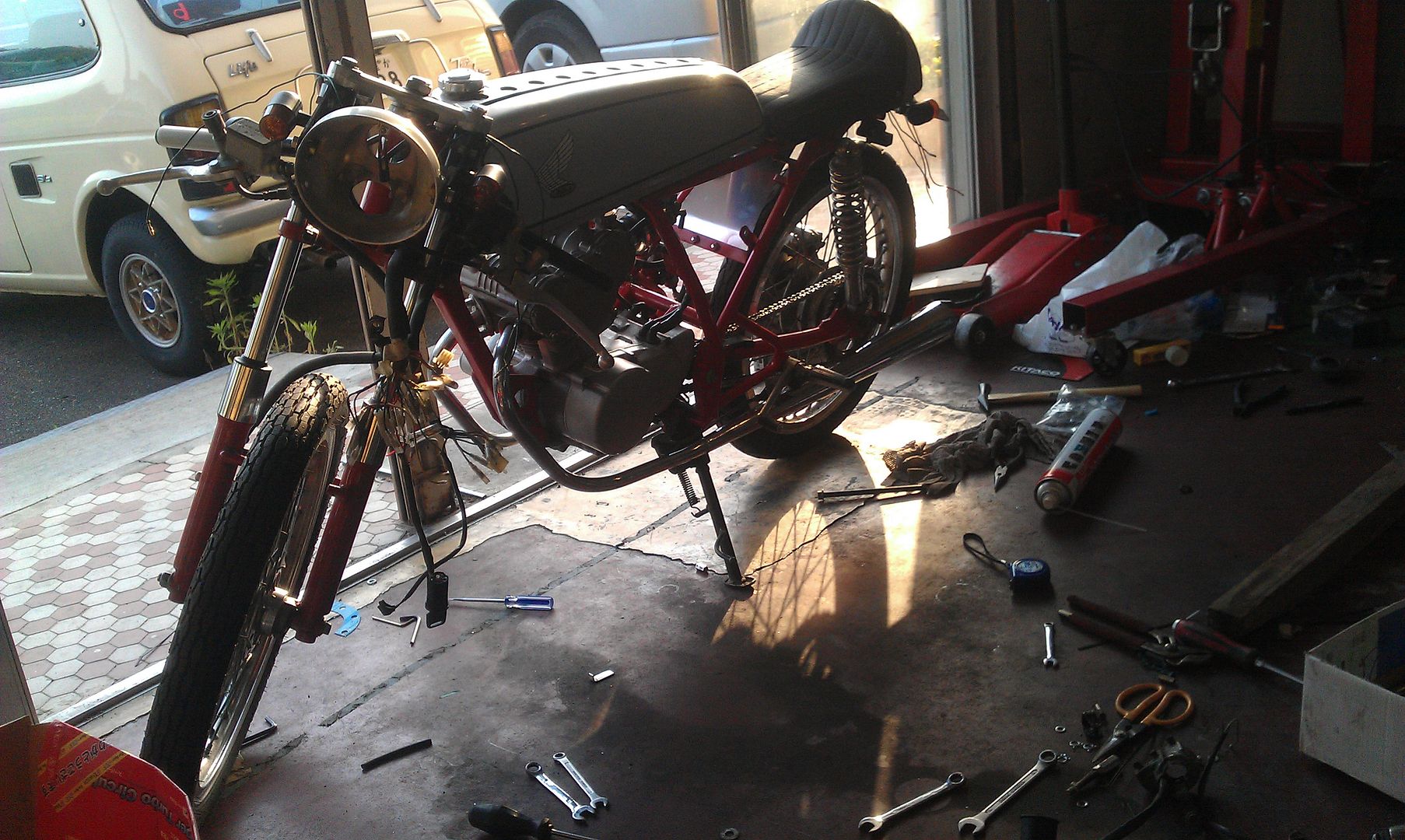 After spending a few hours sorting the wiring out completely and building a new key mount from some cheap steel that I picked up at the local home center, the bike was done! I managed to keep the cost just under 30,000 yen too, so technically, doing this cost me nothing!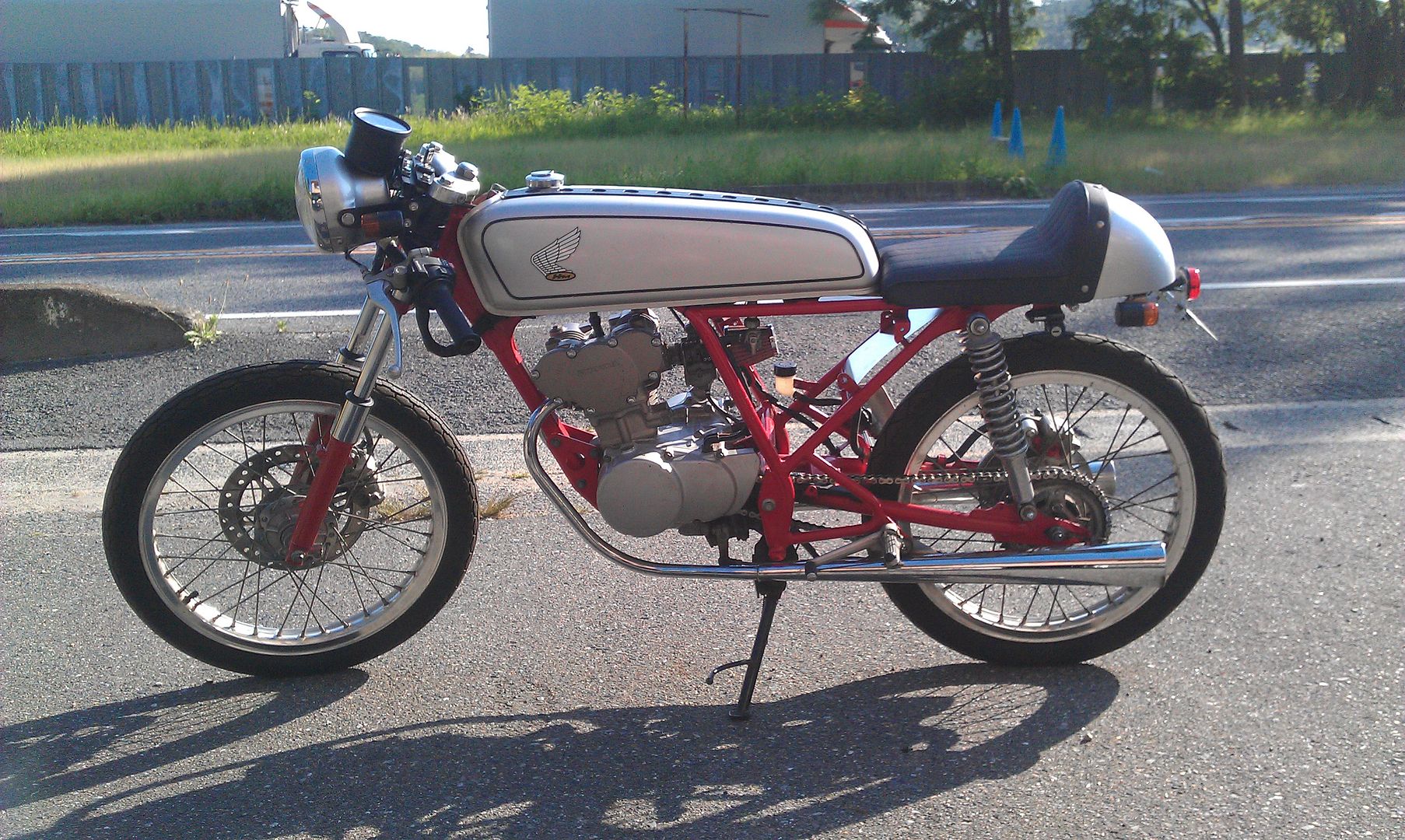 As you can see, the headlight sits about 2 cm too high, but given the state of affairs going on up there, I'm quite happy with the result (honestly, I'd prefer to remove the headlight altogether). In the future, I may put a tiny headlight lower and put on a full cowl like the old racers, but that's money, time and effort.
The engine purrs like nothing was ever wrong. She starts on the first kick everytime, cold or hot. I'm also quite happy with how my key and meter mount turned out. Not bad for something built in a hurry on a minimal budget.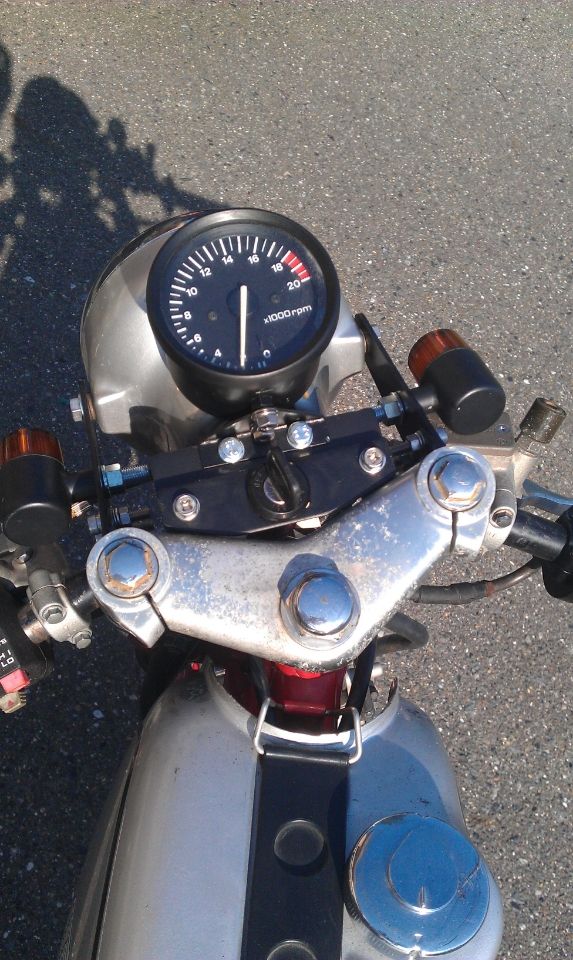 I took the bike for a few test runs up and down the sidewalk and it feels great! Aside from a few cosmetic things I may (or may not) address, I'm super happy with how it turned out. It will serve the purpose of giving me something fun and light to ride around until it's time to move back to Texas.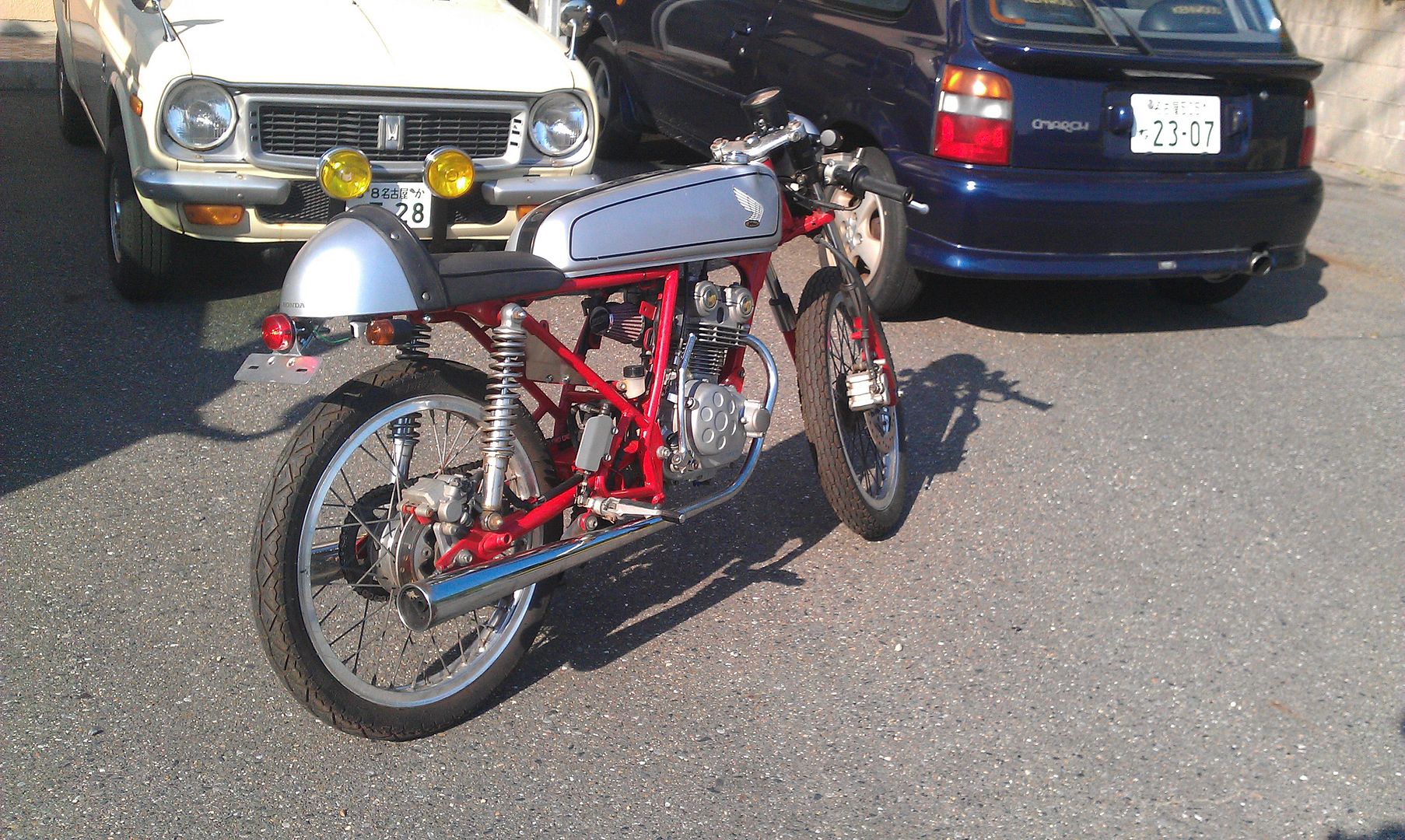 Thanks for reading guys!
Cheers,
David
Today's garage soundtrack:
Cake - Motorcade of Generosity
Link:
https://www.youtube.com/watch?v=oHm_bjL ... 5ARiqh-9O9