Hi all from the sunny Gold Coast in Queensland, Australia.
I'm a huge fan of all things Toyota, all things Japanese and I must confess, I think I have a few too many hobbies (but, thats not a bad thing right...?). Currently, I do not drive or own
nostalgic
J-tin, but have in the past and plan too again in the future. I used to work at my local Toyota dealership as a qualified mechanic, but gave that up for something different and I now sit at a desk as a graphic designer. I do love having the knowledge and the tools to service and work on all of my vehicles, without coming home with dirty clothes and sore muscles.
My list of cars have been as follows:
1981 Toyota Corolla KE55 coupe (first car, and a great car)
1983 Toyota Corolla KE70 sedan (first project with a 3T-C transplant, bit of a drifter back then too)
1993 Nissan Skyline R33 sedan (first "new" car, first Turbo car, best car I had owned in terms of quality, options, etc)
1988 Toyota Hilux LN56 2WD Dual cab 2L Diesel (such an awesome ute, that hauled just about anything... also my first "proper" restoration - a write up will follow soon)
From this...
to this...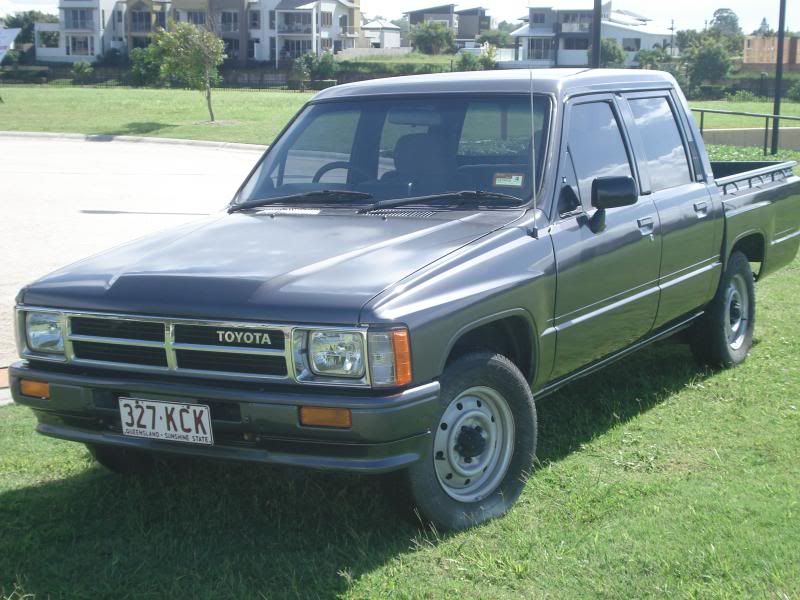 1982 Toyota Corolla KE70 wagon (found out that a co-worker had this stashed away, bought it for $500)
That's my friends KE30 coupe in the background... 2 speed power glide!
Sadly, the KE70 wagon was stolen. I will also post a big write up on that car as it was fun to build. To replace that car, I all of a sudden wanted a big luxury sedan... my next car:
1989 Toyota Crown MS137 Royal Saloon G (such a fantastic cruiser, but had problems with the rear bags, saggy bum)
After selling the Crown due to unreliable rear suspension and the lack of available parts, I needed a reliable daily driver for my long drive to work each day:
1998 Toyota Starlet EP91 3 door (this little car has been great to me and I just had to buy it with a standard plate like that...)
So, yes I have had a few cars, and its due to me being a little excited when I was younger. I have started to settle down these days, with a wedding around the corner and adult responibilities, the cars/projects have been put on the back burner for a bit. The Starlet is serving me well.
I have been a long time reader and supporter of JNC and this great community however, this is most likely my first time posting (it's been a few years between posts, so I can't remember). I would like to know if any more Queensland JNCer's are around these forums and would like to catch up at the few shows/swap meets in our sunshine state. I have been to the All Japanese Car Show in Brisbane a year or two ago, and that was a good turnout for nostalgic J-tin. I have also been to the annual swap meet at Carrara once, but it was mainly the muscle car/Holden/Ford/American crowd that dominates there. Let me know if there are some shows/meets that anyone is going to.
Sorry for banging on a bit, hopefully the pictures make up for the giant essay.
-Andy
_________________
"Ah, how the passion runs thick through our veins"