The 3 methods I've tried, all for extreme stretches
Ether/starting fluid
The key is using the right amount of ether: too little you melt stuff; too much = Richard Pryor
DANGEROUS!!!
Tire Cheetah
By far the fastest/safest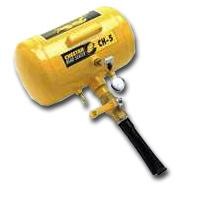 http://www.arizonatools.com/tools/tire-tools/detail/TSICH-5/
Inner tube method
This involves using inflated bicycle inner tubes to span the gap until bead seats. The tubes then pop off the outside of the wheel
This is probably the best DIY method, cheap, simple, safe
Doesn't work well for very extreme stretches.