So like many other people on here its safe to say I have somewhat of an addiction to classic Japanese wheels and have been collecting them for a while now, but in the last few weeks have finally managed to get around to restoring some of them.
Ill start with some photos of the wheels have currently own and some that have been sold.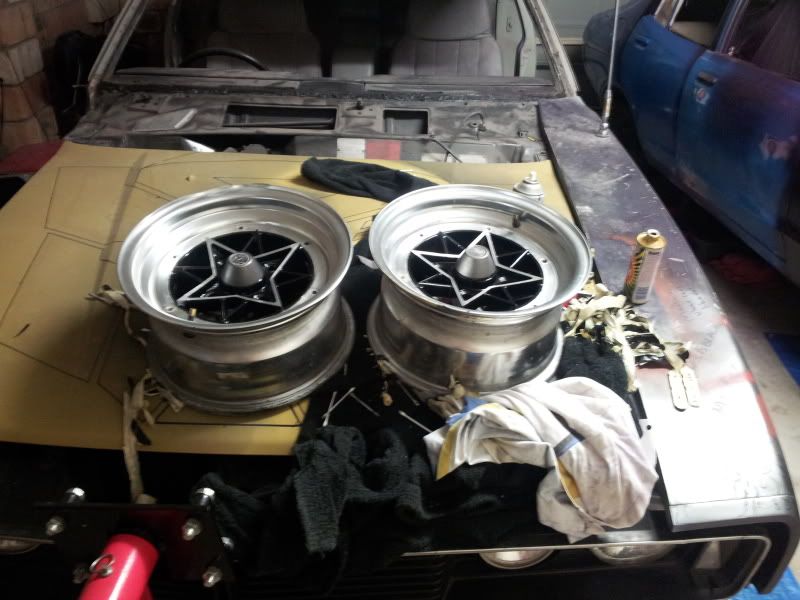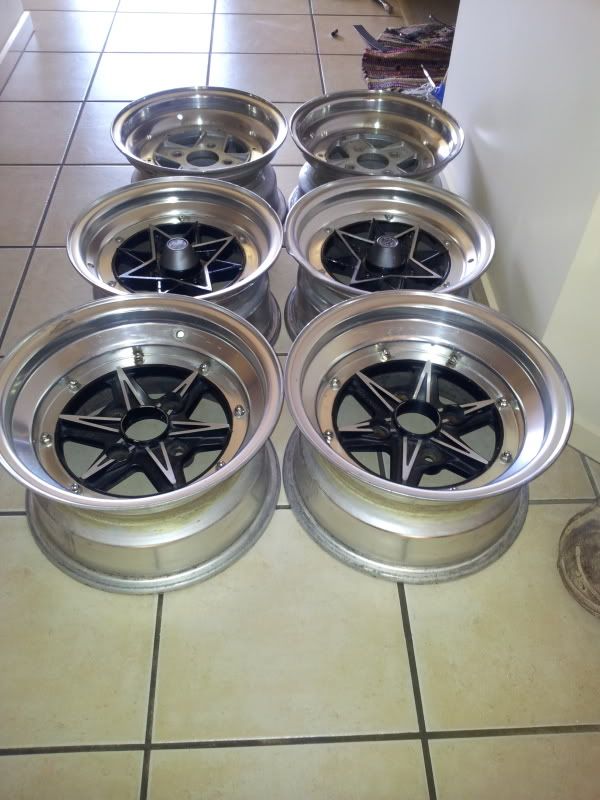 My current collection consists of-
Techno Phantoms | 14x6.5 x4
Techno Phantoms | 14x7+-0 x2
SSR Star Formula's | 14x7.5-6 x2
SSR Super Star Racing 3 | 14x6.5x4 (2 gold barreled 2 normal)
SSR Casablanca 8s | 14x6.5 x2
SSR Mk2 | 13x7+-0 x2
SSR Jilba Racing | 14x7 x2
SSR Formula Mesh | 14x7+-0 x2
SSR Formula Mesh | 14x8-22 x2
Plus have a few more Pairs/Sets on the way.
I started just giving the wheels a hand polish with some Autosol but was never overwhelmed with the results so when a mate begged me to sell him a set of my SSR Star Formulas for his MKII Corona (Mx13) I decided it was a good chance to start learning how to restore my wheels. So I started researching and found a few tutorials on hand polishing alloy wheels, and some friends told me a trick of jacking the rear of a car up and bolting the wheels on, putting the car in gear to make them spin and doing it that way. But to me, hand sanding and polishing would just take too long with the amount of wheels I have, and well, jacking a car up, sitting on the floor in exhaust fumes just didnt sound all that appealing either. So I rigged this up-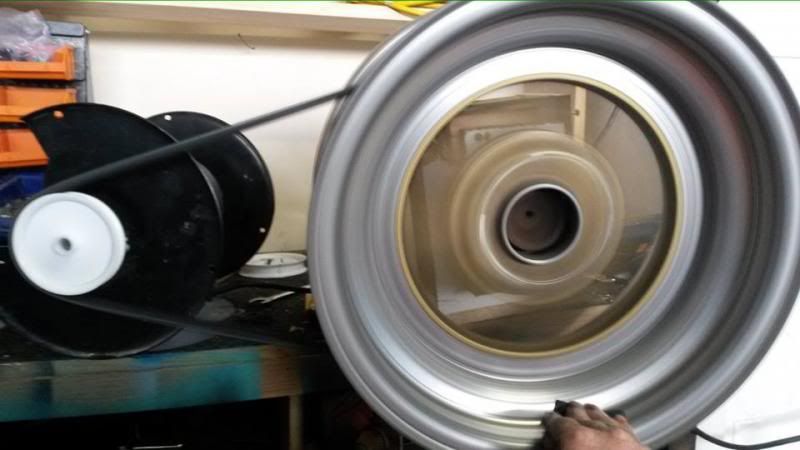 Its a simple concept but works wonders! This is the before and afters of the SSR Star Formulas I done to sell to a mate- Specs on the wheels are 14x7+-0 and 14x7+4
Before-
Comparison-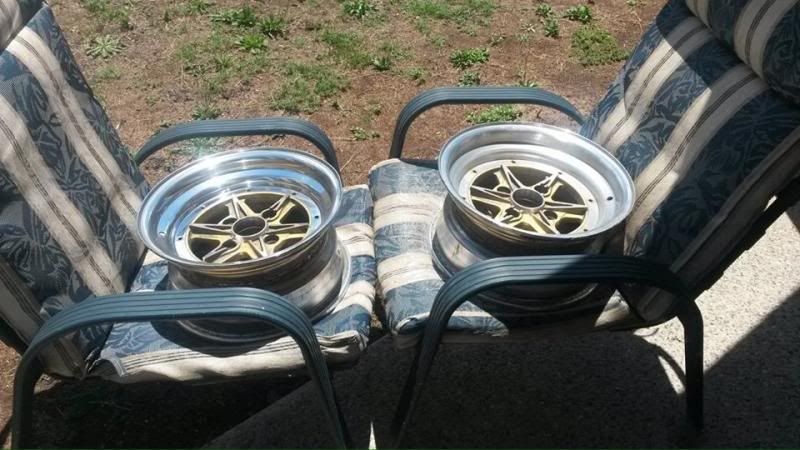 After-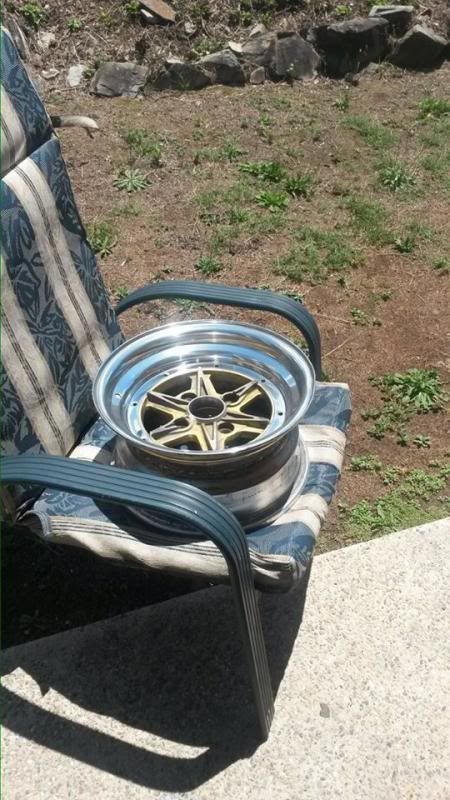 One thing doing this set taught me was to strip paint BEFORE you polish... In hind site its really obvious haha but well we learn from our mistakes right?
Annnywaysss... Next I stripped the centers right back-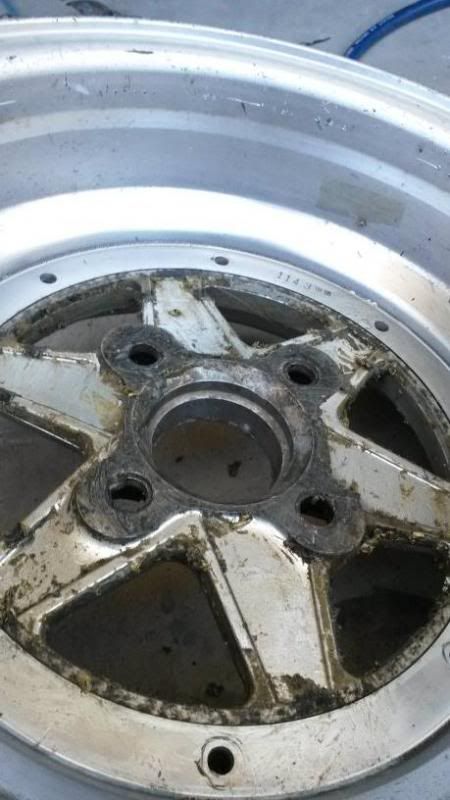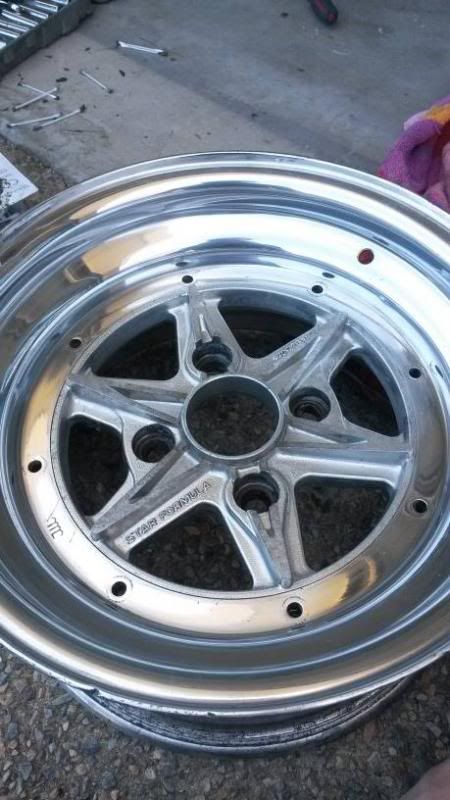 Then it was time for paint! my mate wanted them black as he originally fell in love with the wheels when he saw another pair of mine on my Ta22 Celica which had black centers.
Unfortunately I cant find the progress photos of the painting stages, but the centers were etched, primed then painted gloss black.
They then had another quick polish to clean them up from the paint stripping, then new hardware was installed and delivered to their new home-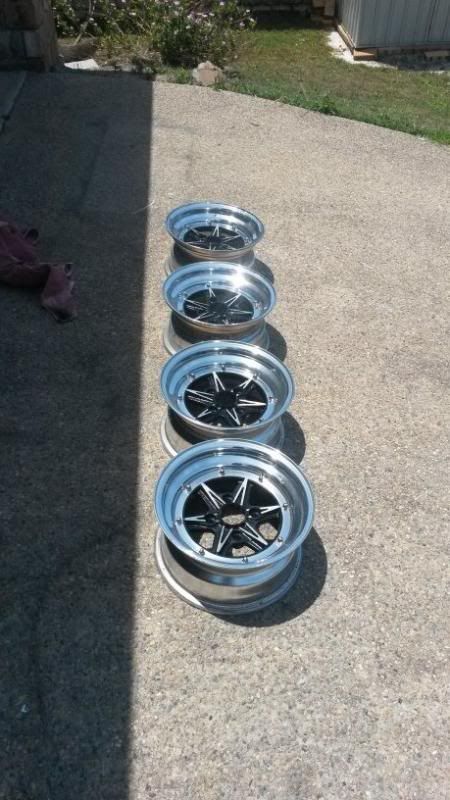 So that was my 1st attempt for restoring wheels, and while they did come up very nice, I wasnt 100% happy with them.
My next attempt was a set of SSR Jilba Racing Wheels- Specs were 14x7+-0 and 14x7 with a low positive offset. I never got around to measuring them.
Before- positive offset pair-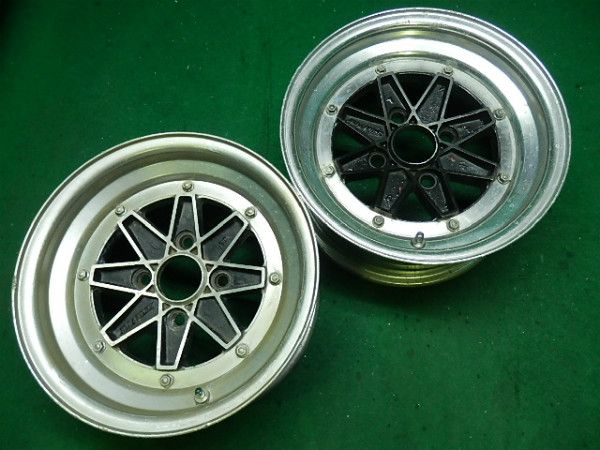 14x7+-0 Pair-
As these were in worse condition the begin with I attempted starting with a harsher sandpaper which I was hesitant about doing. But in the end it worked out better! I started with a 240 Grit on these and the result was a lot more even.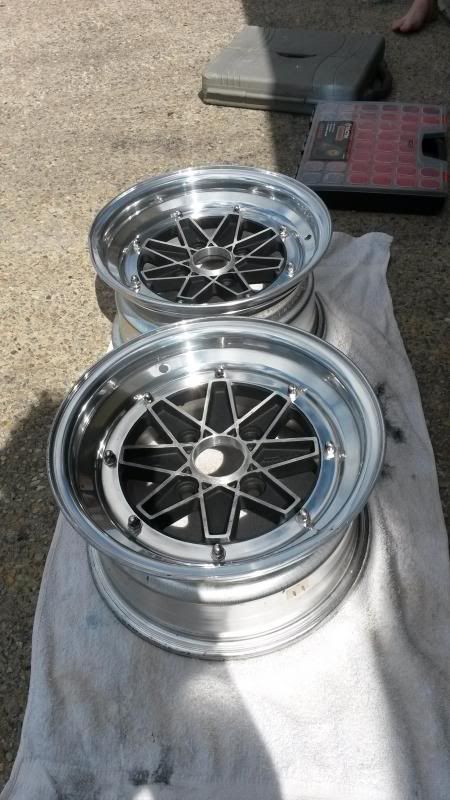 Cant find photos of the 14x7+-0's but they came out even better! Unfortunately I sold these about 6-7 weeks ago to have some extra spending money on my trip to Japan =( But on the upside I did buy another pair recently which are also 14x7 but appear to have a negative offset when compared to the 14x7+-0s I had! =)
I then moved onto a pair of 13x7+-0 SSR Mk2s- They were in pretty good condition the begin with but where machine finished not polished.
Before-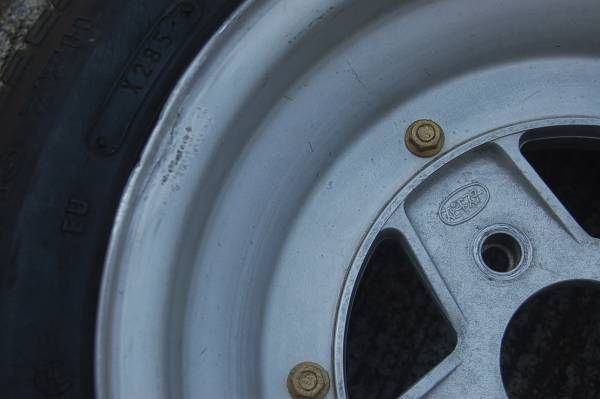 Comparison between before and after the wet sanding-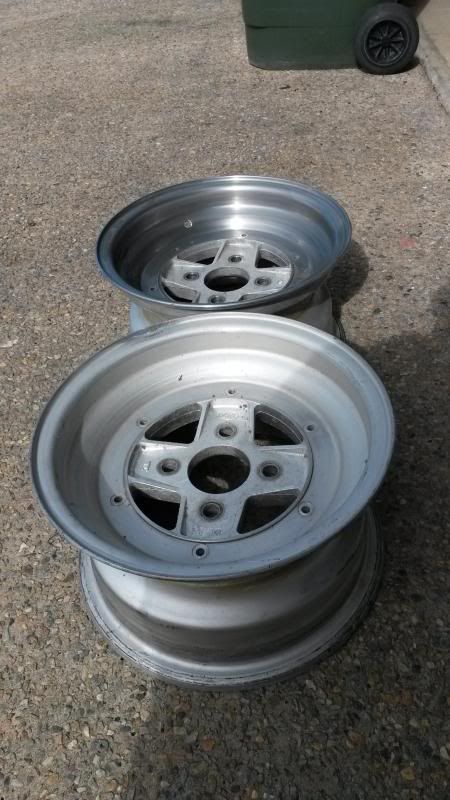 you can see there is a big difference between the two, but the real magic comes with the polishing-
Polished VS Wet Sanded-
and both polished-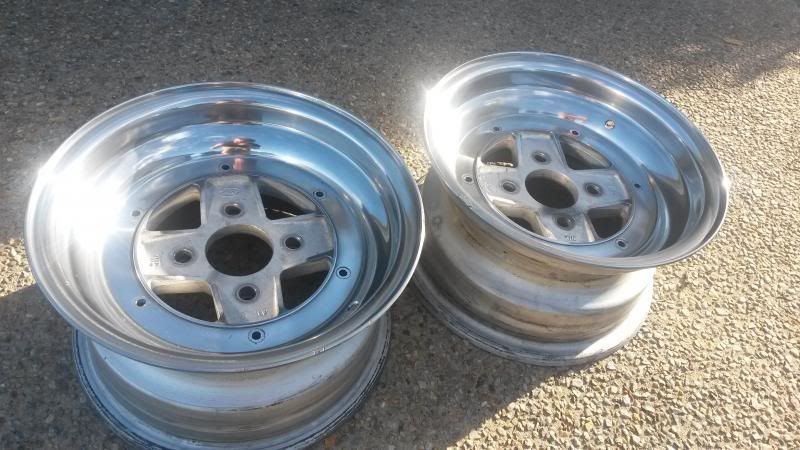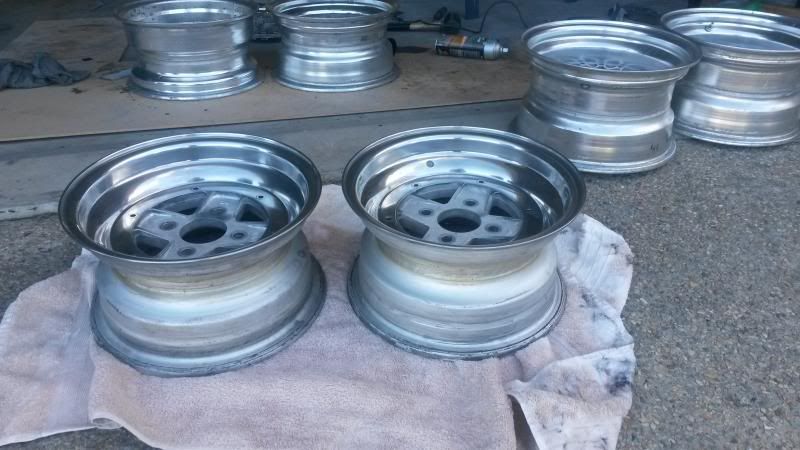 Then was time for paint- As the mk2s aren't as intricate as the other wheels ive done, I just used a touch up spray gun to do the painting to save time. Results were just as good.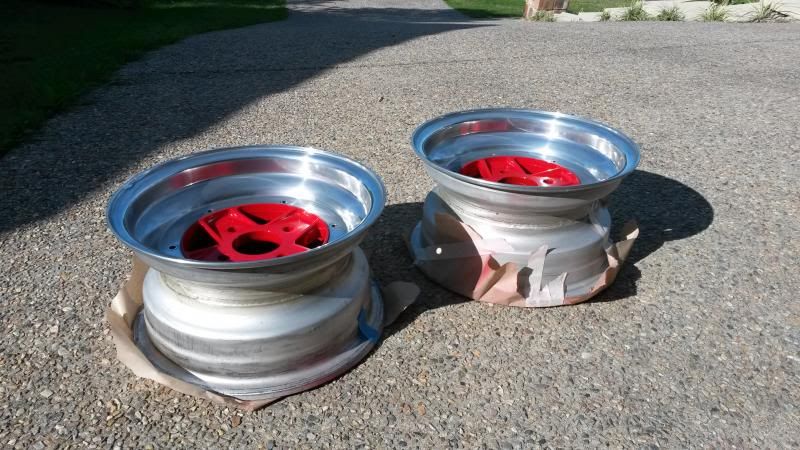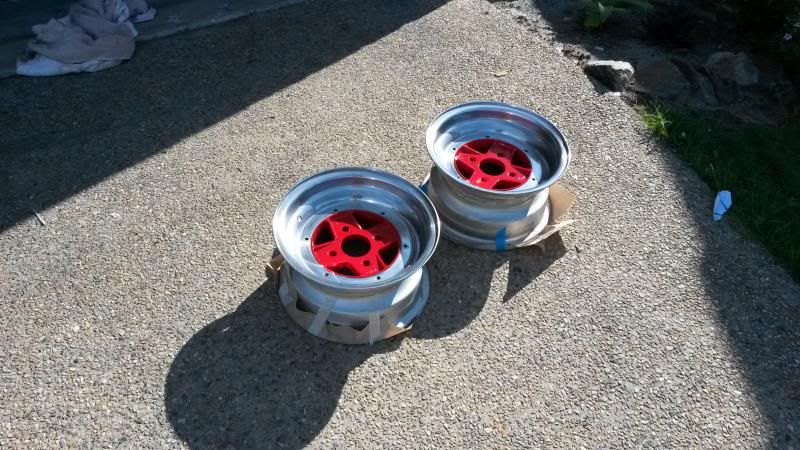 Then to finished them off all new hardware was installed-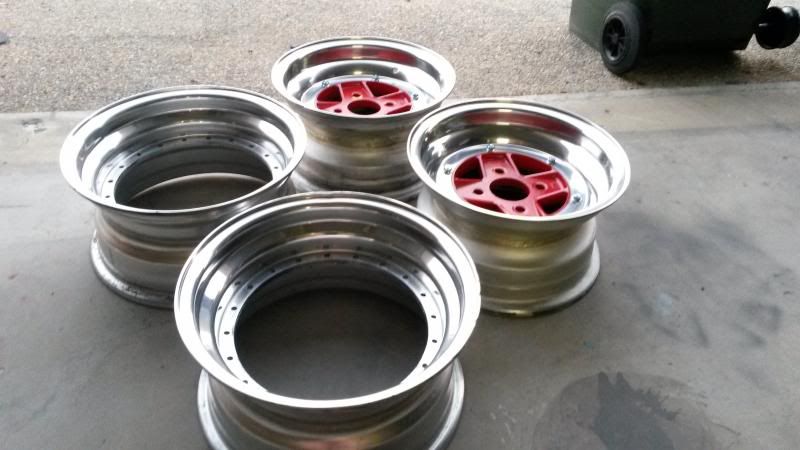 I was pretty happy with the results from these, I think the bright red paint just really makes them pop!
From the last few photos you might be able to guess then next wheels Ive been working on...
I actually just finished polished the barrel today. Theyre 14x7+-0 and 14x8-22 SSR Formula Meshies.
As these where the 1st wheels Ive restored with a removable center I was unsure how I should go about polishing the lips. But after playing around with them for a few minuets I realized If I mounted the disk to the back of the wheels but facing forward I could get right in to the middle (where it would normally be covered by the disk) to polish them.
Before- These are the 14x8-22s next to the Jilbas I mentioned earlier- This pair was in pretty good shape.
The 14x7s unfortunately where not so pretty. They look better in the photos then they really where. They had rash over 80-90% of the lips.
before and after of the inner barrels-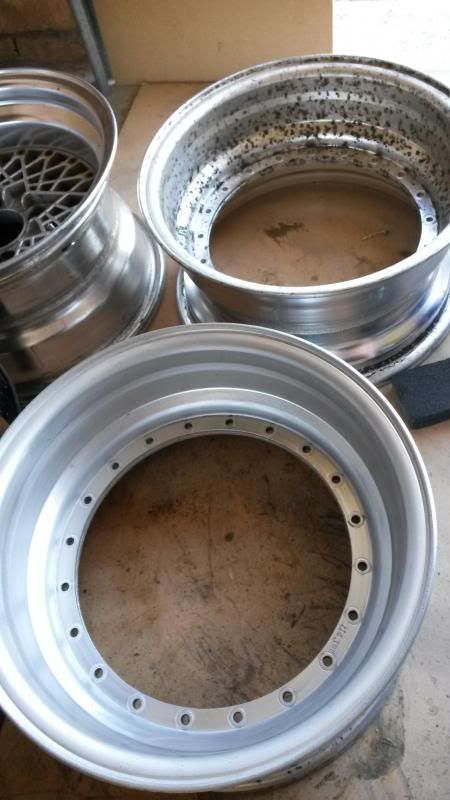 Before and after of the 7s- Surprisingly the one on the right, was the better one out of the two to start with-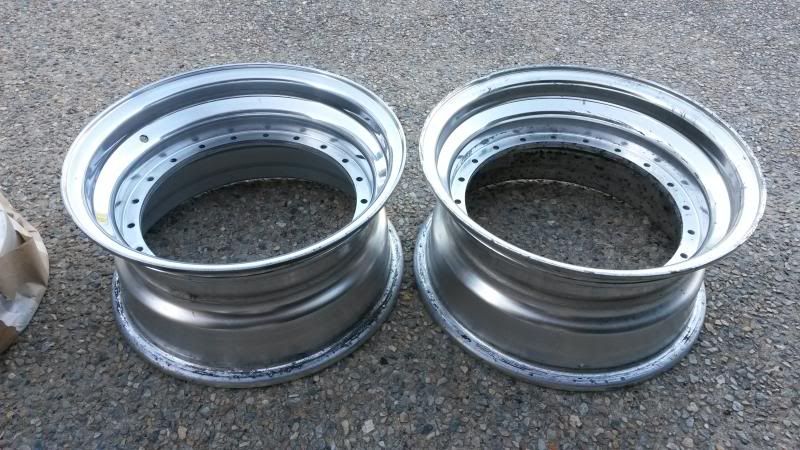 ALL DONE =)
You can kinda see what I meant about mounting the center on the inside of the wheel in this photo-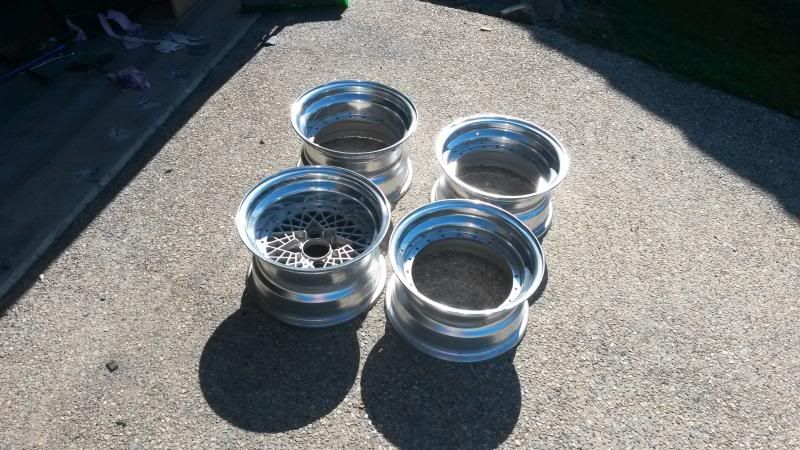 I again learnt a lot more while doing the meshies. I found that even starting with a grit as harsh as 80 Grit will be fine in the end, and will remove and scratches in them, which I needed to do on the 7s. I was previously only using 80 Grit on the edges to removing gutter rash.
And thats pretty much where I am at the moment. Im planning on trying my hand out at powder coating for the centers so have ordered a powder coating System but its coming from the US so will take a few weeks. So ive started stripping the centers back which is proving the be a pain in the ass. Ive used about 3 cans or aerosol paint stripper as well as soaked them in some gel/liquid type stripper but some paint refuses to come off haha
Which will be a problem when it comes time to powder coat them as it wont stick.
So If anyone has any DIY paint stripping ideas feel free to share =) I do have a shitty sand blaster I could use if I have to, or I might just bite the bullet and have them acid dipped.
I have also ordered some red rouge, aka jewelers rouge to take them one step further and give them that show room mirror finish, so will be interesting to see how big of a difference it makes.
And to finish ill post some photos of my newest additions to the collection which are all currently on boats from Japan haha
13x10 Unknown offset SSR Mk3- Only a single wheel but planning to restore and make it into a table =)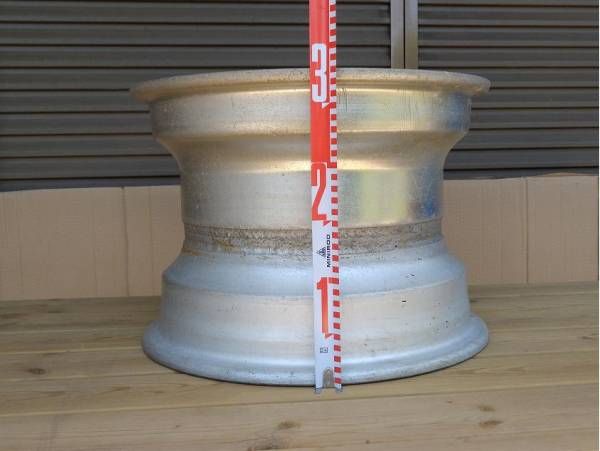 14x6.5+5 and 14x7-2 SSR Star Formula's- I needed another pair as after selling my mate a set I was left with only a single pair. So keeping the 7s and selling the 6.5s.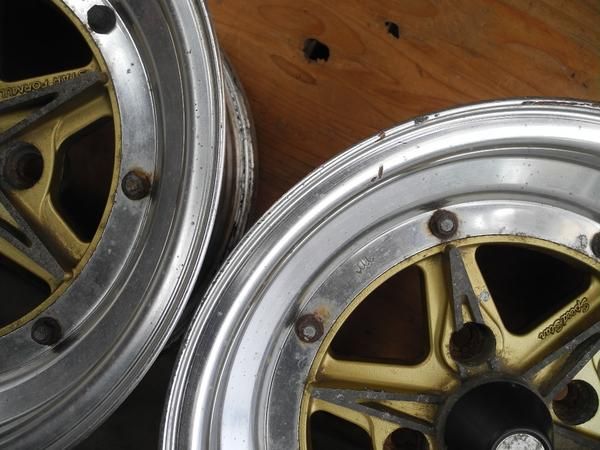 Then seeing as I had a pair of Star Formulas left over I was on the look out for another pair to make a set. Then a seller posted 2 pairs for sale separately, so I Bid on both and ended up winning both haha I then bid on another pair which I lost so in the end I still have a lonely pair left over haha
The 1st pair is 14x7-2
And the other pair was listed as 14x6 or 6.5" Im hoping theyre 6.5s, but hard to judge by the photos-
And finally, my latest purchase. A set of 14x6.5+5 and 14x7+-0 SSR Casablanca Meshies! Been chasing a set of these for a while, but have never managed to win any until now. They will need A LOT of work but will be worth it. Im currently in the process of replicating the stickers as when I reco them they will come off. Im also doing some for my SSR Super Star Racing 3s as they too have the stickers on the outer lip. Down the track I would also like to make new "spec" (for lack of a better word) stickers, the ones that are on the inner barrel with the sizing ect on them.
Anyways heres the Casablanca Meshies-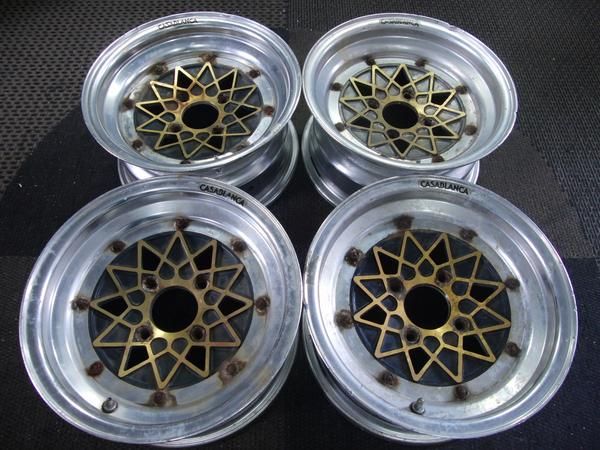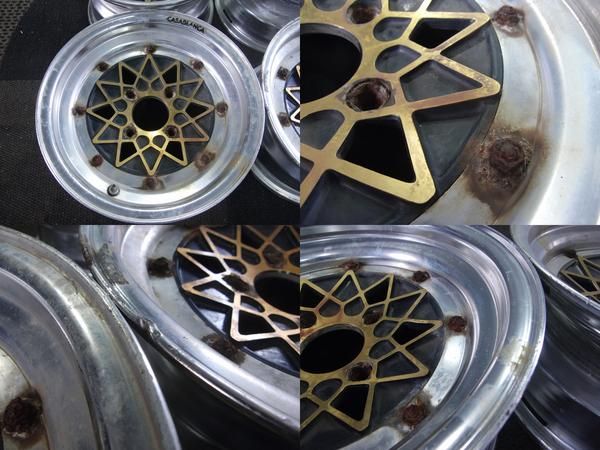 I hope you enjoyed my little write up, and hopefully I didnt post too many photos
Fell free to post any of your wheel restorations or just wheels or anything really =)