JT191 wrote:
It's difficult to figure out exactly what your goal is. Do you want an exact copy of the original? More performance oriented? Long lasting?

The forum/website leans toward restoring for long term enjoyment and spending a little extra for long term durability. If that is the direction you are going, you might want to look for stainless, heavy walls, and lap welded muffler bodies. The alternative to avoid would be thin wall, rolled edges, and black painted finish over bare steel.

If you are looking to enhance performance, straight through mufflers would be the way to go. But, not as common or in as wide a variety below 2 1/2 inch (despite 20+ years of the back pressure/small pipe size is better myth).

Dual inlet and dual outlet is even more rare, and a lot are cross flow on the inside.

No matter what the direction, your best result is going to involve welding together something from muffler, pipe, and tips sourced separately. It's not overly likely to find something pre-made.

I've been resorting to cutting and welding mufflers to shorten or increase the height to fit into areas that no one seems to make the right size muffler for. My best suggestion for the narrow dual in and dual out would be to Siamese two 4 inch round mufflers together, but it would look like a figure 8 from the end.
originality - no. The car's got a 3.5 litre V8 but it's a low comp motor and they were built for cruising, not balls out performance. It's got a replacement system on it, looks to be around 3 or 4 inch pipe with a Genie Turbo (Aussie brand) muffler in the middle with a small no name muffler at the rear.
Basically I want to either ditch the muffler at the rear and get one with twin exit tips or add dual tips.
However - I think that the rear muffler is restrictive as for a V8, it's extremely quiet inside and it may be overly restrictive. That's why I'm kinda leaning towards a high quality high flowing rear muffler on the back while getting the tips right.
Basically I need something like this, but in a tube muffler, not oval: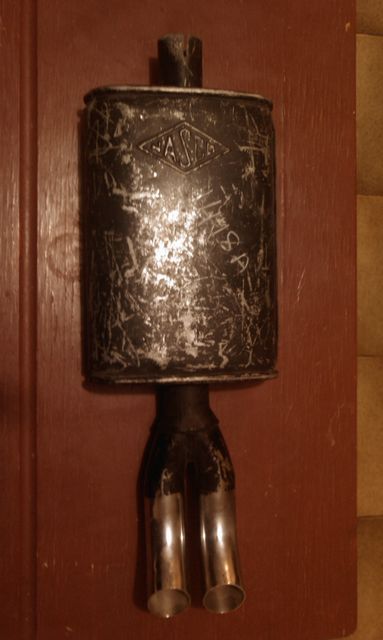 the tips would also have to be a bit longer and of course, a larger intake diameter on the intake pipe.
I'm being fussy, only because the current rear setup looks fugly.
_________________
occasional blog:
http://ewokracing.tumblr.com
Brought to you by me as I search Alta Vista for Geocities webpages using Netscape Navigator while listening to Jam & Spoon.