Hello All,
It's that time of year again, Team District 10 is proudly hosting the 4th Annual Breast Cancer Awareness Fundraiser Car Show on Saturday October 23rd at MVP Arena in San Jose. Our success in running this event is due to your continued support. We have out grown each of the previous venues! At the MVP Arena, we can comfortably accommodate 200 cars. Last year we had a turn out of 130 cars and about 20 walk-ons that I did not have space for. So please, if you are interested in showing this year, let me know ASAP because spots will fill quickly. We have also added more sponsors and vendors this year. Not to mention we have added more categories for awards.
If you have any questions, please do not hesitate to contact me. Your support is greatly appreciated. I hope to see you there.
Regards,
Joe Alalay
President
Team District 10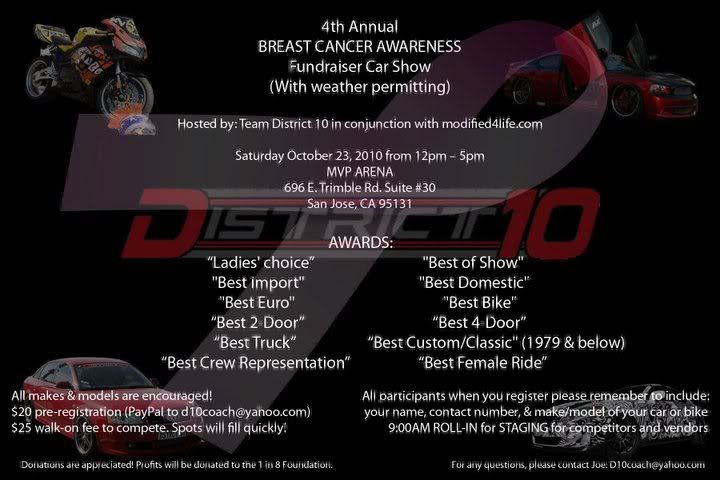 Hosted by: District 10 in conjunction with modified4life.com
Show will be free to the public
Awards:
"Ladies Choice"
"Best of Show"
"Best Import"
"Best Domestic"
"Best Bike"
"Best Euro"
"Best 2-Door"
"Best 4-Door"
"Best Truck"
"Best Custom (Old School 1979 & below)"
"Best Crew Representation"
"Best Female Ride"
(awards will be added based on entries)
All makes & models are encouraged!
$20 pre-registartion (PayPal to
d10coach@yahoo.com
)
please make sure to mark "money owed" before sending.
Or
$25 walk-on fee to compete. Spots will fill quickly!
All participants when you register please remember to include;
Your Name
Contact Number
Make/Model of your Car or Bike
9:00 AM ROLL-IN for Staging Competitors and Vendors.
Donations are appreciated!
*Profits will be donated to the "1 in 8 Foundation".
For any questions, please contact Joe -
D10coach@yahoo.com