This shop is like 10 minutes from me in Miyoshi. They do an absolutely fantastic job of restoring these cars! I went once back in October of last year, which is where most of my pictures are from, but for some reason I don't think I made a post about it. I went again yesterday to look for Hakosuka parts (which they have tons of) and took a few more pictures.
The first time I went
They have this place in the back where the junk cars go (apparently they have a warehouse somewhere with hundreds of cars in it that would be a dream to hit up, but I gotta buy something that they only have in the warehouse first). This little lot has some badass stuff in it though.
The yellow and white Z is very turbocharged, I haven't popped the hood yet but it has a huge intercooler sitting up front and plethora of gauges floating around the inside.
I love this car, if it were reasonably priced I'd be tempted to ditch my Hakosuka for it. I think the Bellets are just so sexy.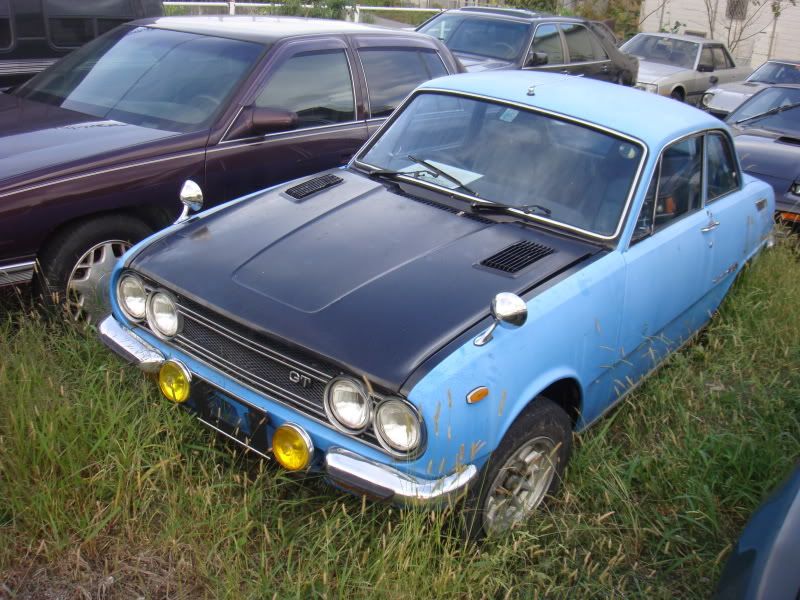 A 2-seater hardtop 200ZR. I was very interested in this car before I got my Hakosuka, but they said that it couldn't be registered because a loan company still had the title. Which means I would have to pay them 3 grand for the car and then the loan company however much was still owed on the car in order to get it. Too much legal paperwork in a country where I can't read it for me, haha.
Even had crank windows!
Another personal favourite, the Nissan Leopard! I had one of these in New York (an Infiniti M30).
Sign outside the shop.
Cars parked outside (I'm guessing employee cars).
Haven't got a clue what this one is.
A nice 4 door Hako.
A very nice Hako inside.
This Celica was pristine. Looked probably better than it did when it rolled off the factory floor! could be yours for a cool 10 grand!
The legendary engine stacked inside an S30 Z.
You need parts? They have anything you can imagine! Even two brand new NOS rear fenders and doors for a Hako!
Pretty S30.
Old roadster, I love these things! Its like the best of British and Japanese sports cars rolled into one!
Windshield has Corona RT 20 written on it, so I'm guessing that's what it is, haha.
A little G-Nose action. To be honest though, I don't like the G-nose at all, haha.
Need a cylinder head, they got a few!
I almost feel that with cars like these I should put NSFW in the title, since it looks like pure sex!
Near as I can tell, this is an original Mazda Cosmo being brought back to life the proper way.
A Hako being brought back to life the proper way as well.
A Hako in need of some serious love.
This Kenmeri is pretty rough, but looks like a solid base.
Another roadster.
Two shots of the engine from an un-restored all original 4 door Hako.
That's all from the first trip, pictures from the second trip will be posted below!
Cheers
David