datsunfreak wrote:
Proof that nothing more than a new set of wheels can totally change a car.
Truth. I also love how most of those pictures look decades older than you say they are.
Very cool.
My first car was a 1968 Chrysler Town & Country. Total rotbox, more bondo than metal, though oddly the subframes, floors, and rockers are completely rot free. Boggles my mind. And pretty much everything worked on it. It was a hillbilly's daily driver for the better part of 20 years before I got it. Supposedly there's somewhere upwards of 1.5 million miles on the body/chassis, and until I'd purchased it, it hadn't been off the road for more than a month at any known point in it's existence. It's had untold numbers of engines, transmissions, rear ends, etc. It's a hodgepodge of other cars, and it all still works, amazingly. Until I fucked around with it, but that's another story. It's been sitting the whole time I've owned it, sadly I thought I was going to restore it and bought my second car in the hopes that I would have a daily driver while I worked on the wagon. Huge mistake.
Second car- my 1970 Chrysler 300. Huge pile of shit. I bought it to drive. Found it in a local guy's backyard, he had only owned it for all of 6 months and wasn't even a big Mopar guy, he had a '71 Fury daily driver that I had originally asked about buying, only to be told it wasn't for sale, but he had the 300. Paid too much for it, but it looked good at the time. Pretty much started disintegrating in front of my eyes the day I bought it. Electrical stuff magically stopped working. The "Rebuilt" transmission went out within a few months (It had been rebuilt... with one clutchplate too many in the low/reverse drum, and by someone who had no idea wtf they were doing), and bondo started popping off the quarter panels. As time has gone on, more and more things have gone wrong. It's caught fire umpteen times, it's died more times than I can count for various reasons (mostly all to do with the ignition system and the hacked to fck engine bay harness), had quite a few total brake failures, etc. It's been trying to kill me for years, and I'm too attached to it to get rid of it now (as well as having enough money invested in it to have bought a really nice one instead in the first place, and it's barely operational right now).
Number 3 was my 1981 Dodge Diplomat 2-door. Got it from my Uncle. Originally it had been my grandmother's car new, then my uncle bought it from her and used it for awhile as an undercover car when he was a Wayne County Sheriff Deputy. There was damage to the front end from having rammed someone off I-75 in chase, haha, as well as ammunition under the seats and a siren under the hood when I got it. Sadly, it had been sitting in the street in front of their house in a puddle of god-knows-what from the sausage factory across the street for a solid 10 years, untouched, before I had gotten it. Engine bay was packed solid with dead animals, garbage, etc. It smelled disgusting. I was going to get it back on the road and drive it for awhile, as I'd always really loved the car and wanted to someday restore it (How often do you see a two-door '80'-81 Diplomat?), but sadly while working on it at school I put it on a lift and realized the entire driver's side framerail was gone. Not even enough metal left to imagine what used to be there. This, coupled with rotted out floors, a rust hole in the top of the driver's side A-pillar that had caused the frame and floors to disappear, rotted quarters and the general condition of the car, I was sort of forced to give up on it. I ended up having to leave the title in the sunvisor and left it at school to be picked up with various other junk cars that had been donated so it could be scrapped. Still saddens me. I will have another 2-door Dippy. I've got a picture of it on our old computer, which doesn't work. Ugh.
4. 1986 Dodge 600 4-door- This was what my grandmother had replaced the Diplomat with originally. She drove it until she had stopped driving around 1996 and it just sat in the street in front of her house, rotting. She was saving it for me, but since it was outdoors and not moving, it just disintegrated. Was hit a few times by passing trucks coming in and out of the sausage factory as well, making matters worse. I never really did anything with it- invested $200 in making it run and drive again, but it needs every brake component replaced, tires, floors, rockers, etc. Been considering doing something with it again recently, but who knows.
Then I ended up accepting a 1978 Impala for free. I didn't want to see it get scrapped, figured I'd just get it running and sell it to someone else. Wrong. It ended up being a nightmare to go get the car- it was 300 miles north of here and I went to get it in a snowstorm. Then found out it didn't have a title. The guy who owned it gave it to someone else I know, who ended up never doing anything with it besides washing it due to his mechanical ineptitude, and that's how I ended up in the loop. Problem was the only owner of the car had died 15 years ago, willed it to the guy I got it from, who drove it to his house, parked it in his driveway, and let it sit for 15 years. In Michigan. So it started to rust. I ended up getting a title through the DMV without a problem, and started to fix it. Except it needed a lot of stuff. And I ended up dumping a few grand in parts into a car that needs two floor patches, quarters, and honestly, another frame as the one under it has really started to flake apart. Not to a level where it'd snap in half or become dangerous, but a level that bothers me. Trying to sell it right now to someone else who wouldn't mind restoring it and putting another frame under it- if not it's gonna probably be my daily driver and I'll just look around for a good newer B-body frame I can strip and maybe eventually I'll put a better frame under it. I like it... I just have too much work to do to my Chryslers to have a 3rd project.
And everyone knows #6...
$3000 for the car, $1000 for the entire trip, $200 to forfeit the title to the impound lot, all I have is a photograph and the license plate that was smeared against a concrete barrier for a hundred feet. Someone bought it from the impound and parted it out. All I can say- F*** food allergies.
And #7 isn't really worth mentioning. It was free, I drove 200 miles to get it, was completely mislead about the condition it was in, no title, and it's been dismantled and scrapped since. Still have most of the parts if anyone wants anything- all I managed to sell was a master cylinder. I haven't even recouped the cost of the fuel to get it and bring it back. It's a tremendously long story, and it just makes me exceptionally pissed off every time I think about it.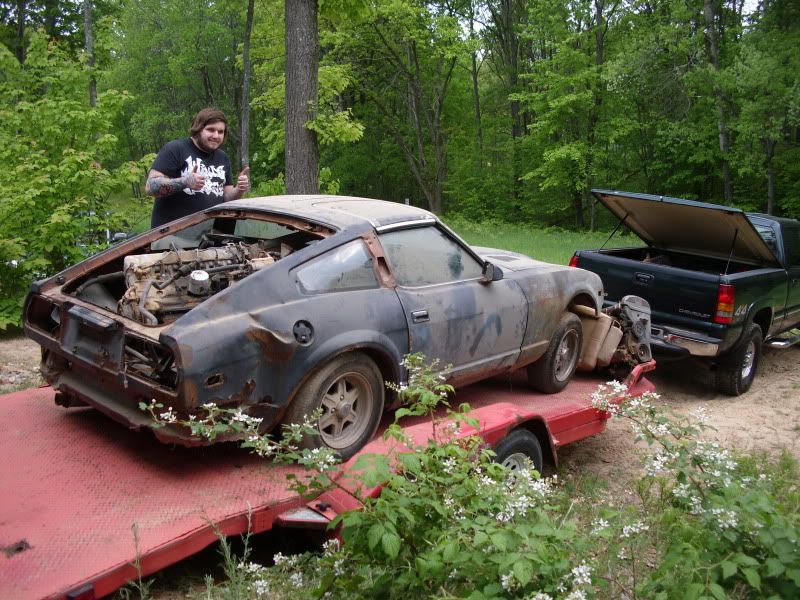 (not me in the picture, btw)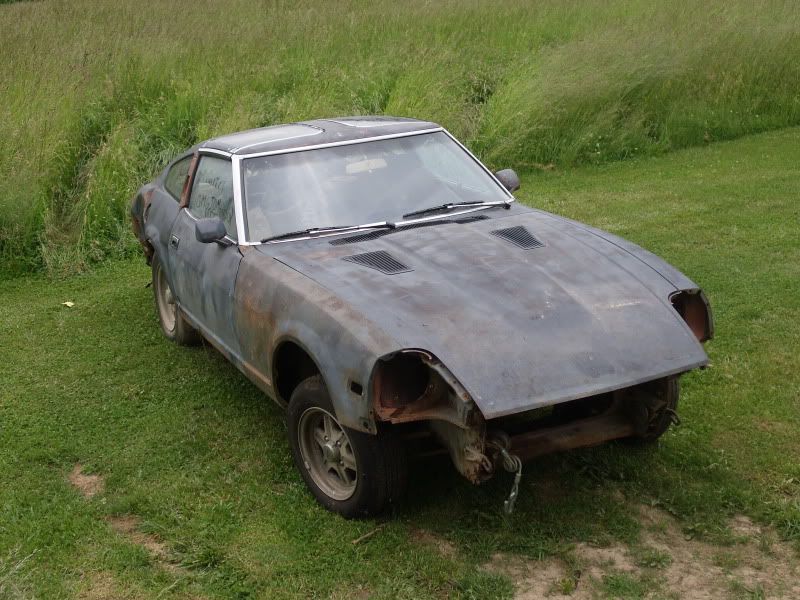 _________________
Camshaft wrote:
It scares the bejesus out of me that someone, somewhere ordered the Lusitania with front drum brakes.