Sideglide hit the nail on the head!
But that's not going to stop me from throwing my 2 cents (yen) in as well.
I'll break this up into two parts, one the greasy fun, and two the non-greasy fun.
Greasy fun:
Sideglide hit the nail on the head again here. Rust is going to be your number 1 concern. Even imported Hakosukas have been known to have terrible rust demons lurking underneath. Sometimes the rust can be expertly hidden with undercoat, bondo, fiberglass, etc. So, I would recommend taking a magnet wrapped in a cloth and touching it to all the usual rust spots (rockers, fender bottoms, door bottoms, etc.). If the magnet sticks strongly, probably safe, if the magnet doesn't stick at all, run for the hills!
Once you pick a car, then comes the fun of maintenance. If you pick a car that was readily available in the States, such as the 240Z, there are a massive amount of reproduction parts out there. So, if you've got the money, you can buy nearly anything. However, if you go for something a little more exotic, like say a Mitsubishi Colt 1000, then you've got a whole slew of new problems when it comes to sourcing parts. For a lot of the mechanical bits, you can pull parts from various other cars and make those work, but for exterior and interior bits, you may have to source from Japan, and that gets real expensive real quick.
Also, depending on how old of a car you go for, I would recommend doing some reading on carburetors. The number of people who can effectively rebuild and tune a carb is rapidly dropping and you may find yourself in a situation where the only person who will tune your Mikuni side drafts is you. Also, I find tuning carbs to be hugely entertaining and fun, so it's worth learning anyways!
Non-greasy fun:
For a lot of people, myself included, this can be just as fun as actually owning the car. There are mountains and mountains of old literature on these classics out there, and hunting it down to learn about the various grades of certain cars is a lot of fun! Most people have never heard of a Mitsubishi 360, but while I was building mine, I learned so much about, not only the car itself, but also the history of Kei cars. I even went so far as hand translating JAMA's page on the history of the Kei regulations (
http://www.jama.or.jp/lib/jamagazine/200902/01.html
).
There is so much wonderful information out there, but unfortunately a lot of it is sealed away in Japanese literature. However, I feel that adds to the mystery of it all. It becomes truly like a treasure hunt searching for some piece of information no one has ever heard of in English.
So, I will echo what others have said on here. Ask yourself, what drew you to Japanese classics in the first place. If it was a specific car, start reading, researching, looking at parts and pictures, reading build threads or even throwing out a bombardment of questions to the community. It won't be long before you have your heart set on specific model (or a specific grade within that model line-up) and then the hunt is on to find that one car!
For example, you said you like the C10 Skylines. Well, you might be surprised how many different variations of the old Hakosuka there are. The 1500 and 1800 cc version have a Prince G series engine stuffed under a "short nose". The 2000 cc L20 series versions have a much longer nose, but the engine shares a lot of parts with the L24 that came in the 240Zs sold in the states, so parts sourcing is much easier. Of course, if you have real deep pockets (like 100 grand deep), you could go for a genuine Hakosuka 2000 GTR with the legendary S20 engine. To make all your decisions even more difficult, every version of the Skyline came in two door and four door variants. Everyone I talk to is in love with the long nose two door versions, but I would kill for a short nose four door with surfline fenders intact!
Man, that's an awesome car: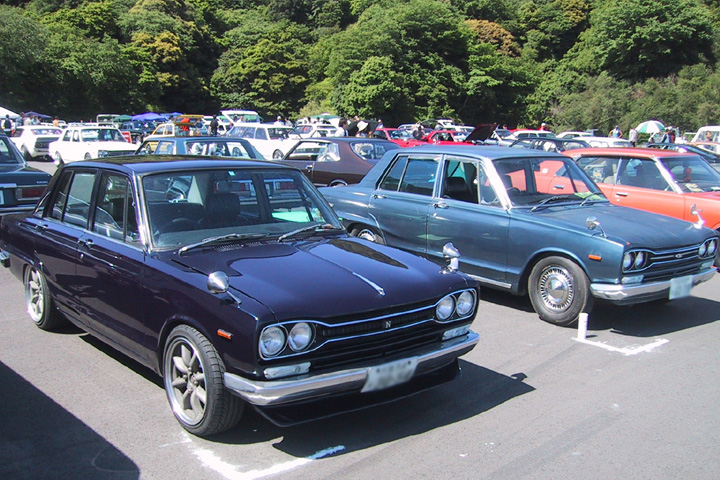 If you have any questions about anything in specific or want further elaboration on something, feel free to ask! I hope some of this helps point you in the right direction, although when it comes to classic cars, nearly any direction is the right direction!
Cheers,
David