I was asked to do a thread about my 2t which has been converted to run on bike carburettors.
I went this route for a few reasons.
1. Im a motorcycle technition so this type of carbs are familiar to me.
2. a set of webbers with manifold to bolt up are £1000 GBP+
3. Cv carbs work well at any revs/throttle openings and help a cammy engine drive well at lower revs,also once set,dont need touching.
4.they give about the best economy of all carbs when well set up.
5. I had a set of NOS 40mm kehin carbs from a zzr100 which cost me £80.
The downside was I needed to make a manifold to fit them up. Not such a bad thing.
I dont have any pics of the process of building the manifold,but it goes like this....
I took an inlet manifold gasket as a pattern,and cut this shape from 5mm thick steel,also blocking the water outlet from the head to the manifold.The bike carbs only need heating if being used in below zero deg C temps.
I would have liked to use alloy,but i dont have access to a tig welder.
Then I made a jig to locate the position of the throats of the carbs and shaped the runners from there,from 2mm thick stainless steel bends of 38mm dia.
Silicone hose reducers join the carbs to the manifold. There is a take off on one of the runners for the brake booster. A electric fuel pump from a yamaha is ideal to supply the 3psi the carbs need. A mechanical one like the original on the car will cause flooding,as it will overcome the smaller floats. The electric bike ones can flow well at low pressure,and are pressure sensitive so shut off when the floats are full. You can blank off the fuel return.
Then you need to fit up a throttle cable and choke cable.
Obviously a 1600cc car engine(ive got the 2t)will pull a bit more air each stroke than a bike,so you will need to tune the fuelling. Many bike carbs have needles which can be raised or lowered to adjust midrange fuelling. The lower range/idle fuelling is done by the mixture screws,and full load is controlled by the main jet. Stock jets are usually in the 1.6 mm range. I took them to 2mm (which will probably be rich) and dyno from there.
I used a ramair filter kit,which comes with a blank 1mm thick backing plate and you cut it to fit the type of carbs/bodies you have.
I know they are not entirely period correct,but they just work.
Here are the piccs i do have.
Manifold with vac take off for brake booster.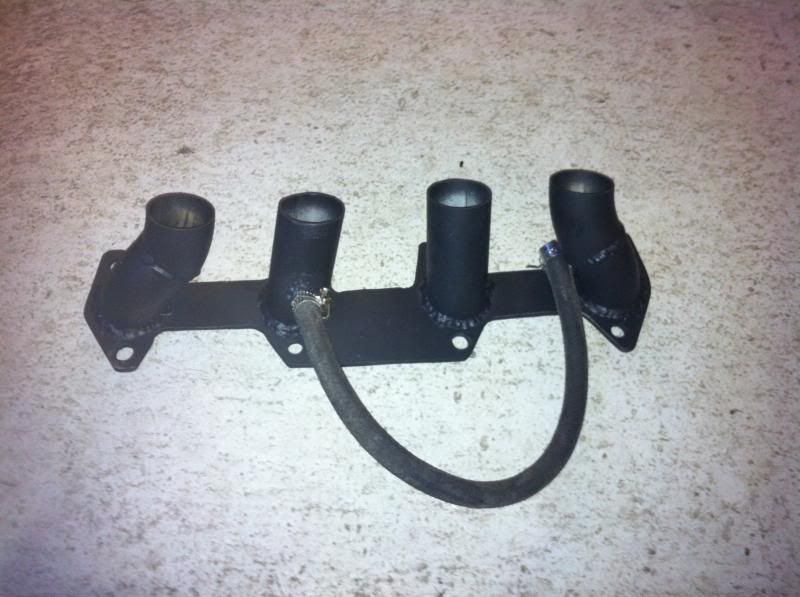 Test fitting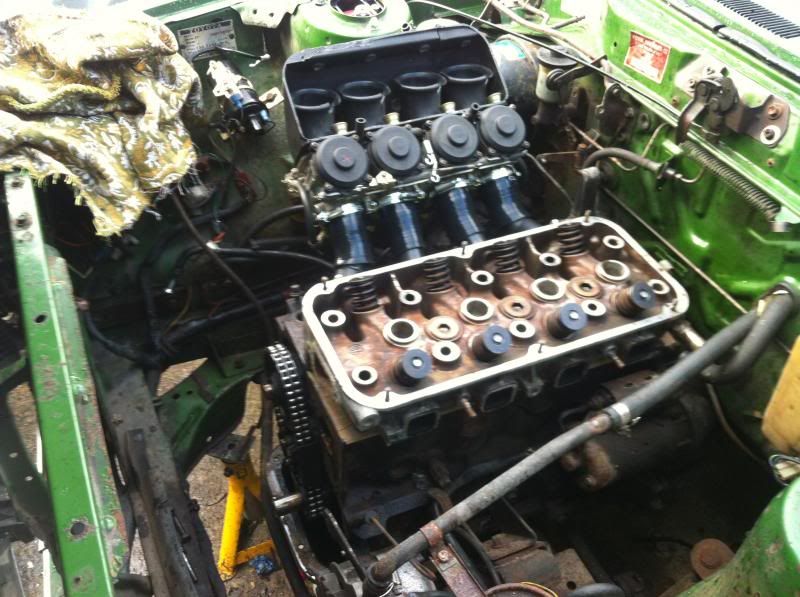 Fitting air filter backing plate to remaining part of the bikes airbox. The trumpets remain inside the filter.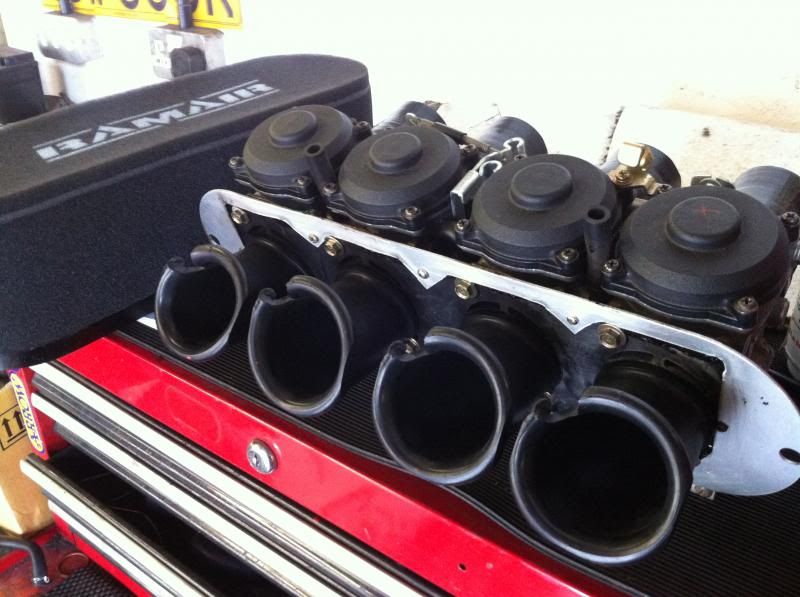 And all fitted.